Timeless design is not just for decorating with neutrals. It's about creating styled and colourful interiors – that coordinate with your existing finishes. Here are some of my best design tips for creating a timeless home you'll love forever.
Classical Sculpture at the Metropolitan Museum
What makes design classic and timeless?
Here's what it isn't. Timeless design is not about not about Classicism, or about sticking with neutrals and safe decorating. For me it's quite the opposite. Timeless design is about simply adding colour to your decorating.
To clear any confusion, today, I'm defining my "Timeless" design philosophy, and sharing tips for creating a home you'll love forever.
As I announced recently, we have opened up the smaller paint packages that were sold out for the better part of the summer. We have hired two new talented designers, and during their training on how to assemble a presentation of Maria Killam eDesign advice, we talked a lot about my 'timeless' design aesthetic.
And it made me realize something.
A Design Aesthetic
My personal 'design aesthetic' is about creating styled and colourful interiors (above) and exteriors (below). And, contrary to my innovations with neutral undertones, I LOVE vibrant and lively COLOUR.
While I help many clients choose the right neutral to coordinate with their stone (that's all you can do if you're not painting it), I love when a client asks for colour!
Maria Killam – Two Timeless Blue Exteriors: Before and After
Known as an Expert on Neutrals and Undertones
Yet, I'm ALSO best known for sharing my proprietary System for Specifying Colour. The core piece of which is Understanding Undertones, or getting NEUTRALS right by recognizing 9 distinct neutral undertone categories.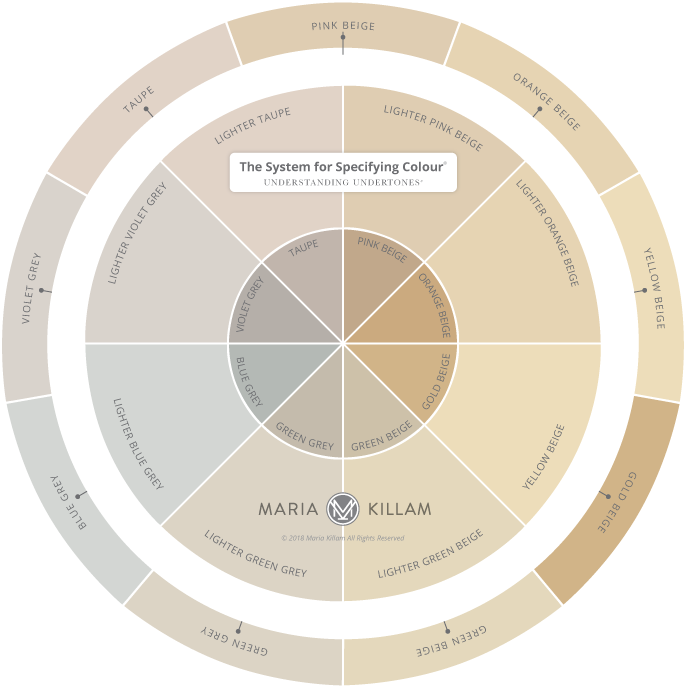 Do you see more neutral exteriors than colourful ones on this site? Yes you do. Because it's in navigating in the realm of murky, less-versatile-than-you-might-think neutrals, that most people get colour wrong. So, I spend a disproportionate amount of time talking about neutrals on this blog. At least for a gal so very in love with COLOUR.
Because neutrals are where people need the most help.
A neutral does not simply go with everything
That is why you will see many posts dealing with choosing the right neutral colours to relate to fixed elements such as existing earthy countertops, tile, stone or brick – even Carrara Marble has an undertone. A home exterior with lots of earthy stone or brick, for example, is one that simply cannot handle a colour because you can't ignore those finishes.
Like this exterior below with lots of earthy stone.
Maria Killam – The Shortcut to Testing Colour: Before and After
A key insight to my system is that neutrals need to RELATE WELL to look right. You cannot choose a colour that doesn't already exist in the multicolour stone on the house above because it would not relate.
It's similar with interiors. The more hard finishes you have installed in neutral colours other than white or cream, the more difficult it is to decorate with COLOUR.
A fresh backdrop for colour is timeless
A fresh and versatile canvas, that is, a home with simple timeless wood floors and lots of fresh white and cream finishes, is the perfect TIMELESS backdrop for COLOUR. ANY colour you like!
All this conversation about the 'Maria Killam aesthetic' with my team made me realize that timeless is not so much an "aesthetic," but more a value system and a MOVEMENT.
One that really needs to catch on in this wasteful world of trendy finishes that no one ever likes forever. Timeless stands in opposition to the relentless need to renovate in order to keep up with whatever is current.
It's an oasis of sanity.
And the reason why I think it's a 'movement' more than simply a Maria Killam aesthetic, is because once people find my blog and start reading my advice, they realize it just makes sense.
I recently consulted with a client on her new build. She was building a home on the same property as her son and his wife. And while they were happily choosing 'current and trendy' finishes, my client, who was obviously older and had already lived through a few trends in previous houses, was totally on board with choosing 'timeless' finishes and colours.
Timeless is simply design wisdom.
It's knowing what will stand the test of time.
Timeless Finishes
Right about now, you might be thinking, 'Where's the checklist?' Can you just give me one?
Well yes I can, and here it is:
Let's just start in the order you need to choose your finishes in shall we?
Hardwood Floors
There are two timeless colours that you should consider. Pale and medium brown. Basically, make sure there is no grey or taupe in the floors you're choosing. Which one you should choose, though, depends on the style of your home.
But seriously, what could be more timeless than the pale natural wood floors of the Metropolitan Museum? This is the look (below) that goes with EVERYTHING. FOREVER. They look bit golden in this lighting, but I think they are white oak. They might be red oak. Really, any pale, natural wood floor like maple, white or even red oak is a timeless choice.
You don't have to get hung up on the undertones of natural wood (except to avoid trendy grey stains) because wood is BROWN or GOLD or even PINK BEIGE. And it doesn't matter. A timeless wood floor is like a pair of jeans, it goes with everything.
The Metropolitan Museum NYC via Artsy
And if you like a richer look, neutral medium brown floors are versatile and timeless too.
Read more: What if I don't like the grey flooring that's everywhere?
Fireplace Mantel
Stacked stone should only be installed if you are building a lake house, a ski cabin or if your house is more countrified.
The main problem with stacked stone is your decorating needs to be considered. Multi coloured stone bosses around your colour palette options.
The ONLY remaining, unrenovated areas in my house are both fireplaces in my living and dining room.
The house was original 80s, complete with the standard 80s kitchen and oversize jetted tub in the master. It was truly a miracle that my fireplaces were so pretty. What makes my fireplaces so great (below), is that I never think about what colour they are because they go with absolutely everything.
Simple White or Cream Hard Finishes
I can't say this often enough: Boring now equals timeless later.
Just like with fireplaces, rooms that require a lot of stuck down, permanently installed (at least until the next renovation) finishes like tile and countertops, (Ahem, I'm looking at you kitchens and bathrooms), need to be as fresh and simple as possible.
Kitchens and bathrooms are most versatile in a mostly solid white or cream palette. I already know what you are thinking… But Maria, isn't that BORING??
Well, what's more boring? A white bathroom that can be painted and decorated in essentially ANY colour? Or being stuck decorating with grey, well past its time in the trend spotlight, because you chose all grey for your tile?
And yes, that means subway tile. Or some other timeless and versatile white or cream tile that won't boss you around well past the tile trend you installed it in.
The most timeless look for a kitchen is one where you could not precisely say when it was installed. Like this cream kitchen with soapstone countertops and wood floors below.
Aside from light or white, black quartz, black granite or soapstone is also a timeless choice for countertops. It's a great way to introduce a bit of black because black countertops are not overpowering the same way all black cabinets or floors can be. This look has been around for ages, it's as classic as the LBD. It can even look historical as in the kitchen above.
The honed black countertops, white cabinets, white tile backsplash, and pale natural floors I specified for this project below, will allow this client to change up her colour scheme endlessly if she wishes – and without an expensive and wasteful renovation. Changing colour is as easy as swapping out valances and bar stool upholstery.
Maria Killam – How to Detuscanize Your Home; Before and After
Paint
Paint and decorating is where you can indulge a bit more in a trend. Want to paint a room a moody, trendy black? Or fall in love with the Pantone Colour of the Year? Go for it in paint, textiles and accessories. Elements that are easy to swap out when you tire of them or they simply get worn is where to give in to a trend or two.
Sheila Bouttier – Architectural Digest
If you are someone who really isn't interested in painting your walls on a whim, and you want to paint your walls a versatile colour that will stand the test of time, choose a pale, barely-there neutral like a greige or a complex cream.
Maria Killam
Just add colour
But don't forget to add interest in your decor with colour!
This is where the character and personality comes to life in a timeless home. It really is the goal of my timeless philosophy.
You can have fun with vibrant saturated colour, or moody muted tones. Just make sure they have similar intensity, that is don't mix CLEAN and DIRTY colour, and have fun with it!
And speaking of decorating with colour, I still love my vibrant yellow, raspberry and green living room. But it's has been nearly a decade and it's time to switch it up! Since I have timeless and versatile light maple floors, a white kitchen, bathrooms and fireplaces, the sky is really the limit for colour choice! It's always hardest to decorate for yourself, especially as a designer who is well aware of all the beautiful options!
I want to keep my signature yellow sofa, but beyond that, I'm reeling with possibilities.
So I'd love to hear your thoughts. What would you do?
Update in February 2022: Here's the full reveal of my new makeover
Want your next renovation to be your last?
You can find my Complete Renovation eDesign consultation here. I also offer packages for Kitchen and Bathroom renovations and New Builds!
PS. I recently received an email from a reader asking if I could choose a colour that was NOT timeless? The answer is, the colour I choose for you, will be the colour that works best, period. And, obviously the colours you receive are also based on YOUR preferences, likes, dislikes, etc.
And, having said that, if you ask for a colour that I KNOW based on my 20 years and 20,000 consultations will not work at all, I will be the first to tell you.
Related Posts
First Rule of Design: Boring Now Equals Timeless Later
Ask Maria: What is the Most Timeless Colour?
Maria's Timeless White Master Ensuite Reveal; Before & After