Thinking of installing accent tile in your kitchen or bathroom? Before you begin here are some do's and don'ts for installing accent tile to help guide you toward best look.
If you've been following me for a long time, you'll already know my take on whether you should install the trendy new accent tile. And I'm clear there are a lot of people who hit my site, see that subway tile is pretty much the only backsplash tile I recommend, and keep clicking because they're thinking, "This decorator clearly has zero creativity."
And then there's the other group, who find my posts about backsplash tile and breathe a sigh of relief when they realize that they don't have to stress about it any longer.
Keep in mind, I have been in this business for 20 years. And in all that time, it's rare that I see accent tile where I can truly make these two statements, in the same sentence "Wow that's beautiful and I wouldn't get bored of that."
I too love all (okay many) trendy new tiles that come out every 3-4 years that replace the last obsession.
And therein lies my point.
When you install the trendy, in-the-moment, fabulous tile right now, then when the next trend comes along… Well, you might just fall in love again and then have a pang of regret that you installed the wrong tile.
When you install boring = timeless tile, like the kind I recommend, you have less chance of that happening. You can watch the trends come and go, and just paint and re-decorate if you feel you need something new.
And let's be clear, there's nothing wrong with accent tile.
If you have accent tile and you love it, or you have every intention of ignoring my comments and putting it in your next renovation, in the end, it's your house and you should do what makes you happy.
This post is for those of you who are on board with the whole "classic and timeless, keep it simple" conversation and still feel a little deflated when I say backsplash tile should be limited to the simple (and yes, some would say boring) world of subway tile.
Do's and Don'ts for Installing Accent Tile
In other words, you're going to install accent tile anyway and need some "Maria approved" guidelines, here they are (and I probably should have written this post years ago):
DO choose the accent tile FIRST (and then don't limit it to a small strip)
This is the biggest and best tip.
But this is about as helpful to the decorating challenged as saying "Choose your fabrics (or art, area rug, pillows) FIRST, BEFORE you choose the paint colour".
Just like I consider myself to be fashion challenged. Not like I'm terrible at it, but I don't have the gift of being able to pull anything out of my wardrobe at a moments notice and make it look good. However, this is a talent I can do in YOUR living room, just not in my closet.
For example, one of the best ways to pull together a fabulous, coordinated outfit is to start with a patterned scarf. Then it's easy to see if you have coordinating tops or bottoms to go with it.
But how many of us do that even? Not many.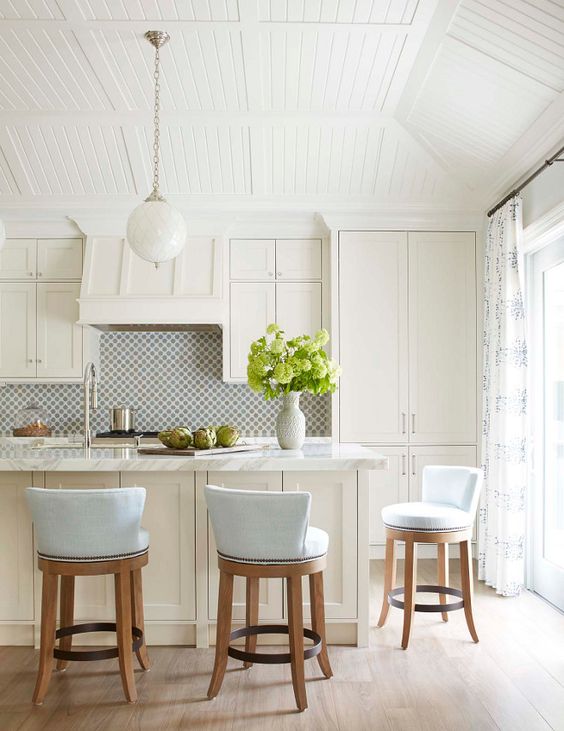 It's obvious this kitchen (above) started with the backsplash tile. But without the coordinating upholstered counter stools and drapery, which probably flow beautifully with the rest of the decorating in this home (not shown), it would not look as fabulous.
Using accent tile well, requires a trained eye who knows how to see the big picture.
Here's the best test for whether you will successfully be able to pull off a classy and coordinated look with accent tile in your next renovation or new build.
Ready?
I'm serious. This is a serious question, because I already know from years of experience that for most of you the answer will be a resounding NO.
Do you know exactly how your great room will be decorated? In other words, do you have the entire room, already planned out down to the throw pillows on your sofa?
If you don't, then your kitchen will likely not look like this (below).
Via Hi Sugarplum
Let's just look at this blogger's living room as well, shall we? So you can see how beautifully it coordinates with her kitchen: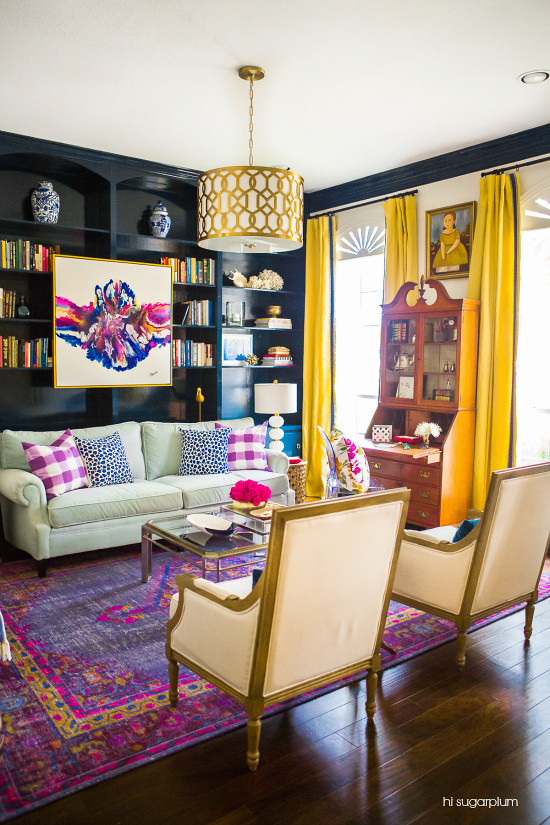 It's hard to make decorating choices like which accent tile to choose in a void. So, if you are planning a new build or renovation and you DON'T have a decorating plan? You'll need to keep your finishes more neutral (below) so that you can finalize the colours you'll decorate with later, when the house is finished and you get started.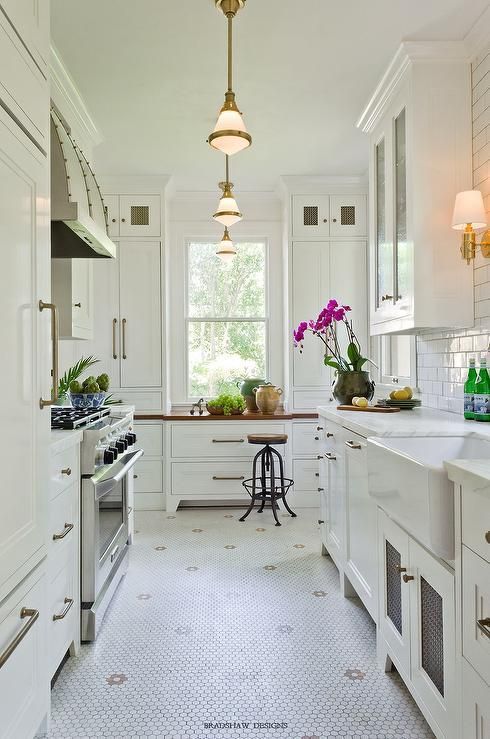 Decorpad
DO use the same tile in a contrasting pattern to create interest
This is a really pretty kitchen with the built-in hood fan millwork in addition to the fretwork on the cabinet doors. This kitchen (in my opinion) did not really need the detail above the range but if you feel your kitchen needs SOMETHING above the range, do it like this.
This detail above the range (below) is perfect. The tile border relates to the surrounding moulding details, just beautiful.
Notice all the other pretty details in THIS magazine worthy kitchen (below) I wrote about a few months ago. It would be serious overkill to now install a rectangle of alternating tile above the range.
If you think your kitchen needs accent tile, it's most likely because all the other design details that make a kitchen sing, are missing.

Another kitchen that does NOT need anything interesting installed above the range. That's because all the other details make this kitchen interesting enough.
DON'T install a strip of accent tile on your backsplash or your shower.
This bathroom floor (pictured below) had me at hello!! Beautiful.
The rest of the accent tile here was TOTALLY unnecessary and expensive, I might add.
Save the money you would otherwise use to do this kind of completely trendy moment on decorating instead. No one ever has enough lamps and you can skip recessed lighting. Literally, if you consciously take all the money that this would cost and buy strictly lamps with it for your new house, you will be so much more happier, I promise!
And can I just say one more thing about this horizontal tile? I have NEVER loved it, even when it was trending. It ALWAYS looks too busy once it's up.
And in it's defense, the sample alone is pretty because it picks up all the colours you're looking for. That's why I think it's so popular.
If you insist on a strip of tile in your shower, DO something like this (below) instead.
Okay, now that we're here, look again at this photo. What was the design mistake here?
Yes, the black plumbing fixtures. There is no other black in this bathroom so they make no sense at all.
Details, details, details, are the difference between a fabulous bathroom or kitchen and a 'meh' one.
DON'T try very hard to make your shower niche a focal point
I have seen so many badly done shower niches in my time that I recommend hiding it if you can or blending it in as seamlessly as possible. After all, the day it will look the best is when it's photographed. It will be full of your shower products the rest of the time.
This niche with glass shelves is perfect, simple and timeless. No surprise, this was one of my design projects 🙂
Notice that the shower niche lines up with the window sill.
DO use coordinating tile in your shower niche
This coordinating herringbone tile in the niche (below) is also repeated on the floor. Perfection.
A shower niche can turn into a focal point but if the design of the bathroom doesn't make it easy, don't do it. Keep it simple instead.
This is a lovely accent tile moment and you can also easily see that a designer was involved in the execution of this shower:
DO install subway tile in a pattern you like
Here are some ideas, note that 6 and 7 are MODERN and will not look the best in a traditional kitchen.
What about size? In a traditional kitchen, 3 x 6″ is still my preference for the most timeless look.
If your kitchen is modern, then a longer, more modern tile is better.
Hope this helps you plan your next bathroom or kitchen renovation, if you need help, you can purchase my Create a Classic Bathroom, Create a Classic Kitchen, renovation package, or my new build package.
Related posts:
A 10 Year Review of Accent Tile; Should You Install the Current Fad Tile?
One More Reason to Skip Accent Tiles Altogether