If you're planning to use Carrara Marble tile in your kitchen or bathroom, you need to be mindful of the undertone and choose your countertop and wall colour accordingly. Here's what countertop looks good with Carrara Marble. 
We are still accepting applications for a FULL-TIME virtual Senior Colour Designer in my eDesign department. See the job posting here.
Beautiful silver bowl in the entry filled with found objects from the beach and two votives carved from rocks
I love staying in other people's homes rather than hotels because it's always fun to see how other people decorate, up close and personal.
Last week, my Mom and I went to the Sunshine Coast for a quick little getaway, sadly we were not far enough from what I'm now calling the #worstsummerever here on the WestCoast where it's been raining for a full two months. We had one day of sun the day after we arrived and then it was back to rain.
A blanket was still necessary that morning, which I flung over my legs every time the sun went behind a cloud 🙂
Anyway, this house was brand new (built last year) and the finishes had a lovely classic and timeless feeling.
The one mistake they made was choosing quartz countertops that had a violet undertone.
If you've been reading my blog (or my white ebook) you will know that Carrara Marble has a blue undertone. And I bring that up not to be critical, because they've done a gorgeous job as a whole. But because I think it raises an interesting point worth sharing.
There's no such thing as a solid quartz with blue undertones.
The even bigger mistake that quartz companies are making is that that a solid quartz with a BLUE undertone currently does not exist.
Therefore, if the homeowner doesn't realize that Carrara is blue, they would be looking at small samples of their marble (I mean that's how all samples are before they are installed) in the tile shop. And then the homeowner tries to find the closest match to the countertop, which in this case appeared to be the grey one with the violet undertone.
Here's the pretty master ensuite (below). If you'd like to see what the right paint colour should be, watch my Instagram video here (you have to swipe left on your phone to see the video).
The existing colour here is Benjamin Moore Grey Mist (in my system it's classified as a green grey greige). And while it doesn't necessarily clash with the marble, if you're going to introduce a super pale neutral, the undertones should be the same to avoid your paint colour looking like a mistake.
That is to say, Carrara would work with lots of paint colours, which makes it a classic and timeless choice. However, you want your paint colour to read like a 'colour' and not a barely there, neutral.
I like the alternating Carrara tile sizes on this shower! This is how to design with accent tile if you're going to go for it in a bathroom.
And again, here's the violet quartz countertop in the bathroom. It's not bad, but it could be much, much better.
Read more: Is Your Bathroom Perfect or Perfectly Nice?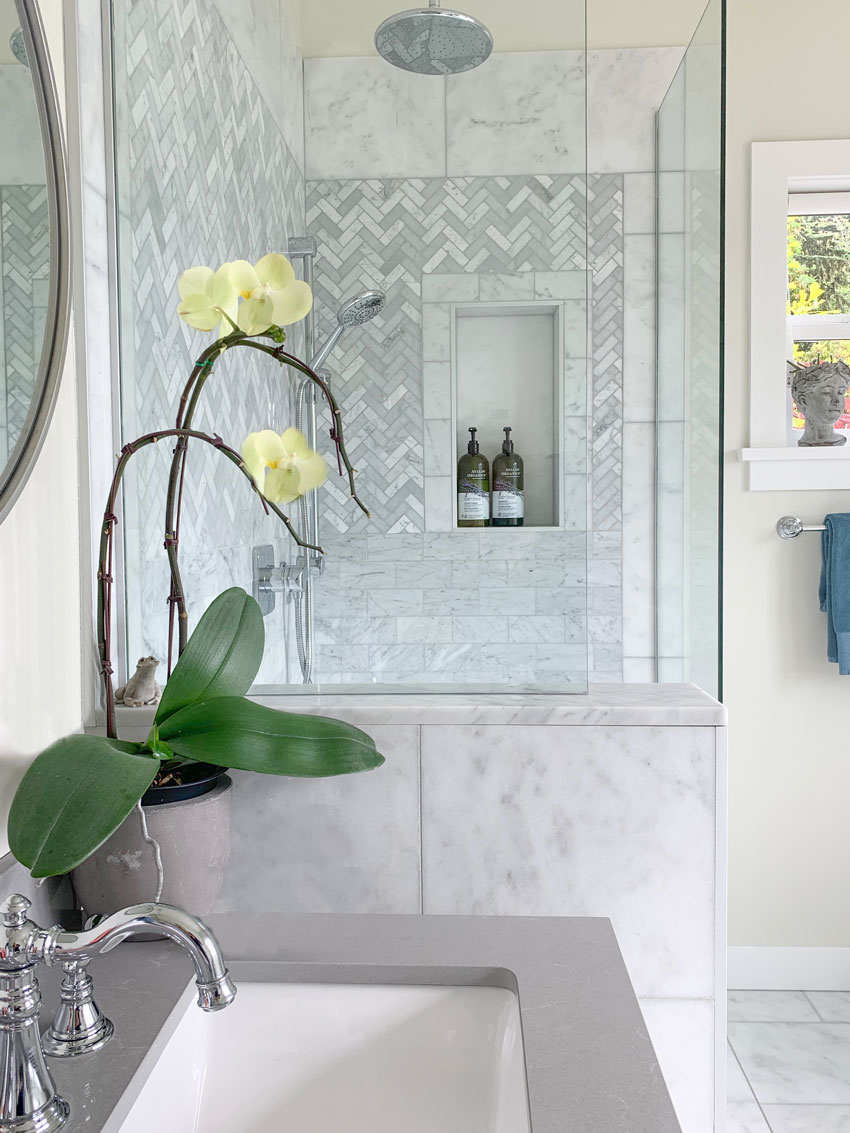 What countertop looks best with Carrara Marble?
The countertop that looks best with Carrara Marble is a Carrara slab or a pure white quartz, since a blue grey solid quartz does not seem to exist.
With hard finishes, remember that there is no such thing as "it's close enough, so it'll work." It's important to remember that if you are looking at some tiny samples and they don't look perfect, they are definitely not going to be better once that tiny 4″ x 4″ sample turns into a larger countertop.
This is why most bathrooms are not perfect yet… Because people assume there must be more than one good option, or think that 'close enough' will work. Or worse, many homeowners are not willing to wait for the right and perfect custom item to arrive and instead, pick up whatever the big box store has available.
With hard finishes, your choices are very slim indeed.
Make one selection and the world is no longer your oyster. If you are lucky, you may end up with a couple of options to choose from that will coordinate perfectly. Believe me, just because there appears to be so many choices in any given tile or countertop store – there are usually only a few options that will work perfectly – especially with Carrara Marble tile. Trust me.
Over to you my lovelies! If you have used Carrara in your kitchen or bathroom, what do you think? Are you happy with it? I often get questions about the durability!
If you'd like to make sure that your colours and finishes end up perfect, see my available packages here. Please note, the smaller packages are still marked SOLD OUT, but my Bathroom package, kitchen package, renovation and new build packages plus Exterior Bundles and are still available. My subscribers will the the first to know when they open up again.
To make sure your whites are perfect, download my White is Complicated; A Decorators Guide to choosing the Right White Here.
Related posts:
Second Rule of Design; Waiting New Equals Beautiful Later
A 10 Year Review of Accent Tile, Should you Install the Current Fad?
One Carrara Marble Bathroom; Four Colours
PS. Here's a few more pics of my Mom and I in the Sunshine Coast.  I couldn't resist snapping a photo of the back of my Moms new dress when she was enjoying the view one (on the sunny) morning (below).
Terreeia has been at a health retreat for 3 weeks, I'll be sharing more on my stories this week because she's back.