Understanding Undertones® is a core component of my comprehensive System for Specifying Colour, and my newly developed colour wheel is the definitive and only tool you'll need to use every time you choose a neutral colour.
I guarantee it will transform the way you choose neutral colours forever.
There are thousands of neutral colour options in the world but this system reduces that staggering number down to a simple list of nine most useful and most commonly seen.
These nine are identified by undertones and each one is illustrated and described on this convenient colour wheel you can hold in your hands. Take it with you when you're working hard to find the right neutral colour for your home — whether you're shopping for a neutral paint colour or hard finish or decor item — it will make your colour choices so much easier.
The nine useful neutral colours are comprised of five beiges, three greys plus taupe, which in my system, is a mixture of beige and grey:
Pink beige

Orange beige

Yellow beige

Gold beige

Green beige

Green grey

Blue grey

Violet grey

Taupe
You may be surprised to learn that over and over again you will see one or several of these nine neutral colours in the majority of the hard and soft finishes available in the marketplace today. That's why I've curated this list of neutral colours and called them the most useful and most commonly seen neutral colours.
Once you learn the almost magic power that comes from having my list of curated neutrals, your neutral colour selections become infinitely easier, allowing you to make colour choices quicker and with more confidence.
Really?! Yes, really. Learn to see and identify these nine useful neutral colours by their undertones, and once you do, you will be on your way to mastering how to choose neutral colours for the rest of your life.
What's So Special About This Colour Wheel?
This wheel serves as a blueprint for my complete set of the nine useful neutral undertones with an illustration* of what each one looks like and how one neutral compares to the others.
Each neutral colour is already identified for you in a lighter and mid-tone version. This eliminates any guesswork when you want to correctly identify the neutral colour of anything and everything. Simply compare a paint chip, hard finish, fabric or anything against each of the nine neutral colours on the colour wheel and you can easily see which colour it is.
I've followed the basic structure of a standard primary colour wheel in how I organized the placement of these nine useful neutrals.
The benefit of following this traditional structure is you can easily see cooler neutrals as distinct from warmer neutrals. The neutrals on the right side of the wheel are warmer, while the neutrals on the left side of the wheel are cooler.
Developing an eye to distinguish cooler colours versus warmer ones is an important part of understanding how to specify colours. This colour wheel sets you up for success in the world of neutral colours.
How the Understanding Undertones® Colour Wheel Will Lead You to Confidence and Competence
Here are all the ways this colour wheel can lead you towards confidence and competence in choosing neutral colours:
You'll clearly see a lighter and mid-tone version of each of the nine most useful neutral colours.
Through a process of elimination the colour wheel will help guide you to the right neutral colour for any situation.
You'll develop the skill of recognizing the subtle distinctions between different neutral colours.
You'll dial the wheel to read specific notes teaching you important guidelines for working with each neutral colour.
You'll learn which neutral undertones can be combined harmoniously, and which combinations are better avoided.
You'll find the wheel an invaluable preliminary tool when you are trying to identify a paint colour, hard finish, fabric, furnishings and accessories as one of these nine neutral colours.
Customize the Colour Wheel to You
To make using this colour wheel even more effective and helpful, I've also provided you with the ultimate cheat sheet to make the colour wheel personal to you.
As it is impossible to print paint colours to be as precise as the actual paint colour, my Curated List of Neutral Paint Colour equivalents allows you to customize the nine useful neutral colours with paint colours from Sherwin-Williams, Benjamin Moore and Farrow & Ball paints.
Maria Killam's
Curated List of Neutral Paint Colours
coordinated with my colour wheel
Click On Your Desired Paint Supplier Below
Neutral Paint Colour Name
Colour Code
Colour Name
Pink beige
7555
Patience
Dark pink beige
6106
Kilim Beige
Orange beige
7716
Croissant
Dark orange beige
6115
Totally Tan
Yellow beige
7688
Sundew
Gold beige
7697
Safari
Green beige
6148
Wool Skein
Dark green beige
7527
Nantucket Dune
Green grey
7036
Accessible Beige
Dark green grey
7640
Fawn Brindle
Blue grey
7064
Passive
Dark blue grey
7065
Argos
Violet grey
7043
Worldly Gray
Dark violet grey
7031
Mega Greige
Taupe
7037
Balanced Beige
Dark taupe
7633
Taupe Tone
Note: Colours in blue are equivalent to the front of the colour wheel
Note: Colours in black are equivalent to the back of the colour wheel
Neutral Paint Colour Name
Colour Code*
Colour Name
Pink beige
1037/OC-12
Muslin
Dark pink beige
HC-45
Shaker Beige
Orange beige
957/CC-248
Papaya
Dark orange beige
1102
CC-410
Boardwalk
Yellow beige
HC-32
Standish White
Gold beige
HC-38
Decatur Buff
Green beige
HC-81
Manchester Tan
Dark green beige
HC-80
Bleeker Beige
Green grey
HC-173
Edgecomb Gray
Dark green grey
HC-105
Rockport Gray

Blue grey
OC-52
Gray Owl
Dark blue grey
HC-169
Coventry Gray

Violet grey
859/OC-28
Collingwood
Dark violet grey
2108-50
Sliver Fox
Taupe
OC-16
Cedar Key
Dark taupe
CC-500
Ranchwood
Note: Colours in blue are equivalent to the front of the colour wheel
Note: Colours in black are equivalent to the back of the colour wheel
*US colour code listed first if different from CN colour code
Neutral Paint Colour Name
Colour Code
Colour Name
Pink beige
226
Joa's White
Dark pink beige
213
Savage Ground
Orange beige
208
Ringwold Ground
Dark orange beige
Note:
nothing
similar
in F&B
Note:
nothing
similar
in F&B
Yellow beige
67
Farrow's Cream
Gold beige
240
Cat's Paw
Green beige
8 or 3
String or Off-White
Dark green beige
211
Stony Ground
Green grey
201
Shaded White
Dark green grey
5
Hardwick White
Blue grey
Note:
nothing
similar
in F&B
Note:
nothing
similar
in F&B
Dark blue grey
242
Pavilion Gray
Violet grey
241
Skimming Stone
Dark violet grey
267
Dove Tale
Taupe
293
Jitney
Dark taupe
Note:
nothing
similar
in F&B
Note:
nothing
similar
in F&B
Note: Colours in blue are equivalent to the front of the colour wheel
Note: Colours in black are equivalent to the back of the colour wheel
Using one of the paint manufacturers' listed above, visit their stores and collect each of the neutral colours in the lighter and darker version from the curated cheat sheet (shown below). Simply cut the colour chips to size and glue them onto the colour wheel.
This takes my colour wheel to a whole new level. Now you can easily see and identify the exact paint colour equivalent of each of the neutrals colours you will use over and over again as you select hard and soft finishes as well as paint.
To get the complete list of neutrals in my system, from light to dark in each undertone category, refer to my BONUS BOOK OF COLOURS, located at the back of either of my ebooks:
How to Choose Paint Colours; it's all in the Undertones
or
White is Complicated; a Decorators Guide to Choosing the Right White
Available Below
Green beige with Sherwin-Williams paint chips
Blue grey with Behr paint chips
Here you can see that the darker blue grey on the printed wheel is not quite the same as the actual darker blue grey paint chip. This is why it's important you attach the right blue grey onto your copy of the colour wheel. Don't overlook this step as it makes the difference between the wrong colour and the right colour.
Taupe with Benjamin Moore paint chips
How to Stay out of a Deep Ditch When Using This Colour Wheel
Using the paint chips you've picked up from the paint store, cut them into strips so they cover the printed colour, then glue them on. After you've glued them on, it's easier to trim them so they fit the circular wheel.
You only need TWO sets of colour chips for each undertone. The copy that says 'Lighter blue grey' is the same as blue grey on the front of the wheel. Make sure you don't just stick the full chip on the outside of the wheel or you'll cover up the copy that gives you more information about each undertone.
When you're learning a new skill set, it's often easy to "fall into a ditch" and get off track by assuming things that will lead you astray.
Remember that I told you I've followed the basic structure of a standard primary colour wheel in how I organized the placement of these nine useful neutrals?
You can see this, right?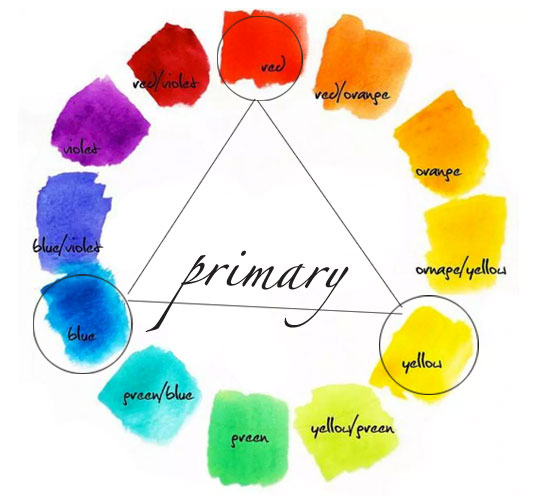 Pink beige occupies the respective space of red on a traditional colour wheel

Yellow, orange and gold beige occupy the respective space of yellow

Green beige and green grey occupy the respective space of green

Blue grey occupies the respective space of blue

Violet grey occupies the respective space of violet

Taupe occupies the space between violet grey and pink beige
This placement has EVERYTHING to do with cooler and warmer and NOTHING to do with which chromatic colours may or may not work well with neutral colours. For example, while a yellow beige can be paired with the chromatic colour yellow, it's not the only neutral colour that will work well with yellow and you shouldn't try to limit yourself to forcing these artificial combinations.
Interior Design by Maria Killam
A great number of chromatic colours (saturated hues) can be successfully combined with several of the nine neutral colours when creating decorating palettes so don't fall into a ditch that assumes the the neutral colour on the colour wheel can only be paired with its closest chromatic colour.
Bonus Guideline for Neutral Colours
Don't Leave Home Without It
If you've found that it's generally much easier to choose a chromatic colour in some version of red, yellow, green, blue or violet, you're right. While choosing a chromatic colour has its own set of guidelines (as do whites), by far the trickiest colours to choose are neutrals and you need all the help you can get.
Not only are neutral colours deceptively difficult to get right because of their bossy nature and subtle differences, they are also the category of colours you'll need to choose the most often!
When you're building or renovating your home, you'll most often find yourself coordinating neutral colours and whites in hard finishes for the interior and exterior of your house. It's much less often that you would choose a chromatic colour for your stone, carpet, tile or a countertop rather than a neutral colour or white.
Once you get to the exciting stage of decorating your home, the neutral colours in hard finishes will inform and guide the colour palette you create for furnishings and decorating.
And, while painting a bedroom, office or bathroom a vibrant or muted colour can cause you to dance a happy dance, there will be many times when the perfect wall colour will be a neutral one.
Now that you have my Understanding Undertones® colour wheel AND you've customized your own colour wheel, you have almost every possible tool in your tool box to help you choose colours with confidence.
The only remaining piece of the trifecta of success that can help take you from amateur status to that of a professional, are my Specify Colour with Confidence large colour boards. These 11×14 hand-painted boards come in several collections and allow you to not only see neutral undertones, white gradations and the most versatile chromatic colours and darks, they help your client (or your husband) see what you see.
Let's Take the Colour Wheel out for a Spin!
Here are three examples of how to use the wheel once you've glued down your preferred company's paint colour chips, making the wheel perfectly accurate and customized to you.
1. You want to paint a room a neutral colour that relates to your fabric.
When you want to identify which neutral colour(s) relate best to your fabric, you'll simply place your colour wheel on top of the fabric in question and rotate the wheel to see which one (or two) look like they're in the fabric. Here it's clear to see the neutral colours in the flower are actually taupe, although the lighter parts of the flower would also relate well with green grey.
Green grey colour board (right)
Taupe colour board (left)
You've got a very good idea of which neutral colours are in the fabric and would look beautiful repeated in a paint colour for your walls.
Now what do you do?
To be completely confident in your final choice, reference my Curated List of Neutral Paint Colour equivalents shown above, go to the paint store and pull out, from light to dark, all the green greys and taupe chips.
Or, even better, if you bought my collection of curated colour boards, pull out the green grey and taupe boards in lighter and darker tones to determine which one looks the best.
When you are looking for the right wall colour, the colour board must be held vertically, the same direction as your wall. If you are looking for the right ceiling colour, the colour board must be upside down and horizontal, just like your ceiling. And, if you are choosing a paint colour for a table top or floor, put your colour board horizontally — just like the table top or flooring. Make sense? Your colour board sample must be viewed in the same direction and way you'll look at the finished paint product.
2. Your countertop has multiple neutral colours and you need the right wall colour.
The first step to choosing the right wall colour is to identify the colours already in your countertop. By placing the colour wheel on top of the countertop, you can easily eliminate most of the beige neutral colours as well as blue grey, leaving you with four possible options: green beige, green grey, violet grey and taupe.
Green beige, green grey, violet grey and taupe
The next step is to prop up those colour boards up on the counter, against the wall to see which one of these four neutral colour options you prefer. The trick to using my colour boards correctly is to always place it in the same direction the paint will be seen.
If this is your kitchen countertop and it opens into the great room, having a versatile countertop like this one makes it easy to make a wall colour choice that would then coordinate with the colours in an adjoining room since you are not stuck with just one choice.
3. You are looking for the perfect wall colour to relate to your floor tile…
Again, the first step to choosing the right wall colour for this floor tile is to identify the neutral colour in the tile. Place the colour wheel directly on top of the floor tile and identify which of the neutral colours on the wheel is the same as the colour in the tile. It is easy to see the neutral colour of this tile is blue grey. Nothing else looks remotely close.
Now if you want to find a paint colour that coordinates with the tile, you'll pull out your blue grey colour boards like I've done in the picture above, and you can consider if having blue grey walls will make you happy. The trick with blue grey is to know in advance the colour will look more predominantly blue than grey.
*Colours on this wheel (whether on the digital or printed copy) have been chosen to as accurately as possible portray the given colour. Please note they are representations of the undertones and ARE NOT intended to be used for direct colour matching. Take this colour wheel to any paint store and simply compare with their colour strips to guide you to the right range of neutral colours. The accuracy of the colours on the wheel are somewhat limited by the printing process and should be used as a guideline rather than relied upon as a definitive proof of colour.
We worked very hard to make the colours on both the digital and printed copies of the wheel as accurate as possible but there are limitations in both mediums. The accuracy of digital colour relies on the quality and calibration of the screen. And it is impossible to achieve the level of accuracy required to show the subtleties of the neutral undertones in conventional printing. The wheel would need to be hand painted for it to be as accurate as the colour decks and paint chips offered by the major paint brands.