Trying to find a more current paint colour for your home? These days everyone is opting for fresher and lighter exterior colours. The most important step in the process is testing your exterior colour. Here's how test exterior paint colour the right way.
Image via Brooke's Instagram
Today I'm happy to bring you another before and after of an exterior eDesign transformation, we recently helped a fellow blogger Brooke Wegner (above) create with her house! Tricia Firmaniuk, my virtual assistant wrote this post:
The Shortcut to Testing Exterior Colour; Before & After
Blogger Brooke was in love with her new house for her growing family. But the exterior needed some serious help.
The dark reddish brown (below) was heavy, frumpy and dated — not at all a look that says a savvy mom and young family live here. Brooke admits that at first it was hard to get past the colour and buy the house. She knew that painting the exterior was an absolute must.
She also knew that finding just the right colour to work with the stone was going to be a challenge, so she enlisted Maria's help with an eDesign consultation.
Before: Dated Brown Exterior Colour
Clearly, this house needed a lighter, fresher colour, but it also had a somewhat randomly placed block of red brick right smack dab in the middle of the lower elevation (below).
I suspect this is the reason the previous owners opted for a reddish brown in an attempt to work with it.
Before: Random strip of brick bossing around the entire colour scheme
Which kind of worked, but why would you want to cover your entire house in the most dated colour on the facade? This kind of thing happens all the time with "creative" mix and match claddings that developers are so fond of these days.  See how bossy an innocent little, completely unnecessary strip of brick can be?
We wanted to create a fresh and creamy look on this house so the brick had to go. The solution? Just paint it out. See ya brick!
Keep trim painted same as body colour.
The previous homeowners had made the right decision in keeping the trim painted out the same as the body colour.
If you look closely, painting the trim would have made the house look very choppy and busy. See the three windows close to the gutters at the top? It looks like there isn't any trim along the top of each window.
So we opted to unify it with one soft creamy colour on the body AND trim for a more current look.
Here's the AFTER.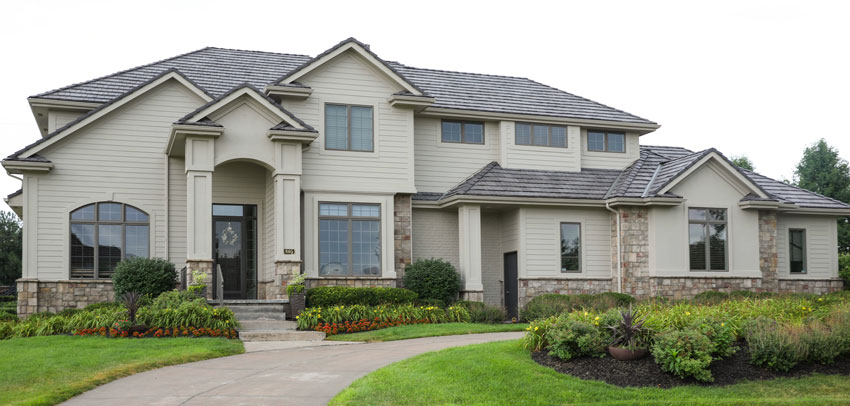 AFTER So fresh and pretty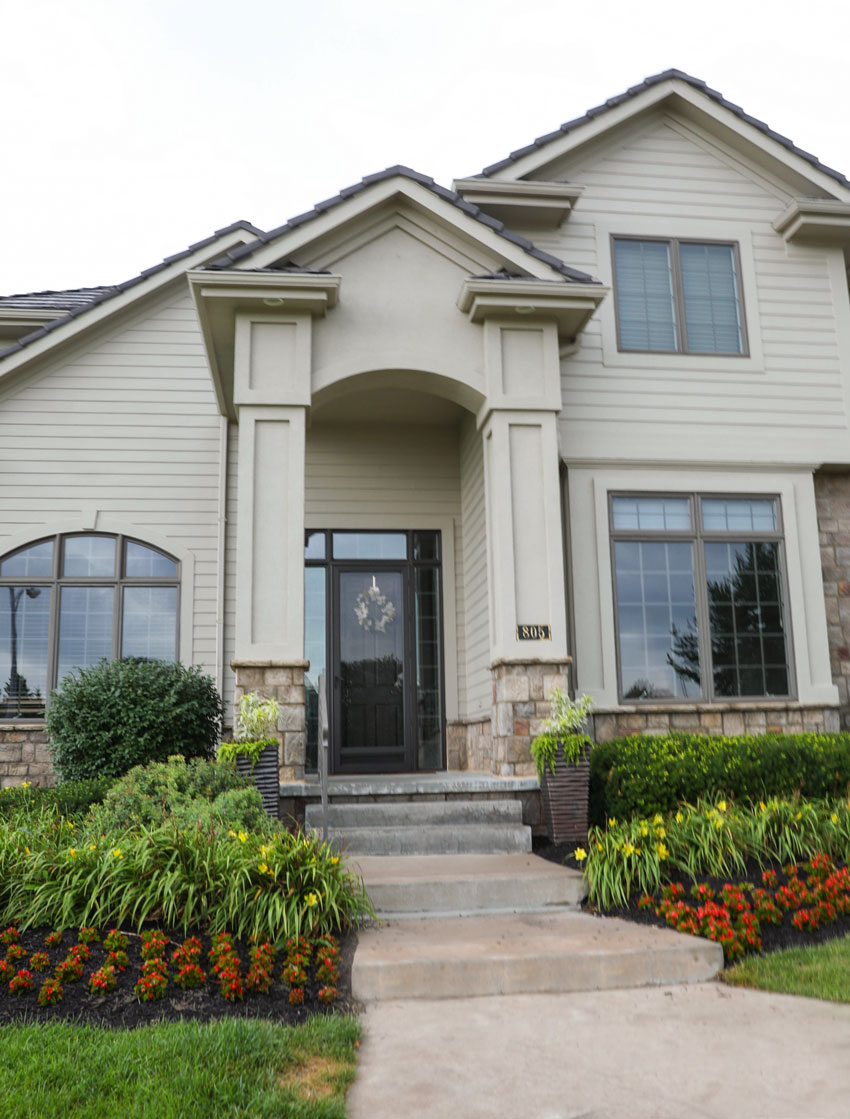 AFTER
In the before images she sent us, the stone looked so bright and creamy in contrast to the brown that we initially gave her a pale pink beige that would read cream on her exterior. We asked her to test it by painting out an isolated section surrounding a window and meeting the stone so we could see how it was working.
The shortcut to testing exterior colour: isolate the colour in one area!
In case you missed it, here it is again: The EASIEST way to SEE the colours that your testing is to ISOLATE the colour in one area. Here we had our client paint the area FULLY around the window so it was easy to see what to do next.
If you start painting a random patch on your house, you will surely make the WRONG decision. ESPECIALLY when going from such a dark colour to a lighter colour.
That's the shortcut to making sure you end up with the correct colour or neutral. Painting the exterior of your house can be very expensive and you can't just close the door if it's wrong. The entire neighborhood will see it.
First Colour Test
Why testing your exterior colour is so important.
When she sent us the photo of the colour test, it was clear that it was too light, so we offered two more options. The one on the left was more taupe, and the one on the right a pale green gray (below). The original selection can still be seen around the top of the window.
Tweaked Test Colours
Brooke really could have chosen either of the second round options, but she preferred the Benjamin Moore AF-100 Pashmina on the right, which was reading creamier.
Both green grays and pink/violet taupes are present in the stone so either options would have worked. The difference between the taupe option and green grey option are subtle because they are blown out and essentially reading cream in the bright exterior light.
Let's take a look again at the dramatic before and after exterior – from dated brown to fresh and light.
BEFORE
AFTER – painted out brick and siding to match – Benjamin Moore AF-100 Pashimina
Now the existing dark taupe windows look newly painted as well because you can see them. Before they looked totally painted out and blended in with everything else.
BEFORE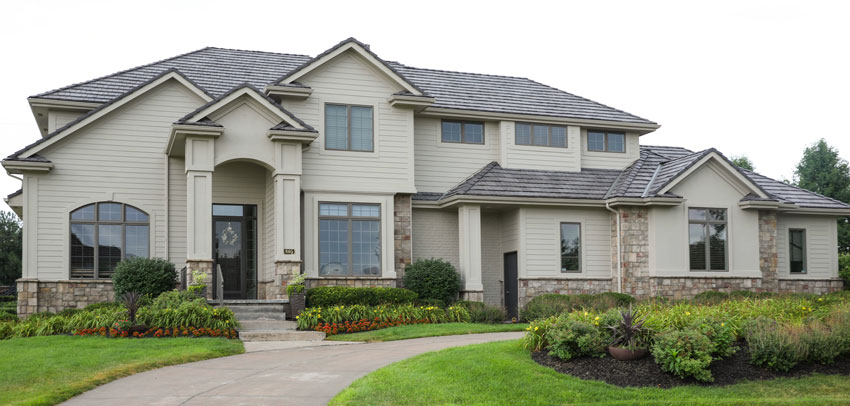 AFTER
Brooke and her family are much happier with the look of their house now. Thanks Brooke for the lovely before and after photos!
Brooke is a lifestyle and fashion blogger and she wrote a post here where she included this comment:
"I couldn't speak more highly of Maria and her team as well as the overall process! I was surprised at how precise they are at picking the exact color using your home's fixed features. To start the process, we sent Maria pictures of our home – full view and close ups. She also requested we take pictures of the stone and brick with a piece of white paper, as this allows her to better see the undertones.

We were then given a full report of the colors and accent colors to start with. It took about 3 different samples to get our exact shade. Some of the early samples were too light or too cool – things that I couldn't really tell until Maria pointed them out! 

If you are considering painting your exterior (or any area for that matter), I really encourage you to enlist the help of Maria – her knowledge of color and tones is so impressive."
If you would like help transforming your exterior from a before to an after, treat yourself to a convenient and effective eDesign consultation here.
You can see that my groundbreaking system of Understanding Undertones™ is critical to choosing the right exterior colour. Become the next True Colour Expert here.
Related posts:
Exterior Consultation with Orange Stone and Brick: Before & After
10 Tips to Transform Your Exterior
Can you Combine Brick and Stone on Your Exterior? Before & After
SaveSave
SaveSaveSaveSave
SaveSave