Thank you so much to The Washington Post for featuring my bathroom on their Timeless Paint Colours article, October 13, 2020 here.
Everyone wants a fresher paint colour, but white isn't always the answer. When you understand the world of complex creams, you'll find they are a more versatile and softer alternative to white when you want to lighten things up. Let me explain.
**BUY THE BOOK: White is Complicated (It also includes a bonus book of my most popular go-to whites, categorized by undertone.)
Three years ago I renovated my master ensuite, and revealed it here. And this summer, I've made a slight update. Can you spot what it is? Take a look below.
Here's the after:
Keeping up with colour trends
What's fascinating about the world of colour, is that when you literally do volumes of colour consultations (like my team and I do in our eDesign department) you can instantly speak to where colour trends are right now and the direction that they are moving.
Years ago I was a member of a colour association and whenever I was in a group setting talking about where colour was going, I was usually the most vocal (are you surprised – ha, ha). And that was because I conducted so many consultations, I could confidently speak to where colour was trending.
And as you all know, I love to share my insights. Writing a colour and design blog for the last 12 years obviously helps.
The Black and White Trend
It's been approximately four years since I started talking about the black and white trend. I announced it first when I went to Maison & Objet in September of 2016 here.
Back then, black was strictly a fringe conversation, only for those in the know.
Now, I'm constantly trying to rein my clients' enthusiasm for black into balance.
The demand for white is the biggest colour trend we've seen
And white walls and their refreshing simplicity were gaining a following that eventually exploded into the most all encompassing colour trend we have ever seen.
Remember this post about white I wrote in July 2018? I wrote about the America's white obsession because it the trend was at its height, and was a constant request from clients in my eDesign department.
When white officially became the new grey, I understood why. It was just too soon to go back to beige (we'd been doing beige for 30 years leading up to the Tuscan trend) and white seemed the newest and freshest choice.
It's why the most popular colour choice for new builds right now is white, white and more white. Inside and out.
In fact, in our eDesign department, when we receive the elevations and specifications for a new build exterior, it's not uncommon for us to get this request :
"Maria, our neighbours on both sides have white houses but we want white too. How can we make it look different?"
This is often where random installations of stacked stone come in (much to my chagrin). And, I talk about this at length in my Exterior Masterclass here.
In my 20 years of being in the colour/design industry, I have never seen a trend take over quite like this one. Usually, I look at the neighbours homes and it's easy to come up with a colour for your exterior that you like in addition to complementing your neighbour's home.
But, when everyone just wants the same colour, now what?
Right about now, is when I need to insert my usual qualifier. I know when I say EVERYONE, it sounds like this applies to YOU as well and you might be thinking, "Not me. I don't want my house to be white?" Please know that when I say EVERYONE, I'm referring to a majority. The white trend has won an overwhelming majority for sure.
Distinguishing the palest almost white neutrals by undertone
Anyway, I digress. In the last four years since white has come onto the scene, we've been splitting hairs even further with the palest of neutrals. Because, most often, it's a very pale neutral that will give you the ideal white walls or white exterior look.
I've already been specifying GREIGE for most of the grey trend. In my system, a greige is not a warm grey like Revere Pewter, it's the palest of the pale warm greys. When I say 'greige', I'm basically referring to warm greyed whites. They are the palest colours in the green grey, violet grey and taupe categories.
But these greyed whites, while impressively versatile, and softer than starker whites, look too cool in many contexts.
What is a Complex Cream?
Cream is the answer when you want or need a warmer look, but you still want light and bright. Like when you want to create a fresher look in a room that has earthy beige, brown and gold finishes. Or your "white" furnishings are really cream (this is almost the rule, not the exception).
But just as greyed whites (greiges) are more versatile for walls than starker whites, creams that have some complexity of pigment (complex creams) are softer and more flexible than cleaner creams that read mostly pale yellow.
And how do you get a cream that looks richer and more complex (meaning there's more varied pigment in the colour)? Well you choose the very palest of beiges to get there.
Back to my classic and timeless master ensuite update
This brings me back to my bathroom renovation which I completed three years ago.
Back then, when I pulled out the botanicals I wanted to use in the ensuite bathroom to help me choose the paint colour, I could instantly see that the background of each botanical was an orange beige.
So, I pulled out an orange beige that has been a part of my collection of large samples for 20 years. It's a colour I specified in the 90s when I first started colour consulting. And, it's a colour I have NOT specified for 15 years. You can tell it's an old board (below), it's hand painted by me, that's what I did before I started selling them here.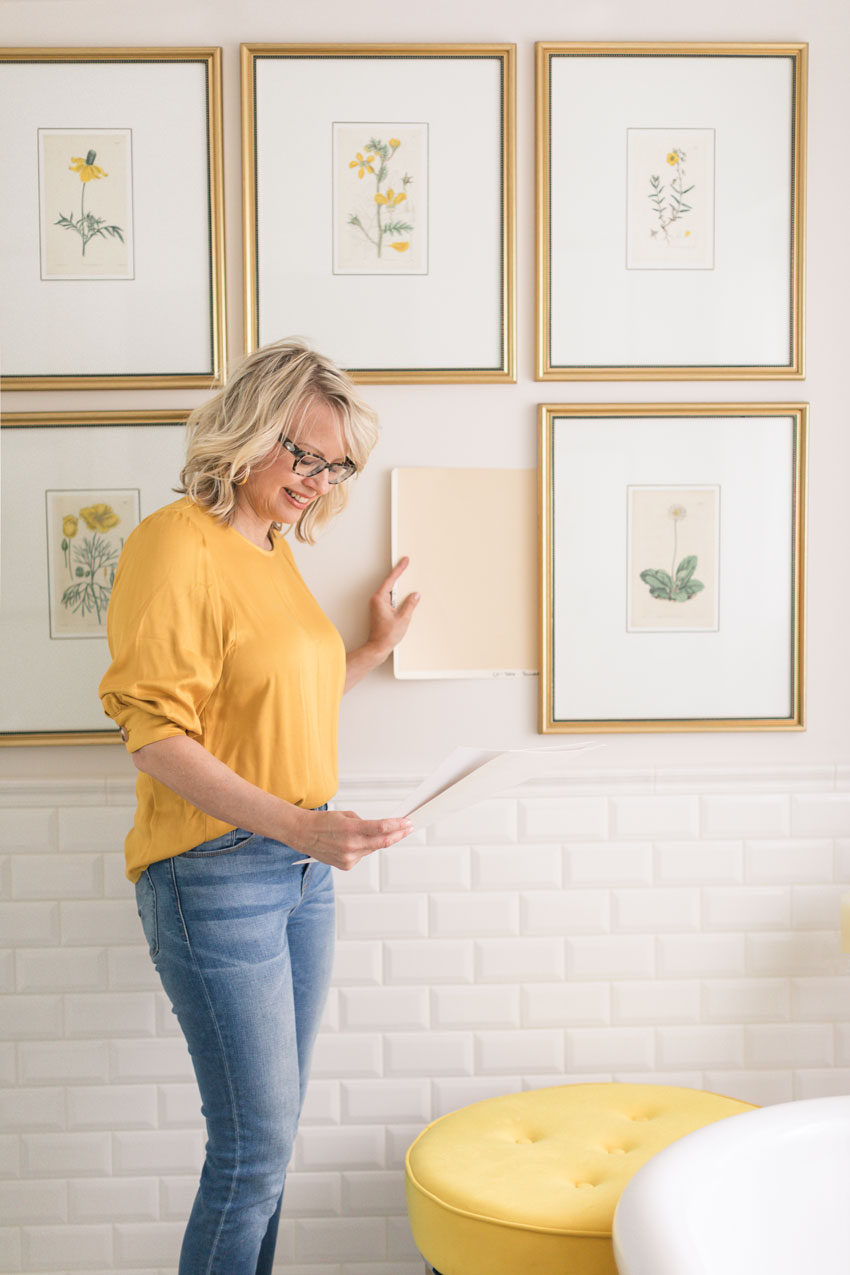 The colour, Benjamin Moore Sundial CC-400 (a light orange beige) matched my botanicals
So I wrinkled my nose and thought, "Ugh I can't paint my bathroom a 90s orange beige!?!"
For this bathroom, I didn't want any shade of grey. Turquoise was out because it was already my cabinet colour (BM Wythe Blue HC-143), so after going through all the other possible options, I choose SW 7028 Incredible White because it was a barely-there greige. And it ended up being quite pretty in this room (oh, and it was also repeated in my small area rug).
My readers barely noticed what colour the bathroom walls were. The decorating was the feature in this space. It had a look and a feel.
Here is what it looked like before:
By the way, early on in my identification of greiges, I didn't distinguish their specific undertones. They are so pale and versatile that it was not critical. It was enough to know that they were shaded whites.
Now that we are splitting hairs on whites and the palest of the pale colours, I have identified SW 7028 Incredible White, the original paint colour of my bathroom (above), to be violet grey greige.
My new bathroom walls in Benjamin Moore Indian White OC 88 (orange beige complex cream), Vanity in BM Wythe Blue HC-143
Fast forward to today. Since we're now specifying the palest of beiges and beige has five undertones (see the wheel below) I now have four complex creams in my system (because pale gold beige is really just yellow beige).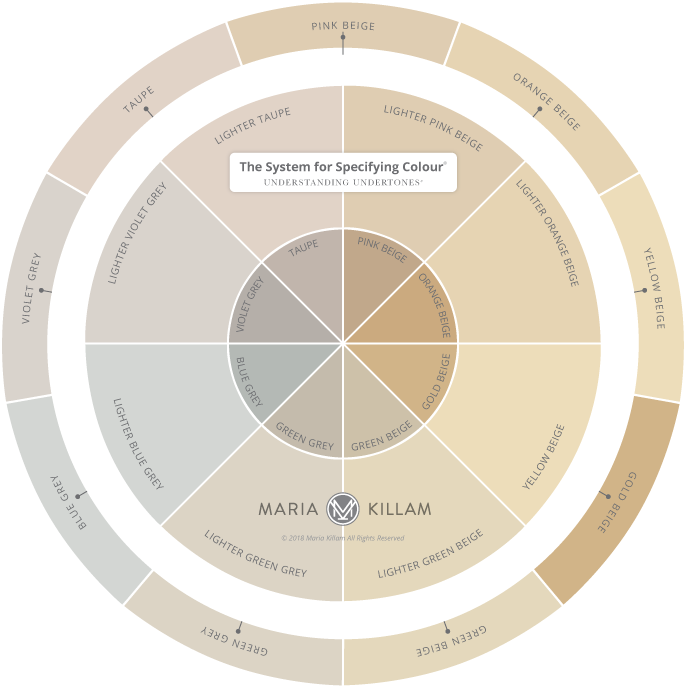 You'll find the palest beiges basically read cream with whichever undertone that works with your finishes or furnishings. Kind of magic right? When everyone is trying to sidle up as close to white as they can, knowing the perfect cream that will give you the same look while still flattering your finishes is a WIN!
I love the new warm, creamy walls in my ensuite. And of course, I'm delighted that the walls now have the same undertone as the ground of my vintage botanicals.
Round Mirror | Kate Spade Sconce | Similar Botanical Prints | Gold Frames | Pinstripe Faucet | Candles | Glass Knobs
If you have a Tuscan bathroom filled with pink beige travertine, in the past I would have asked you to try BM Muslin 1037 or SW 7555 Patience to make it fresher. Now that the trend has moved to WHITE, these two shades of pale pink beige still feel too dark for most people. So, now I specify a pink beige complex cream instead (SW 6105 Divine White or BM Maritime White 963).
Complex creams are a whole shade lighter, but still warm enough to relate to the undertone. The sweet spot.
And I have done the same with the rest of the beiges in my curated collection of large samples and updated both ebooks to reflect this shift in paler colour trends as well.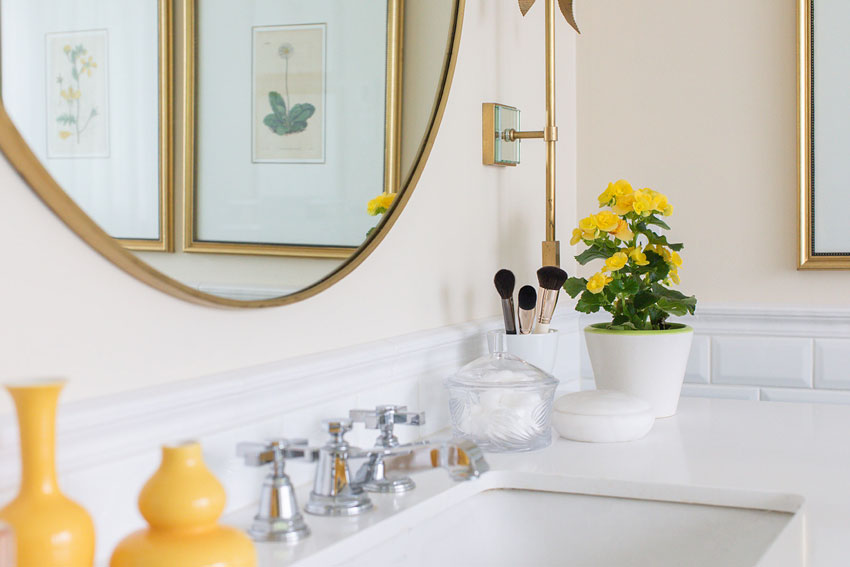 Wall Colour: BM IndianWhite OC 88
Similar Botanical Prints | Gold Frames | Similar Yellow Ottoman | Glass Knobs
My design clients often lament that an all white or cream bathroom won't be warm. Instead, think of a white bathroom as a versatile canvas for styling and decorating. Don't forget to add colour with art, flowers and even a lovely area rug! And, you can change it up whenever you like!
Get the Look
Shop My Bathroom Design
Round Mirror | Kate Spade Sconce | Botanical Prints | Gold Frames | Pinstripe Faucet
Candles | Yellow Ottoman | Glass Knobs | Monstera Plant
I anticipate that the complex creams will continue to grow in popularity as the colour trends warm up again. Because I've noticed that even though the colours are warming up, the overriding look is still FRESH and LIGHT. While mustard, sage, cognac and even browns and beiges begin to trend again, the best balance will still be struck by generously layering in lots of white and cream.
I've needed a good example like this for a while to properly introduce this new update to my system in a visual way, so if you don't have my ebooks yet which will place this entire conversation into much better context for you along with all the other colours in my system, get them here.
Here's what people are saying:
Unfortunately my husband and I were of the schooling that white paint was the one labeled "gloss white trim paint" on the can. Sure, it makes the decision easier, but it doesn't have the Pinterest-worthy look I was trying to achieve in those spaces. After reading this book I have a much better understanding of the different degrees of white and how they relate to my existing fixtures (especially the ones I can't change right now).

And most importantly, when it's the right white, it looks deliberate and updated – not plain and dated. This book simplifies what can be a paralyzing decision at the paint store. It's a reference book that every homeowner-turned-decorator should have in their toolbox
Related posts:
Now that 'Beige is Back' is Painting my House Greige a mistake?
5 Reasons you Cannot Paint your House Art Gallery White