"I'm a big fan of your blog, and your e-book helped me choose paint colors I love when we bought a house last year.

I love the look of subway tiles, but I've noticed they've been around for awhile. I know here in New York, I've been seeing them for about 10 years (they could have been around for longer but that's when I first became aware of anything related to design or decorating!). In fact, the other day I was watching a rerun of Sex and the City (which ended in 2004), and I noticed that Carrie's bathroom had subway tiles. These days, they are ubiquitous. So I worry that if I were to redo a bathroom in New York in 2014 using subway tiles, it would be outdated in 5 years?

So my question is: what's coming next? Surely there must be some up-and-coming trend that hasn't reached the masses yet but will be the next big thing?" Debbie
This is such a great question! I'm sure Debbie isn't the only one wondering about the very same thing. So here's my answer:
No.
The current trendy tile is always out there and available. Right now that's all those laser cut geometrics (third) image below. Before that it was that horizontal pencil tile (first image below) and before that it was mosaics (second image below).
Subway tiles are ALWAYS in movies and TV shows because they are what most bathrooms should basically be tiled in. Classic and timeless. Set designers try hard to create spaces that don't scream a particular era, unless that's what they are trying to show of course.
Carrie's bathroom on Sex & the City seen through her closet.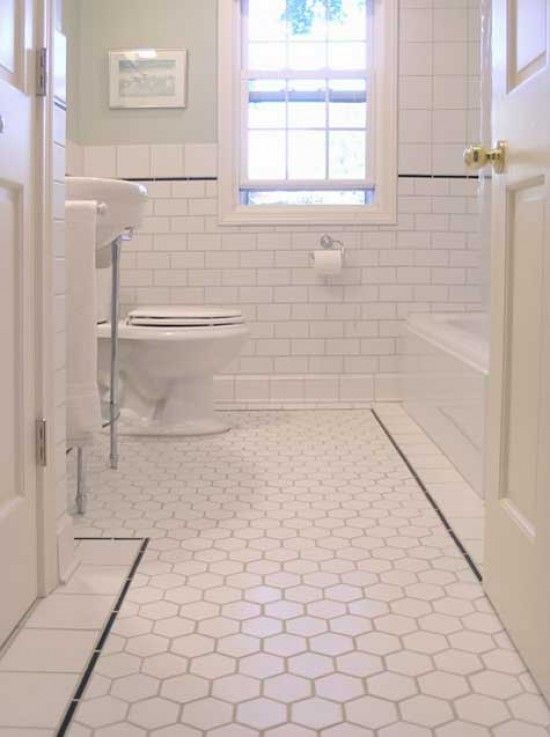 If you inherited this bathroom (above) would you immediately want to rip it out?
No.
And, except for the larger hex tiles which make this bathroom current, it's actually hard to say if it's been in this house for 25 years or one year.
What makes a bathroom personal and interesting and different from everyone else's is a dresser you might incorporate as a vanity.
A fabulous mirror (or two) you fall in love with.
Funky light fixtures.
Subway tile should be one of a very small selection of tile anyone sells. If that were the case, there would be way less waste in the world with everyone installing what they think their trendy bathroom or kitchen should look like and the next person ripping it out.
Is all this trendy tile bad and wrong? Should you get upset if you have it in your house? No, of course not. This is not an attempt to make everyone feel bad that your bathroom isn't some variation of the ones I've shown.
This post is for someone who is about to renovate or choose finishes and you haven't had time to make the mistakes we've all made at some point. If this is you, listen up. You might be someone who will love your bathroom for a very long time.
If you have a question for an Ask Maria post, email me here.
Related posts:
Is your Bath Perfect or Perfectly Nice?