If you've inherited a stone fireplace you don't love, or you are building a new house, read this before you start! You will forever be decorating around your fireplace, so this isn't the time to jump in without a design plan for a classic fireplace you'll love for years to come.
Before You Begin Your Stone Fireplace Makeover
Usually my eDesign department is super busy in the Spring and Fall but this year, we are busier than ever even though the summer! And the fireplace conversation is one I have a lot with my clients!
Many people simply assume that the next upgrade to a plain, yet dated brick fireplace is to add ledge stone. I'm here (as usual) to tell you that you're simply turning your current bossy coloured fireplace into another bossy one.
You still have to decorate around the colours in the fireplace if you want the room to look the best.
Choosing classic millwork instead of stone
And, it takes a designer eye to create a beautiful stone fireplace. So, unless you have a decorating plan go with it, you're much better off to install classic millwork instead (similar to the fireplace above). You'll be happier with it in the long term.
I inherited the classic and timeless millwork mantels in my house and the surround is some kind of cream plastic product. No idea what it is, but I love that I don't have to think about the colour of the fireplace, or the surround, AT ALL when I decorate.
The photo below shows what a common stone fireplace makeover or upgrade looks like. Compare the above photo to the after one here. It's easy to see which one is prettier. And way more timeless.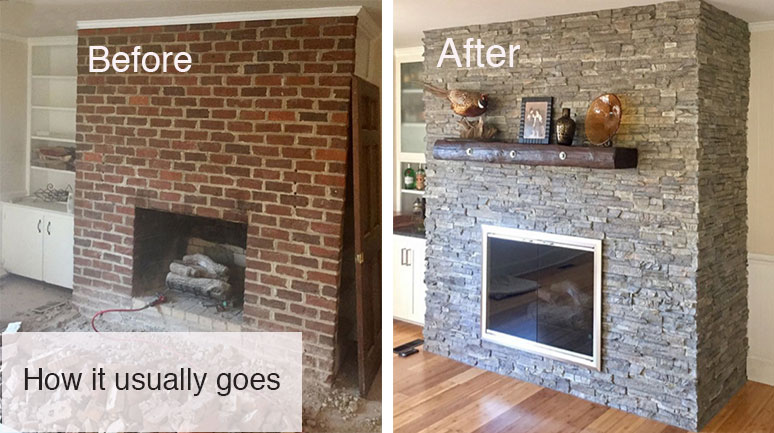 This I know to be true. How? Because this example (above) is WAY MORE COMMON than the beautifully designed stone fireplace. You know, the carefully chosen fireplace where the decor and style of home is kept at the forefront of each (and every) decision.
There's nothing wrong with a stone fireplace, but it needs to be designed thoughtfully just like anything else that will be such a big feature in your home.
For example, does your fireplace in the great room relate to your kitchen?
Painting the brick fireplace white (like in the photo below) would have been much prettier makeover. It would neutralize the orange and keep it classic looking, and makes it easy to decorate around, year after year.
Related post: Should I Paint my Fireplace?
Considering a fireplace for your new build? Don't install a new fireplace without reading this first.
Should you paint your brick fireplace black?
Black fireplaces are definitely trending – just like black windows, doors and black tile. However, notice how much styling is happening around this black fireplace example to make it look amazing!
Did you know that black can look really good on an exterior in a very green landscape setting because kelly green is so pretty with black? The same holds true here, with all the ferns hanging out of this one.
Read more: Black Contemporary Exterior eDesign Consultation
Again, if you paint your fireplace black, you'll need to repeat it in your decorating. However, in this case, it's easy to change back to white if you don't love it. So, if you are ok with black being part of your decorating plan, this might be a good option for you.
But Maria, I want to make over my stone fireplace with stone
There's nothing wrong with stone, but it has to be carefully considered.
Like this contemporary room (below) with the modern Japanese inspired, zen stone fireplace. Perfection.
Why?
The pale green beige colour of the stones effortlessly relate to the weathered wood ceiling and even the drapery colour. And, while the combination of the stone and ceiling both lean bit rustic, the fireplace feels like a work of art – it's even framed. Other decor and accessories are kept simple, allowing the stone to be the star of the show.
Notice (below) how well the gold beige of this fireplace has also been repeated in the decorating. The colour of stone has been carefully considered here from the wood tones, to the leather on the stool, to the lampshade colour, and even to the animal hides on the floor.
The violet upholstery on the sofa and chair lends a lovely and feminine contrast to the earthier gold beige in the room. You can tell a designer has been here.
You can see that the sectional in this white living room is pink beige which relates perfectly to the pink beige, green grey and gold beige fireplace stone. So if you do have existing stone, notice how pretty it is when you decorate around this very bossy fixed element.
Rarely do people keep their rooms exactly the same for more than 7-10 years. Therefore, if you stick to classic finishes in your fireplace, you won't need to get rid of EVERYTHING when you do embark on a stone fireplace makeover.
So look, if you're considering ledge stone, I've just saved you so much money and the angst of then having to decorate around it. Now all you need is a quart of paint 🙂
You're welcome.
And if you have it already in a colour you don't like, well these days, chalk paint can make it classic and timeless again. Problem solved.
If you'd like help with your new build or renovation, check out those packages here.
Related post:
Why Stone and Accent Tile are NOT as Important as You Think
The Easy Way to Style a Fireplace Mantel