The grey trend has fully saturated home design. Shopping for a new home, this reader noticed an abundance of all-grey renovations. Here's how to decorate with grey floors or other grey hard finishes you're stuck with to help bring your home back to life, without replacing everything.
What if I Don't Like the Grey Flooring That's Everywhere?
This is a great Ask Maria question I was happy to receive because I think a lot of people are dealing with this same dilemma:
My husband and I are looking at downsizing. Every single one of the newer condos we look at is grey-flooring, paint, cabinetry. White kitchens with grey mosaic tile backsplashes or grey cabinets with grey floors. . . grey on grey on grey.

I did not love the grey trend cycle at all and opted out completely. While I love colour, I've always leaned to warmer colours- reds, yellows, creams, Wood, cognac leather. Nothing I own will suit a grey on grey look. I particularly dislike grey flooring but it's everywhere.

I feel terrible ripping up nearly new flooring- but I'm not going to suddenly buy a turquoise couch to help the grey come to life.

How do you successfully mix preferences for warm/earthier colours with this grey trend without putting almost new materials in the dump? Is there a way?
Tricia Firmaniuk, my senior colour designer, is shopping for a new home right now and she agreed that it's everywhere in all the updated homes for sale she's seen in her area.
And here's the average kitchen with the exciting and trendy backsplash of course (below).
Why I Stand Behind Boring
I recently received a comment from someone who said "They way I see it Maria, you like BORING". Whatever happened to 'Different strokes for different folks?'"
And that's exactly right. Because boring now equals timeless later.
What's boring about the possibilities offered by a blank canvas? Nothing, they are endless of course.
And where's the stroke of inspiration in grey upon grey with more grey and a bit of black? Because let's face it, this is where people's "creative" choices lead them when they are not taking a bird's eye view of the trend cycle. They are simply picking from what is on display at the flooring store. And that means trendy.
Save your upgrade budget for your next house.
Tricia says it has been really disheartening to see the "upgrades" that people are hoping to recoup the costs of in the sale of their homes. She would rather have the slightly too warm and worn oak floors and older wood cabinets that can be painted. The best house they found had miles and miles of shiny brand new charcoal shag carpet, a big expense to replace right off the bat if you're over grey.
A backsplash is no big deal to replace, but flooring does get expensive. And it's wasteful.
These two images (above) are the reason why I constantly talk about classic and timeless on this blog.
Because this is the kitchen that I see every. single. day. Trendy, with a shelf life of just a few years and even less if this was recently installed for resale with the homeowner blissfully unaware that the grey trend was already over.
How to live with all-grey renovations.
So what can you do if this is what you see over and over again? If the home that has the perfect location and price point with the ideal exposure and layout is decked out head to toe in the grey trend?
While it's true that nothing brings grey to life faster than colour, it's not that you must decorate with colour if your floors are grey, what you need to do is REPEAT the grey in your decor (a little bit) to make it look like you're not ignoring it completely.
But first, let's explore some ideas for making it prettier shall we?
How to decorate with grey floors.
There are not many flooring gaffs that cannot be greatly improved by a natural fibre rug like seagrass or jute. And they are relatively inexpensive. Have them measured to leave approximately a foot or a little more all around the room. This instantly adds warmth just like this image (above).
See how it brings in the look of natural wood? And the black banister and grey tile? Repeat them judiciously with furniture and decor to create an intentional look.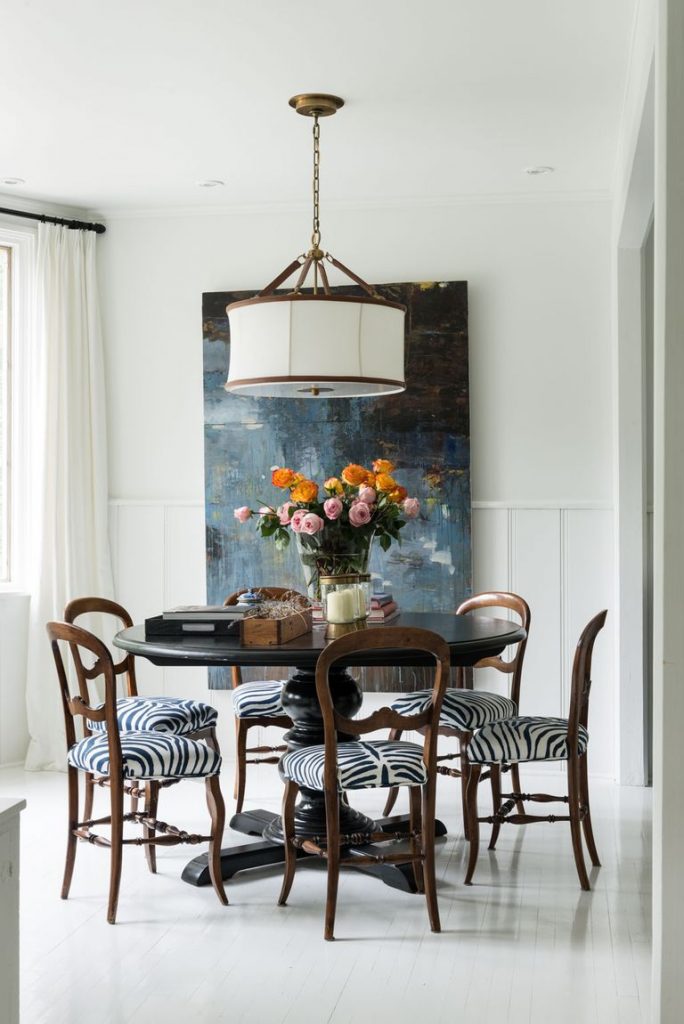 Why you Should Paint all Your Floors White | Richard Ouellette
You could paint your grey floors white! Radical I know but white is definitely trending. And it would be a lot less expensive than replacing them. If there was something in my house that really bothered me and I was stuck with it, I would not hesitate to paint it. You would be amazed what can be painted with the right product. Tile, stone, flooring, brick, even countertops in some cases!
Layer in some warm cognac, wood tones and white. Oh, and a little brass doesn't hurt either.
Charcoal banister, natural fibre rug, cognac, wood and white | Decorated Life
While this spiral staircase will not be found in the average house on the market, the elements are all here. The natural fibre rug, lots of warm wood, white and cognac. Essentially, the idea is to compensate for the lack of warmth with yummy wood tones and crisp white in everything else you bring in. And the charcoal is lightly repeated in the artwork and accessories.
Notice the green accent in the library shelves? Fresh green and plants is also a fabulous way to freshen a neutral grey palette.
You won't find many designer rooms with grey flooring.
It's honestly not easy to find pretty rooms with grey flooring because that is not what pro designers install. Classic natural oak floors are the go-to choice for the professionals. Because they're beautiful, timeless and versatile. But I'm sharing a couple rooms below that balance a lot of grey successfully to give you ideas.
Cognac and grey | Anna Hewitson Design
This lovely room above has a grey palette that feels timeless. Why? Because it is intentional and balanced by white, warm cognac and brass. There are also delicate hits of black that don't overwhelm. The pretty architecture doesn't hurt either, but you get the idea.
This kitchen below is not an example of the standard DIY renovated in the grey trend specimen. However, the large charcoal sofa, area rug and island add up to a lot of grey. And again, they are expertly balanced by warm wood, loads of white and cognac leather sprinkled with a few black accents in the lighting and dining chairs.
Charcoal, white and cognac| @amberinteriors
Grey floors | Home Deco
I think the cat was the inspiration for the colour palette in this boho take on grey and cognac above, haha. These floors are grey, and all the woody baskets and warm brown accents, once again make it work.
The theme? If you are working with a lot of grey, natural wood tones are your friend. If you don't have a pretty wood floor, decorate with wood tones instead! Any room can come to life with love and clever decorating.
I hope this helps you discover how to decorate with grey floors! Let me know what you think in the comments below. How have you been working with grey floors?
If you'd like to submit a question to my Ask Maria column, send your question and photos here.
If you need help choosing flooring I can help through my eDesign services here.
Related post:
The Most Timeless Hardwood Floor
Ask Maria: What's Next After the Grey Trend?