Description
This consultation includes:
In the Complete Renovation consultation you will get Maria's guidance to create a classic and timeless update for home that perfectly suits your style.
Her advice is laid out in a clear step by step flow so you know where to begin, what follows and all the considerations in between, to lend order and direction to your project so you can implement like an expert.
Maria will provide source links for recommended finishes. The brands and products she recommends are widely distributed and easy to source at mid range to inexpensive price points. Maria is not compensated by brands she recommends (i.e. paint, countertop, backsplash, flooring, etc.). These finishes are selected because they are the right colour to create a classic and timeless look.
If the item cannot be ordered online, or you would prefer to source them locally, you can take the names, images or samples of these finishes to your local suppliers to find something comparable. Often, products can be sourced easily from your local home improvement store. Decorative items such as lighting may occasionally include affiliate links.
She will give you at least a couple of options, complete with live source links, wherever possible for any of the the following elements you may need help with to create your ideal home:
For the Kitchen and Great Room
FLOORING FOR MAIN AREAS INCLUDING KITCHEN
STYLE AND COLOUR FOR ONE FIREPLACE
KITCHEN CABINET COLOUR
KITCHEN COUNTERTOP
KITCHEN BACKSPLASH
KITCHEN FAUCET AND HARDWARE
KITCHEN DECORATIVE LIGHTING
KITCHEN APPLIANCE COLOUR
Perfect Paint Colours Throughout
OPEN LAYOUT OR MAIN NEUTRAL WALL COLOUR
OPEN LAYOUT OR MAIN CEILING COLOUR
OPEN LAYOUT OR MAIN TRIM COLOUR
PAINT CEILING AND TRIM COLOURS FOR UP TO 3 ADDITIONAL ROOMS
Finishes and Colours for up to 3 Bathrooms
VANITY COLOUR
COUNTERTOP
WALL TILE
FLOORING
WALL COLOUR
FAUCET AND HARDWARE
DECORATIVE LIGHTING
If you are doing a renovation, it is likely that you won't need help with every one of these items, the idea is to get a complete and comprehensive plan that accommodates any elements you may be working around.
Please note, this package does NOT include advice for furnishing and decorating. It is intended to help you get all your paint colours and finishes just right for your new build.
When will I receive my advice?
Your Complete Renovation Consultation advice will arrive via email within 10-15 business days from when we receive your complete information.
How can we do this online?
"Because getting colour right is much more about choosing the correct undertone than being able to predict how the colour will change in the light."
How the eDesign process works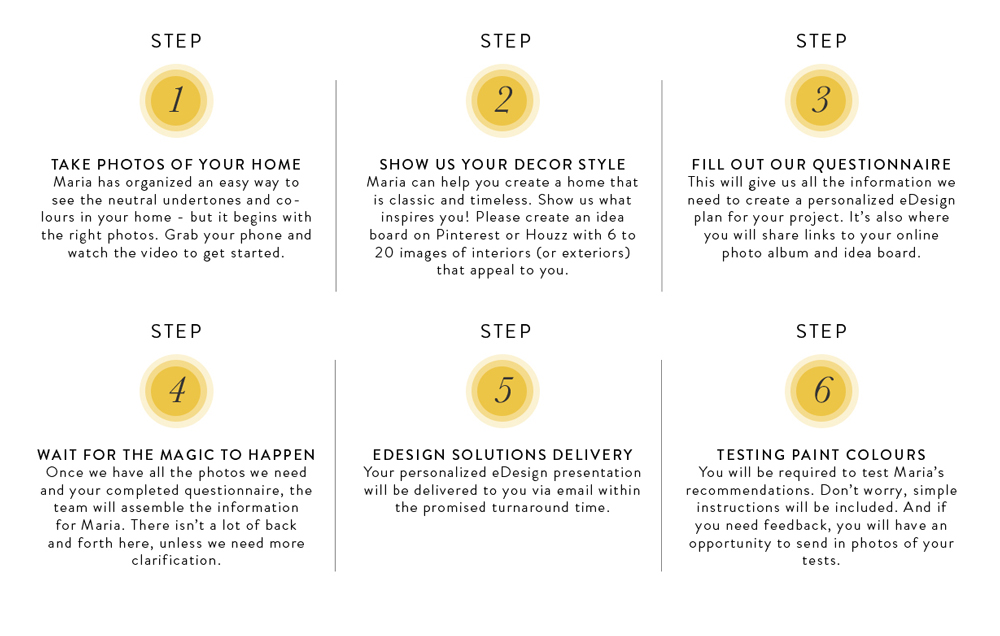 eDesign Instructions
More questions?
About this consultation
Doing a full renovation is a big exciting project. You want to make sure that all your finishes and colours are just perfect and that you will love your home for years to come. You don't have to work around anyone else's bad choices and you certainly don't want to make any that you will regret. Each selection influences the next, it can get quite overwhelming, and from reading my blog, you know you definitely want to avoid clashing undertones and bossy finishes.
I have helped thousands of homeowners create their own custom classic and timeless home and I have created this package so I can offer my experience and expertise to you too.
Are you worried about getting all your finishes, colours and undertones correct in your new build or full house renovation? If you've read my blog at all, you'll know that NO ONE ELSE will help ensure that your colours and neutral undertones actually coordinate.
We notice colours that are wrong all the time, and you might have already made a few mistakes in the past. Here's how to make sure you get it right this time!
The Complete Renovation Package is a convenient way to get Maria's recommendations for your finishes and colours to simplify the process of creating a home you will love.
Maria has worked with thousands of clients will all imaginable types finishes and colours. This service provides guidance for DIY decorating so it's rare to have after photos that are worth posting, because they require professional styling and photography. This is why you won't see many of them on the blog.
Maria's Classic and Timeless Aesthetic
Since Maria's aesthetic point of view is classic and timeless, this consultation will not include elaborate layouts of various accent tiles since trendy hard finish installations do not stand the test of time. Usually if you're hiring Maria to help with your new build, you've read enough of her blog to be familiar with her aesthetic and will be happy with her specifications.
The Complete Renovation eDesign package provides what most people are looking for, which is a colour plan from a to z that fits with the style of your home and that flows throughout the house.
NEW BUILD EXTERIOR ADD ON
If you need help with your exterior in conjunction with this package, you can purchase the All Inclusive Exterior Colour package as an add on (see customize your package options above) for a discounted price. It provides colour suggestions for all elements of your exterior including colour of any trim and cladding elements like stucco, siding, brick or stone, roofing, and accents like shutters and doors.
One final note:
When you get colour advice from the Maria Killam team, we are not guessing. We will not be asking you questions like "What do you think?" Unless you really do have two choices where both will work equally as well and still give you the classic and timeless look you want for your home. What we are doing is using our experience and expertise to find you the perfect colour solution that will work in your specific design situation.
We do colour not drawings. We will not design the foot print of your kitchen or home, however because Maria has seen literally thousands of kitchens, she can often save you from making a critical error on your fireplace design or kitchen layout by making an informed observation.
This Interior Colour Consultation is a residential service. Please contact us for a quote for commercial property inquiries.
DESIGN CONSULTATION GUARANTEE
You have paid for our time and we want you to be happy, so if you have any objections or concerns about the recommendations, we ask that you share them with us along with photos of your colour testing and give us the opportunity to tweak our selections.
REFUND POLICY FOR UNUSED CONSULTATIONS:
Things come up in life, situations get altered or sometimes we just change our mind – it happens. Our eDesign team is here to make you happy and we are committed to complete client satisfaction. So, if within 90 days of your purchase, and prior to submitting your information, you change your mind, we will provide a refund less a 5% or a minimum of $25 administrative fee. After 90 days, or once you have initiated the consultation process by submitting your information, we can no longer provide a refund.