Now that everyone is decorating with black, here's what you need to know about the undertones of black and how to use black wisely in your home decor or on your home's exterior.
I find it fascinating that I did not feel compelled to write a post about the undertones of brown. I'm even trying to remember if anyone even asked me about them during the brown trend.
Undertones in dark colours are more forgiving.
I rarely need to discuss the undertones of black and brown because they are so dark they don't react with other colours as much as choosing the wrong mid-tone or light neutral undertones do.
But for the record, the undertones of brown are either red, green, purple or orange. However, most people don't care about that right now because it's black that everyone is interested in at the moment.
Let's move onto black then shall we? Now that every single new house on the block is either pale creamy, white or black, it's probably time to dissect this colour further.
The undertones in black are either blue, purple or green.
You can see the undertone shifts slightly better by directly overlapping the colours. Comparison is key.
Some good examples you can look at more closely if you have access to them are:
Blue Black: Farrow and Ball No. 85 Black Blue
Purple Black: Benjamin Moore Carbon Copy 2117-10
Green Black: Sherwin Williams 6994 Green Black
Or, of course just plain black without an undertone.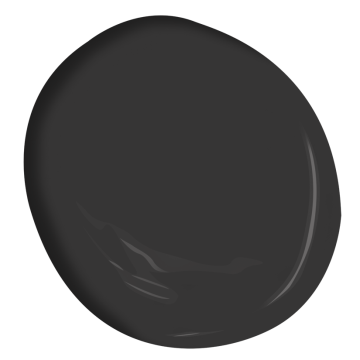 The blackest black is a pre-mixed black. You'll find this in lacquers and stains already mixed at the paint store. Well, sort of.
The controversy over the blackest black.
You may have heard about the controversy surrounding artist Anish Kapoor's claiming exclusive rights to the "blackest black", Vantablack.
Kapoor has exclusive rights in the art world to this pigment which has created a backlash from other artists.
Vantablack by Anish Kapoor and Surrey Nanosystems
In any case, looking at the dots of the different undertones of black on a high contrast white screen, you can see that the shifts are very subtle. So subtle that you often don't really need to worry about them in high contrast situations.
However, if you are trying to match a black, it's good to be aware of these different possible undertones, and intensities, to help you get the best match.
In any case, blacks are fairly closed. They don't let a lot of light escape and reflect back to your eye. In other words, they hold their cards very close, which makes them pretty forgiving to work with.  And that is good to know, because the black trend is going strong for both interiors and exteriors.
Choosing Black – exteriors
In my opinion, as an all over colour, black works best on only the most modern of exteriors.
What about a black fence colour? Click here for my thoughts on that.
On more traditional exteriors, black accents can make a modern statement.
Designer Terry Ryan via House & Home
Most often, we're seeing black windows and accents on white houses. But are black windows right for your home – click here to find out.
Without a doubt black and white are IT for current or really fresh looking interiors right now.
Decorating with black – interiors
For interiors, black done well is all glamour and elegance. Used as an accent in an airy bright space, it can be much more casual (much like black windows on a white exterior), but if you're going all in, it needs to be almost theatrical and pushed to an edge.
Read more: How to decorate with black tile.
This is why the black kitchen is so challenging. Kitchens tend to be warm and casual gathering places. A black kitchen can feel like it should only be used to serve martinis.
Glamorous black kitchen by Trevor Ciona and Curtis Elmy
On the other hand, a black kitchen can feel simply elegant.
Or, a black kitchen can be a bit rustic and moody.
Kitchen by Designer Megan Pflug
It's the details that make black millwork sing.
However, you'll notice that the success of a black kitchen is in the designer details. Magazine worthy kitchens are not easily copied.
Painting a typical kitchen black can easily feel heavy and dumpy, just like a the dark espresso wood-stained kitchens of the Tuscan trend did. And we're all so familiar with that, right? So, I don't recommend it unless there is a fabulous designer on the job. This is not to be elitist, but it really is a next level kind of look that needs careful consideration.
It's also worth pointing out that glamorous dark kitchens are very pretty to look at in a photo, but I suspect they would be a bit difficult to live with in the long run. Black tends to show every spec of dust.
And yet this black trend can be found everywhere. Even casual spaces like laundry rooms are getting the glamour treatment during the black trend.
Designer Steven Gambrel featured in Elle Decor
Bathrooms are going glam in black too. Look at this black soaker tub lined in brass below.
All black decor is a big commitment.
For most of us, the best places to indulge in the black trend is in dining rooms and bedrooms. These tend to be smaller spaces where you can create a dramatic effect with paint, without committing to all those expensive black fixed elements that are hard to change out when suddenly you're over it.
Speaking of black fixed elements though, I do think a black marble fireplace mantel (or a black surround) is absolutely classic. It needs to be repeated in the room, but a little is more than enough.
Designer Nicole Hollis in Luxe
Something to notice as you scroll through all these beautiful images is that it would be very difficult to pinpoint the undertone of the blacks in these rooms. And when you're shopping for a black chair to work with this black marble fireplace, it's really not going to be necessary to worry about whether the black has the right undertone to work with the marble in most cases.
When will we see the return of the dreaded black leather sofa?
I am taking bets for when we start to see the black leather sofa begin to crop up everywhere again. Simply picking a large piece of upholstery in heavy overbearing black and then trying to build a room around it is not going to work well most of the time.
Ask Maria: Should I buy a black sofa?
Actress Julianne Moore has a black sofa below. I'm not sure the black wing chair in the foreground was the perfect choice, but she and her designers made good use of black sprinkled throughout her pretty home.
Julianne Moore's home in Architectural Digest
The best way to indulge in the black trend.
Here's a couple of rooms that make smart use of black. They achieve all the drama with less commitment.
Paint is an easy way to indulge in black. Go ahead and paint the walls of your master bedroom or dining room a velvety matte black, and repeat it like he's done with the chairs here. Add a bit of glam brass, and voila!
Check out this black bedroom reveal by my Senior Colour Designer.
Here is a cozy master bedroom with a coat of black paint contrasted by lots of white bedding and warmed up with pretty wood tones and antique frames.
If you scroll back through all the images in this post, you will notice that the most important thing to do to make black really sing is to add warmth. The best way to do that is with warm wood tones and brass.
Here is an elegant example below:
Brian Atwood in Architectural Digest
Over to you my lovelies, where are you adding black to your decor?
If you need help choosing the right black for your interior or exterior, check out our eDesign services here.
Also, we have been backordered on my large colour boards for months but I have GOOD NEWS, we finally have them all BACK IN STOCK! Shop all the collections here.
PS. I arrived in Finland last Thursday and spent the past weekend in Helsinki. Tomorrow my Mom and I start our two week tour of visiting friends and relatives, most of whom I have never seen!
My Mom (Hellen) and Maria
Here I am (below) standing beside the fountain in Helsinki called Havis Amanda.
It was constructed in Paris and installed here in 1908. Today it is recognized as one of the most important and beloved pieces of art in Helsinki.
I love that the Finnish flag is waving perfectly in this photo!
Do I look like a Fin? When I got on the plane in Amsterdam there were a lot of women with thin blonde hair just like mine and I felt right at home, haha.
I've also done one of those genetic testing kits and my report says I'm 99% Finnish.
Our dear friends of the family, Paivi (below right) and her sweet daughter Emma (below left) toured us all over Helsinki this weekend. My cousin Elara (who lives in Vernon and owns this Yoga Studio) was with us too!
Emma and Paivi
Finland is NOT experiencing the Saharan heat wave the rest of Europe is, but we're watching the news and if you're there, I sure hope you're okay! That kind of heat in countries without air is so scary!!
Stay tuned for more pics and if you're interested you can follow along on my Instagram stories here.
Related Posts