Your fence has a big impact on your curb appeal. You may be wondering which is the right fence colour? There are many considerations for choosing the right fence colour.
And, because your fence will act as a backdrop for your private yard space, you want it to complement your home and landscaping perfectly.
Of course, just as with any colour decision, you need to consider what's happening on the rest of your home before you make a decision. Let's look at some examples of fence options and my do's and don'ts for choosing the right fence colour.
Whenever I research a post I'm writing to see what other people are saying, I always cringe when I see declarations like this from articles giving colour advice to the consumer:
"When it comes to picking out the right paint and stain for your fence, it all depends on what you want!"

or this statement, which is no better:

"To help you decide which colors complement each other, try looking at a color wheel to see which colors look more balanced."
If you've been reading my blog for any length of time, you've already guessed that this kind of advice is useless and helps no one. This is also the reason why I spend approximately 5 minutes on colour theory in my Specify Colour with Confidence courses.
Why?
Because having a thorough understanding of the colour wheel does not give you the proper tools and knowledge to choose colours for hard finishes, fabrics or paint for your house or your clients home. The end.
CLICK HERE if you want my help selecting the perfect fence colour for your home
I have NEVER and I mean NEVER consulted a PRIMARY colour wheel to choose a paint colour, countertop, or fill-in-the-blank-here. My neutral colour wheel shows you where the neutrals fall inside the conventional colour wheel, along with guidelines for coordinating them, which is way more useful.
Choosing the Right Fence Colour
Okay, there are many factors to consider when choosing a fence colour and this post cannot possibly cover all of them. However, here are some do's and don'ts to consider:
DO your homework BEFORE you stain or paint your fence.
Did you know… A transparent stain (without any colour) will last maybe two years. A semi-transparent stain lasts 2-3 years.
And then when you don't maintain that and your fence gets discoloured, you might get a solid stain which lasts 5 years if it's an alkyd (oil based) and 3 years if it's a latex.
Then, when that is also not long enough, you'll eventually paint (this also goes for stained beams on the exterior of your house too, by the way).
My mom went out and unknowingly (and with obvious bad advice from the paint store) ended up with a 'solid stain' to paint her brand new deck for the first time. Within two years it has chipped badly and looks terrible. If she had simply stained her deck with a semi-transparent stain, it would have faded instead of chipping (NOTE: obviously the wear on a deck where people are walking is much higher than it would be on a fence).
Now she is considering installing PVC decking because you can't go back to transparent stain if you have used a solid stain, that is, unless you strip the entire deck. And, because you can't change the colour of PVC, it's really important to get the colour right the first time.
Read More: 7 Exterior Lessons from Cape Cod Architecture
A lot of people choose to leave their fence 'unstained' for this reason. Because if you don't maintain the stain, it starts to fade (which is fine) but then the bare wood weathers to a green grey (pictured below) and then you'll have orange bits in other places–which is not so attractive.
Therefore, if you don't plan to meticulously maintain your stained backyard fence, let it weather and it will turn a green grey or taupe shade like this:
This is my backyard fence with espalier apple trees growing along the fence. It would be really hard to maintain this every two years if I stained it.
DO consider coordinating your fence with the light trim colour on your exterior.
My white garden gate and vinyl decorative fencing match the white trim on my house.
You can see the backyard fence I was just showing you behind the gate (above).
My house with white trim
Join my exterior masterclass here and learn more via my fence colour video lesson.
The fence on this house also relates to the trim colour nicely.
DON'T just paint your fence the current, trendy neutral if it does not relate to your exterior.
This house has a pretty contemporary fence on one side, stained brown probably because of the tuscan brown trend. However, it actually DOES NOT RELATE to their white house with the black roof, at all.
However, the outdoor furniture does seem to relate, and the orange gravel stone kinda relates to the fence on the other side of their backyard (below) – which I think is a better fence colour choice for this house.
Here again (below), the fence is weathered and appears to be unstained. I like how it relates to the hardwood inside the house as well.
So, if you have large patio doors or windows like this, consider what colour your floors are inside your house before choosing a fence colour so it relates as well.
DO choose a fence colour that relates to your house.
If you are going to paint or stain your fence (and not leave it to weather, like I did) then this advice seems pretty obvious. 😉 In other words, repeat a colour that already exists in your exterior.
This cream house looks great with the coordinating cream fence to match.
On this pretty home, the trellis is painted the house colour and the gate is painted the same colour as the doorway.
And this home, where the fence and shutter colour are the same.
DON'T just stain your fence an orange colour (to look like cedar) if it doesn't work with your house!
I see this a lot. It's meant to look like "natural" cedar, but does it ever really?
Most often you just end up with a strong orange fence that doesn't relate to anything.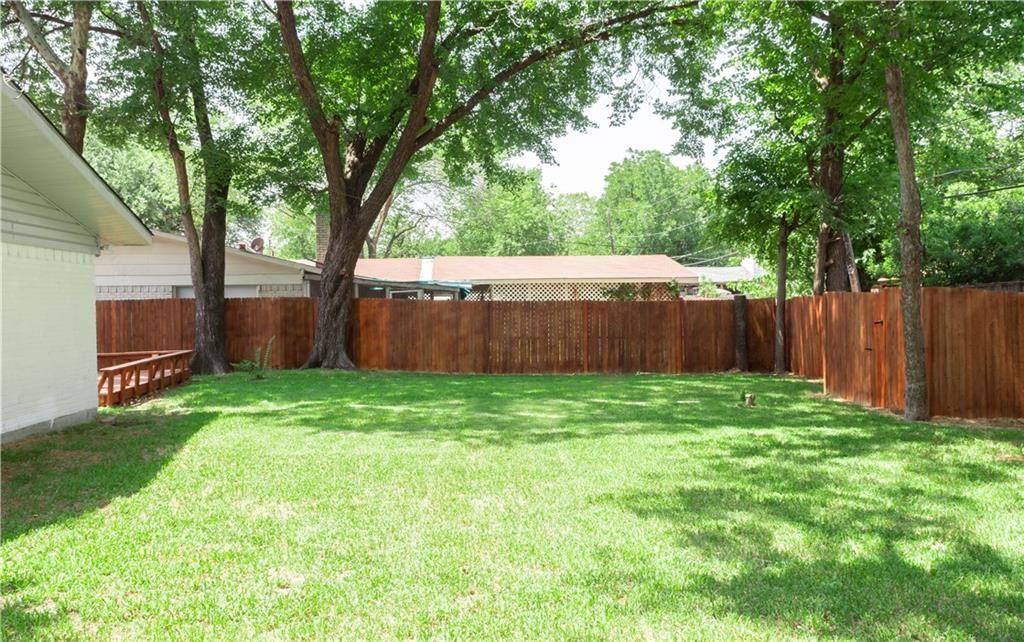 In the photo below, you can see that the deck has weathered to a green grey and the fence has been freshly stained. Probably leaving it the weathered grey would have been better since it in no way relates to the blue and white house.
image via Zillow
DO invest in a landscaping design plan!
And just because I'm totally biased, I recommend my Garden Designer MaryAnne White. She lives in New York and we did it all of my garden planning long distance 5 years ago.
Don't go cheap on the design plan! It's the least expensive piece of any garden. All the materials and labour are what adds up fast!
So, if your fence already looks a little too orange (like the photos above), you can still make it beautiful with garden beds in front of it.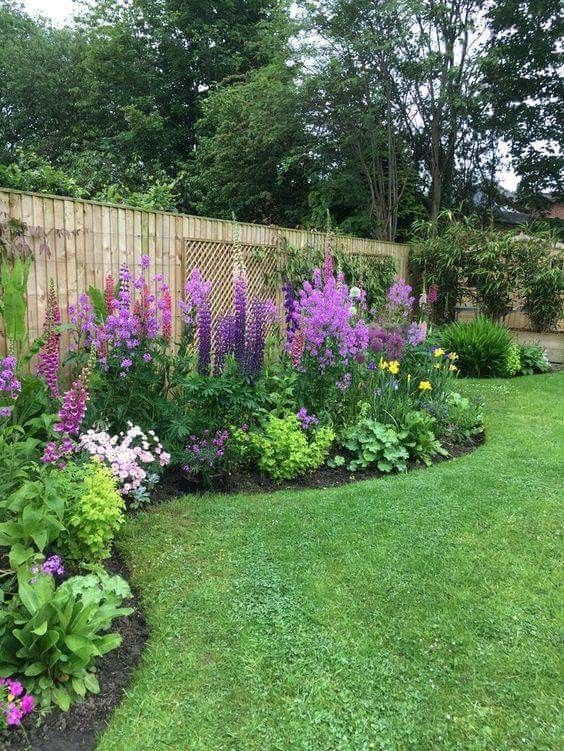 Or, this is a beautiful combination with hostas, if you have a shady backyard.
Again, if you have to choose, spend your money on landscaping. A lot of people spend way too much money on stone and other unnecessary design elements to make their exterior look more interesting.
Landscaping is what gives the exterior of your home a look and a feel. It's just like when you add lamps and accessories inside your home, that's when it really feels like home and a place where you want to hang out!
DO go for an elegant solution, like continuing your fence with the same surface material as your exterior.
You can see the fence on the middle left of this photo. It's gorgeous because matches the house.
Spanish style homes also look lovely with a fence that matches the material on the house.
Read more: Trending Mediterranean Exterior Paint Colours
DO consider planting a green hedge. This way you don't have to maintain a fence!
I just had two fence posts replaced along the side of my backyard and it cost $850 for the materials and labour.
However, opposite my house in the backyard, I have 16-foot cedar hedges (see below).
I love the green wall and the way it creates privacy so much. And frankly, if this backyard had simply been a row of 8 ft fencing where I could see two of my neighbour's houses, I don't think I would have bought it.
Garden design by MaryAnne White
I know every climate can't withstand cedar hedges but where you can, you can buy them up to 10 ft installed!
I love the combination of painted brick and trellis hedging (below).
DON'T just paint your fence black because it's trendy.
A black fence is not the right colour choice for every house. However, I do love how great it looks against the green! Kelly green, black and white always look amazing together! But you need to be sure it fits with your house.
The fence below belongs to a modern style home.
Via Schuttingen
In the example below, the black fence shape fits the style of this home and the colour relates to the black windows and roof. Plus, it is well-landscaped and they repeated the black in their exterior furniture and accessories.
This designer look will be harder to achieve on your own. If you would like my help choosing the perfect colour for your fence, check out my eDesign service here.
Via Style at Home
The combination shown below is lovely as well. Hopefully, it's in a yard attached to a contemporary looking house that repeats the black and wood. Don't do this if you have a traditional house with white trim.
I'm noticing a lot of orange stained wood (not in backyard fences necessarily) in interior design lately. Wood tones are warming up (remember you heard it here first)!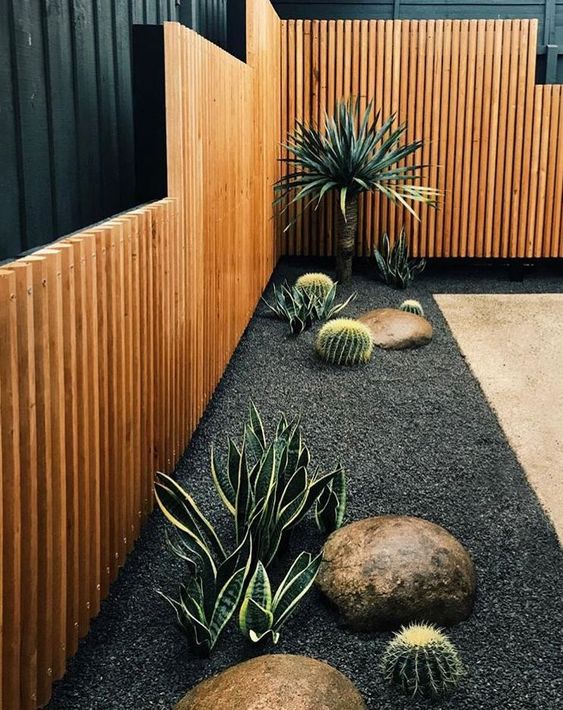 Image source
Over to you my lovelies, please tell me, what colour is your fence?
And then, let me know about the maintenance and whether you agree with me on just leaving it a lovely, neutral, easy-to-maintain, weathered grey… ha, ha.
Related posts:
The Best Permanent Colour for your Deck, Patio or Balcony
First Rule of Design; Boring now Equals Timeless Later
Rules are for Amateurs, Exceptions are for Professionals; Yay or Nay?
SaveSave
SaveSave
SaveSave
SaveSave
SaveSave
SaveSave
SaveSave
SaveSave
SaveSave
SaveSave
SaveSave
SaveSave
SaveSaveSaveSaveSaveSaveSaveSave
SaveSave
SaveSave
SaveSave
SaveSave
SaveSave
SaveSave