It's my sister Elizabeth's birthday today (July 3)! You'll know her well if you've been reading my blog for a while, because not only is she one of my best friends so she gets mentioned a lot, but we're always working on decorating projects around her house.
When people ask me what my hobbies are besides decorating, well besides spending time with my family (which is why I live in a small village in the country one hour–if you're driving very, very fast–east of Vancouver) decorating is one of my favourite ways to pass the time.
And writing this blog is definitely a creative outlet for me as well. If it wasn't, there's no way I would still be writing it 10 years later. I love that I never know quite what I'm going to say until I get to the end of the post.
Since her house has been on my blog so many times, I thought it would be fun to do a round-up for her birthday.
Elizabeth's birthday lands on the July 1 long weekend and she's always on a camping trip with her family, so it doesn't feel much like a birthday. I feel for you if your birthday lands on another holiday!
First, let's rewind to the first apartment I decorated for her back when she lived in a bachelor suite in an old heritage building on the west side of Vancouver.
I wish I had more photos, because this part would be way more entertaining, but this was long before the blog and also long before I had a clue how to take good photos.
Here's the before (above). Elizabeth had previously been a flight attendant and had brought back the rug you see on the wall from a trip to Turkey.
I immediately replaced the standard rental drapes with wood blinds from IKEA that related to the hardwood floors.
And we picked up the sofa and chair on a payment plan from a nearby big box furniture store. Since the room had to be painted back to white when she moved out, I decided to create a wainscotting effect by painting just the lower half of the room. This way it would be easier to paint back to white when she moved.
After
The ottoman she already had along with the art. A couple of cream pillows and the room immediately became way more inviting. Before you judge this room too harshly, keep in mind, this was 18 years ago 🙂
It was 2001 when the 90s influences of orange beige and gold colours was still around (right before the brown trend arrived in Vancouver).
She met her husband Bill (above) when she lived in this bachelor suite
Fast forward to 2012, Elizabeth and her family had moved into their current home.
The kitchen had been renovated during the brown trend with mocha glazed creamy cabinets paired with a dark travertine backspash that was obviously meticulously chosen to coordinate with the brown and gold laminate countertops. A very common, novice mistake.
Before
We replaced it with the 'cheapest tile there is' which is what the tile installer called it, and made a huge difference!
See the entire kitchen here (photography by Tracey Ayton)
The same year we moved into the neighbourhood (see the before pics of our house here) and this was how young my sweet nephews were (William, 4 and Markus, 2).
This was a photo I snapped of both of them on moving day. They were so happy and William kept repeating how our old house was way too far away (downtown Vancouver) and it was sooo much better that we were here!
Then the summer of 2013, we did a little outdoor decorating after her husband picked up this sectional for their patio outside:
Before
After (see the entire post here)
William and Elizabeth (found this adorable photo I had to post)
Then at the same time, I suggested we get rid of the Tuscan gold beige colour in the family room and paint it a fun turquoise instead. William (above) loves red and they were on a budget and Elizabeth didn't want a neutral sofa, I suggested a red sectional from IKEA  (the boxes had already arrived when I took this before pic). You can see her old sofa in this photo as well.
Before
It was easy to get her husband Bill on board with the idea of a new flat screen installed on the wall to replace the lumpy old entertainment unit (above).
Here's the after photo:
After (photographed by me and not that well I might add 🙂
Then in 2017, four years later, the red sofa was kinda trashed and now lumpy and uncomfortable, so I suggested we upgrade from IKEA to a REAL, grown-up sectional, and that's what they did:
Photography by Barry Calhoun
Here's the entry, before, we upgraded to custom drapery:
Before
after |  See all the photos here
In 2017 I also decorated my nephews room.
They have a lot of lego that needed space, so Markus and William now share a room.
After
And then in the same year (2017) we squeezed one more season out of their patio furniture (we also moved it to a better location on the patio):
Before
After (along with a photo William and Markus):
Last year Elizabeth didn't even buy flowers for the pots in the back yard because the pavilion had not survived the winter and the outdoor sectional was toast. She said they barely did any entertaining as a result. This year William asked her many times when they could go to the nursery for flowers because he worried the same thing would happen again.
Happily, this Spring, Bill assembled a new pavilion that should survive a few winters. We ordered a new sectional with Sunbrella fabric that should last much longer than their old one and MaryAnne White specified some new plant material for the beds and those photos will be posted soon!
Okay, moving on to the 2018 project. The transformation of the library room.
The before and after is so dramatic and she suffered so long with their old 80s (NOT VINTAGE) black leather furniture that this room has now been named the most beautiful room in the world.
Before
Now that I'm in Finland which is full of birch trees, I love my sisters birch tree art even more:
After
Here's the other side of the room: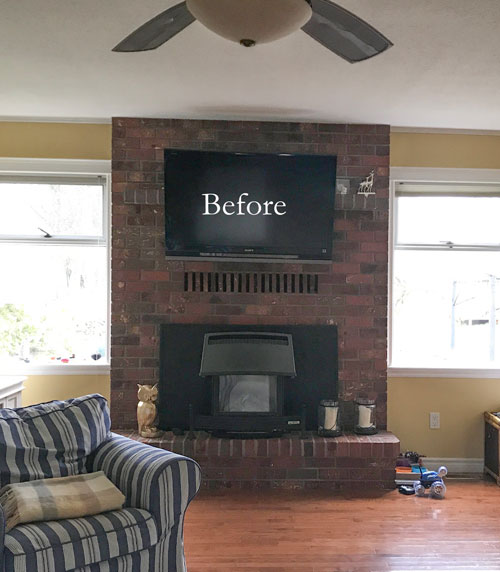 Fireplace before
After
And here is the room which was mostly used as a holding space for clean laundry where folding was always in process:
Before
One of the things that makes this furniture arrangement so perfect is the four wing chairs and round ottoman fit perfectly in the space so that anytime you walk in and sit down you just put your feet up and you're comfy. Nothing needs to be moved closer or re-arranged.
This is a great idea for a skinny room that really will never comfortably fit a sofa. And a good designer will never specify a love seat which only one person can comfortably sit on anyway.
Since this room was completed we have had many wonderful mornings together along with my Mom and my second sister Lea (who also lives two minutes away).
Elizabeth's special gift as the youngest (of four girls) in our family is as the peacemaker. She gets along with all of us sisters even when sometimes we don't get along with each other. She is a devoted Mom to her boys and you'll always find her in the kitchen making green smoothies and all kinds of yummy food from scratch.
One day when the boys came home, they ran into the kitchen to look for her and immediately declared that "Mom's not home" when they didn't see her there.
We often have 'pizza night' at our house where it's just Terreeia and I and the boys, and they love to play Monopoly.
Here they are much younger (above) and this one (below) was taken just before we left for Paris a few weeks ago.
We're still playing Monopoly. But now they just alternate winning all the time.
Markus, Maria and William
Elizabeth is a kind, loving, thoughtful, human being who forgives quickly and spreads so much love around by making her home a sanctuary for her friends and family.
Living this close to her adds so much joy to my life and I am so grateful!
We often end up buying the same clothes 😉
Thanks my darling Sister for being in my life and being my friend and I hope you have an amazing Birthday! I love you!
Related posts:
Inside Elizabeth's Library Room Transformation; Before & After
Interesting to Classic Kitchen Counter and Backsplash Makeover