Description
Building a new home or doing an extensive renovation involves many challenging decisions. It can get overwhelming fast. Every selection affects the others, and if design is not something you do every day, it's difficult to know where to begin and how to navigate the process effectively to create the outcome you want. To further complicate things, every selection you will need to make is a colour decision first. This is where Maria's colour expertise is invaluable.
Maria works with many clients during the early planning stages of a new build or renovation project – all she needs to make the best recommendations for you is an inspiration board (like Pinterest or Houzz) and some drawings or elevations if you do not have material specifications or photos to provide.
The earlier you can get your colour and finishing plan, the better. This way you won't be stuck making big colour decisions sooner than expected out of context of your plan. Decisions such as window colour, brick and stone can completely limit your colour palette options.
This consultation includes:
You will receive up to 3 colour palette options coordinating the following elements.
Maria will provide source links for recommended finishes. The brands and products she recommends are widely distributed and easy to source at mid range to inexpensive price points. Maria is not compensated by brands she recommends (i.e. paint, stone, siding, etc.). These finishes are selected because they are the right colour to create a classic and timeless look.
If the item cannot be ordered online, or you would prefer to source them locally, you can take the names, images or samples of these finishes to your local suppliers to find something comparable. Often, products can be sourced easily from your local home improvement store. Decorative items such as lighting may occasionally include affiliate links.
Please note: in cases where a specific brick or stone needs to be considered, good colour combination options may be reduced to only 2 or even only one perfect option that will create a balanced and timeless look.
ROOF COLOUR
WINDOW COLOUR
TRIM COLOUR
MAIN BODY COLOUR
STONE AND/OR BRICK COLOUR
COLOUR FOR GUTTERS AND DOWNSPOUTS
FRONT DOOR COLOUR
SHUTTER COLOUR
GARAGE DOOR COLOUR
DECK AND PORCH COLOURS
COLOUR FOR PAVERS
DECORATIVE LIGHTING
You are not likely to need advice on all the elements listed, however the idea of this value-added consultation is to give you a perfectly coordinated look as well as clear guidance on the most effective order to choose your selections to expertly guide your project to a beautiful and timeless result.
When will I receive my advice?
Your All Inclusive Exterior Colour Consultation advice will arrive via email within 9-12 business days from when we receive your complete information.
How can we do this online?
"Because getting colour right is much more about choosing the correct undertone than being able to predict how the colour will change in the light."How the eDesign process works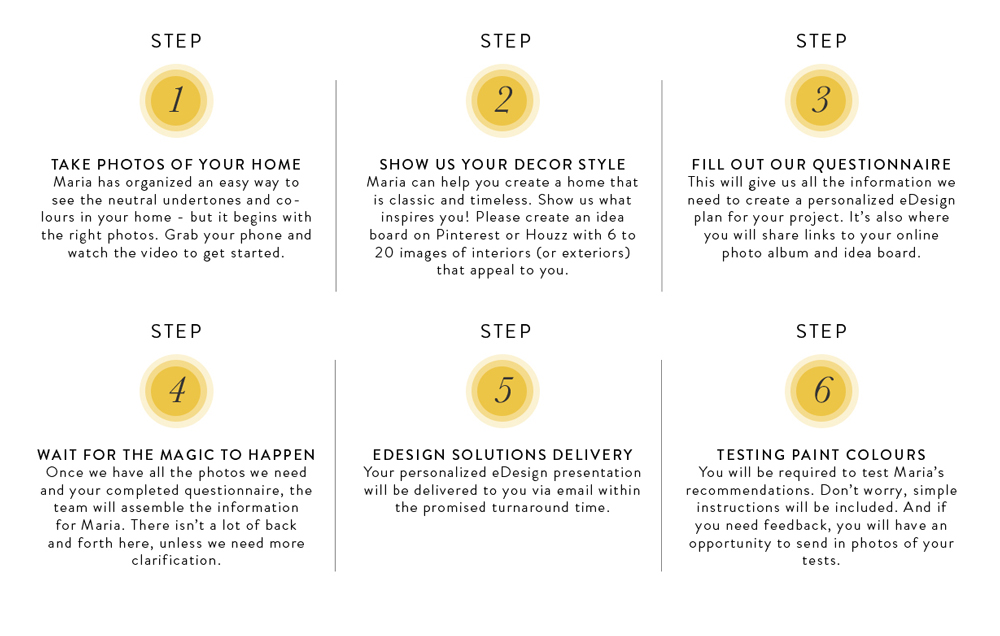 eDesign Instructions
More questions?
About this consultation
Window colour is one of the first and most expensive choices you will make
The colour of your windows to a large extent dictates what kind of colour scheme will work for your house. It's an essential selection for the overall colour scheme and look you want to create for your house.
Homeowners often are not aware of how critical a decision the choice of window colour is, and often just go with the builder's default offering without much consideration. However, the colour of your windows is one of the most important and expensive decisions you will need to make.
To avoid expensive mistakes, it's best to have a complete colour palette plan at the outset of your project.
If you're renovating, whether to replace or work with the existing windows is a big decision too, and a potentially costly one. With this consultation, Maria can lay out the palette that will work with your existing windows versus what your options could be if you invest in changing them. If changing them is not in the budget at all, she will help you work with them to get the look you want.
Coordinating brick and stone is rarely done well. Maria will help you get it right
Drive around any neighbourhood. You may be surprised to find that a pleasing combination of brick and stone is very rare.
This is because most often the builders, designers or home owners choosing the combinations have no experience with neutral undertones and how to coordinate them.
This is where Maria's help can save you thousands of dollars. Or save you from the heart break of investing in a combination of expensive claddings for your exterior that you are not happy with.
Without a thorough understanding of neutral undertones and many years of experience, it's very difficult to predict how a stone or brick product will look once it is installed on the entire facade of your house. Maria will provide you with specific guidelines on what to look for so the colour is just right.
And it may be that her advice is that you don't need brick and/or stone (or perhaps less is better) at all to create the most timeless look for your house, which could save you thousands of dollars right at the outset.
Pull the whole look together with the perfect trim and body colour
Maria has helped thousands of homeowners create a timeless and pulled together look for their exteriors. Her extensive expertise and System for Specifying Neutral Undertones allows her to "see" the right colours for your house very quickly and accurately.
It also takes extensive experience to know how deep or light the colour needs to be to create the perfect level of contrast needed so that it looks just right.
Every decision you make for your new build or renovation is a colour choice first. And unfortunately, colour is where people make the most expensive mistakes. With Maria's expert colour advice, your house will be the prettiest house on the block.
Your roof colour can make or break the look of your house
The perfect roof colour is an important decision. Particularly when the style of your roof is highly visible. Ideally, you don't want to have to change your roof colour until the lifespan of your shingles is spent, so it needs to be classic, versatile and right for the look of your house.
Perfect colour right down to the details
Your front door should be a welcoming focal point for your home. Draw attention to it with just the right accent colour to compliment the rest of your colour scheme.
This consultation will include colour advice for the details and accents of your exterior. You may need the perfect shutter colour, for example, or maybe you need to know whether shutters are a good idea at all for your home.
Please Note: If you are doing an extensive renovation or are building new, it's likely that you will need help with both your interior and exterior colours and finishes. This is why, if you purchase the New Build/Complete Renovation package here, we offer a discount on the Total All Inclusive Exterior which can be purchased as an add on with the New Build package here.
Does this service replace the need to hire an Architect?
This is colour and style advice only and it in no way replaces the need to engage an architect for structural changes.
Maria has worked with thousands of clients will all imaginable types finishes and colours. This service provides guidance for DIY decorating so it's rare to have after photos that are worth posting, because they require professional styling and photography. This is why you won't see many of them on the blog.
We don't do renderings.
The photos we provide are of a home exterior painted in the recommended colour to help you visualize how a colour or material selection will look. We do not provide renderings because they don't generally give an accurate idea of what the colour will really look like since exterior colour gets 3-4 times brighter once it's applied. It's much more important to get the neutral undertones right and to test your colours correctly.
Maria's eDesign service provides 20 years of specifying colour for thousands of homes and getting the colour right, and most importantly getting the neutral undertone correct.
Note: Exterior Colour Consultations is a residential service. Please contact us for a quote for commercial property inquiries.
DESIGN CONSULTATION GUARANTEE
You have paid for our time and we want you to be happy, so if you have any objections or concerns about the recommendations, we ask that you share them with us along with photos of your colour testing and give us the opportunity to tweak our selections.
REFUND POLICY FOR UNUSED CONSULTATIONS:
Things come up in life, situations get altered or sometimes we just change our mind – it happens. Our eDesign team is here to make you happy and we are committed to complete client satisfaction. So, if within 90 days of your purchase, and prior to submitting your information, you change your mind, we will provide a refund less a 5% or a minimum of $25 administrative fee. After 90 days, or once you have initiated the consultation process by submitting your information, we can no longer provide a refund.