If you're considering black tile in your bathroom or kitchen, there are a few things you should know. Here are some great design tips for how to decorate with black tile and even a few alternatives to help you achieve the same look – in case you aren't ready to commit.
The dangerous part about any new trend is when you start incorporating the old with the new and the black tile trend is no different. If you want to decorate with black, the key is not to overdo it.
How to Decorate with Black Tile
Here are some guidelines to think about if you are considering black tile in a bathroom or kitchen:
1. Paint your walls black instead of tiling.
You'll get a similar look and feel as you might with black tile. However, the paint colour will be much easier to change when you want the room to be a different colour – instead of ripping out all the tile.
Just make sure the black is repeated somewhere like in this bathroom floor pattern (below).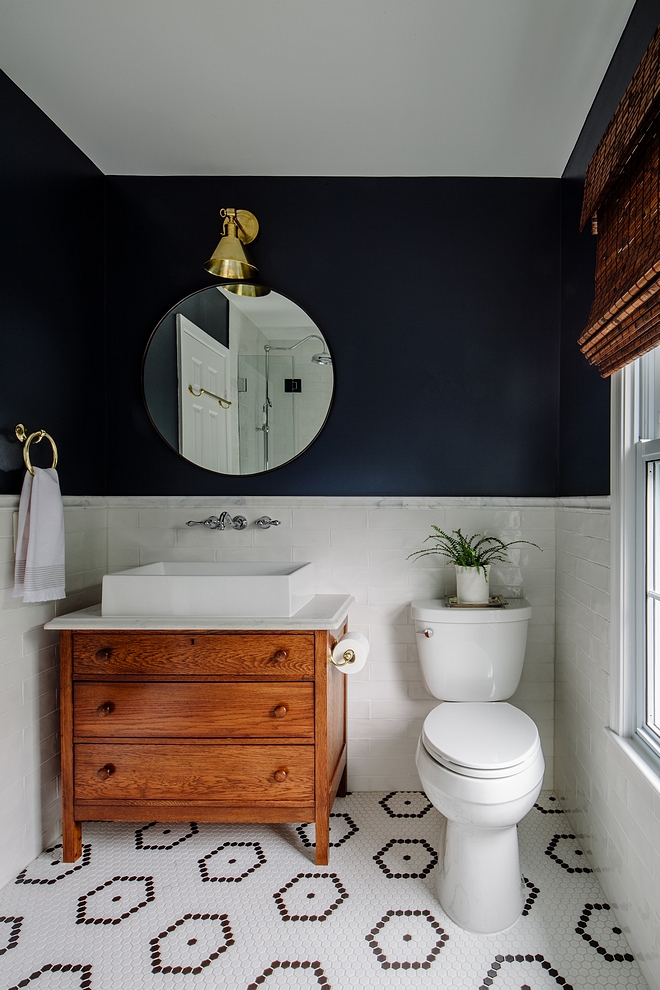 If you are also thinking of black shower doors, you should read my post about whether they are the best choice for your bathroom here.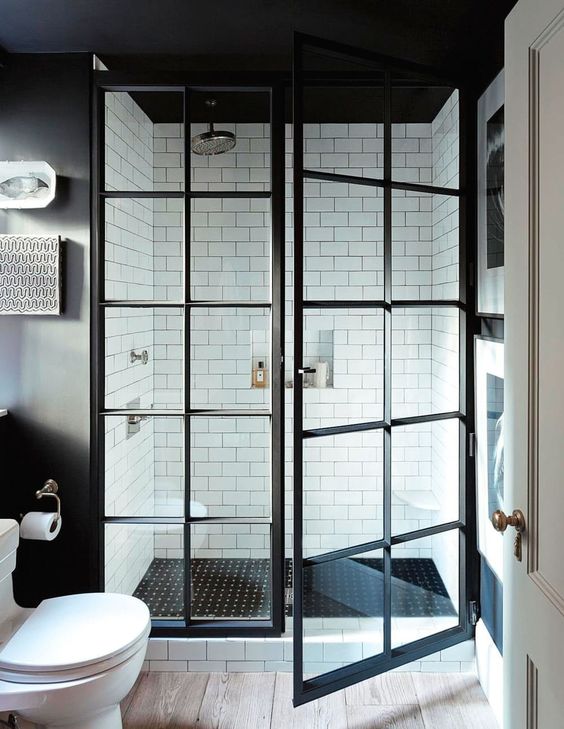 2. Balance the dark black tile backsplash with dark wood flooring.
In the room below, note that the heavy, dark bar stools also provide contrast against the white island and relate to the backsplash.
A word of caution about black subway tile: Don't install this much black backsplash tile with black tile floors as well! Otherwise you'll just be cleaning all day and all night since every spec of dust will show.
Read more: What everyone should know about black.
3. Don't mix granite or a heavy patterned countertop with black Arabesque backsplash tile.
Even though the pattern below is somewhat subtle, the granite pattern countertop competes with the backsplash, so you're not sure which to look at. This black backsplash tile belongs with a solid countertop colour.
Also, notice that black tile here is not so fabulous with these pale yellow wood-stained kitchen cabinets.
4. Choose shiny or glossy black tile over flat or matte black tile.
A shiny black tile bounces more light around the room and looks more high-end.
Plus, glossy black tile pairs so nicely with metals.
5. Don't combine lots of heavy black tile with earthy granite.
The look of heavy black tile mixed with earthy granite is just not as spectacular as white.
And, this means that adding it to a dated bathroom with earthy granite finishes (or combining it with new earthy stone finishes) won't be as great either.
Earthy/Tuscan stone finishes just don't play well with solid black hard finishes. The look just won't be as fresh. See below how the white subway tile pops against the black soapstone countertops in this kitchen. The black is then repeated in the window frames above the sink. The black isn't too heavy or overly done.
6. If you decide to install black tile floors, keep the walls classic with white subway tile and black grout.
If you're really going to install black floors, please know they will show EVERYTHING! See this bathroom below—it's been photoshopped to look that perfect 😉 – I promise you! Keep the walls classic with white subway tile and repeat the black in the grout.
Now, you don't have to repeat black it in the grout.
And it might be too busy, depending on what you're doing. But repeat black at least once somewhere else in your design. One option would be to add black framed art or a black framed mirror or even some black sconce lighting.
7. Don't choose all-black fixtures in a white tiled shower if it's the first thing you see when you walk in.
If the black hardware is going to be the first thing you see in your white bathroom, it usually looks too busy. The eye bounces from the hinges on your glass doors to the shower fixtures. And frankly, it's just too much black. Remember, all black hardware and fixtures can look harsh, flat and predictable really fast.
8. Choose brass faucets and hardware with your black subway tile.
Choose brass faucets and hardware. If you're going to install a kitchen or bathroom this trendy, might as well go big and warm it up with trendy brass hardware as well.
Keep the countertop lighter for more contrast against the black subway tile backsplash.
Note, this is a VERY TRENDY look. A little black and white makes a timeless bathroom. This much black, can easily take your design right back into the 80s. This look is often easier to achieve when an interior designer is involved. Magazine worthy kitchens are not easily copied.
Source
9. Choose white grout to break up the black tile in a mostly white kitchen.
Notice that most of the photos I'm showing in this post have white grout with black tiled walls. White grout is a great way to lighten up the heaviness of all black tile.
Here's what IKEA knows about black and white kitchens that (maybe) you don't.
I hope these guidelines help you make smarter and easier decorating decisions if you're considering incorporating black tile into your home.
What would Maria do? If you ask me what I would do, I kept my bathrooms pretty white in my latest renovations because that's the most classic look. I have seen too many black powder rooms from the 80's to repeat that in my house – and I'm just not ready for that yet.
Over to you… are you loving the black trend and thinking about black tile for your home?
Related posts:
Maria Killam's Trend Forecast for 2015