Description
Decorating a room from scratch is challenging. Where do I start? What Colours do I use? How do I create a look that is pulled together and liveable? Maria is an expert at creating a look and a feel for any room with colour. She will provide you with a decorating plan for a prominent room in your home and you will be able to continue the accent colour palette established for you in adjacent rooms.
Get started on decorating a home you will love!
This consultation includes:
2 Beautiful Mood Boards Complete with Source Links.
Each board will include a perfectly coordinated combination of the following:
COORDINATED THROW PILLOWS
AREA RUG
COLOUR AND STYLE OF SOFA
COLOUR AND STYLE OF ACCENT CHAIR
COFFEE TABLE
OCCASIONAL TABLE
LAMPS
THE PERFECT PAINT COLOUR
AN ACCENT COLOUR PALETTE TO COORDINATE
ADDITIONAL TIPS AND IDEAS FOR PULLING YOUR ROOM TOGETHER AND CREATING FLOW WITH ADJOINING ROOMS
Please note: We do not offer layouts and renderings. Specific layouts are a more involved level of service and the goal of this package is to help you create a look and feel for your room with colour. You will get tips for measuring out the pieces for your room in the presentation.
When will I receive my advice?
Your Get Me Started Consultation advice will arrive via email within 10-15 business days from when we receive your complete information.
How can we do this online?
"Because getting colour right is much more about choosing the correct undertone than being able to predict how the colour will change in the light."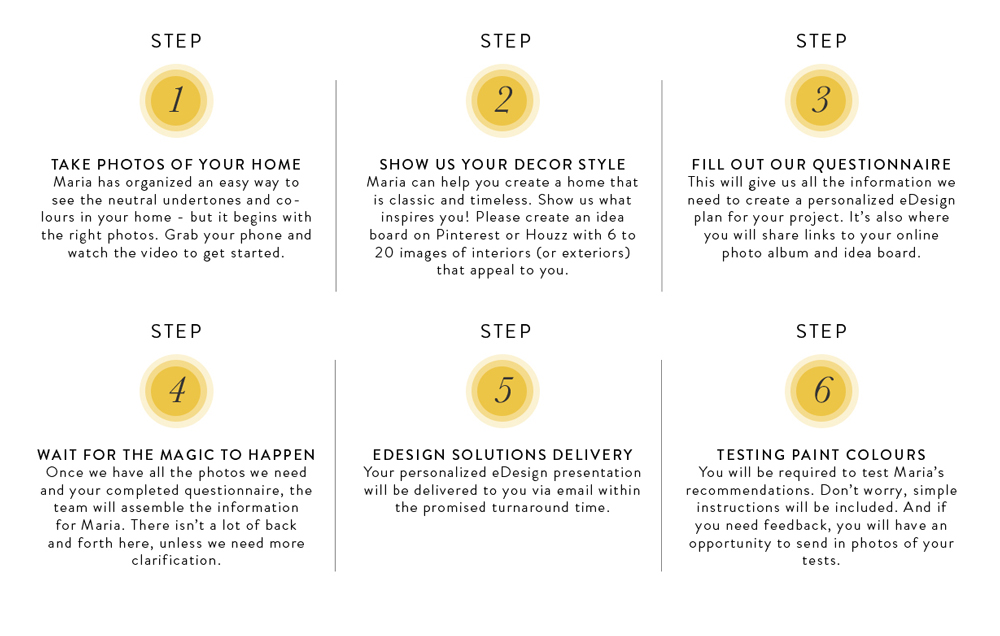 eDesign Instructions
More questions?
About this consultation
This consultation is for you if you need to decorate and you are not at all sure where to begin, we're here to help get you started.
With this package, Maria will give you colour direction for the 'look and feel' of one room. This is typically your great room, but you can use this package to decorate any room including a bedroom, dining room or study for example.
She will create decorating inspiration and colour palette ideas just for you so you can begin creating a room you love. You will receive two mood boards including ideas for cushions, area rugs, and colours for furnishings. Most items will have links so that you can source them directly for your room.
Once you have a fresh and beautiful colour palette, you can repeat it in your adjoining rooms to create flow, making your decorating project much easier and more fun.
What most people need is a starting point. What needs to be considered? How many colours is too many? Do neutrals count as colours?
Most people think that if they just get their paint colours nailed down, the rest of the colour scheme will somehow come together. Unfortunately, this will not help very much. In fact, starting with a decorating plan based on at least one inspiration piece is where to begin and paint colours should usually be LAST, not the other way around.
The easiest way to create a starting point is with throw pillows and an area rug.
Now it becomes obvious which colour sofa and chairs you'll need.
One final note:
Obviously, if we need more information from you before we begin, this timeline will be somewhat delayed, but we strive to get back to you as quickly as we can because we know you are excited to get started on your project.
We will carefully consider your preferences, lifestyle and budget to inform our selections for you, and we hope that often, the exact item we suggest will work out perfectly for you. However, within the scope and price point of this service, our recommendations are primarily intended as inspirational guidelines so we cannot guarantee availability or a perfect fit for each element.
We look forward to collaborating with you on your decorating project!
DESIGN CONSULTATION GUARANTEE
You have paid for our time and we want you to be happy, so if you have any objections or concerns about the recommendations, we ask that you share them with us along with photos of your colour testing and give us the opportunity to tweak our selections.
REFUND POLICY FOR UNUSED CONSULTATIONS:
Things come up in life, situations get altered or sometimes we just change our mind – it happens. Our eDesign team is here to make you happy and we are committed to complete client satisfaction. So, if within 90 days of your purchase, and prior to submitting your information, you change your mind, we will provide a refund less a 5% or a minimum of $25 administrative fee. After 90 days, or once you have initiated the consultation process by submitting your information, we can no longer provide a refund.