Now that beige is trending again, I thought we needed to revisit the five undertones of beige in my System for Specifying Colour®. Because not all beiges are created equal. And understanding the undertones will help you make better colour choices. Here's what you should know about beige in 2022.
The NEW beige trend
I'm not alone in having declared that beige is back recently.
But just like any colour trend that cycles back around, it's used differently this time. For many of us, "beige" conjures drab, airless rooms and miles of busy granite or ugly brown-ish tile. However, it's worth looking at how this design staple is being reinvented for a new decade.
Pink Beige warms up a minimal look by Linum
Whenever we start looking at the undertones of beige during the grey trend in the last 8 years of leading my Specify Colour with Confidence workshops, I've noticed a few blank looks from my students. And, fast forward, recently, I see even more blank expressions when I start talking about ways to update earthy Tuscan-trend era interiors with fresher, pale neutrals.
Relatively new designers or young homeowners likely don't remember having to update spaces from the brown trend or the Tuscan trend, as I like to call it. It's also possible that they are from areas, like either seaboard, where these kinds of interiors had been overhauled long ago. #luckythem
But in my eDesign department, we still see these brown-trend homes ALL THE TIME.
So, for many of us, it feels like we just removed all the miles of beige, brown and travertine. And now, it's trending again?
Here's what I suspect is happening. The flaw and challenge of the current black and white trend is that the look easily runs into a stark and harsh feel that is uncomfortable and difficult to live with, let alone decorate.
As a result, I predict the cozier, easy-going beige and complex creams will quickly become the favourite way to update and warm these rooms up.
It's already happening with cabinetry.
Can I have a darker white?
I always tell my students that trends move quickly. And while designers may be able to get by on a handful of good whites right now, it won't be long before their clients are asking questions like:
Can I have a darker white?
I'd like something creamy and not too light?
I'm not interested in white. I'm looking for a warmer feel.
These are the kinds of requests we are already seeing in our eDesign department, and it's quite funny. It's almost as if folks are too afraid to say the word BEIGE – especially if they remember the last time it was trending.
That said, the beiges everyone wants this time around (for walls anyway) tend to be warmer and deeper than white. But, we are not seeing more of the drab paper bag (ie. pink beige) colour from the Tuscan era. This could shift in time, but for now, the pale beiges and the paler complex creams are the colours we are specifying.
What is a complex cream?
Complex creams are the palest of beiges. And pale, creamy walls are absolutely timeless. A few years back, the need for moving those dated brown trend interiors into the present required that I identify the palest colours in the undertones of beige.
In my Killam Colour system, I call them the Complex Creams.
And this is because creams that have some complexity of pigment (complex creams) are softer and more flexible than cleaner creams that read mostly pale yellow.
And how do you get a cream that looks richer and more complex (meaning there's more varied pigment in the colour)? Well you choose the very palest of beiges to get there.
Having said that, don't take a complex cream like this one (below) and run over to the paint store and say "Can you mix this for me half strength?" because now you'll just be back to some shade of a 'lighter white' all over again but this time you don't know what it is?
I teach you everything you'll need to know about managing whites and lighting in my Virtual Specify Colour with Confidence events. There are 4 to register into this Spring right here.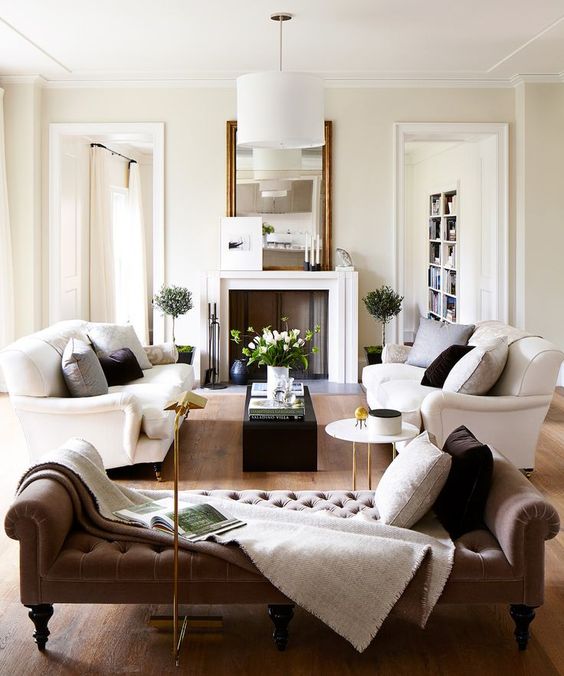 Farrow and Ball Clunch – Green Beige Complex Cream by Chambers + Chambers Architects
When whites are too stark, and greiges (aka the palest colours with undertones of green grey, violet grey and taupe) are too cool or grey, complex creams are a perfect choice for creating that bright and fresh balance. We specify them for walls and cabinets all the time.
Pink Beige
Pink beige is the warmest of the beige undertones. So if you don't know what to look for in a beige, it too easily becomes a default choice. However, it's not the most versatile undertone of beige because it often looks too pink and fleshy. And when pink beige is next to cleaner, more yellow beiges, it looks dirty.
Still, there are a lot of common and useful interior finishes and textiles that happen to be pink beige. Linen is a timeless fabric that is pink beige. Travertine is also trending again – this time in new shapes and applications. And travertine is typically pink beige (sometimes it leans taupe or orange beige).
While I don't recommend looking at your wood tones in order to find the right neutral for your walls, note that much of the pale, natural rift oak that is typically found in millwork, floors and kitchens everywhere, also has a pink undertone.
Lots of wool products like carpet and area rugs have pink undertones too.
Modern Travertine Kitchen by Montana Labelle | Gozlan Group
It's worth noting that Benjamin Moore featured pink beige in both their 2021 (Muslin) and 2022 (Natural Linen) trend palettes. These colours are both in my system and my large painted colour boards. They are great colour choices because while they DO have pink undertones, they don't have SO MUCH pink that they become fleshy. As their names suggest, they simply look like a pretty linen.
Again, don't choose a pink beige blindly. If you know you want to work with these materials, it's worth considering. But if think you might want to shift into yellows and orange in your decorating, avoid pink beige altogether.
Orange Beige
Orange beige can be tricky to identify. It looks warmer than the yellow beiges in my system, but more yellow than the pink beiges.
It's less common but often seen in trending terracotta tile (although most terracotta colours are not as neutral as a beige, rather they are more of a muted orange).
Deeper orange beige colours aren't the most popular. But we do specify lots of orange beige complex creams. That's because they have just a hint of extra warmth in them. Orange beige complex creams offer that warm glow we are often looking for in a creamy neutral.
Mudroom in BM Navajo White OC-95 by Julie Blanner
Yellow Beige
Did you know that ALL beiges are technically "yellow-based neutrals"?
That's right. The defining feature of ALL beiges is that they look YELLOW relative to other neutrals (ex. the greys and taupes). They occupy the entire right-hand side of my neutrals colour wheel.
When you look at my colour wheel (my new wheel will be available for purchase at the end of this month), you might have noticed that the yellow beige section of the wheel pops forward visually compared to the other beige undertones. That's how you can tell a colour is "cleaner". (You'll notice that blue grey does the same thing on the grey and taupe side).
I often have clients and students who get confused when I tell them they are looking at a PINK beige. Because all they can see is the dominant golden YELLOW look of the colour.
Well yes, because there is a significant dollop of yellow in all beiges.
Wait, what exactly is an undertone and why does it matter?
When we distinguish the undertones of beige, we are essentially identifying which hue has the next most important influence over the colour. That is the undertone.
Why does it matter?
Because neutrals are subtle. And if there is a subtle shift from a truer yellow beige on the walls to a muddier pink beige on your linen sofa, it will look BAD.
In fact, yellow beige often simply looks like the perfect soft yellow. And it pairs well with cleaner colours.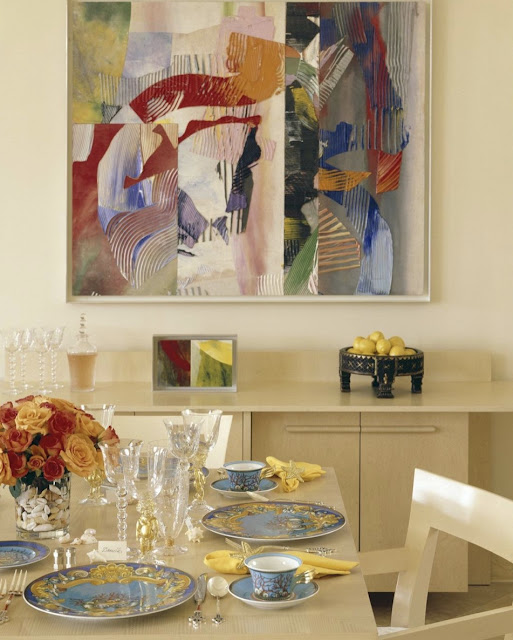 This is why it matters. And it's why, with beige coming back, it's best to get familiar with these nuances of beige undertones, and quick!
How can you tell which undertone of beige you're looking at? The ONLY way you can do it is by directly COMPARING. Compare colour to colour. But for the best insight, it's best to compare to known colours in my system – and this will help you train your eye over time.
If you're not comparing colour, you cannot specify it accurately. You will also learn how to do this in my virtual workshops.
Yellow beige is the truest and cleanest undertone of beige. And while it can sometimes get along with cooler green beiges or orange beiges, it tends to make the more brown pink beiges look muddy.
Gold Beige
Because yellow beige is so clean and true, when you start adding different (non-yellow) pigments to it to deepen it, you end up with a much muddier colour. For this reason, dark "yellow beige" is really its own category called gold beige.
Because it is necessarily more complex and dirty, it behaves differently in relation to other colours than yellow beige. You can, for example, sometimes get away with combining richer gold beige with pink beige without having that clean and dirty conflict.
We've all seen rich gold metals look right as rain with pink beige linen and travertine. #amiright
Gold beige looks more yellow-gold or rich camel than an equivalent tone in a pink beige undertone, which will have more of a deep mocha look. Gold beige is always a deeper shade.
While we are not commonly using gold beige on walls, yet… I wonder if we will progress (regress?) to deeper beiges for walls in the coming years. It's definitely back as a trending accent in decor and accessories. And gold beige is effective in warming up the stark black and white spaces that are so ubiquitous at the moment.
Green Beige
Finally, beige with a green undertone is VERY versatile. Duller than (aka not as clean as) yellow beige, and cooler than pink beige, green beige doesn't lean into a potentially fleshy look, which is good. Green beige can be used to calm down and update a room that has conflicting undertones of beige.
The pale green beiges and green beige complex creams remain some of the most versatile and popular neutrals. It's a good place to start if you've skipped the black, white and grey trend and need to update an interior decorated in beige and brown.
Or, if your eyes are fatigued by the high contrast of your black and white scheme. A classic khaki green beige on cabinetry and millwork is lovely with black and white. And pale green beige or a green beige complex cream is a pretty, warmer choice for walls.
BM Tapestry Beige – Green Beige via Elle Decor
Who is on board with 'Darker, warmer whites'?
My trends post for 2022 is coming up next, stay tuned!
To transform the way you see colour, register into one of my Live, Virtual Specify Colour with Confidence Events this Spring.
February 24 & 25, 2022
April 23 & 24, 2022 (Weekend dates)
May 19 & 20, 2022
June 9 & 10, 2022
Related posts:
5 Ways to Decorate with Beige and Make it Fresh