I recently received this question from a reader who had JUST installed a new backsplash tile in her kitchen: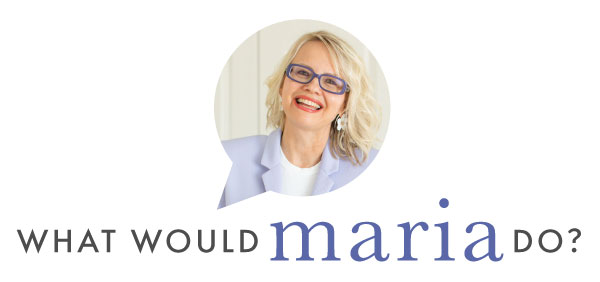 We recently redid our kitchen backsplash. I loved the small backsplash sample and felt that it pulled out the light ivory in the granite. However, once it was up on the wall I suddenly noticed it had a lot of grey in it.

I do not want to paint my cabinets or redo the backsplash if I don't have to, I'm open to wall colors to try to pull it together or maybe under cabinet lighting. Any great ideas would be appreciated!!!
I have seen this happen so much, It's time to write a post about it.
This is also the reason why I stopped specifying glass backsplash tile years ago. Not only does it change colour once installed, but constantly with different light, artificial or natural.
But this phenomenon of innocent looking ivory/beige/cream backsplash tile going grey once it's installed even happens when it's not glass (like the above kitchen).
Testing is EVERYTHING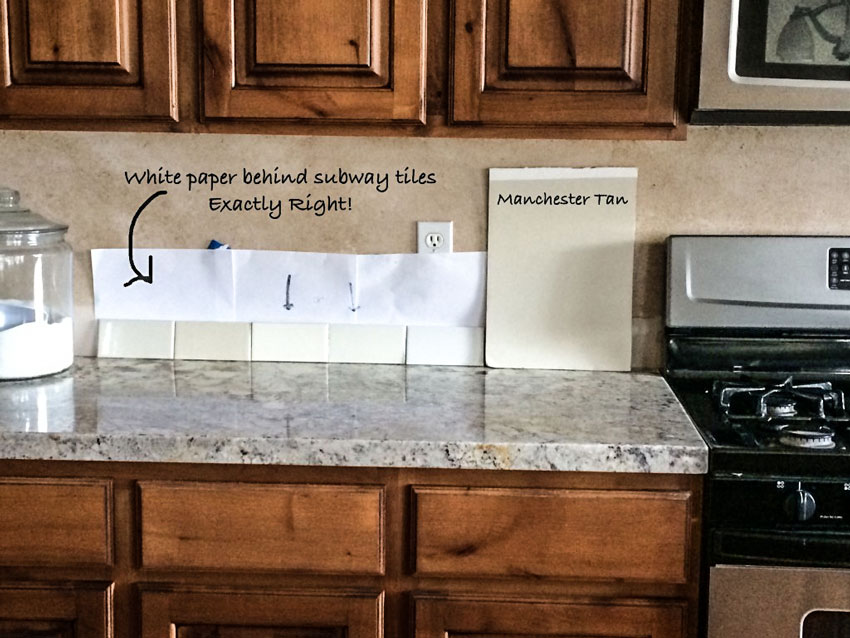 Read more: Which Cream Subway Tile is Right
The only way to know how backsplash tile will look IN ADVANCE of it being installed, is to prop up at least 3 samples AGAINST a wall, with either white paint or white paper behind it.
If you skip this step because you think you've chosen almost white tile, you can easily make a mistake.
I was recently in a local consultation where the same thing happened with my clients backsplash. My client had chosen a white looking tile with subtle grey streaks in it, however on installation day, the more tile that went up, the greyer it looked, so she had it taken down and called me.
I did a little search to find some other examples of grey backsplash dilemmas, and there's lots of them out there:
We installed Venetian Gold granite on Maple Cabinets and then picked out beige glass subway for the backsplash. Looked like a perfect choice in the store. After installation the backsplash looks really gray almost charcoal. We don't have the time or budget to remove and replace. Any suggestions to help it all work together? Paint the walls in greige or gray?
First, please make sure if you are installing backsplash tile, under no circumstances should you let the countertop installer come along and install the 4″ matching backsplash. If you already have it, don't install backsplash tile until it's removed.
Here's another one:
Walls are being painted Revere Pewter/cabinets are staying natural cherry (maybe white in the future). This is the natural stone backsplash we settled on. I was looking for a stone without yellow undertones to give my kitchen a cooler look. Thoughts?
Again, this is another example of installing a trendy backsplash with a more dated kitchen. The existing subway tile is perfect in this kitchen.
Once this grey subway tile goes up it will look like "new trendy backsplash, old kitchen". Side note, this dilemma was posted 4 years ago and now that we are in the black and white trend, we will soon see this exact kitchen with a black backsplash, because "Look, there's black specs in it, that means we can introduce black right?"
NO, NO, you cannot.
The only way to truly give this kitchen an update is to paint the cabinets, the end.
And I get it, when budget is a concern, and you're looking at new, trendy grey trend kitchens everywhere, well this seems like an economical way to update a tired looking kitchen, if only it was this easy.
PS. Notice the black hardware in this white and grey kitchen with no black in sight (above)? Brass to tie in with the pendants would have been a much better choice. DO NOT, make black the default choice for everything.
No magic here
Back to my readers dilemma. I'd love to wave a magic wand and choose a new paint colour that will make it all come together but in this situation, there's no magic.
My reader doesn't want to change anything but paint, however the only other current choice (a complex cream to pick up the warm tones in the countertop) will make the grey backsplash look even greyer.
Over to you my lovelies! Who had your backsplash turn a different colour after it was installed? I'd love to hear your comments below!
If you have a question for my What Would Maria Do? column, take photos without flash and in good natural light and email them here.
PS. For those of you who already have the VIP Collection (purchased before February), you are still eligible to purchase my recent update of 20 NEW colours. Email my team here to receive a link to purchase. They are only available for a limited time, first come first serve.
Related posts:
Interesting to Classic Kitchen Counter and Backsplash Makeover; Before & After
Top Kitchen Colour Trends from the Last 50 Years