Bored with the beige in your home? While we may not be able to replace all our travertine floors and beige sofas or carpet at once, there are ways to make it look fresh and more tolerable. Here are 5 ways to update earth tones in your home to make them look more fresh.
I'm in Austin, preparing for my Specify Colour with Confidence workshop that starts tomorrow (Wednesday) at the Norris Center. I'm finally getting the hang of doing insta-stories so you'll be seeing a lot more of them on my Instagram, especially in my workshops so you'll get a sense of what it looks like to be in one.
It's sundress weather here and I'm loving it (not that I brought one)! Usually by now, Vancouver's spring green is out, but not this year, it's still cold with lots of rain and the cherry blossoms have barely started to bloom. Terreeia and I are happy to get out of the rain for a little while.
Tricia Firmaniuk, my Design Assistant/Artist VA who handles all my eDesign wrote this fun guest post about beige.
Just to be clear, I am involved with every
eDesign consultation
. The way we keep the consultations affordable is my team deals with the time consuming work of organizing the photos and information you send in, laying out my suggestions into a clear presentation, and handling any communication via email.
Here's Tricia's post:
_____________________________________________________
(green beige sofas, taupe accents) AD
Beige. It's a polarizing colour. When the fresh trend arrived, beige, which covers the warmest range of neutral categories, fell out of favour.
If you've been reading Maria's blog for a while, you'll already know that "beige" is a whole category of neutral colour. Green, yellow, orange, pink and gold are the undertones of beige in Maria's system. And knowing which undertone you are working with is the key to making it work well.
In our eDesign consultations, we see frequent cases of the "beige blahs", clients who are either on a mission to eradicate any beige from their lives, or those who are unhappy that they just can't change out all beige from their homes.
Beige (taupe or gray) fixed elements like tile, stone and carpet, can certainly be decorating challenges, and that is why Maria tries to steer you all clear of installing them in the first place. Particularly, the bossiest of the beiges, pink beige.
For many of us, though, banishing beige from our lives is not likely anytime soon. Whether we have travertine floors, a beige sofa or carpet (or all of the above), there's a good chance it's just not practical to replace it.
5 Ways to Decorate with Beige (and make it look fresh)
The only rational thing to do is to make the best of it, and I'm here to tell you that beige can be more than tolerable. There are some simple ways of working with beige to keep it looking current and fresh. When you identify the undertone of beige you are working with, and work with it instead of against it, (or worse, try to ignore it), beige rooms can be sophisticated and classic.
We've all been exposed to a lot of really drab and uninspired beige rooms. What is the picture that conjures in your head when someone says beige? I'll bet it involves a frumpy sofa, a lack of contrast and overall has the charm of a bowl of cold oatmeal, right?
I'll bet it doesn't look like this room by Celerie Kemble (below).
(Orange beige grasscloth and tile) From Elements of Style
This works so much better than your average beige room because it is by Celerie Kemble, and she's magic 😉 But let's unpack the details and figure out what makes it great. First, the expensive floor, but more specifically the bold scale and dramatic contrast of the floor. You can accomplish this with a really great area rug.
1. Add a bold contrasting area rug
Something like this by Jonathan Adler or if you're on a budget, this one from IKEA.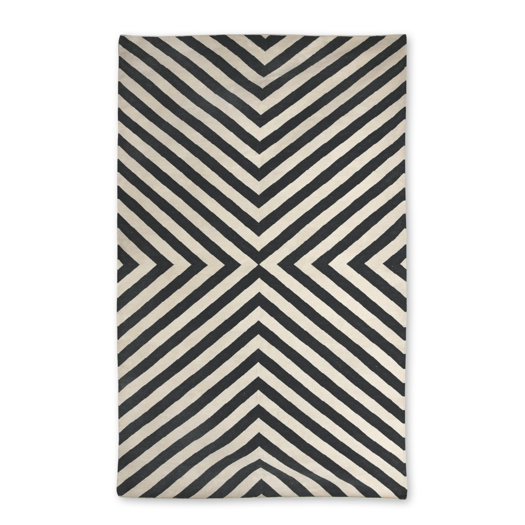 2. Add some wainscoting on the walls to break it up
(If it works with YOUR style of home)
And the wainscoting (also expensive looking) is really about having enough white to balance the warmer beige.
3. Add white or cream for contrast
This can also be achieved with a generous use of white toss pillows, lamp shades, throws, white painted furniture and slipcovers.
And check out the oversized white mats on the simple artwork further breaking up the warm beige with white.
Plus she has some hot coral and leafy green to make the palette dynamic. So to recap, she makes orange beige pretty here by adding BOLD CONTRAST, both dark and lots of light, and some shots of pretty colour.
Take a look at any unappealing, dated beige room, and you will notice that it lacks these essential elements.
Here's another room with lots of beige that makes good use of contrast by Sandy Gallin (below).
(yellow beige) From Architectural Digest
The walls here are cream, and that works well to freshen up a space with a lot of beige. But look at all of that dark gray, black and brown keeping this room looking anything but bland. Some really skillful styling doesn't hurt here either.
And just in case you think that beige only looks good in traditional rooms, here's another more retro modern arrangement by Sandy Gallin.
(Gold Beige rug, taupe pillows) From Architectural Digest
Ok, so the artwork in this room is worth many times more than the average person's net worth, but you get the idea. There is lots of light and contrast, and some bold shots of colour.
(Pink beige grasscloth) Kate Jackson Design from the Home Bunch
4. Add some gold accents
(You can mix silver and gold, just make sure both are repeated at least once)
Gold accents work well to update the feel of a beige room. This room has a current lucite coffee table showing off a bold contrast zebra print rug, and LOTS of white.
I love seagrass wallpaper, it's so preppy and classic.
5. Natural materials are a good way to repeat beige and even gold beige in any interior
Which brings me to another point, we are seeing lots of natural materials warming up even the whitest rooms.
Natural fiber rugs, basket lights and unvarnished woods are all ways of introducing BEIGE into rooms (covertly at least). Because it's all about creating balance.
It works both ways. A room that has a lot of warm neutral elements, needs lots of cooling white (or cream) to balance it out, and a really fresh, cool room benefits from the warmth of natural materials and warm metals.
From My Domaine
Stained wood is usually brown, orange, or yellow, but natural wood tones are in in the realm of beige.
I just love this breakfast nook with the stylish Saarinen table, delicate chairs and fresh pillows. If I sat down here, I might never get up again.
From La Dolce Vita
Just as the light brown and metallic gold tones warm up a mostly white room as in these last two examples, conversely, adding lots of white (or cream) to a beige room creates a fresh balance and instantly makes it look current.
From Pretty Stuff
The white frames and mats in this lovely gallery wall create a fresh feel for this warm room.
Here's a mood board I put together starting with a green beige sofa and pale creamy/beige walls (you can imagine travertine floors here too) and applying the principles of adding white, creating contrast, and a pop of colour to make a beige room look current. I'm crushing on traditional rooms with lots of classical symmetry these days 🙂 What do you think?
You may not be convinced that beige is a beautiful thing, but I hope this helps some of you figure out how best to work with it instead of loathing it.
If you would like help updating your room, try one of our eDesign decorating consultations and we will create some mood boards just for you!
Thanks Tricia! Which tip is your favourite?
Related posts:
What Everyone Should Know About Beige