Many of you want to know if you need to consider your wood floor colour when choosing a paint colour for your walls. So, here's my colour expert advice for what to do when your wood floor colour is no longer neutral and when you can ignore your wood floor colour.
Recently, I've been talking a lot about formal warm wood tones on the blog. Because many of you want to know how to work with them, and when it would be best just to tear them out and start over.
Also, I've seen SO MANY people make the mistake of trying to match the undertone of their paint colour to their wood floors. It's a question that lands in my inbox often. And I want to SAVE YOU from making this mistake too.
**Don't make an expensive floor colour mistake. Get links to product colours I recommend here: Timeless Wood Flooring Guide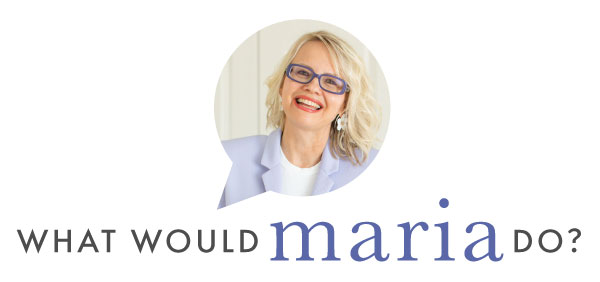 One of my students, who is actively learning and practicing her eye for colour shared this:
Hi All!
This is just part of my daily colour exercising. When a floor like the one in the attached photo is so bossy, is the only choice to do an orange undertone neutral on the walls? I know that we don't usually base colour choices on the wood floor, but this one is screaming. Also assume that the client wants to change out all other cabinet, counter top, tile & soft furnishing colours.
And her instincts are right that these floors do need to be handled slightly differently than wood floors that are a bit more neutral (in other words, more BROWN). But pulling in more orange with the paint colour is not the answer.
A more saturated and red-orange floor like this certainly IS bossier, less timeless and less versatile than a more muted cognac (orange-brown) floor. That means it will limit your decorating, but the wall colour needs to contrast and balance it, not match it.
When NOT to match your wall colour to your floor colour
So NO, the walls should not have an orange undertone to relate to the floors. That would not create a beautiful result.
But a very pale orange beige complex cream? YES! Because it's going to look more like cream on the walls. But choosing a deeper orange beige would only be too much orange.
Better to repeat it in your decorating and keep the walls anything but orange or red truly.

Decorpad
DON'T try to match the undertone of the paint colour to your wood floors
It's a very common impulse for novice decorators to want to match the paint colour to the floors.
But it's a mistake.
Often it's because there is simply nothing else worth looking at in the room, so they want to relate the wall colour to the wood.
And by the way, in general, my neutral colour wheel is not intended to identify undertones in wood. Wood floors that really need to be addressed in your decorating, for example. those that are straight-up orange or red (NOT orange-brown or red-brown) are going to be more saturated and less neutral than any of the colours on the wheel.
And more neutral hardwood floors can be treated like a pair of blue jeans, they go with everything. More saturated ones that are more orange or red than brown ARE more limiting. They are a COLOUR that needs repeating, but matching the wall colour to them is not the answer.
Taking your wood floor colour into consideration is still NOT about coordinating undertones
In my System, I teach that when you're working with neutrals, that's when you are identifying and coordinating the subtleties of undertones.
But when you are working with saturated colours (colours that are clearly recognizable as one hue like red or orange), it's no longer a conversation about undertones. Now we are coordinating accent colours working with harmonizing clean and dirty colours and creating balance and flow.
So I would recommend quite the opposite of choosing a warm orange undertone neutral for the walls. If these floors (in her photo above) stay, everything else needs to be cooled way down to create balance.
Here's what I mean. The cabinets should be white. Adding deep blues also work well to balance orange and red wood tones. Remember this cherry cabinet kitchen? And the reddish-orange of the floors should be treated as an accent colour.
Something like this below would work well for the kitchen.
The walls will look best in a complex cream or pale greige. And I would make liberal use of light area rugs to further break up the bossy red-orange floors.
By the way, it's also worth mentioning that you are very likely to get warm orange/pink reflections on your pale wall colours with floors like these. There's no way around this. However, the more you add light or neutral furnishings and rugs, the less intense it's going to be.
Let me just repeat: when you have red-orange floors like these, or even more saturated ones (more on that below), you are now decorating around an existing accent colour.
Here are 3 of the best ways to decorate with red or orange
And if this is the situation in your house, treat your floors like an accent colour and think about contrast, balance and repetition:
1. Add ample white or cool light colours for balance. Walls, drapes, area rugs, more area rugs, lamps and upholstery.

Leopard is sooo good for picking up warm colours like yellow, red and orange | decorpad
2. Repeat the colour of the floors in your wood stained furniture
Repeat the colour of your wood floors in your counter stools | decorpad
3. Add another rich accent colour to contrast if you like, deep blue is a great choice.
The more saturated your wood stain is, the less versatile your colour palette
You might be wondering, at exactly what point does a warm red or orange floor become TOO red or orange?
It's tricky because the line where a pretty rich brown tips into a red, orange or burgundy is necessarily somewhat subjective. But I want to give you an idea of where that line falls for me.

decorpad
You can always see red and orange in warm brown when you're looking for it. But it's how relatively saturated those hues are that matters.
And by the way, while we are in this extremely cool and fresh white, black and grey trend, wood floors are often paler and even a bit grey. That means plenty of perfectly pretty neutral wood floors are looking too "warm", "orange" or "red" to our eyes that are adjusted to the trend.
Honestly, this worries me more in terms of wasteful renovations. Because there is nothing wrong with warm brown wood floors, I think they are timeless.
So I'm going to share with you where I usually draw the line. And as I've written about, my tolerance of very warm wood tones is high because wood is naturally a warm material. Plus, I firmly believe in many cases, you're better off focussing on decorating than ripping out perfectly good wood floors.
What is a relatively neutral brown wood tone?
Warmer, vintage, traditional and formal wood floors are often quite rich (especially relative to the current trend as I said). But when they are appropriate to the style of the home, they are absolutely worth working with. Think of the heavy and rich reddish-brown trim in historical Craftsman-style homes or the honey cognac oak in mid-century modern homes.
This room below, for example, features the classic rich wood tone you will find in a historic Craftsman home. It's more neutral (less saturated and more BROWN) than my reader's example, for sure, and it would coordinate well with a timeless warm walnut. BUT it feels completely appropriate and timeless in this house.
To decorate successfully with richer wood tones, try to create balance with lots of white or cream. You certainly have more options for pretty accent colours because the wood is more neutral and versatile.
Which wood tones are too saturated to be timeless?
The exaggerated orange and red wood tones are more common in builds and renovations from around the early 90s, and they often simply look dated. They are just too exaggerated to be versatile and timeless.
Honestly, I think the example my reader shares falls into this category. So, my first choice would be to replace the floors or even paint them (more on that below), but she could also follow the decorating and painting tips above to make them work if she prefers.
So again where does a wood floor tip into the realm of too saturated to be versatile?
While it's not simple, nor is it a hard line, my rule of thumb is:
If it's more red than walnut or more orange than cognac. That's the point where it's no longer versatile and neutral.
Here's a little stain colour chart below that is by no means exhaustive of warm wood colour options, but illustrates what I'm getting at.
See how the hot, saturated colours pop forward the way clean colours pop ahead of dirty ones? Those are the range of wood floor colours I would steer clear of or consider replacing or painting.
I'm not at all worried about even the warmest of the others though.
So I personally draw the line at exaggerated red and orange tones and especially exotic reds like Brazilian Cherry. I DO NOT want to get into the territory of specific wood species and stains here, but the more saturated the orange or red tone is, the more it's a COLOUR that needs to be dealt with in your decorating.
How do I decorate with red floors that are basically burgundy?
I don't love red. It's heavy to my eye and I think it needs lots of white to balance it out. I'm much more friendly with orange and cognac. So the one floor I would never want to live with is the Brazilian cherry-type burgundy red like the one above. Because I don't want to be stuck decorating with red.
I can get behind always having to have a bit of orange or cognac in my decor, but burgundy red? It's a hard pass for me.
If you love red and burgundy and you don't mind at all having to decorate with it, maybe your exotic red floors can work for you. Just keep in mind that they are very formal (note the baby grand piano in the image above).
Update red floors with black and white
When searching for images of Brazilian cherry wood floors, I found the most current and prettiest rooms with these floors had lots of white and black like this one below.
The red floor acts as the accent colour in the room. They are getting away with the more muted walnut table and sideboard by distracting the eye with good decorating and high contrast.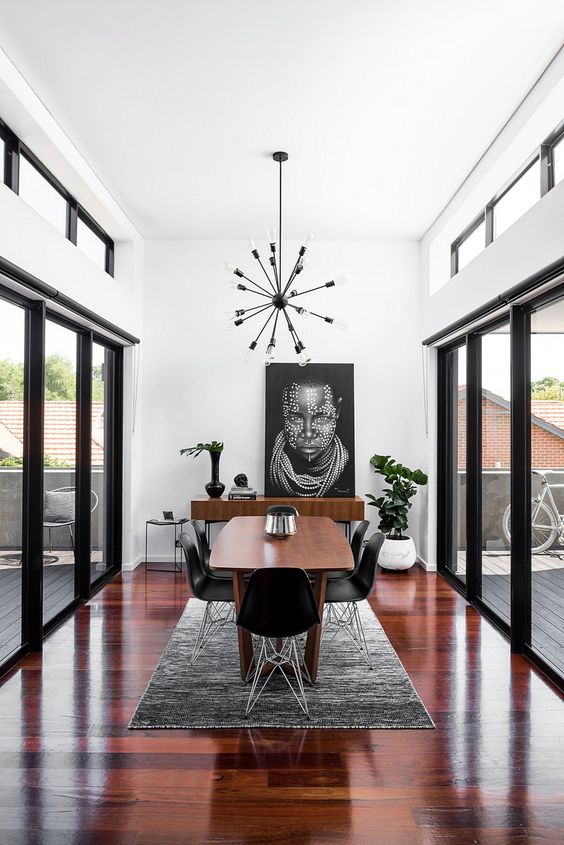 Dalecki Design
Notice though, that it's not a rustic modern or farmhouse look in any way. Rather, it's still glam and sleek. If rustic and casual is the look you want, hot, glossy floors will work against you.

TLC Interiors
When to paint your wood floors?
I think generally people are much too afraid of painting dated wood floors. They would rather live with them because, well, they're wood!
Let me just liberate you from the sanctity of wood. In the UK and Europe, there are so many worn-out wood floors, it's completely commonplace to simply paint wood floors for a fresher look.
It's funny how that's not even an option in most people's minds on this side of the ocean.
And it's a shame because painted floors can be a fresh and beautiful look like this below.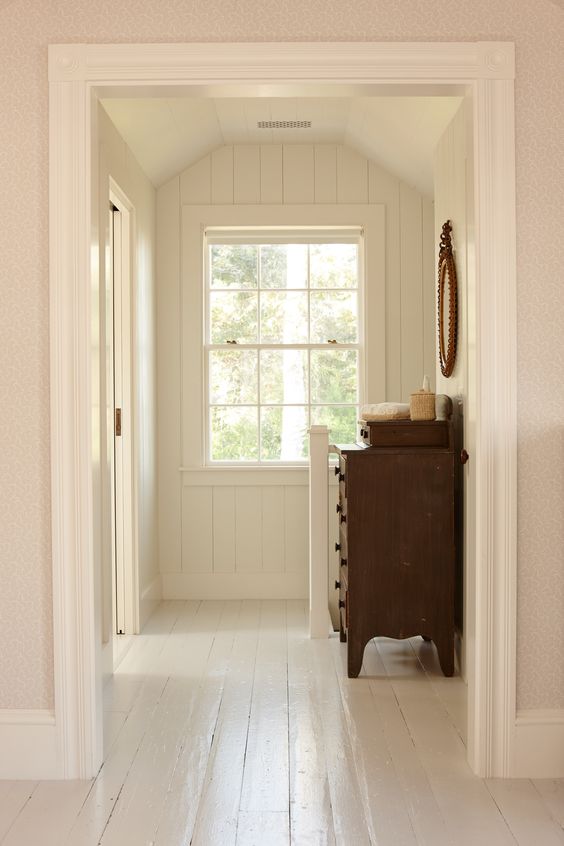 Chairish
Or this.

Farrow & Ball
It's probably because we tend to think of homes as investments first. What about resale?
Well, I would argue that too red or orange a wood floor is not a selling feature either. So I would choose to love the look while I live in it and paint them. The next owner will probably replace those floors anyway.
So to recap, yes, the floors in the example my reader shared tip into the realm of orange-red, a saturated colour, not a neutral. And they are not as timeless and versatile as wood floors that are browner. But if she is ok with the limitations they impose (ie. if she can live with orange-red) balancing them with lots of pale fresh neutral colour and maybe some blue or green and decorating well is still the key to creating a beautiful space.
Don't make an expensive floor colour mistake. Get links to product colours I recommend here: Timeless Wood Flooring Guide
My last course year is Thursday and Friday, we'll post new dates soon!
If you need help making decisions about your wood floors, you'll need my Timeless Kitchen package, or Renovation/New Build package. Please note, our eDesign packages cannot be customized and we don't provide individual hard finish advice. See them all here.
Related posts:
White Floors for Instant Happiness
Before & After; Are Cherry Floors Back?