Sure, this is the time of year when we are full of cheese and cookies and not really sure what day it is, but it's also a good time to reflect on all that we've accomplished (aka survived) these past 12 months. Here's the best of Colour Me Happy blog for 2020.
Every year I reflect on which blog posts resonated most with YOU and in October 2020 I celebrated twelve years of blogging!? So, here's my round up of the most popular blog posts this year based on number of shares and/or comments.
And, this roundup basically establishes that you love to read about real-life design dilemmas and my earnest advice about decorating and paint colours. So you can expect more of that in 2021!
You may want to pin this post for later. . . there are some fundamental design nuggets here that we'll be referring to often in this trend cycle.
The trend of painting all your walls white (or almost white) isn't going away anytime soon. But, before you decide to embrace the trend, here's what you need to know about white paint colours. And let's be real… you may be trying to match an Instagram filter, not a real paint colour. [Click Here to Read]
Painting your trim a greige could be lovely, but there are a few details you need to consider first. I'm sharing more about greige paint colours and my advice for how to get the trim colour right in your house. [Click Here to Read]
When this reader noticed an abundance of all-grey renovations, so many of you agreed! If you're stuck with grey floors or other grey finishes, here's my best advice for how to bring your home back to life – without replacing everything. [Click Here to Read]
Your kitchen cabinets may be good quality and expensive, but that doesn't mean they are classic and timeless. Here's my advice for a reader who wants a fresher kitchen, without a costly major renovation. [Click Here to Read]
And, if you don't already know them, be sure to read about my first rule (boring now equals timeless later) and second rule (waiting now equals beautiful later).
This post was a great conversation about getting what you pay for. Because, when budgeting for a home improvement project, hiring an experienced designer or trade will simply help you do it right the first time. And in the end, truly saves you so much money. Here's a real life example of how we are trying to avoid being penny wise and pound foolish with my Mom's sunroom project. [Click Here to Read]

Classic Mudroom Design by Maria Killam
When colour goes wrong, it's easy to blame the lighting. I hear this all of the time! However, more often than not, the colour doesn't look right because you've made THIS mistake. Aren't you just a tiny bit curious? 🙂 [Click Here to Read]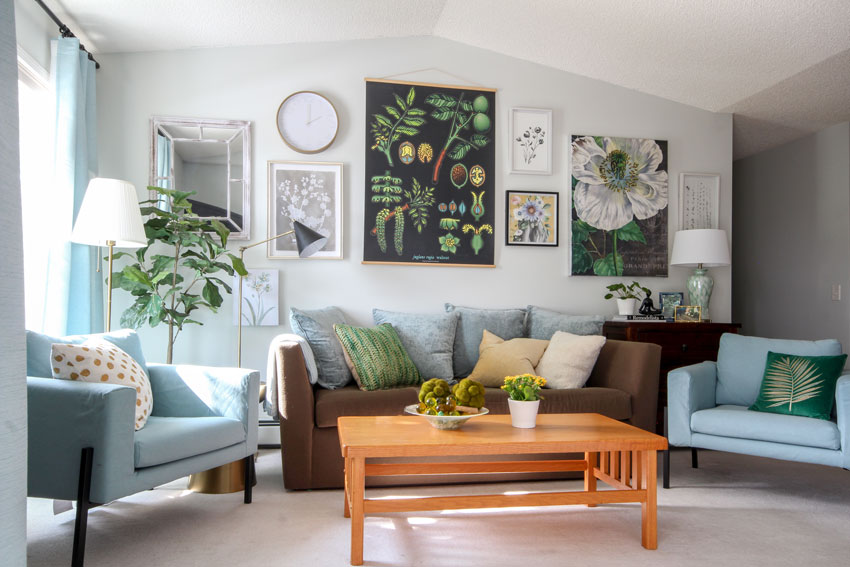 You will ALWAYS be decorating around the colours in your fireplace. The end. So, if you've inherited a fireplace you don't love or are building a new house, this isn't the time to jump in without a design plan. Here's my advice for a classic fireplace you'll love for years to come. [Click Here to Read]
Have you ever installed a trendy, in-the-moment, fabulous tile, and then when the next trend comes along… well, you fall in love again and then regret your previous fabulous tile choice? Before you choose accent tile for your kitchen or bathroom, here are some do's and don'ts to help guide you toward the best look. [Click Here to Read]
Decorpad
I have talked about buying a sofa in your favourite colour many times on this blog. But, when you don't know what colour of sofa to buy, you often end up with the trendy neutral sofa from the showroom floor… yet again. However, if you create a design board FIRST, before you go shopping, you'll instantly know which colours work and which ones don't. Here's how… [Click to Read]
The demand for white walls is the BIGGEST PAINT COLOUR trend I've seen. But white isn't always the answer. When you understand the world of complex creams, you'll find they are a more versatile and softer alternative to white when you want to lighten things up. [Click Here to Read]
Bathroom Finishes and Styling by Maria Killam
What is classic and timeless? It's knowing what will stand the test of time. Classic and timeless is simply design wisdom. And in a wasteful world of trendy finishes (that no one ever likes forever) – it is an oasis of sanity. Here are some of my best design tips for creating a classic and timeless home you'll love forever. [Click Here to Read]
I love this quote by Maya Angelou:
This New Year needs us all, all our hopes, all our good wishes, all our smiles and all our gestures of forgiveness!
Happy New Year to you and may 2021 bring so much more joy and peace!
Related posts:
If you want to keep reading more valuable advice, see the last 11 years of best post round-ups here: 2009, 2010, 2011, 2012, 2013, 2014, 2015, 2016, 2017, 2018, 2019