This year I celebrated 10 years of writing the blog. And in the last six months of the year, we travelled to Chicago, Vegas and Fiji, participating in Tony Robbins events. If you want to learn anything (Tony says) you need to learn from the best to even get half-way good at something.
The infinity pool in our villa in Fiji
We also held nine (mostly sold-out) Specify Colour with Confidence events all around the country. This course is NEVER the same which is why there is always a line-up of former True Colour Experts who want to volunteer at the back of the room. There's so much information to absorb.
Terreeia and I have learned a lot about leading and scheduling events over the years. I am especially grateful that the courses fill simply through word of mouth and writing this blog.
After all, it's the only colour course in the world where we spend exactly 5 minutes on colour theory and the rest of the time is spent learning the 'Here's-how-you-do-it-in-the-real-world' working with real-life  examples along with current AND dated, fabrics and hard finishes.
Okay, so here's the best of the blog starting with the insider scoop on planning your new build. This post is also perfect for anyone who is doing a complete renovation and you don't know where to start:
10 Steps for Planning Your New Build
I opened the year talking about the right way to make decisions for your new build.  It's so important to know what to choose first and how that sets the tone for all the rest of your selections.
Our New Build eDesign package has been a huge success and we've helped so many clients through the process.
Almost every decision you make in a new build is a colour decision first. If you've never been responsible for choosing everything, it's impossible to be an expert the first time around. And very easy to make many, many, very expensive mistakes.
Living with someone else's bad choices is much easier than living with a choice YOU MADE that cost a LOT OF MONEY and now you HATE IT.
Think about it.
The first room I decorated 20 years ago looks radically different and from one of my current rooms (which is oh-so-much-better). Now that I have accumulated 20,000 hours.
My new build package is the antidote to the stress and decision paralysis that often goes along with the excitement of designing your dream home. See what it includes here.
5 Reasons You CANNOT Paint your House Art Gallery White
White walls was THE topic of 2018. While white walls have been trending for several years now, this year they became everyone's obsession.
We have all been seduced by the blown out bright white rooms on Pinterest.  And the trend has hit it's peak.
I spent a lot of time talking about when white walls are not going to look as fabulous as you expect.
The Shocking Truth about How Most People Choose Colour
Good interior design is like a functional capsule wardrobe. Start with the right classics as foundation pieces. Then you can add in fun patterns and accessories to indulge in the trends and create interest.
Too often a mishmash of trendy finishes is chosen for  interiors because everyone is always in love with the current trends.
Read on to find out why that will not leave you a classic and timeless interior.
Pink and Navy Master Bedroom + Ensuite; Before & After
We did a complete renovation and redecorate for my lovely client Crystal and it was such a great transformation, I was just dying to share it with you. However I had to wait for it to be published in the April issue of Canadian Living this year.
You can see all the befores and afters here.
How to De-Tuscanize Your Home; Before and After
And then the rest of the main floor including the fabulous green staircase which is everyone's favourite feature see all the before and afters here.
Beige is Back! (You Heard it Here First) Trends from HPMKT for 2019
A turn toward warmer palettes for interiors has been on the horizon for a while. This Spring at High Point it was obvious that beige is back as an alternative to so much grey. See the entire post here.
That post basically declaring that the grey trend has peaked and is now waning, sparked a lot of questions about whether greige is now "out".
I'm here to say that pale, versatile GREIGE IS CLASSIC. It's the mid toned grays and choosing everything in gray by default that looks tired. I talked about that here.
Ask Maria: What is the Most Timeless Colour?
And with all this talk of which neutrals are trending, let's not forget: if you decorate with your favorite colours instead of playing it safe with the current trendy neutral, you will always love it.
I just can't say this enough. In this post I talked about how it's especially obvious to spot the trend cycle in hotel renovations. Because they tend to go all in with the trendy neutral of the moment. It's a game I love to play.
But if you land in a rare one that went with colour, it's almost impossible to tell. This post is about the Breakers Hotel in Palm Beach when we were nearby for one of my colour workshops this Spring.
Is Forest Green the New Grey? Yay or Nay
This one is a shocker for any of us who came through the 80s and 90s. Those days where countrified forest green and knotty pine were all the rage.
Honestly, I didn't expect it to come back in the exact same combination that I grew up with.  But the trend cycle is fast, and what looked old yesterday, looks new again sooner than expected.
This time around, moody forest green is less lumberjack and more glam. Paired with brass, blush and other rich jewel tones it has a whole new look. Many of you weighed in on this one.
Your Clean and Dirty Images are IN and Here's My Take
This summer I asked you to send me images of rooms or exteriors where clean vs. dirty colour appeared to be the issue.
First, I want to say that a lot of people get reactivated by the term 'dirty' when describing colour. So before you judge, read this post first and tell me if there's truly another word you could use in this context (there isn't).
We spend a lot of time on this distinction in my Specify Colour with Confidence workshops.
Getting colour right is not just about understanding undertones. You also need to learn how to COMBINE colours correctly.
Anyway I ended up writing a few posts about this subject starting with this one. 
The other three are here, here and here, if you're interested in learning more.
Ask Maria: Will my Cabinets Look Dated Even if I Paint Them?
It's often an Ask Maria question that brings up an issue that many of you relate to.
This reader had a very good question about what it would take, beyond paint, to make her kitchen look current.
With everyone eager to paint their wood stained cabinets to update their kitchens, it's important to know what else needs to be considered.
For example, dated layouts. In this case she was wondering about her wood window valance.
There is also a great tip in this post about how to close the gap above the uppers to create a more current and high end look if you're planning to update your kitchen. Go here to read the entire post.
Maria's Timeless White Master Ensuite Reveal; Before & After
A bit crazy, maybe, but we renovated all three of our bathrooms at once in the summer of 2017.
We spent several weeks running to my mom's place for a shower.
But it was so worth it! I love my new ensuite bathroom! I now bathe daily because I love this room so much.
You did see my powder room in 2017, but the reason it took so long for me to reveal my other two bathrooms is because I needed to get the sheers made for this bathroom (below). See it all here.
The main bathroom in classic black and white is here.
The New Look of Wood Kitchens: Timeless or Trendy?
2018 brought us a new look for kitchens with fresh looking wood stained cabinets. Check them out here.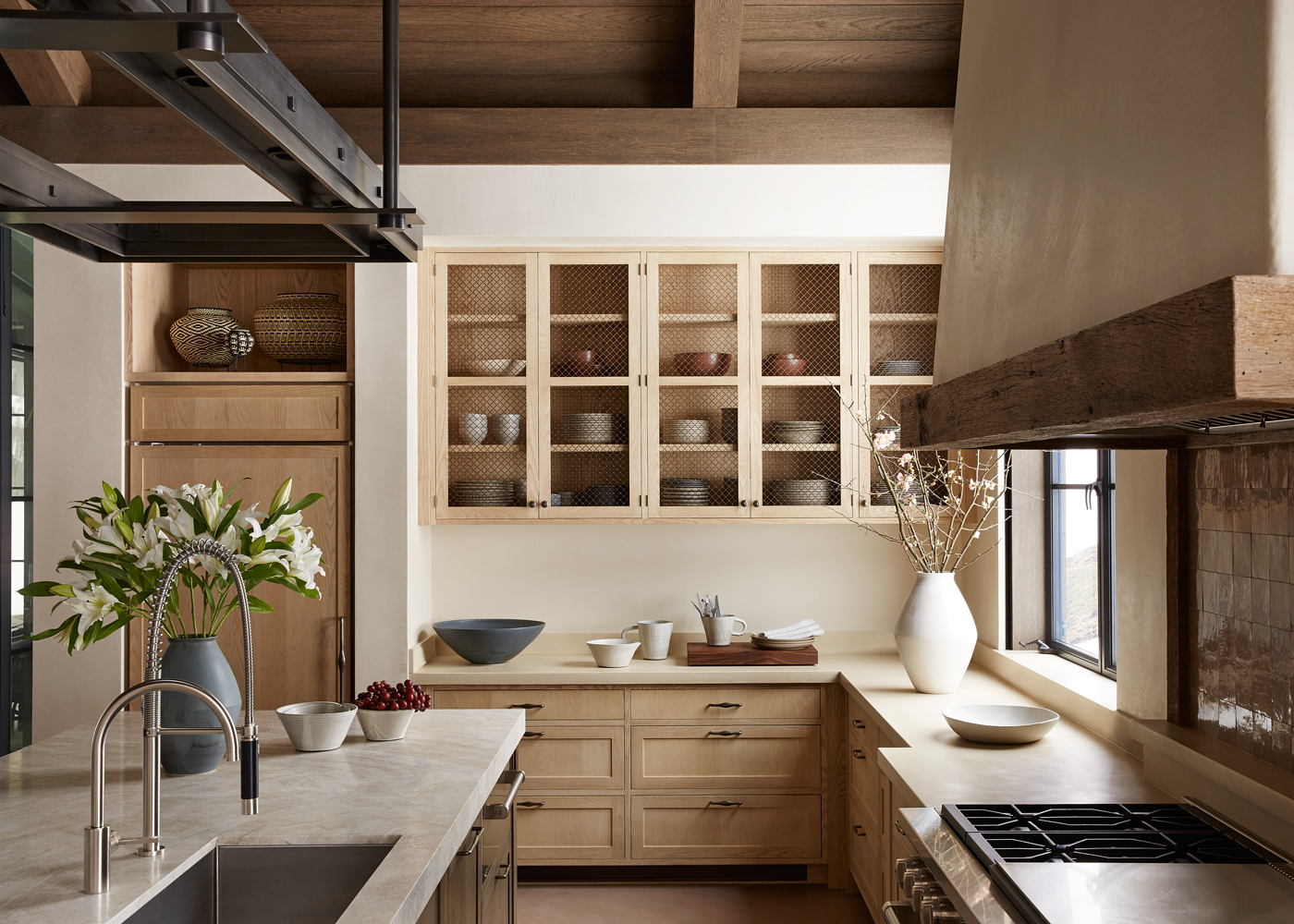 Inside Elizabeth's Library Room Transformation; Before & After
One of my most recent mini projects was one of the most rewarding.
I helped my sister transform her unused living room (turned into the laundry folding room) into a gorgeous sanctuary that everyone wants to hang out in.
It seems like you only see four wing chairs when it's created by a designer.  However, it's an amazingly versatile and social arrangement. Perfect when you have a room that does not properly accommodate a sofa (because a love seat only comfortably seats one person anyway).
This room was immediately named #themostbeautifulroomintheworld by the family after it was finished, haha.
And because I spend so much time with my sister, it felt like a finished room in my house!
Do NOT miss the before pics, they are so good.
Hope you are enjoying this Christmas week!
Happy New Year to all my lovely readers!
Read the last 8 years of best post round-ups here: 2009, 2010, 2011, 2012, 2013, 2014, 2015, 2016, 2017