Maria's White Garden Transformation; Before & After
I wrote the first rule of design (according to Maria Killam 🙂 ) in 2013 when I was working on my garden renovation.
I have had this rule quoted back to me many times by my readers and by students who attend my Specify Colour with Confidence workshops. This simple rule is so powerful that everyone, once they follow it, loves their house even more!
The second rule is equally as important.
My second sister Lea recently turned 50. That happened on a Friday (April 19) and we celebrated by spending the weekend in San Francisco. Then, one week later, her long-time partner Greg retired from his career as a Mechanical Engineer.
I find it fascinating that often, big life events happen in bunches.
A few months prior to this momentous occasion, Lea called to share that they were buying an RV camper trailer because they needed an upgrade from their old camper now that Greg was retiring and they could spend more time travelling!
She asked if I could meet her at the Chilliwack location to choose our own floors, countertops and upholstery.
And it's a good thing they immediately opted to do this, because this is the unfortunate and extremely dated combination that comes standard:
I was quite horrified to see that this countertop is almost identical to one that my sister Elizabeth still lives with in her kitchen from the brown trend. Although we did change the backsplash ASAP here and recently we've added some decorating updates which I'll post soon.
I did a search online to see what people were saying about standard colours in RV Trailers and here's a comment that I think sums up what we've just seen nicely:
"We are looking at new travel trailers. The decor options are hideous! I find this to be so no matter what brand we look at. It is almost keeping me from purchasing one. The interiors are very dark. Charcoal grays, browns, black, and dark cabinets. Floors are mottled tile or ugly wood simulation. No pretty wood patterns or lighter options. Complaining to the companies will probably not make a difference. It would be nice if more options would be available. As it us now, the flooring and carpet are the same, no matter which option you choose, and the other options are fairly close in color. I'm sure these will look more dated than the trailers built in the 70's!"
Anyway, back to our new choices. We chose an LVP that looks like wood to coordinate with the maple cabinets. The photos are all bad because the trailer was located inside a warehouse along with bad lighting.
Photographing interiors with the lights on casts a yellow light on everything and creates hotspots.
So, I will post photos when their camper is finished. We chose a floor similar to this one (below).
Centsational Style did a great round-up on pretty trailer renovations here.
We also selected a light, white, marble laminate countertop (similar to this above).
For the upholstered seats I tried to steer them towards Sunbrella fabrics in a lovely stripe like this (because my sister loves turquoise):
She chose this one instead (below) for the backs of the seat cushions.
And then we went with a coordinating blue Sunbrella vinyl for the seats. And the white in the fabric relates to the new white countertops we chose!
You always need a spot for a table lamp and a macrame, haha (above)! When Terreeia and I rented one for a few days with my family out in Christina Lake a few years ago, I immediately brought a little table lamp with us to add atmosphere to the camper.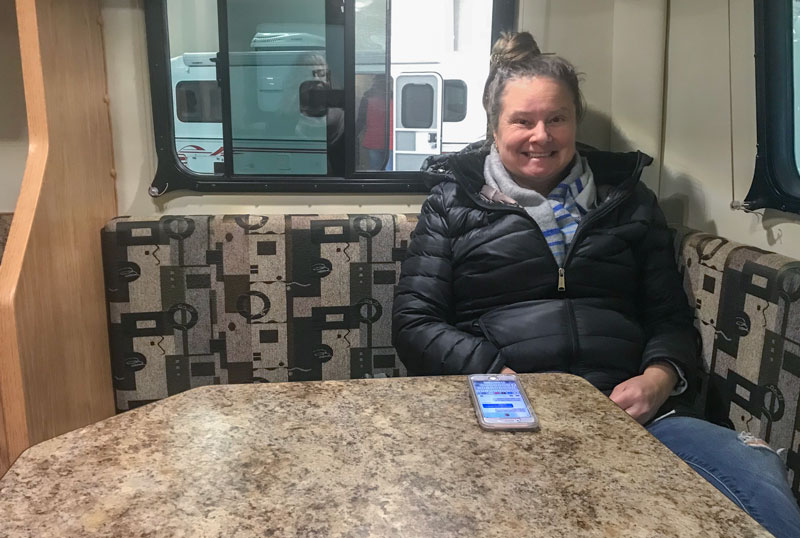 Here's my sister Lea, testing out the seats!
So whatever you do, NEVER buy a new camper with the standard colours, you'll instantly inherit colours that are 15 -20 years behind which will make your camper look like it's already 20 years old.
Here's what is in common with every beautifully designed interior: choices that are CUSTOM. Which often involve WAITING for weeks even months, for those custom items to be delivered or built.
Trust me, it's worth the wait.
There's a huge difference between any room slapped together in a week or less from a big box store with everything available NOW, vs. waiting for your custom, thoughtfully chosen and curated items to arrive.
So instead of being upset that the items your designer has ordered are STILL backordered months and months later, remember this rule. And remember that the world of custom requires patience.
Recently I was in a clients bathroom where she showed me two faucets. A pretty one she had selected for the vanity, and one that was a-close-but-not-quite-match for the tub filler. When I asked why it wasn't the same as the sink faucet she said it was because they would have had to wait three weeks for it to arrive.
My response was instantaneous: "Oh no, you will HATE the fact that your faucets don't match as soon as you see it all installed".
WAIT.
Waiting = beautiful. Just like boring now = timeless later." Same thing.
Happy Mothers Day to all the wonderful Mom's who follow my blog! I love and appreciate you!
Related posts:
First Rule of Design; Boring Now Equals Timeless Later
Warning: This Mistake Could Instantly Date your House