I've been talking about how to decorate with black for years on this blog, but now this trend is full steam ahead. So, I thought it might be time to share a round up of my best tips for decorating with (too much) black (in case you missed them).
And, since today happens to be Halloween – a post about black seems pretty fitting, don't you think? And it's also my 12th blogiversary. Can you believe it?
Who has been with me for 12 years? I'd love to hear in the comments!
How to Decorate with Black
Black is powerful, chic and glamorous when it's done right. But the overuse of black quickly becomes boring, masculine, harsh, flat and predictable.
And while everyone is now embracing this trend as the NEW NEUTRAL, this is a reminder to tread lightly.
Those of us stuck with grey everything (and all that grey flooring) haven't forgotten the last trendy neutral that invaded our homes with vigor and left some of us with finishes we no longer love.
Introduce black with intention, and it will look timeless. Keep saying 'black' whenever you are asked for a colour decision, and your bathroom will definitely fit into the current trend.
[click on the photo or the blue headline to visit the post]
If you're thinking of indulging in the black trend inside your home, this post is your START HERE.
Black can be sophisticated and moody, or it can be altogether boring and bland. Similar to the way white can look unfinished and stark in a room that is not decorated and styled, black gets heavy and masculine really fast if it isn't well thought out.
In this post, I'll take you through what you need to know about decorating with black – when it works and when it doesn't.
There's really only one way to decorate with black in your home – and that's to use it as an accent colour. This post is from many moons ago, but the advice is solid and the post has been shared thousands of times! 😉
Here's what's I find interesting about this post, I wrote it in November 2019 BEFORE cognac became the trendy, neutral sofa-of-the-moment. And in this case, that is fine with me. A cognac sofa is truly one of the leather sofas I think is a timeless colour.
Your sofa is arguably the largest piece of furniture in the room. That's why I've always said that buying a sofa in your favourite colour is the most timeless choice.
But, if you're shopping for a new sofa and tempted to choose black, there are a few things you need to consider first. Read this post to find out why a black sofa is a big commitment and an especially challenging design element to decorate around.
And if your heart is already set on the black sofa, I've got some tips for introducing a little colour that'll help guide you to the most classic and timeless look without being too stark and heavy.
In this post, we'll explore a real living room from one of my readers who is trying to make her home look its best with her existing black furniture.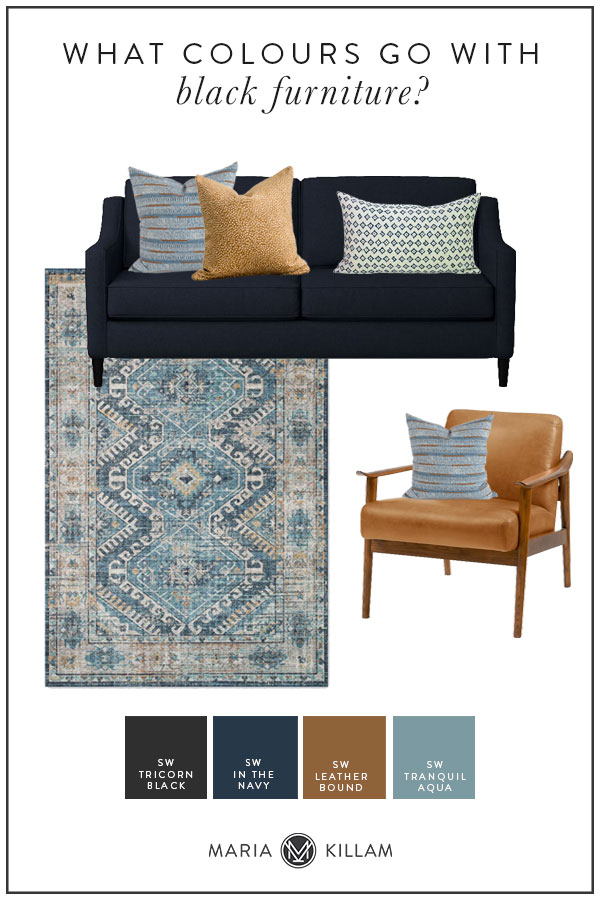 Sofa | Blue Pillow | Camel Spotted Pillow | Lumbar Pillow | Area Rug | Cognac Chair
A well-decorated room needs a bit of contrast and warmth so I've got tips for introducing colour by choosing the right curtains, throw pillows and area rugs to go with dark furniture. This post is will give you a glimpse into how my eDesign consultations work with more ideas for decorating with black.
If you want to decorate with black, the key is not to overdo it. Black is the darkest colour in the spectrum and it's much easier to pull off in small doses.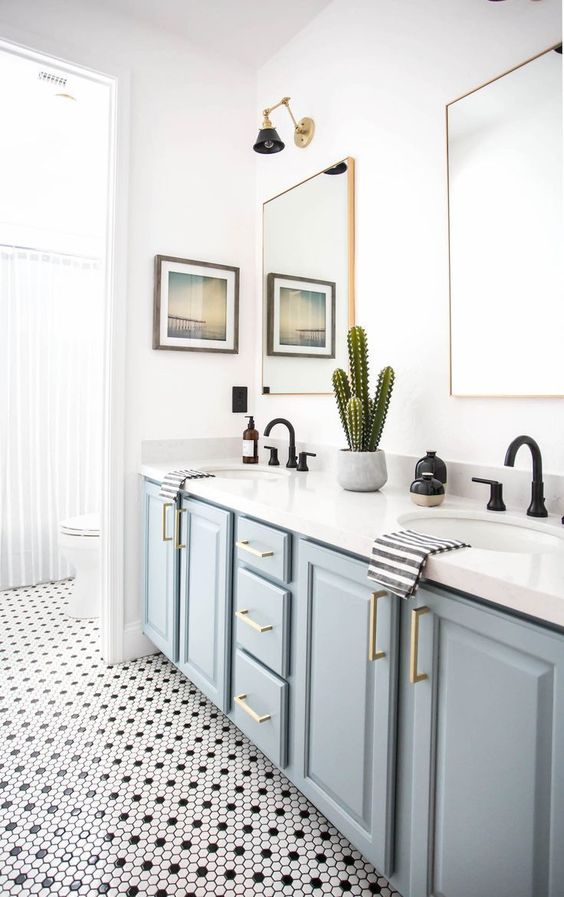 This means that a little black goes a long way. So before you go out and purchase all black hardware and faucets or a black shower door, check out this post. It's a great example of how to decorate with black in a timeless way.
After attending a kitchen and bath show in 2018, I noticed that black was quickly becoming the new grey. Fast forward to 2020, and black and white kitchens are everywhere. In fact, this is one of my most popular posts on Pinterest.
In order to achieve black and white kitchen that is also classic and timeless, I'm dissecting a few IKEA showroom kitchens. Because it's these well-planned and executed details that are critical to getting the look and feel of a black and white kitchen right. Designer kitchens aren't easily copied, but I can help you avoid some of the perils of black kitchens.
I get asked a lot about my opinion on painting doors black so I decided to share my thoughts on when it's a good idea (or a bad idea) to introduce a black door in your house. Because, once again, the right contrast is important to getting the look right.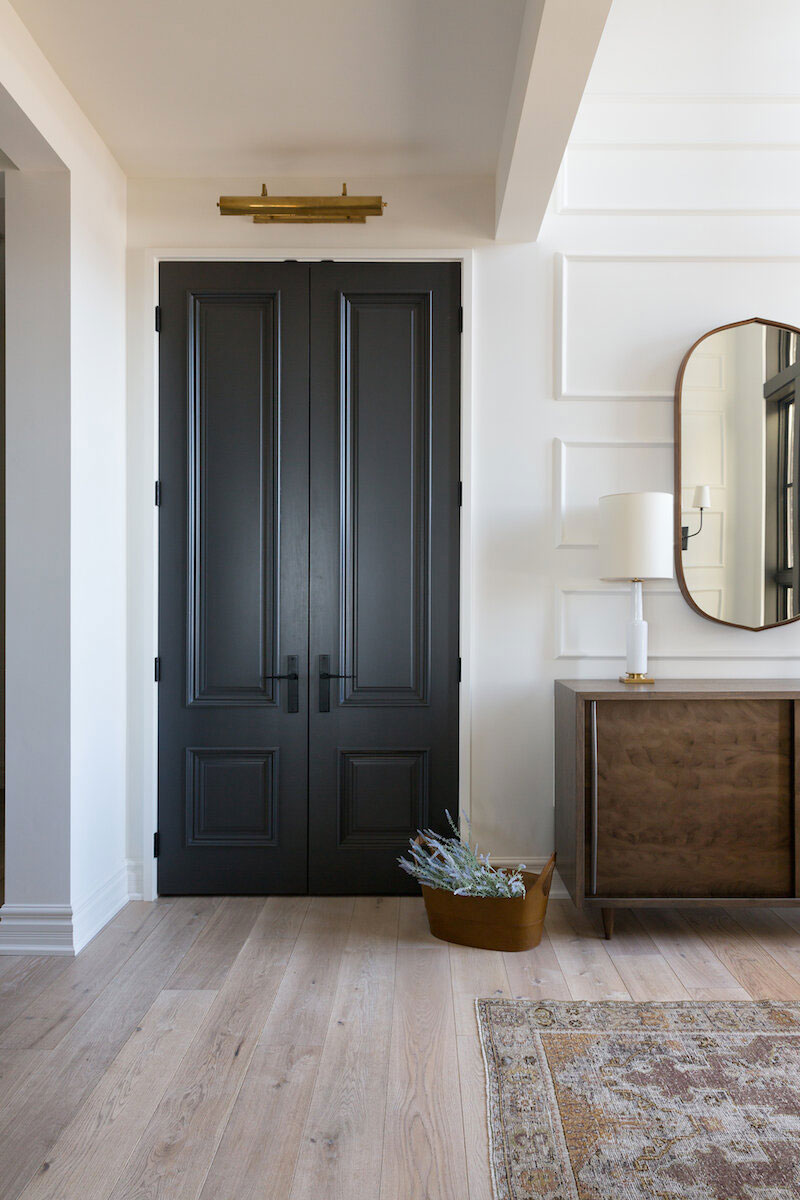 It's not often that I say, "It's only paint" – maybe never? But, in this post I'm suggesting that this might be the easiest way for you to entertain a little drama with colour – not just black. I mean, it's only a door and that's a smaller commitment than an entire room, right?
If you make every hardware choice black, your bathroom will say "We renovated in the black and white trend".
You've found the most amazing bathroom on Pinterest with black tile but you're not quite ready to commit? Obviously you don't want to overdo it with black (because you've already read this post) but also you may not be completely renovation your space – so there's a risk of mixing old and new.
This post is filled to the brim with my best tips for how to make easier design decisions if you want to incorporate black tile as well as alternative design ideas for achieving a similar look.
Happy Halloween!
Post a comment below and let us know which set of boards you'd like to win! I'll draw the winner and announce it in my next post which will go out Monday morning!
Related posts:
All Grey Home in 2011 and All Black in 2019
Why Your Teenager Wants a Black Room