Trend alert: Everyone is painting their walls white. We expect a lot from a white paint colour, but it can't always work magic. Here are the top 4 reasons white walls look bad and what you need to know before you embrace the white wall trend.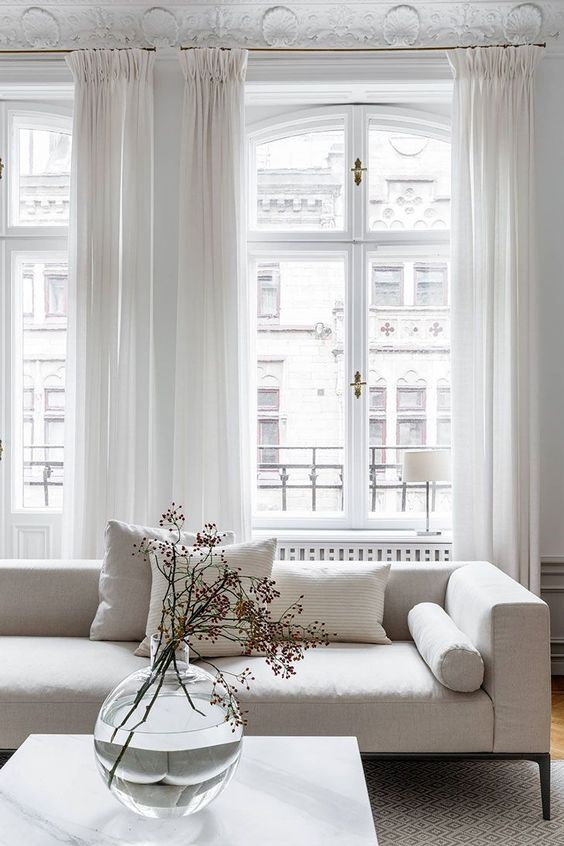 Pufik Homes
It's new build planning season, January is when my eDesign department kicks into high gear!
More than ever, WHITE walls are being requested over and over.
And I'm here to tell you that white is a snob and it's soooo NOT the answer for every home.
Every day my eDesign department fields questions about white looking dingy or grey. And it's not fun being the messenger that bears the disappointing news that white is not the right colour for someone's house when that's what everyone wants right now.
Layered whites and creams by Studio McGee
Exaggerated blown out white rooms dominate our feeds and make us all want gobs of LIGHT to flood our homes. And we turn to our paint colours to deliver. We expect white paint to BE the life giving light we crave.
Paint is powerful stuff, but it is not a source of light.
Your room does not have photoshop filters
I think it's fascinating. The medium of photography is at the heart of this cultural moment. Instagram. Pinterest. Houzz. This blog. Bright and airy photos with lots of white are what look best across platforms. And we have all fallen for it hard.
Even the floors are white and reflecting lots of bright natural light in this pretty room. House & Home.
But here is the problem. Your house does not have Photoshop filters. Your paint colour will not make your house look suddenly sunny if it's not. Even white, the most reflective of paint colours, can only reflect the quality and quantity of light that's available.
Let me say that again: a lighter, whiter paint colour will often only amplify the LACK of light or the random colours that are reflected into your room from outside.
[cue the sound of hearts breaking]
Don't worry! You can still energize your space with light. Failing perfect architecture and exposure, lamps and lighting are the analogue way to add more light and create atmosphere.
Rare is the room that will look this bright and airy without the help of Southern exposure or Photoshop filters. Rachel Ashwell via House Beautiful
White walls will reflect whatever the available light throws at them (and no magical white paint colour will change that)
Yes, sadly, despite our collective obsession with white, so often it — or a very pale paint colour — is not the answer.
Here are 4 reasons your white (or super pale) walls just look BAD:
White is highly reflective. White walls are not for those of us who are prone to over analyzing the way the colour shifts depending on where and how the light hits it on the wall. Like a movie screen, white walls will tell you the story that is projected on them, whatever that may be.
ONE / If your windows face a park or a bunch of GREEN trees -and- you don't get a lot of natural light streaming into your interior, your white could go green!
If the movie outside is lush trees and grass, white walls will tell you all about it. It is typically best to invite green into your colour scheme rather than fight it if that's the case.
TWO / If you live directly across from an orange building and your walls are white, they could look orange or peach (or whatever colour you're dealing with) at certain times of the day when the sun bounces off it.
Unless you are on good enough terms with your neighbour to beg them to paint their building, you are stuck with orange reflections. It should only be an issue at certain times of day, when the light is at specific angles, but there is no magical white or light paint colour that will make it go completely away.
THREE / If you live somewhere with a lot of sunlight, your windows might be tinted. This will also affect the both the colour and quality of the light reflecting onto your walls.
Tinted glass is necessary in intensely sunny climates. Your best bet is to embrace the tint of your windows which are often blue green and try a barely there blue green wall colour and decorate with this range of colours incorporated in the plan. If your house looks like this one below, the colour of your glass is a fixed element that needs to coordinate with your decor.
FOUR / You haven't really decorated yet.
Bottom line, white reflects colour. And the less decorated and styled your home is, the more annoyed you will be by this fact. Without a look and a feel in your room, the only thing you'll NOTICE, is that your white walls are not looking as white and bright as you hoped they would.
In my experience, when people are most critical of their paint colour it is because they are asking too much of it. They haven't decorated yet. There is no look and feel.
And this is especially true of white, we expect an awful lot of magic from it.
I know I sound like a broken record but white and pale colours change the MOST throughout the day. And this is a fact.
The light in North facing rooms is more constant, but also not very bright.
One exception is if you live in an apartment or condo that strictly faces NORTH. If you barely get direct sunlight in your home, your walls will basically look the same throughout the day and probably at night as well. And North facing rooms are also typically lower light rooms, so they definitely will not give you the sun-drenched-photoshop-filter-white look either. (Remember the real life analogue for a photo filter is lamps).
But if you ARE in a darker, north facing apartment, or basement, or otherwise dark interior, you might intuitively think WHITE is the answer to the darkness. Since white is the lightest colour, it would seem to make sense that your interior would feel the brightest with white walls.
But this is a very common mistake. Because again, white cannot ADD light, it can only reflect what is there. And in a low light room there are too many shadows.
Available light photography is like fake news.
As I said, the phenomenon that creates this expectation that white walls will create the feeling of sunlight is all those gorgeous, blown-out white rooms we are obsessed with on social media.
Before and after filters Via Instagram The Light and Airy Photographer
Most of these rooms DO NOT look like this without using available light photography (aka slow exposure that lets in more natural light) or without the 'light filters' that many bloggers and influencers use and sell today.
It's not like we don't know this, but knowing it doesn't change the desire we have to create this look in our homes. It's just like any other unattainable-for-many-of-us standards we all covet due to advertising and social media.
While my South facing living and dining room are drenched in lovely light all day, my NORTH FACING kitchen, family room and master bedroom feel DARK and GLOOMY most days.
Does the fresh and crisp wall colour in my sun-filled rooms look more greyed and shadowed on the darker side of the house? You bet it does.
So, I'm here to tell you:
LAMPS are what you need, NOT the whitest of white paint.
Decorating AND adding lamps with a shade, are the only real solutions.
When I'm home, I have three lights on at all times in my kitchen (two sconces–below–and a new lamp in the corner on the counter, not shown).
Try a lamp on your kitchen counter to create an inviting feel when natural light is lacking. Image via Laurel Home.
The first thing I do each morning is turn on the lamp in my master sitting area. And, it remains on all day long (even when I leave the house). This way when I walk in and out, the room still feels inviting.
More is more when it comes to lamps.
My small family room has 6 lamps. YES you heard me, 6! And at any given time, depending on the quality of light outside, I have 2 or 3 of them on.
Last week I arrived at a consultation where my lovely client already had white walls and had lived with them for the last 15 years. She wanted her white to feel 'cooler' than it was. She didn't like that it looked peachy, which, she assumed, was because of her orange hardwood floors and orange beams.
When I matched the white, it actually was a cream with an orange undertone. That's why it looked orange.
When I suggested a pale blue, rather than a cool white, her husband commented that the room would feel darker.
However, all you have to do is go into a dark room (below) and look up at the white ceiling (because most ceilings are white in the first place). With the exception of the very brightest of rooms, you'll notice how dingy and grey the white ceiling looks.
Related post: 3 Ways to Love your Home Again; Before & After (This post is about lamps)
In this room, white on the walls will not look brighter than it does on the ceiling where it looks grey. The Spruce.
The reason my client's living room "felt dark" and her husband worried it would look darker painted a pale shade of blue, was because there wasn't a single lamp in this room. She turned on white fairy lights that were wrapped around the decorative rod and confessed that they were here all year round.
And the Christmas tree was still up because it also brought soft, lovely light into the room. Of course, that also creates atmosphere.
Something your recessed lighting will NEVER replace. Just one more reason to skip recessed lighting altogether.
Atmosphere is what we all want and in many cases white walls do not deliver. Colour, lamps and decorating do.
Barnes Vanze Architects via Elle Decor
This Spring during my in-person, three-day Specify Colour with Confidence events, I have dedicated an entire half day to a brand new training called: The White Workshop; everything you need to know about white, when it works, when it doesn't and how to get it right.
If you need help choosing the right white, neutral or colour for your home check out my eDesign packages here.
To continue my conversation about white – watch this video for more:
Related posts:
How to Fix Your White room (If it Turned Green) Before & After
5 Reasons Your Paint Colour Looks Wrong; It's NOT the Lighting