I'm here to remind you that when colour goes wrong, usually the LAST thing to blame is the lighting. Instead, keep reading to find out what the biggest paint colour mistake really is…
Before I hop on my colour wisdom platform today, I wanted to pause in this moment and be present with you to the events happening around us. In a world that feels so unbalanced and heartbroken right now, it's hard to find the right words. However, I want to share my wishes for acceptance and inclusion and freedom. For everyone. There is much work to be done to make sure everyone feels fairness and love. As a community, I know we can do better.
The biggest paint colour mistake
I received this question last week and realized that we might need a reminder that when colour goes wrong, usually the LAST thing to blame is 'the lighting'.
More often, you simply chose the wrong colour, the end. Here's the question:
"I have been reading your very helpful and excellent color blog and stumbled across your post on "5 reasons your paint color is wrong."

I wondered if you might help me pinpoint what isn't quite right with this color for the walls, which I've been taking from a darker grey to BM pale oak. The room is a west facing entry/living room adjoins the east facing dining room which had been previously painted with Behr foggy london.

Outside the windows are a lot of greenery which gives a greenish cast to some of the walls. You can see the previous grey since I've not quite finished one wall and the other color samples I've tried out. I was wondering if I should have gone with ballet white instead."
What's wrong with my paint colour?
So in general, this is how I expect Pale Oak walls to look. If you start searching this colour on Pinterest, this is pretty much it.
BUT, why isn't this colour happiness yet?
Scroll down and think about it for a second. My advice was spelled out in this post about 5 reasons your paint colour looks wrong.
Did you figure it out yet?
The paint colour in no way relates to anything in the room. And therein lies the problem.
It's easy to assume the paint colour isn't right if you haven't decorated yet.
This is the biggest paint colour mistake that many of you keep making.
This topic has been talked about so many times on this blog I have lost count. However, there may be a new issue coming to light here.
Because we've moved into this new world of 'pale' and 'white' and 'light' and 'bright', I wonder if perhaps you might be thinking, "The old rules don't apply."
Your paint colour must be repeated in your room.
I'm here to tell you that the old rules still apply. I'm concerned with the number of clients who are simply arriving home with a generic white to throw up on their walls because right now, "brighter just seems the trendiest and the freshest."
Here's the other tricky part. In this house, Pale Oak paint still obviously reads like a neutral and doesn't overtly clash, which leaves this homeowner stumped.
But that's always when we criticize any colour the most because, IT DOES NOT BELONG in the room it's painted in.
Why is it important to get your paint colour right?
Your paint colour should look like it "pulls the room together."
And often, that means the paint colour is chosen last. Not first.
So, if you look at the colours in the above room, can you think of some better options?
Well, let's look at the curtains which appear to be 'orange beige' – it's coming back isn't it?
And then the other colour I'm making a note of in this room is the blue grey area rug making that is the second obvious choice:
And then of course we still need end tables, lamps and a gallery wall here.
But let's photoshop the walls a a blue grey that better relates to the rug, shall we?
So much better.
If you find yourself fixated on the wall colour, look around the room. It's likely that decorating is seriously missing. Your wall colour needs to relate to other items in the room.
Here's some inspiration:
Notice how the inspiration photo has two much larger pieces of art AND a ladder layered with throws that makes the room feel finished?
Her room needs something similar to the gallery wall I created for my nephew last year (below), if you click on the post, you'll see that the before photos also had one lonely piece of art above the sofa.
This room is painted BM Wickham Grey. A fresh blue-green that relates beautifully to the blues in the room.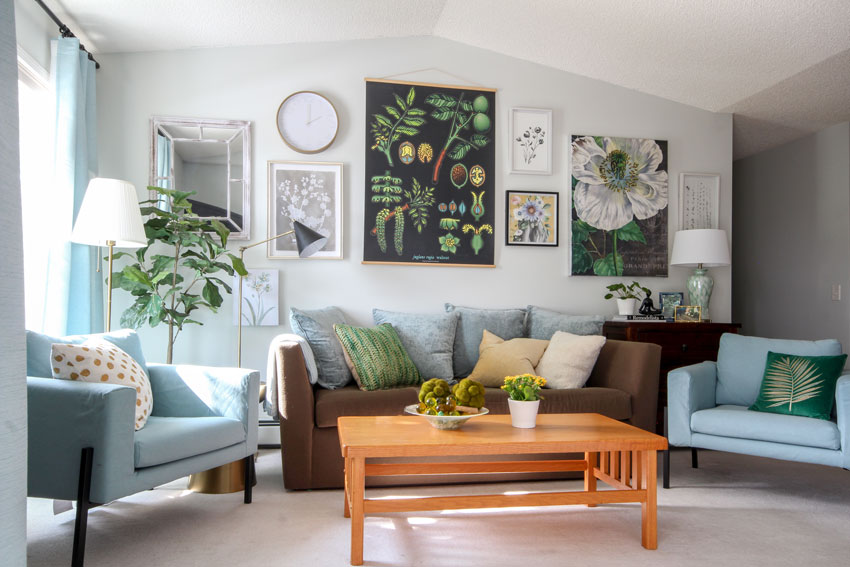 Paint Colour: Benjamin Moore Wickham Gray | Decorated by Maria Killam
How to get your wall colour right
I admit, there is the small, 5% group where the light REALLY DOES TURN THE COLOUR into something it shouldn't be.
However, in my experience, MOST OF THE TIME it's because the wrong neutral paint colour was chosen to begin with. So before you go blaming the mysterious alchemy of lighting issues that are largely beyond your control, consider the things you CAN fix.
How to tell if your wall colour is right (ask yourself):
DOES THIS COLOUR RELATE to any significant elements of the room? (And yes, this applies for white too)
DID I CHOOSE THE CORRECT NEUTRAL UNDERTONE to relate to my room? Because most of the time, these are the issues.
DOES MY ROOM HAVE A LOOK AND A FEEL? And even if there is a reflection from outside for example, if the colour otherwise relates to your decor, it's not going to bother you.
Before you paint your walls a basic white…
My biggest cautionary tale right now would be that instead of just painting your house or the room in question a basic white, consider the palest of beiges – known in the Killam Colour System as Complex Cream™ – or the palest of greys (aka greige) to relate to the colours in your room INSTEAD.
It will look more custom and in most cases way better than a white, which often relates to nothing in the room. Especially if you really don't have any white furniture. If you're painting and want to make sure you choose the correct colour, check out my virtual Open Layout Paint Colour Consultation package here.
To help you choose either category, download my White is Complicated; a Decorators Guide to Choosing the Right White ebook here.
Related posts:
5 Reasons Your Paint Colour Looks Wrong (It's NOT the Lighting)
Ask Maria: Now that I've Painted, How do I Make this Furniture Look Good in the Room?