Looking for an alternative backsplash to subway tile? Here are some beautiful kitchen designs with no backsplash. Find out what makes these fresh kitchen designs without a backsplash timeless and classic.
I recently received this email from Mary, a lovely member of my blog community, along with her stunning new white kitchen:
Love your blog! Sending you some photos of my white kitchen inspired by you!

I'm almost done, I went with no uppers for the openness and because I can't reach high storage anyway. Still have styling to do. Also need to do something to the raw maple wooden frame of the work table which I built.

I'm sure you see two whites. The back wall, hood, shelves, trim are BM White satin which seemed a match to my cabinets (cab company proprietary color "arctic white"). The side walls are BM Mayonnaise flat which carries through the rest of the open floor plan living room. I may change it one of these days.
The No Backsplash Alternative to Subway Tile
I gasped when I saw this pretty kitchen with the sweet dog (Boxer?) in the photo! And I love the clean look without any backsplash here. How she got away with that is she repeated the marble in a slab behind the range and she also ran it directly underneath her kitchen window!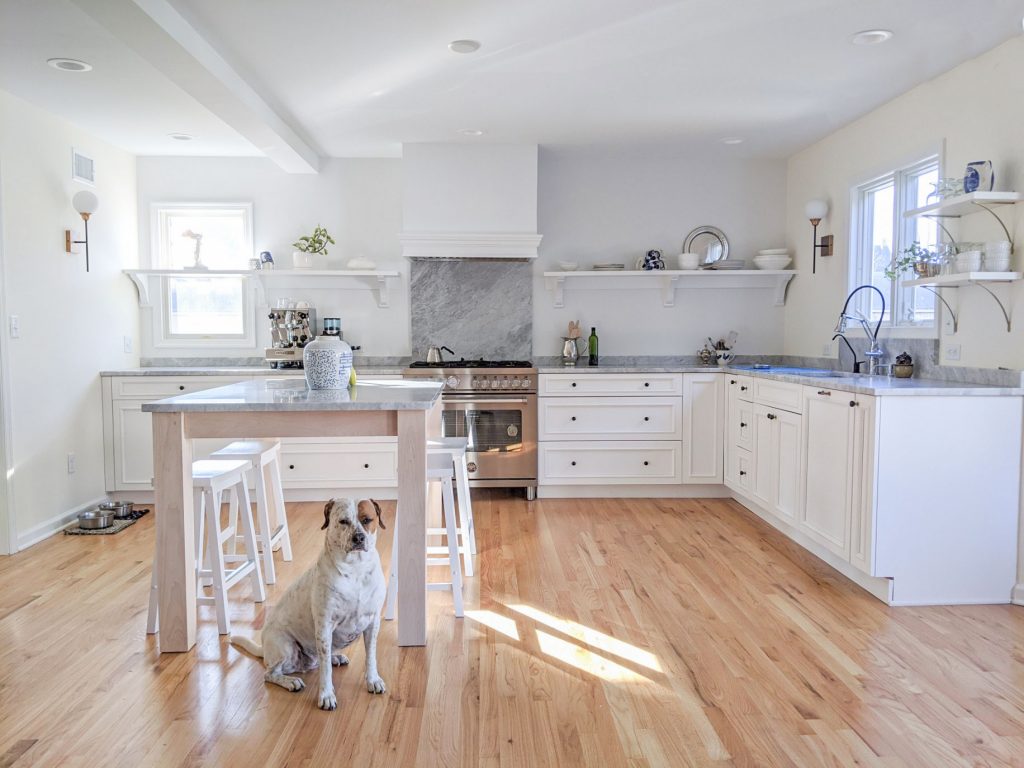 After
A Stunning Transformation from Builder Boring to Timeless and Elegant
Mary had a bold vision because it's hard to see past a dated maple builder grade kitchen crammed full of lumpy uppers, to the clean and timeless look she created. Here is what her kitchen looked like before:
And during:
A Beautiful Kitchen Design With No Backsplash
It's also not easy when you're remodeling your kitchen to maintain the restraint needed to end up with an elegant result. Mary did a great job of letting the marble be the star and keeping everything else white. Here's another view of her kitchen. I took the liberty of adding some yellow tulips in her blue and white urn and a table lamp on her island (although I know that's not exactly where it would sit).
SHOP: Blue and white lamp
The work table could be painted many different colours but we would need to repeat them in the decorating. Given we don't have any other colours in this kitchen right now, a blue grey like BM Coventry Grey would simply relate nicely to the blue grey Carrara marble countertops. Or, the legs could be stained to match the light floors, or again painted white to match the cabinets. All of these options would look good in this kitchen.
A Dark and Moody Kitchen With No Backsplash
I found another inspiration kitchen without a backsplash below with the same idea but in a dramatically darker kitchen. The deep wall and cabinet colour gives it a trendy look, however, it could be completely transformed with paint to be fresh and bright if the owner tires of it. Because there is no tile backsplash, the colour can be completely wrapped around the room for a bold look.
Here is when a 2.75 inch kick kitchen backsplash works.
And by the way, this is where it works to install the 4-inch kick (in the above pic it's 2.75″ which is slimmer and makes it feel more current) to finish your countertops. When you are not installing a tile backsplash. However, you are now committed to having no backsplash, because you can't change your mind and put in tile without removing the kick. And when a kick is installed, you can bet that underneath it, the countertop slab does not meet the wall in a perfect, finished way as it would were it being installed without one. So unfortunately it's not as simple as just removing the kick to install a tile backsplash if you change your mind.
But that's ok! Because I don't think this is a look you will get tired of quickly. The no backsplash no uppers look is trending because it is clean and modern but still timeless. And it allows a pretty countertop like marble to be the star.
Greige Kitchen Cabinets and No Backsplash
Going without a backsplash works best when there are few or no uppers. Here's another example of a greige kitchen with no backsplash and no uppers, also by DeVol below.
Maybe you're someone who is not only worried that you've seen too many subway tile backsplashes, but also white kitchens in general?
Although white kitchens have been trending for awhile, they are still completely timeless and always will be. However, a greige or pale green grey is a lovely alternative to white cabinets for a neutral painted kitchen. You can get a similar look with Sherwin-Williams Accessible Beige or Benjamin Moore Natural Cream OC-14.
So, if you are looking for an alternative look to a classic white tile backsplash, consider skipping it altogether. I much prefer the elegantly simple look of no backsplash to a trendy tile installed just to be different.
You did an excellent job redesigning your kitchen Mary! And thank you so much for sharing the beautiful result with us. I'm delighted that the blog helped you create your gorgeous kitchen.
If you'd like help with your kitchen, check out my Create a Classic Kitchen eDesign Package here.
Related Posts:
How to Avoid the 5 Most Common Kitchen Mistakes
Ask Maria: Is my Travertine Backsplash Wrong with my White Kitchen