Should you install recessed lighting in your next renovation or new build? I'm suggesting you skip recessed lighting altogether. Lighting at eye level is always way more flattering than harsh lighting coming from the ceiling in can or pot lights. Read on to find out more.
Last week on my Insta-stories, I got on a small rant about lamps AGAIN. Long-time readers of this blog will not be shocked to hear this, haha.
This was because, I recently received a few comments on my How to Brighten a Dark Room post that suggested I was somehow trying to trick people into buying lamps.
And I'm here to tell you that I'm fine with going down in history as a lamp swindler.
If something I say about lamps (with a shade) influences you to buy one, well that's okay with me.
Light equals happiness, therefore lamps equal happiness, period.
Any Surface Looks Better with a Lamp
Now that the days are getting longer, you won't notice the lack of lighting in your home as much as you do in the winter. Yet even if you have a dresser or sideboard in your house with a lamp on it that you NEVER turn on, it's still considered a decor item.
>> See 5 Lamps Everyone Should Have in Their Home
It's a rare table in your home that wouldn't look better with a lamp sitting on it, just sayin.
Styled by Maria Killam | Lilly pads
Should you install recessed lighting?
So then, a few of my followers asked about recessed lighting since I mentioned it on my stories and here's my take on them from years of being in this business:
Mostly unnecessary.
Why Recessed Lighting is Mostly Unnecessary (and sometimes just plain bad)
Some designers call them swiss cheese for the ceiling. When two of my sisters, along with my Mom arrived in India last year for a 3 week trip, Elizabeth (who has heard my lamp rant many times) reported, "You wouldn't like it here, this hotel only has cheese lights."
You'll never want to have them on at night anyway. In fact, if you do currently use them, it might be because you simply don't have any lamps to turn on instead.
You can see that in this great room (below) there's an enormous amount of recessed lighting but only one lamp with an opaque shade (which doesn't really count).
Notice how these lights cast harsh, unflattering downward shadows on this room? Well, they will do this to your face too, and those of your guests.
Flattering light is always on eye level (with lamps) and filtered (with shades).
Have you ever seen a professional photographer set up lights directly overhead to highlight your imperfections?
I know this is a somewhat controversial stance, and some of you are committed to the idea of recessed lights. But before you start posting comments about how yours are on a dimmer, etc. I am not saying there's NEVER a place for recessed lights. But, if you're going to install them in your next new build, read this article first. Kitchens yes, and spotlighting art on a wall is a great way to incorporate them.
And yes, sometimes they are just a practical way to light a busy room that is particularly task oriented. Like the home gym perhaps?
When I wrote this post last year in Finland after helping one of my relatives add some more lamps to her home, I received an email from a reader who shared that when her husband had his hunting lodge built (she stayed out of it) the builder said, "Don't worry, I'll put in enough pot lights so you won't need a single lamp."  She laughed as she declared she would not be spending any time there.
What about recessed (can or pot) lighting in kitchens?
Recessed lights are particularly common in kitchen lighting. And yes, it's important to get enough light in the right places in a kitchen. I highly recommend that you hire a good lighting designer.
But I do maintain that recessed lights are still not imperative in kitchens. Although a combination of surface mount lighting and recessed lighting is also a good option.
While this type of light is still from above, it will cast light all around the sides, not just in a concentrated spotlight like beam. It's softer, and the fixture adds interest too.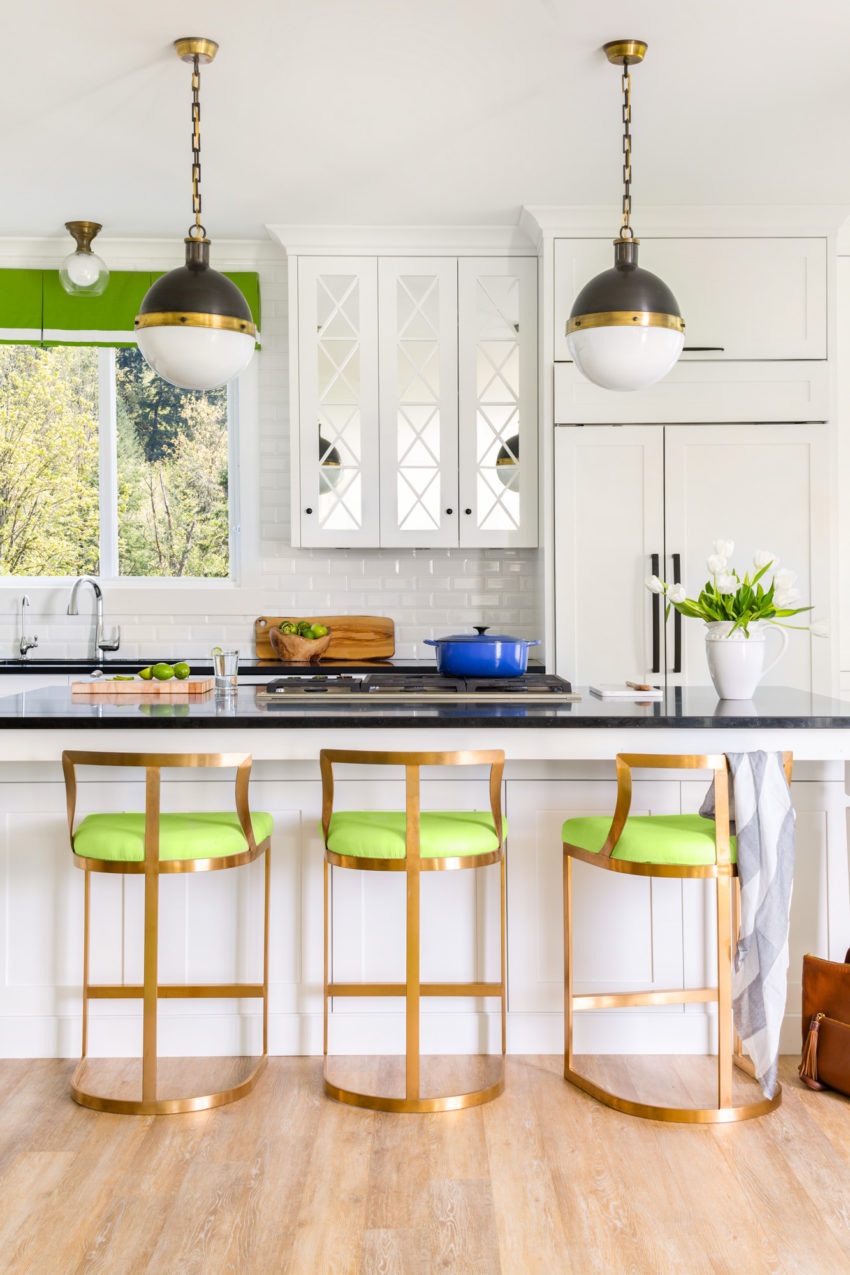 So with regards to kitchen lighting, it is possible to go with all surface mount and sconce lighting in lieu of recessed lighting, but coordinating attractive lighting is usually best done by someone with experience and a great eye.
Some Rooms Don't Need Overhead Lighting at All
Ever wondered why the master bedroom in most apartments or homes often don't even come with an overhead light smack in the middle of the ceiling?
Because you don't need an overhead light if you have lamps.
The master bedroom in our house did come with an overhead light but it's purely decorative and I only turn it on if I'm packing and need more light. Otherwise, I literally have five lamps in there. And because our master is in the North corner of the home (which is also typical) I have the lamp in the sitting area on all day long. Doesn't matter whether I'm home or not because when I walk in at any time, there's always an inviting glow.
Notice there's one decorative overhead light in this library, the picture lights and two swing arm lamps make up all the rest of the lighting (below):
If you must install recessed lights, layer in other lighting sources as well.
Every room needs a combination of sconces and lamps, as well as the occasional well-placed recessed light to fill in dark corners.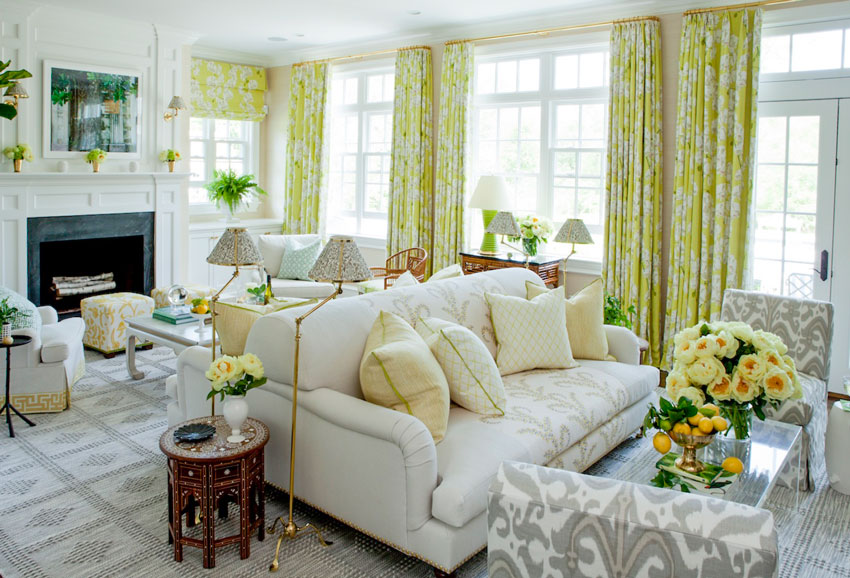 The point is, aside from dimmers, relying solely on overhead recessed light gives you little control over the mood or ambiance of a room in the evening.
Layered lighting from several sources including lamps with shades, sconces and task lights, will give you several options to light the room just right. Whether you want to wind down, entertain or have a family game night.
A lack of lamps and mood lighting is a common pitfall for modern contemporary, minimal and modern farmhouse looks. I get that the point is to create a pared down look, but skipping mood lighting is a mistake.
If you look for it, you'll notice that many trendy rooms that are popular on Pinterest lack lighting. They are fresh and appealing in blown out daylight, but what happens in those rooms in the evening when you want to cozy up to a conversation or a good book?
Light is such an important element in interiors. It's arguable that good lighting is even more important than having something to sit on because there is always the floor, haha.
Debbie Eagan, a character in GLOW, after selling all her possessions
And, whenever someone asks me truly what they should do to brighten up a dark interior, I still direct them to the honeymoon cottage in the twilight series. It's full of perfectly placed wall sconces (with a shade–not bare bulbs that hurt your eyeballs) and lamps.
Speaking of movies, (I know I've said this before too but I can't leave it out in THIS post) you'll notice that in most shows, there is so OFTEN a sconce light in the background of any scene. Now that I've mentioned it you won't help but notice them EVERYWHERE.
It Comes Down to Mood and Ambiance
And in the evening, or if your rooms aren't flooded with natural light, then you need to compensate with mood lighting. That is, lamps with shades to create a glow.
Ever notice how beautiful everything looks at "the golden hour" when the sun is heavily filtered and low to the horizon in the evening and casts this charming glow on everything?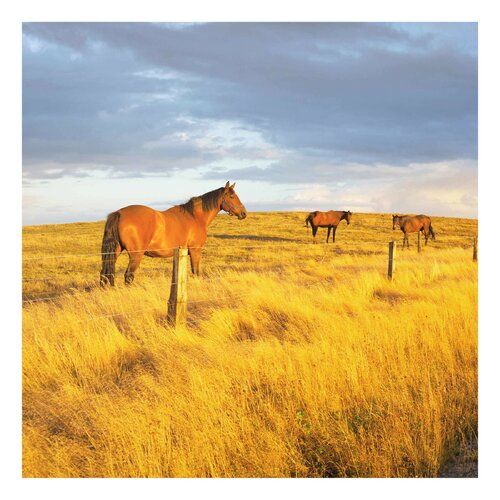 When you hire a photographer to shoot people (not interiors), they will usually recommend within two hours of sunrise or two hours of sunset, just like this photoshoot (below) of my Sisters, Mom and I last April. Our photographer insisted on meeting at 6:30 pm and no earlier.
Elizabeth Jacobs, Lea Junttila, Hellen Junttila and Maria Killam
Consider the effect and how it compares to the overhead sunlight of noon harshly beating down. It's pretty much the same difference with overhead pot lights and shaded lamps.
But if you suspect I have some self serving interest in selling you lamps don't take my word for it, haha. Try it out! Put a lamp or two or more in your room and play around with how it effects the "mood" of your room.
I think you'll find the exercise illuminating! (I'm so funny today).
I received this comment recently from one of my Instagram followers on the subject of my devotion to lamps:
Preach. It. Maria!! I think the solution seems too simple for some. I added a lamp to my kitchen counter 4 years ago, after one of your posts on lamps and it made all the difference. It's been dubbed "the eternal flame" by my family because it stays on 24/7! Yes, I still need to paint my cabinets, but boy that was a way cheaper short term fix that made a huge impact. Don't knock it till you try it, folks!
How many lamps do you have in your living room? Your bedroom? Your kitchen? Do you have space to add more? I have 40, including the pairs of sconces in my bathrooms and kitchen. And I have a three bedroom, 2000 square foot house.
Let me know how many you have in the comments below?
Truly, what else do we have to do right now? Count your lamps and get some more, and I promise you, your evenings will suddenly feel happier.
How am I doing so far? I'm definitely a lamp tramp and proud of it.  There is almost always room for one more! Whose with me?
Related Posts:
The Brightest Trends for Lighting in 2020
5 Lamps Everyone Should Have in their Home