Tricia Firmaniuk, my fabulous Virtual Design Assistant, wrote this great post about kitchens. Let me know what you think!
______________________________________________________________
How to Avoid the 5 Most Common Kitchen Mistakes
Here's a kitchen I found listed on Zillow that has clearly been recently renovated.
And while the outcome is not terrible, I don't think you will find this kitchen popping up all over Pinterest.
So I thought we could pick it apart, not to be critical or mean, but because this is such a common scenario, and then we can gain some useful insight into why so many renovations fall a little short of expectations.
From Zillow
First, let's talk about the use of pink beige walls. Wha?? It would make sense if you were working with a bossy pink beige travertine tile for example, but why introduce pink beige here at all? Maybe the adjoining room dictates pink beige, in which case the kitchen should never have been gray.
What I see at play here are several of the common kitchen mistakes that we see frequently leading homeowners astray when they tackle DIY renovations:
1. Worrying about a white kitchen being cold
This is a big one. We hear this concern often from our eDesign clients, so let's get into it.
It's likely that the wall colour choice is an attempt to "warm up" a white and gray kitchen. This is one of the perils of thinking of colours in terms of absolute "warm" and "cool", rather than in terms of distinct undertones.
If you look at this kitchen through the lens of Understanding Undertones, you can easily see that the pink beige walls don't relate at all.
First, if you're installing a wood floor (NOT a blotchy wood look tile like they have here), your kitchen will have plenty of WARMTH with a wood floor. White and wood is a magically balanced combination, white is crisp, bright and airy and wood is warm, patterned and grounded and best of all mostly NEUTRAL.
The floor tile here unfortunately is a good example of what not to choose when shopping for a wood look tile.
Something much less busy and more solid would have been much prettier and more convincing. It's a common pitfall to fall in love with the more "interesting" looking small samples with seductive variations in tone and colour, but once you install it wall to wall, those patterns become repetitive and busy, not pretty at all. A quieter tile here would have given this kitchen the "warmth" of a wood floor.
The reason Maria so wholeheartedly promotes white kitchens is that they are timeless (even if they also happen to be trendy at the moment). The idea is to create a neutral and classic, white and wood backdrop so that you can get creative with decorating and styling, changing it up as frequently as you like for years to come.
Here's a white kitchen that is beautifully styled (below) with natural finish cane backed bar stools and pretty gold pendants.
Related post: Ask Maria: Will my White Kitchen be Cold?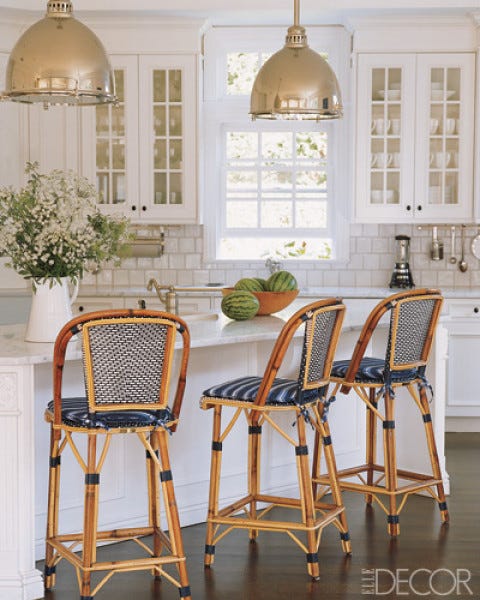 2. Trying to match hard finishes and paint colours to your wood floor.
This is a classic rookie mistake. It's possible that they felt they needed to coordinate the paint colour with the "wood" floor here. However, your wood tone is RARELY a major consideration when choosing a COLOUR for your interior.
This is so common. When faced with choosing colour and with not much else yet in place to consider, people often default to fretting over their wood colour to inform their choices. When really, you need to make some decisions about decorating and the look and feel of the space to inform your colour choices, not look to the wood.
It's like asking the grass what colour your flowers should be.
Let's take a moment to get our dopamine levels up by looking at some gorgeous kitchens where the wood floor appears to be ignored in the other fixed elements to glorious effect.
In this kitchen above, the designer has used pretty wood stools and cutting boards to bring a bit of "warmth" into this white kitchen. NOT beige quartz, tile or paint.
Here's a creative way to add warm wood to a modern white kitchen, a large vintage surfboard!
Imagine sitting down with the little sample of solid white quartz and a sample flat panel glossy white cabinet. You might be worried about it being "cold" or boring right? This is why you need to have the end result in mind. It's easy to imagine panicking and picking out some "more interesting" busy, bossy countertop material at the last minute, losing the powerful simplicity and restraint of this design.
3. Installing a trendy backsplash
How do we all feel about the backsplash in our specimen kitchen?
Since pencil mosaic is no longer the backsplash heart throb of the moment, it reads as not being very current. It's pattern competes with the busy, stripey floor in an unpleasant way, and if we want to get super picky, it is a bit too blue for the green gray quartz on the perimeter cabinets.
Now we have pink beige walls, green gray quartz and blue gray backsplash tile. Hmmm, that's three undertones plus white and wood. The wall colour really needs to pick a lane here. I think I would go with a pale blue gray like BM Horizon OC 53 because look at how the choppy this feels with the pink beige meeting with the blue gray of the tile and the white of the cabinets.
Here is how the kitchen would look with blue gray walls BM Horizon OC 53
And this is the problem with installing a backsplash in any other colour than white, you have now chosen a PERMANENT wall colour FOREVER.
Matching the backsplash to the countertop is another common mistake. Your backsplash will look much better blending with the cabinets and walls on the vertical plane where it interacts more than with the little strip of countertop.
Which brings me to another often missed consideration in kitchen design in general.
4. Not Managing Contrast and Transitions
See how there is an awkward little pink beige upside down U shape framing each window? Wouldn't it be better to run the backsplash all the way up to avoid drawing attention to these silly floating shapes by painting them a contrasting colour? Or, the walls could coordinate with the cabinets or the backsplash to eliminate some transitions here.
Even better, install a white backsplash and it will blend seamlessly with the cabinets and window frames and eliminate a whole whack of awkward transitions here.
Here it is with a white backsplash, prettier right?
A white backsplash is not ALWAYS the answer.
In some contemporary, high end kitchens, the designer might intend for the backsplash to read visually as a continuation of the floor or countertops for a custom look. Like in this glamorous, masculine kitchen below.
But in the average transitional home, a white backsplash is the most classic and goof proof choice because it blends with the cabinets which are the other vertical element in the design, so you don't have to manage the shapes it will carve out of your space and be a brilliant layout whiz to make it work, see?
A dark or mid-tone backsplash in a white kitchen will always create some Tetris like shape action, and you'd better know if it's a shape you want if you consider going that route.
How fun is this analogue wooden block Tetris set! via The University of Oxford
Anywhere you create contrast you draw the eye. If you create soft transitions by keeping elements the same colour, you eliminate a lot of unnecessary visual noise. A well composed space uses contrast deliberately to direct attention to focal points and create balance.
So, I don't know about you, but since this is a real estate listing, yes, I might buy this house if if met my needs despite the cosmetic issues in the kitchen and immediately change the backsplash, paint, and floor, (or maybe not, it could get expensive), but for the same amount of money or less even, this kitchen could have been so much more classic and appealing.
Which brings me to the final critical mistake homeowners make when they renovate their kitchens.
5. Not getting professional help
Kitchen renovations are not cheap and mistakes are expensive. If you don't design kitchens all day long, it's much too easy to fall into the mistakes of inexperience. And you probably don't know where to start and what comes first and then next and why. And that's totally fine, because hopefully you only have to do it once!
So hire someone to figure out the best layout and functionality for your kitchen rather than wasting space, and take advantage of our convenient eDesign consultations to make sure the undertones of your finishes and colours are perfectly coordinated for the most classic look possible for your kitchen here.
If you need help determining which package is right for your needs, email us here.
Thanks Tricia for this fabulous and helpful post!
Okay which tip are you taking with you today?
Related posts:
The Right way (And the Wrong Way) to Install Porcelain Wood Floors
5 Steps to a Kitchen You Will Love
Selecting your Kitchen or Bath Backsplash: Accent Tile or Not?