This is a situation I see all the time. A perfectly timeless and versatile white kitchen with a bossy, earthy backsplash. One of my readers noticed her travertine backsplash looks wrong with her white kitchen. Keep reading for my take on why it looks wrong and three ways to fix it.
I'm convinced it's because most people, when designing a kitchen, make the easy mistake of thinking of the finishes as the final product. And if your kitchen finishes are the end point, well then it seems extremely important to make sure you add something 'interesting' when it comes to choosing a backsplash.
This is why I see so many odd backsplash choices in otherwise perfectly versatile white kitchens. The backsplash is usually the last to be chosen and installed. And that is where people suddenly feel the need to make a 'unique' and 'creative' selection.
My suggestion is to avoid thinking of the installed finishes like tile, in kitchens, bathrooms and on fireplaces, as the final product. Instead, it's best to think in terms of creating a fresh and versatile backdrop or CANVAS FOR DECORATING.
This is a much better goal.
If your home is a timeless canvas, you have endless possibilities for decorating with colour in fabrics and decor. You can make it as serene or interesting as you like. And you can change it up as often as you want.
My dear reader Amy sent in an email last summer when I was asking you all for examples of rooms that were bothering you, that you thought might be a case of "clean" colour vs. "dirty".
I am a longtime reader and really look forward to your blog posts.

These pictures are of my kitchen/ great room. I'm starting to interview designers to help me divide the space into cozier areas, it's big but not spacious once sofas & tables are added.

The wall color really bothers me, it is a north facing room, the kitchen is on the west side. The yellow cheers it in winter, but fights with the pink of travertine, though it coordinates with the ledgestone on the fireplace.

In the photo, the grey-green glass tile inlay seems to just confuse everything. Is this what you speak about clean/dirty on your blog or just fighting undertones?

We moved into this house 5 years ago and haven't changed a thing, in some ways I feel the owner before me had a strong design sense and I didn't want to mess it up.

Now after 5 years, I feel like I am living in someone else's house. I'm planning some built-ins to the right of the fireplace and extending the wood flooring.

I'm wary of more white cabinetry, so probably some color there. I feel like the stone needs to relate to something in the kitchen but it doesn't. All the white trim is 50% SW marshmallow– so a little orange and it seems to match the cabinetry. The walls are SW Blonde in this room.
Why Does My Travertine Backsplash Look Wrong in my White Kitchen?
Amy, your instincts are good. Your kitchen is very pretty and with a few tweaks it will be perfect. You're right that the earthy stone fireplace and travertine backsplash simply do not work with your fresh black and white kitchen.
Read more: What IKEA knows about black and white kitchens, that you don't.
Here's my expert colour assessment of your kitchen. There are four issues at play here:
1. Bossy Accent Tile
The glass accent tile is completely unnecessary and clearly the result of assuming the backsplash should add more interest. And as I've said often, does anyone ever love a kitchen accent tile they inherited with the home?
You're not alone here.
Read more: Should you install the current fad accent tile? – a look at 10 years of tile trends
2. Combination of Earthy and Fresh (aka old and new)
The earthy pink beige travertine is too brown for your fresh black and white kitchen. This is closely related to the issue of clean and dirty, but it's more about whites here. Your nearly true white cabinets are simply too stark to relate to earthy travertine.
Here's a good rule of thumb: Your backsplash tile needs to relate to your cabinet colour. Travertine works with cream cabinets, not white.
The black countertop is also part of a fresher look. It's too fresh to be married to a travertine backsplash.
3. Conflicting Undertones in Your Hard Finishes
You're right, there is an undertone conflict between your sunny yellow beige wall colour and your pink beige travertine.
Yellow beige always makes pink beige look muddy and dirty.
It's common to see "yellow" or "gold" in pink beige, because all beiges are yellow-based neutrals. They need to be compared one-on-one in order to see their subtle undertone differences (i.e. pink, orange, yellow, green, gold).
Yellow beige and pink beige are both creamy, yellow-based neutrals, but the difference is enough that they don't play well together.
Read more: My third rule of design: Expensive does not equal timeless.
4. The Stone Fireplace Does Not Relate to Your White Kitchen
Many people choose a fireplace style that does not relate in any way to the style of their home. Don't install a new fireplace without reading my tips for how to choose a fireplace that suits your home and is classic and timeless.
>> Looking for the best stone colour for your fireplace? Click here.
You are right that the earthy ledgestone fireplace does not belong at all, period. It in no way relates to your kitchen. It should be married to a deep brown wood stained kitchen from the Tuscan trend – not a fresh black and white kitchen design. Again this is an issue of earthy and fresh.
So what's the best fix?
Here are three ways to fix your kitchen design.
1. Big Investment Fix: Replace the Backsplash
The big fix would be to replace the backsplash with white subway tile that matches your cabinets. This will make your kitchen live up to its beautiful potential and give you the flexibility to decorate with any colours you want – without dating the kitchen in a particular era.
Replacing a backsplash does not have to be expensive. If you are handy, you may even be able to tackle it yourself. And classic 3″ x 6″ subway tile is not expensive. You can find good subway tile options at your local big box store.
Classic black and white kitchen with white subway tile via DecorPad
2. Smaller Investment Fix: Renovate the Fireplace
Since you are considering adding built ins, you may be open to remodelling your fireplace in the process, which may be a smaller investment fix. I recommend a simple, classic white millwork fireplace with a black insert to relate perfectly to your black and white kitchen.
Here is a classic black and white fireplace in one of my interior design projects (below). It was designed to coordinate perfectly with the black and white kitchen on the other side of the open concept space.
Interior Design by Maria Killam
You can use the same white subway tile as your backsplash. Here we used white penny tile instead.
In this case, adding millwork to flank your existing earthy stone fireplace will not improve the look. And I don't recommend that you paint the stones a colour. Doing that will take it further away from matching your kitchen, not closer.
Read more: Ask Maria: Should I Paint my Stone or Brick Fireplace?
However, with a white fireplace, you could certainly add lots of colour to your mantel and built-ins with accessories and styling. With a good decorating plan for your living room, it might work to paint an accent colour on the back of the shelves.
3. A Cheaper Quick Fix
The inexpensive (but very effective) fix is paint. Did you know you can paint your backsplash? There are SO many kitchens out there that could be tremendously improved with a coat of epoxy primer and the right paint on the backsplash tile. It can look good for many years, or serve as an excellent interim fix. Here's an example of a painted tile backsplash that looks really pretty.
It is often smart to go with the inexpensive fix and reserve room in your budget for new furnishings and decor. Too often homeowners invest all they have in renovation projects, and don't budget for decorating, which is where all the fun begins. Not to mention that a room needs a look and a feel – paint can't do all the heavy lifting.
The stone fireplace can also be greatly improved with your fresh white kitchen with a coat of paint.
Read more: Should Your Great Room Fireplace Relate to the Kitchen?
I don't recommend latex paint for stone (although it can work for brick). For stone, chalk paint creates a prettier finish that looks natural and not plastic.
You can still add built-ins with this super easy solution.
Chalk painted stone fireplace Farmhouse Living
Bonus designer advice for this kitchen.
You should have your kitchen island redesigned.
This is what will take your kitchen to the next level. Since your overall kitchen footprint doesn't need a redesign and your island countertop looks like the right size for your kitchen (below), the best update here would be to have your island re-built to look like a piece of furniture.
I've talked about islands here and here. And, I even have a Pinterest board dedicated to the best kitchen island ideas. I'm also noticing that new kitchen designs are surrendering the kitchen island for a dining table. Could an eat-in kitchen be for you?
Your new kitchen island could even be a wood-stained island to add some warmth and interest to your mostly white kitchen.
When your island has a pretty, custom look, that's when you can highlight it with a contrasting colour or finish.
Decorate and Refresh the Wall Colour
Once the conflicts in your finishes are gone, you will have a great canvas for decorating. Depending on what you add with furnishings and decor, you can also add some colour on the walls to brighten it up, or you can go with a serene neutral paint colour.
It's best to pick out some decor first to get inspiration for the perfect paint colour. I can help you with my Get Me Started Decorating eDesign consultation here.
Thank you so much Amy for sending in your question and photos! You have a very lovely home.
I'm always looking for good examples to use for my Ask Maria column. If you have a question about a room that's bothering you that you haven't seen covered on the blog, please clean up your room and snap the best photos you can, and email them here.
I just finished a fabulous 3 days with 36 True Colour Experts in my SOLD OUT Toronto live workshop!
If you'd like to become a True Colour Expert, I host workshops in locations all around North America: Register here
Here's what Jessica Eken, Interior Designer, Vancouver and Toronto, had to say about my course.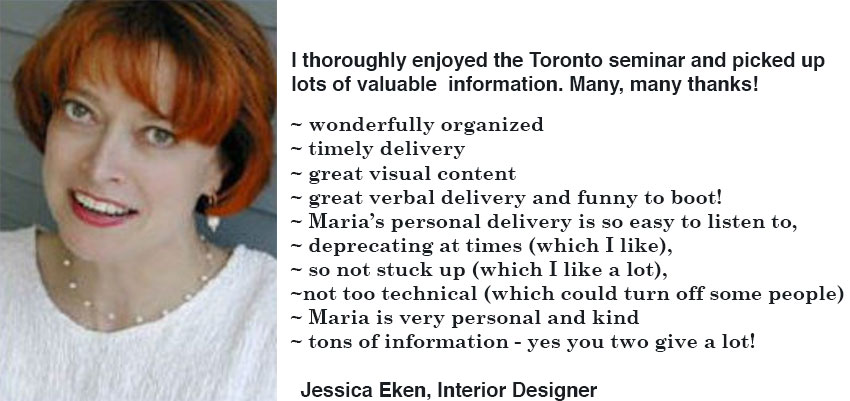 Related posts:
Why Stone Fireplaces and Accent Tile are Not as Important as you Think
Which Stone Colour is Best for your Fireplace Surround