Are you noticing this too? Natural brick fireplaces seem to be on the trend again. But, what if you already painted your brick fireplace? Here's my take on the return of a classic and how painted brick fireplaces can also be timeless.
The other day I received this question from a reader:
I've been pouring over your posts, Pinterest boards, and I am currently going through your book "How to Choose Paint Colors." I'm loving all of it! I have been looking at your fireplace posts as well.

I was considering doing a traditional brick fireplace. But the only advice I see from you on brick fireplace ideas is to paint it. I love painted brick as well, but we are building a house on a farm in Kentucky and I think this is one place where a brick fireplace can work because it goes with the setting.

Do you have any advice on working with brick instead of painting it? I'd love to hear your advice on this subject. This will hopefully be our forever home so I'm not too concerned with resale, etc. but I'm just a little hesitant.

My other design ideas for the house are to go with largely white (or cream) walls and then incorporate plenty of color in the decorating. The kitchen will be mostly white with some wood accents like an old butcher block incorporated into the island. My thought was to use largely white permanent elements to allow for some wood and brick "accents".

Below is a link to an exterior photo very similar to how our house will look. That is the brick I'm considering. Thanks!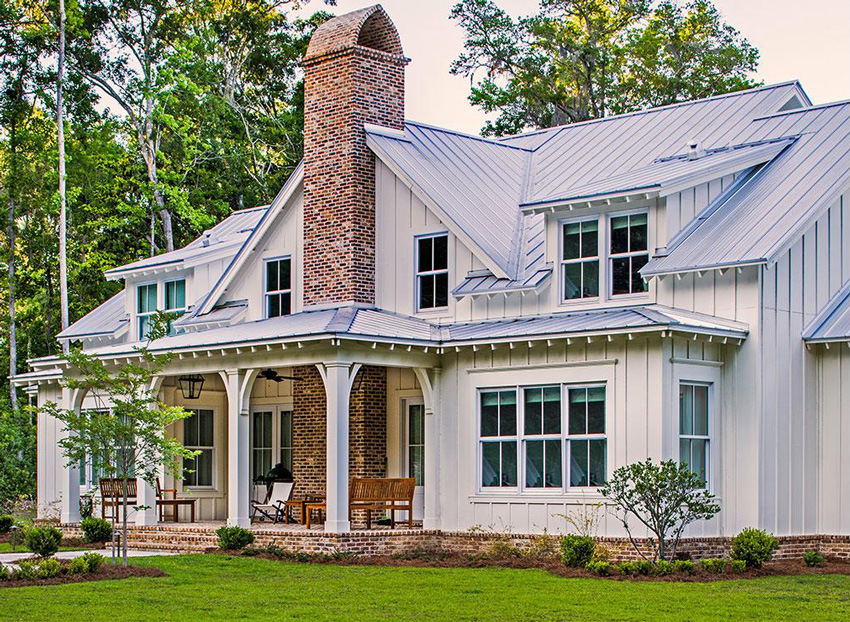 The return of the natural brick fireplace
When I looked at the brick on this house, I realized what is happening here.
We are 3-4 years deep into the black and white trend. So far in that most people who are re-decorating, renovating or building are choosing white, the end.
In other words, this trend goes so wide and so deep that stark white walls are simply ubiquitous now.
Read more: Maria Killams Trend Forecast for 2021
Design by C. Brandon Ingram
So what's the fall-out of that?
We look for other ways to add colour to surfaces that in the past were commonly white or really neutral.
Enter, the new ashy oak stained cabinet, mushroom cabinets AND trim, along with colourful cabinets, AND well, dare I say it, the orange brick fireplace is BACK.
If this reader is considering it for the outside of her house, well, it won't be long before the same brick will likely show up as a great room fireplace too.
Why?
Because the trendy neutral sofa of the moment is cognac isn't it?
And a cognac sofa sitting in a stark white room with an orange brick fireplace works perfectly.
And yes, the brick is a nice "warm" accent in an otherwise stark white room. Just like wood accents, cognac leather and all the weathered and earthy decor elements we are decorating with to achieve balance with ALL THAT WHITE.
But what if I already painted my brick fireplace?
Now, before you start lamenting that you painted your orange fireplace 10 years ago when the brown trend came to an end, go look at some before photos. Chances are, it looked a lot like my sisters fireplace did before it went white.
What's the best way to make natural brick look fresh and classic? (Because brick is arguably a classic and timeless material, but like anything, it can be done badly and miss the mark).
Choose a slightly sunwashed or faded orangey red tone that doesn't lean too far into taupe or grey. And use pale white, cream or green grey greige mortar to connect with airy walls and create a fresh look.
Because if your mortar is not something in the realm of white, those white walls won't look right.
And let me just say, I don't think grey brick is as classic unless it's so pale that it's almost "white" (beware of strong pink undertones in very pale brick colour ways).
A brick that is too saturated and heavy in colour with a darker grey mortar will be just too heavy and, unless it's in a dark and moody English cottage study with mud toned walls to coordinate, you will be itching to paint it.
And if you "updated" your older warm brick with with earthy brown and gold or charcoal grey stone from the last two trend cycles and you're looking at your stacked stone fireplace with one eyeball? Don't worry, you can paint it too.
The other thing to be aware of is that installing brick on your interior WILL influence your decorating palette. So while you may love terracotta and cognac right now on the warm end of the black and white trend, when you want to pull in some brighter, cleaner colours again in the next cycle, you will be a bit limited by it.
If you're someone who knows you prefer more muted colours anyway, go for it! And if you are fickle in your colour crushes, you can always paint it. Because painted brick, interior or exterior, is also a timeless look with pretty texture 🙂
Over to you my lovelies, what are you seeing out there? Is this fireplace back? Yay or nay?
Remember, you heard it here first 🙂
If you need help coordinating your exterior colours, see my eDesign packages here.
Learn how to choose exterior colours in my online course here.
My Fall dates for my virtual Specify Colour with Confidence workshops are now open! Register here.
Also, a lot of people were asking about Day 3 and when it's coming, here's an IGTV I just recorded that answers those questions.
Related posts:
Read This Before Your Stone Fireplace Makeover