Prepare yourself.
The transformation of my sister Elizabeth's living room (now library room) is so big, you might actually fall over.
You'll probably need to grab a strong beverage to calm yourself down.
Are you ready? Okay, so here's the story.
This room was still filled with black leather furniture from her husband's bachelor days.
It's looked like this for about eight years (as long as they've lived in this house).
Sadly, no amount of expert styling on my part could fix it.
It just needed to be blown up.
Especially because, it had also, very innocently, and slowly over time, turned into the extended laundry room.
As a Mom of two boys, my sister (as I'm sure many of you can relate) washes mountains of laundry on an ongoing basis, and this room had conveniently just become the clean laundry/depository room where folding was always in progress.
It just didn't matter what it looked like since no one ever spent any time in this room.
Anyway, since my two nephews, William and Markus had grown past the messy kid stage, this summer we decided it was high time we turn it into a grown up room.
Elizabeth loves blue. When we talked about which colours she wanted blue was one, turquoise to create flow from the family room, and when I suggested adding pink because it is totally on-trend she loved the idea!
"Let's do it!" She said, "It feels fresh and new!"
Are you ready? Here's the before photo.
As you can see, no amount of fabulous throw pillows can hide this style of 80s, black, man-cave leather furniture.
The oversize Tuscan ceiling fan and 90s muted yellow, was still from the previous homeowner.
I had given them the white ottoman from two houses ago and the blue and white striped IKEA chair came from the family room last year after we installed new furniture in that room.
I didn't even try to make this room cuter anymore, it was just beyond hope.
The kids had started building paper chains to dress up the walls. Really, it was just a free for all.
Laundry everywhere on most days. . . you get the picture.
The television in this room is mounted on the fireplace wall (on the right, shown further down). Across from the existing furniture they have a piano making the room too narrow to position the furniture facing the TV and one of Elizabeth's other requirements was more storage!
Elizabeth home schools my two nephews William and Markus and they have tons of books and crafts that need a place to live.
So off we went to IKEA with our measurements.
Here it is installed (below), you'll notice I left just enough space on both sides of the window to hang drapery (below). The one window on this side of the room is small and unimpressive and I wanted it to look bigger.
We left the shelves open on the focal point wall and added glass shelves and some puck lights.
I would have chosen closed cabinets on the right side of this wall of bookshelves, but this option is not available with Billy bookshelves. If you want doors, half of them have to be glass so that's what we chose.
We also bought the row of smaller cabinets at the top, so that they overall effect would look more like built-in millwork.
Here's the room after the area rug and bookcases were installed:
Area rug similar here, here and here.
Elizabeth wanted the budget for this room allocated for nicer furniture and we needed a large area rug (which would be expensive), so we found this neutral one for $400.
It's not wool, but ladies and gentlemen, I'm here to tell you, synthetic rugs have come a long way, they don't shed like they did in the past, plus if you have kids or you entertain a lot, you don't need to worry about the precious rug!
Here's another before pic of the back wall, see how much smaller the window looks without the shelving and drapery? Notice, I left enough room for stacking the drapes, we want the window to feel bigger, not smaller (a common mistake people make when they hang drapery panels on top of the windows).
Are you ready? Here's the after:
Pink is the colour of unconditional love and acceptance. And that describes my sweet sister Elizabeth perfectly.
The velvet on the front of the wing chairs feels soft and sumptuous and the turquoise and blue plaid on the back adds texture and drama!
Just a note about the photography, because of the piano, the chairs don't fit perfectly centered in front of the window, I moved them just for the photo, (normally they sit about six inches to the right).
This rug is technically a pale green beige so I was happy to find this leopard print from Maxwell Fabrics that also picked up the same undertone in addition to the blue and turquoise!
End table (no longer available)
I always buy a maidenhair fern whenever I see one, they are so pretty!
The wing chairs, throw pillows and ottoman are custom.
We found the blue and white porcelain in Chinatown.
This room has now officially been named the most beautiful room in the world.
Everyone wanted to spend time in here when it was finished.
Suddenly, movie night with the family moved to this room (good thing they are a family of four).
Simply turn two of the wing chairs around and move the ottomans from the fireplace over and suddenly, everyone's comfortable!
Also, because the ottoman has a flat top, it's perfect for board games, the boys love to play Monopoly!
William and Markus
Anyway, as some of you know if you follow me on Instagram, since my Mom and Elizabeth live two minutes away, you will often find me in my Mom's carriage house (behind my sisters house) having coffee at 6:00 am in the morning.
This is now the new coffee room.
I'll text her and say "Are we having coffee in the most beautiful room in the world?"
"Yes", she'll respond, "Hurry up".
It's quite amazing how much joy this little decorated room has given us all!
There's something so seemingly glamorous and extravagant about four wing chairs. And it's also usually an arrangement that doesn't happen unless a designer has specified it.
Maybe that's what makes it especially fabulous.
But I think what makes the transformation of this room so satisfying is how long we suffered with the bad room.
It's like this room didn't even exist at all, in it's previous incarnation. It feels like an extension has been added onto the house since it's now a room we love to be in.
You'll also notice another phenomenon that happens when you decorate a room. Suddenly, it's so much easier to keep tidy because you just want to enjoy it's decorated fabulousness.
At all times.
Every moment, of every day.
Okay, have I gone on a little too long with my unabashed enthusiasm? Haha, sorry. But read on, I have more to share. . .
We painted the room BM 2104-70 Strawberry Yogurt (which just happens to be one of the curated pink colours in my large paint samples in my VIP Collection available on my shop page) and we also had the painter give the piano a fresh coat of stain.
Since the piano bench looked really old and dirty (above), we replaced it with a white one.
Elizabeth bought the zen like gold tree and I found the blue and white pottery when I was antiquing in Lynden, WA, one weekend.
Having a designer sister continually sourcing accessories is one of the perks.
After
Since this is also a room where the kids are home schooled, I installed a desk and a comfy chair with a lamp for schoolwork (below)! The kids especially loved the shark art we found from HomeSense.
The chair fabric is also a pale green beige (perfect with the ottoman and area rug).
And then the 70s fireplace brick! It was just a joy to watch it being painted white, let me tell you!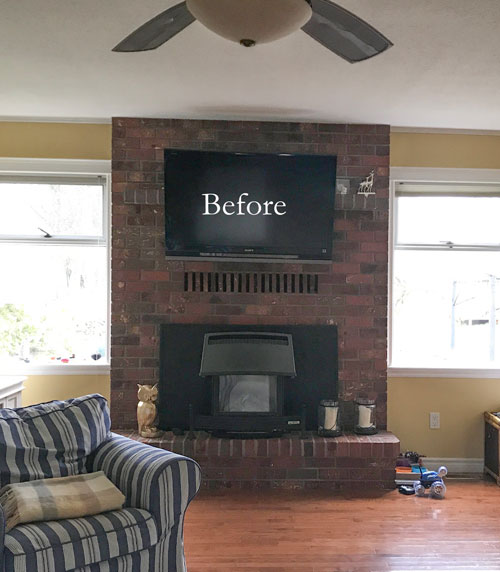 Before
After | Ottomans similar here and here | Vintage rattan chair from Etsy
Elizabeth's windows on either side of the fireplace are really narrow, we debated installing roman shades but in the end, decided that single panels on each side (because there was very little wall space for stacking bigger panels) would add more drama and softness, and wow am I ever glad we made that decision, they look amazing!
You can see this corner of the library room as soon as you walk into Elizabeth's kitchen, so it has seen many vignettes over the years, here's one from a Fall post I wrote.
However, this latest one (below) is the best one!
Cabinet, artwork, parrots and the blue and white striped lamp all from HomeSense. Pink bowl and planter pots from Minter Country Garden Nursery.
Photography by Maria Killam
I hope you enjoyed the transformation, we certainly did! I spend so much time with my sister, I feel like this is a new room in my own home!
We are currently working on a refresh in Elizabeth's kitchen (here's what it looks like now) and I'll post that sometime in the new year!
If you would like your living room to fill you with happiness when you walk in the door, check out our Get me Started eDesign package here.
PS. I had the honour of cutting the ribbon at a new Benjamin Moore store in Dunbar last weekend! If you live in the West side, here's where you can get everything you need to paint your house!
Owner Jeffrey Ho (left) | Maria Killam | Debbie Joubert, Manager (right)
Related posts:
Holiday Tour of Elizabeth and Bill's Home
My Sister Elizabeth's New Coastal Living Room; Before & After
The Best Colour for your Child's Bedroom Furniture (my Nephews Bedroom)