Considering adding black to your bathroom design? Don't underestimate the power of black. When you decorate with black in a bathroom, you are already working with the darkest colour, so don't overdo it. I'll show you how a subtle repeat of black is all you need for a classic bathroom design.
Since hiring my fabulous design assistant Kelly Parkinson four years ago, she has renovated two homes with my help. One of the perks of working for me, is not only do you get trained in my classic and timeless aesthetic, but design help is not far away for one of your own projects.
Here's the first house tour and here are the before photos of her current home. I recently posted the before and afters of her exterior here.
I'm starting the tour of her house with the main bathroom:
Faucet | Hex Tile | Black Mirror | Wall Sconces, similar here and here | Knobs | Pulls
How to Decorate with Black in a Bathroom
Now that the black and white trend is here, I'm seeing so many overdone black bathrooms.  Black is the darkest colour in the spectrum. Which means that a little goes a long way and this bathroom is a great example of that.
Repeat it once or at the most twice, in small amounts as Kelly did here and you're done.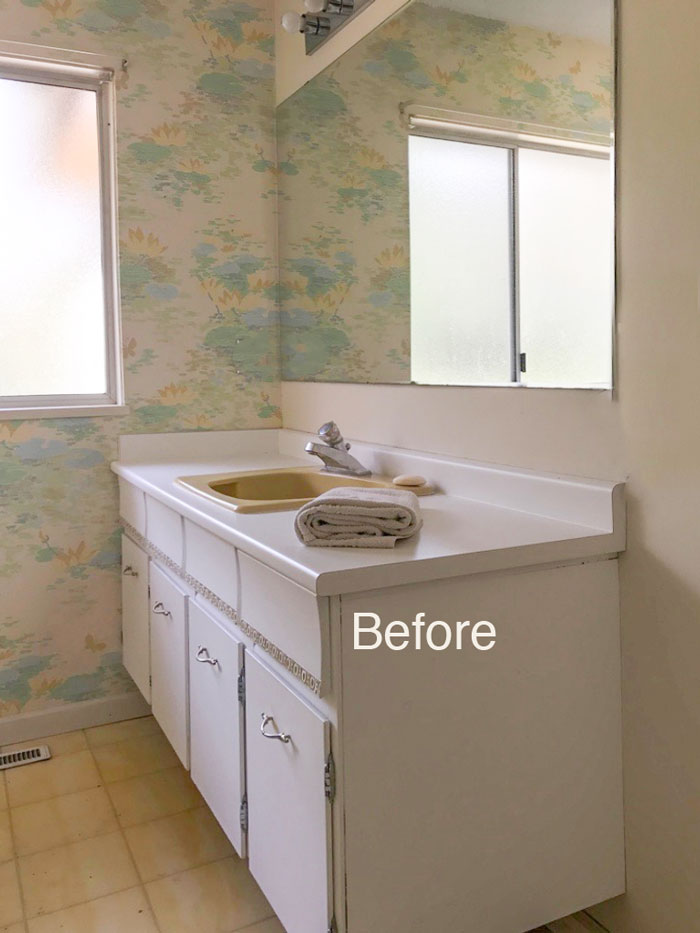 Before
Wall colour BM Horizon (found in my curated collection of large colour samples here)
Before you say it, I should have moved the botanical down, it's slightly too high but I LOVE how it picks up the greens in the bathroom.
Kelly cut and sanded this board to create a DIY caddy for the photoshoot. She said she might keep it around for this purpose!
Love the black and white hex tile.
Before
After
Quite the transformation from the 70s bathroom that it was! Kelly has done a great job with her house, I'll show you more soon!
I'm right in the middle of my Boston Specify Colour with Confidence workshop and having a great time! Follow along here in my Instagram stories.
We are at the airport hotel for the workshop and then Friday night we go downtown to the Liberty hotel where we'll have one day to explore and then Sunday we're off to our SOLD OUT event in Orlando!
WE'RE HIRING
And Kelly is pregnant with her first child! We are so excited for her and this opens up a rare opportunity to work and learn from me personally as my design assistant for one year maternity leave, see the job posting here.
Related posts:
What Everyone Should Know About Black
Ask Maria: What Mood Does Black and White Convey?
Are Black Shower Doors the Best Choice for Your New Bathroom?