Your open concept floor plan can present some real decorating challenges — such as how to create flow from room to room with your paint colours. Here are my best decorating tips on how to transition paint colours in an open concept home.
The open concept home popular in the last few decades has become as common as just plunking an island in the middle of your kitchen when you renovate.
No one even thinks about whether it's really the right thing to do, it's just what we're doing.
This past summer I toured an old house where every single living area had its own room. And the rooms were so awkwardly laid out that you'd have to take down all the walls on that main floor in order to create a more open plan that would make sense.
However, when it comes to living in and decorating open spaces, they pose some very real challenges as I talked about in this post.
Aside from the difficulty of creating a cozy and intimate feel, defining the various zones with groupings of furniture takes considerable skill. As does making sure that the colour palette and style of the furnishings throughout all the connected areas relate.
Creating FLOW is an important colour distinction I teach in my Specify Colour with Confidence workshops and it becomes even more important with this type of layout, because we are no longer simply decorating separate rooms. In open concept homes, we need the kitchen to speak to the great room, the dining room, the foyer, the hall, and so on.
And it mostly doesn't work to transition paint colours on drywall returns without the natural break provided by traditional moldings and doorways between rooms. This is exactly why colour trends have moved to specifying one fresh neutral wall colour to use throughout the main, open plan areas and to add colour and interest with decorating.
When high contrast paint colours meet each other on a raw drywall edge, the look is jarring and unfinished. Many of us just put up with it in order to have that cozy navy dining room, but it's far from ideal.
With the growing trend of creating moody rooms with deep colours on the wall, the problem of transitioning from the pale, fresh neutral paint colours necessary for making the best of on open concept space, to a dark and dramatic one in the dining room or study, for example, is a common one.
My lovely reader Kari reached out to me with this dilemma:
Maria, your post on establishing flow between the master bedroom and bath prompted me to write you about my own flow dilemma. 

We have a center hall Colonial built in the '90s. It's on the smaller side, and the builder treated the downstairs floor plan more like an open concept with minimal division between the rooms.

We recently painted the family room BM Yorktowne Green, and I love the dramatic, moody feel. But where I failed was in realizing how choppy it would become when I tried to change colors in the hall and kitchen. I hate the contrast of two colors where the drywall touches. We don't really have doorways, so there's no molding to separate the colors. 

Option 1 is to attempt to add some trim to help define separation. This won't be easy as everything is very open.

Option 2 is to paint the entire downstairs one color.

I would love a post on color flow for a situation like this!  Thank you, Kari
How to Choose Paint Colours for an Open Concept Home to Create Flow
You've created such a cozy look and feel in your family room. I'll bet everyone loves to hang out in there!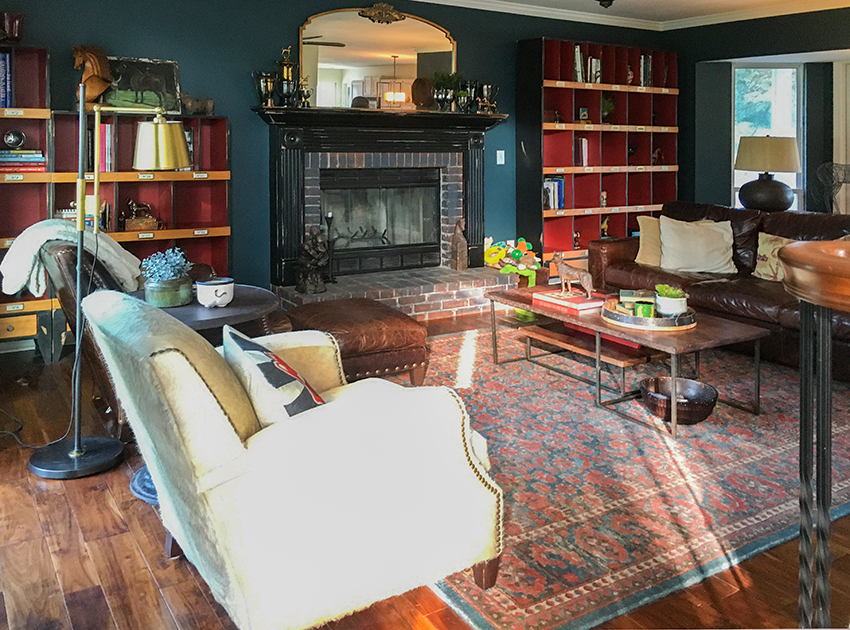 Kari's cozy family room
I can't see painting the walls in this room a paler colour to satisfy the 'rules' and 'best case scenarios' of adhering to colour transition. So, we need a creative solution here.
The thing to keep in mind about any high contrast colour combination is that it attracts the eye. Our brains are wired to notice contrast. This is why if you want a space to feel open, soft, soothing, and continuous, you keep the colour contrast low and subtle.
If you want it to feel dynamic with ample interest, you introduce contrast in thoughtful and deliberate ways. The best rooms typically employ both strategies well.
This is why I very rarely specify feature wall colours (it's a custom situation). Why would you want to stare at the corner where two wall colours meet? They are very difficult to both balance and integrate into a pleasing design.
The stark contrast on the corner between Kari's foyer and family room is clearly attracting too much attention. It's not terrible, but it's not awesome yet.
Transition from the light wall colour in the foyer to the deep green in the family room
The investment solution would be to have the archways into the room redesigned with proper moldings so the transition is more intentional and finished. Colonials are meant to have traditional passages between rooms, so this might be a worthwhile upgrade.
But if the budget just doesn't allow redesigning the openings to the room, here are some helpful decorating tricks:
Choose an equally rich colour for the inside of the front door and add a bold area rug that combines the family room wall colour with the colours in the stair runner.
Or consider installing artwork on the stairway wall that pulls in the rich colours as well. This would layer the colours and create better flow.
A pretty red orange for the front door Benjamin Moore Salsa Dancing AF 280
 And, while these ideas would be an improvement, they won't make the stark line where the colours meet go away. It will only distract from it a bit.
How to Transition Paint Colour with a Portiere or Door Drape
My favourite idea for making this transition work is to install a portiere or door drape.
In Kari's case, there isn't room for drapes on both sides of the opening because of the stairs. However, a couple of panels can be gathered to one side. And while these panels will diminish the size of the opening somewhat, it will help create a much softer look.
And it will give the dark and moody room an even more inviting sense of decadence and mystery. Since space is tight, the drapes can be sashed like the ones above to maximize the opening.
Here is a quick mock-up of the family room entrance with drapes to one side: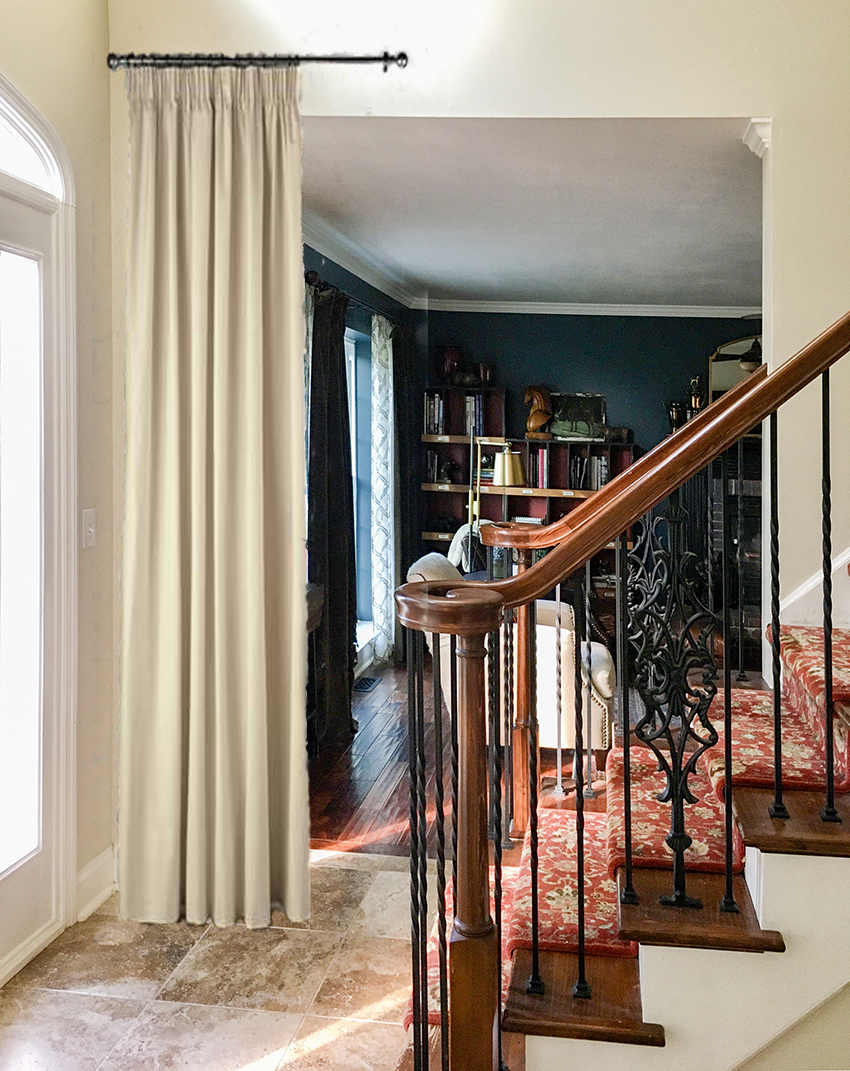 Room mock-up with portiere
Now the eye is not held captive by a hard contrasting line. Instead, there is some luxurious softness.
She can handle the entrance on the other end of the room the same way. I also recommend that the ceiling of the alcove be painted the wall colour to soften the contrast here too.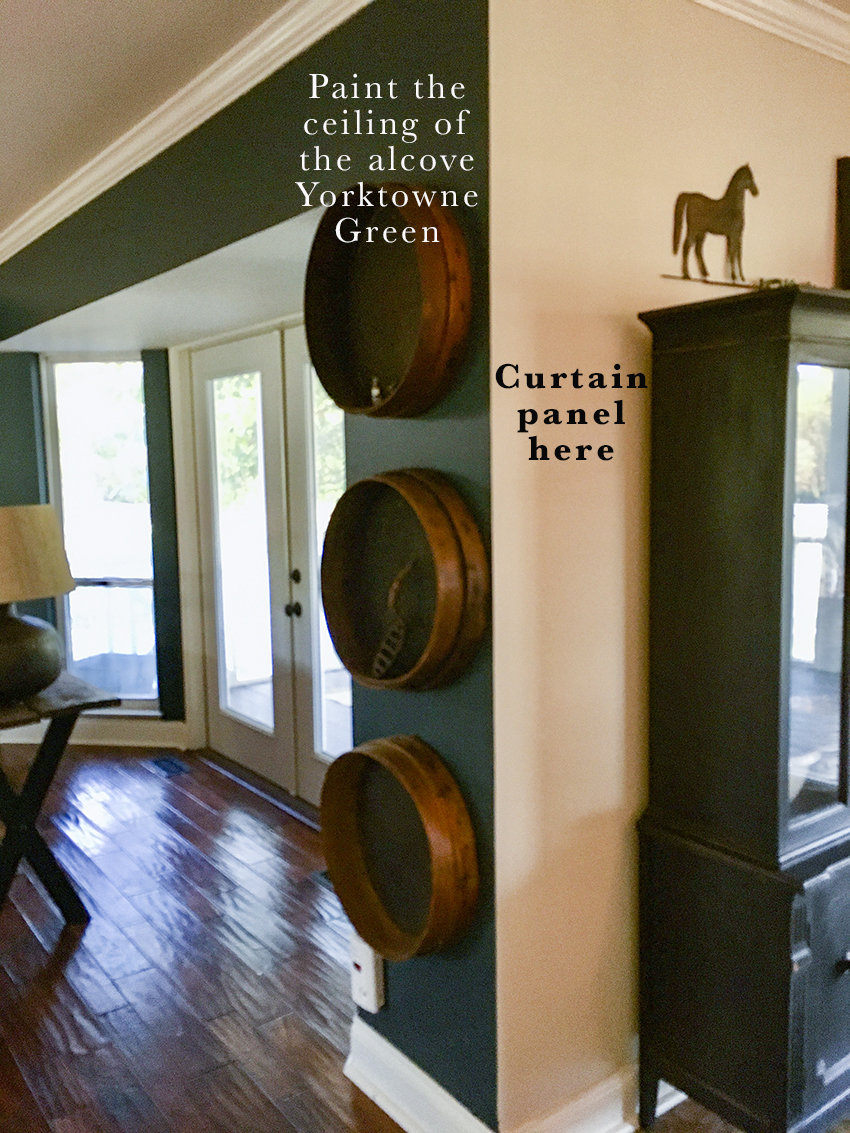 Second entrance to the family room with the same harsh colour transition
Portiere to one side to soften the wall colour transition
On this side, the curtain rod would likely need to be fastened to the ceiling so the curtain can overlap the entrance by at least a few inches.
Portieres are a very decadent and traditional look, but I think they are ripe for revival. Especially now when so many of us struggle to create intimacy in rooms such as dining rooms with huge drywall archways open to the rest of the house. Drapery always brings a sense of layered luxury and coziness. And they also do a great job of dampening sound.
A cozy dining room by Glenn Gissler Design via Dering Hall
Do you have a room in your house that could be improved with some pretty drapery in the doorway?
If you have a question for an Ask Maria post, please take photos with good natural light and email me here. Please note, it's rare that I can create an Ask Maria post WITHOUT photos.
Related Posts