All summer (okay maybe more than just the summer) Tricia (my eDesign Director) has been obsessing about her living room and how the green from outside turns her lovely shade of cream, green. She's sampled a bunch of colours but really she just wants the room to be cream and not green. So I said "Paint it and we'll post it on the blog, this is a common problem right now because white is such a trend".
Whenever someone asks me what to do about white going green in the summer because of the green reflecting from outside, I tell them you need to add more orange to the colour to kill the green.
It's a fine line though, if you add too much orange, you'll end up with a peach living room in the winter when there is no green reflection.
Read on and you'll see what happened, take it away Tricia: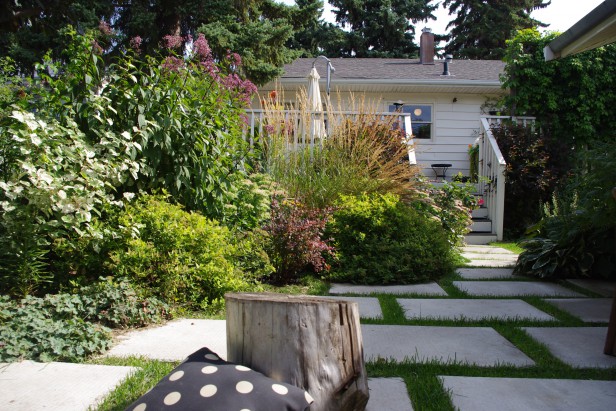 Tricia's Backyard
I love everything about summer. The long warm days, dinner al fresco, road trips and working in my wild overgrown garden (above). I can't get enough of all the lush green-ness outside.
However, INSIDE, my pretty cream living room turns sickly green from the North East reflection of all that green outside. In the winter, (when I chose it this colour) when the light reflects off the white snow, it's totally fine, but in the summer, it bothers me every day (below).
It would be fine if it was just for a couple hours of the day, but nope, it's sour green all day long. You can see how lower down the wall, where the reflection doesn't hit it, it's fine.
I'm sure most people would hardly notice. And if they did, they would think, "meh, it's green from outside," but for colour obsessed me, it causes constant low grade irritation that erodes my very sense of well being…I know, get a grip right? But just LOOK at it! Lime-SICK-le green! Haha.
Anyway, I know this is not an uncommon problem, and my colour scientist mind wanted to know if I could fix it.
The colour is Ralph Lauren Architectural Off White. I chose it ten years ago for my trim to work with the cream floor tile we had installed in the kitchen and bathroom. I love everything Ralph Lauren, and this colour looks just beautiful on the trim pretty much everywhere in the house, especially in the south facing bathroom where it is bathed in beautiful light.
When I got tired of the green grays and beiges that I needed for the walls to contrast with my cream trim, I decided just to paint everything the same cream, which, in general, turned out beautifully.
But in my low light living room, with reflections from the giant trees outside, it has too much of a green cast, so what to do?
When RL paints were no longer available at Home Depot for awhile, I used a very similar cream for other areas of the house that was a smidge peachier by C2 paints called Breathless. It's always beautiful in both bright or low light.
I confess that not a small part of the reason I love the colour is that it is named after an old movie called "Breathless" where a very young Richard Gere seems to constantly be just emerging from the shower 😉 His hapless girlfriend has a classic eighties transient apartment with a peachy toned cream on the walls which apparently inspired the colour 🙂
See that peachy cream colour battling the shadows in there? Oh, right, it's hard to notice anything other than him. Anyway, I noticed it, because I am always analyzing decor in movies 😉
It is actually based on a more stylish black and white version of the film from 1960. Here's a shot from the original movie.
A scantily clad Jean-Paul Belmondo and Jean Seberg in Jean-Luc Godard's original version (a must see).
So I really just told you about that so that I could post a pic of Gere in his prime 😉
Also, I wanted to see if a slightly peachier cream, like Breathless, would cut down on the green cast in my living room.
I ended up testing a colour just a teensie bit cleaner and brighter than Breathless called Wedding Cake, also by C2, because who doesn't want a space that is just a little bit brighter these days? Here's the test board:
When a friend was over for coffee, casually flipping through the paint chips I had strewn on the table, she came across Wedding Cake and said "Eewww" and tossed it aside.
Truly, who wants peachy icing on their walls? Yet it turned out to be the answer. Just shows, you can't judge a paint colour by it's name, or even it's apparent colour when it is sitting on the table. Here is the after:
Do you hear the angels singing in my head? Because I do every time I look at it 🙂
In the spirit of full disclosure, and because I'm sure that many of you will notice, yes, my vintage chair and sofa are a little on the pinky side. Pinkier than my cream walls for sure. But with all of the retro wood tones in my room (which I love because I watch too many old movies probably), pink beige was not the answer for this room. I'm stretching the rules and I assure you that in person, you would never notice, even I can live with it 😉
Here's a shot of the other corner of the room with the big window that brings in not-quite-enough light filtered through all of that greenery.
See how Mabel is looking very suspicious of the camera? That's because in our 9 years together, she has learned that usually when I'm "up to something" things fall, crash, and make loud scary noises 😉 But she puts up with me.
I got her a cow skin blankie to coordinate with her coat and keep her couch from getting too furry, see? We've had a long standing disagreement over whether the couch is hers, and apparently she's won, haha.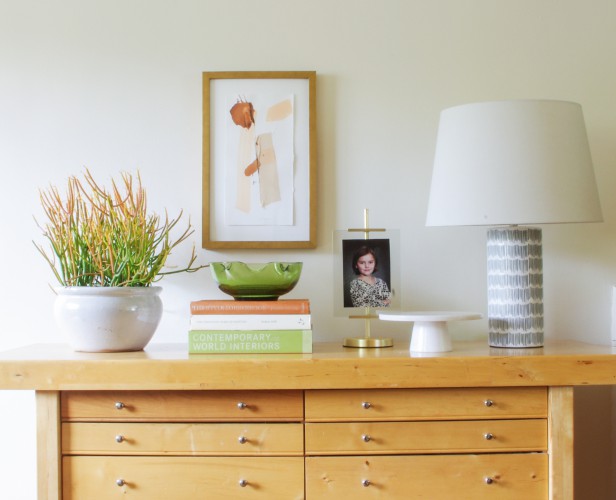 Artwork by Phil Darrah at Peter Robertson Gallery
Here's a view of the wall that gets flooded with warm West light all afternoon (above).
Artwork by Phil Darrah and Graham Peacock at Peter Robertson Gallery
I've been working on styling these shelves, it's a challenge because they are pretty dark, but I like the wood.
We so often get questions from you all about how light exposure affects colour, so I really wanted to share this with you. Reflections and exposures often do affect the colour you paint on the walls. Especially when you are working with lighter colours.
That is why it is so critical to use large samples to finalize your colour and see how it reads in the context of your room.
However, it is also true, as Maria says, that 95 percent of the time it's about getting the undertone right first. At the testing phase you can tweak it if necessary.
The other thing is that with everyone wanting beautiful white and bright rooms like the seductive blown out images that are all over the internet right now (below), it can be disconcerting to conclude that your own low light room can't have the look you so crave to create.
From Four Generations One Roof
I'm putting forward trying a peachier cream (if it works with your fixed elements of course) to create a light and bright feel when greige and white feel drab and shadowy.
Understanding Undertones® – The Colour System
To get technical using colour theory, the cool end of the spectrum is blue, and the warm end is orange (yellow and red), you can battle the cool shadows with a bit more warm orange.(above)
Pinks and yellows should work the same for shadows (if green is not your issue). The reason this works for green in my case is that adding more red to my cream helps push back against it's compliment, green. Does that make sense?
BM Navajo White Image via Home Design Etc.
So if you have a lower light room or a green cast from outside and you want to make it look brighter, try a creamier, peachier colour than you would normally consider. Good ones to try are BM Navajo White OC 95 and BM Indian White OC 88 and some of the other peachy off whites that live in that neglected section of the colour deck, can't hurt to paint up a board and see what it looks like 😉
Thanks Tricia! This was super helpful to have a real, live example of fixing a white.
As you know, this week I was at Maison & Objet, you'll get my 2018 trends report this week.
I've been with a group of designers this week, and inevitably the conversation comes back to colour when they hear what I do.
When people hear about my Understanding Undertones® system, one of the first questions I get is always about lighting.
"How do I get colour right while dealing with a North facing exposure?"

"How do I handle the new LED lights in a kitchen?"
And the list goes on.
Many people still live under the false illusion that if they could somehow predict how the light was going to 'change' the colour, before it went up, well THEN, AND ONLY THEN, could they FINALLY get colour right.
Well I'm here to remind you AGAIN, that getting colour right is about using large samples to get to the right undertone and then, finally actually choosing the correct undertone.
Anytime a designer confides "Maria, the colour went pink (or green or something wrong) after it went up and it was the light" I ask what the colour is. And every time, it was originally a pink beige or a green beige. So no surprise that it went pink or green when it was installed.
I have over 350 graduates on our private Facebook True Colour Expert page which is very active with lots of members posting about their projects, analyzing what to do, asking for help, and very little conversation goes on about how the light changed the colour.
Related post: What it Looks like to be in a Private Forum
It's also how I'm able to specify colour ONLINE. I have conducted literally hundreds of colour consultations this way. From paint to wallpaper, to fabrics and tile, it's about knowing the 9 undertones in the colour wheel above.
The same thing applies to sourcing furniture and fabrics on-line. Once you see the 9 undertones, you can coordinate colour palettes for your clients like we do in our offices every day. I'll teach you how to do that on Day 3.
Once you know what all 9 undertones look like on interiors and exteriors and how to spot them, how to compare colour so that you AND your client can see that you've chosen the right colour, well your whole world will change.
The salon in our hotel the first morning of my stay in Paris when I woke up jet lagged at 3:00 am.
So, instead of looking around at the colour and thinking "I like this taupe room", you'll more accurately say "Look at how this pink beige and red room is so pretty."
Nothing wrong with the pink beige in this room (above) because it's used intentionally. And you'll notice that there are no other conflicting undertones to make it look bad.
Related post: In Praise of Pink Beige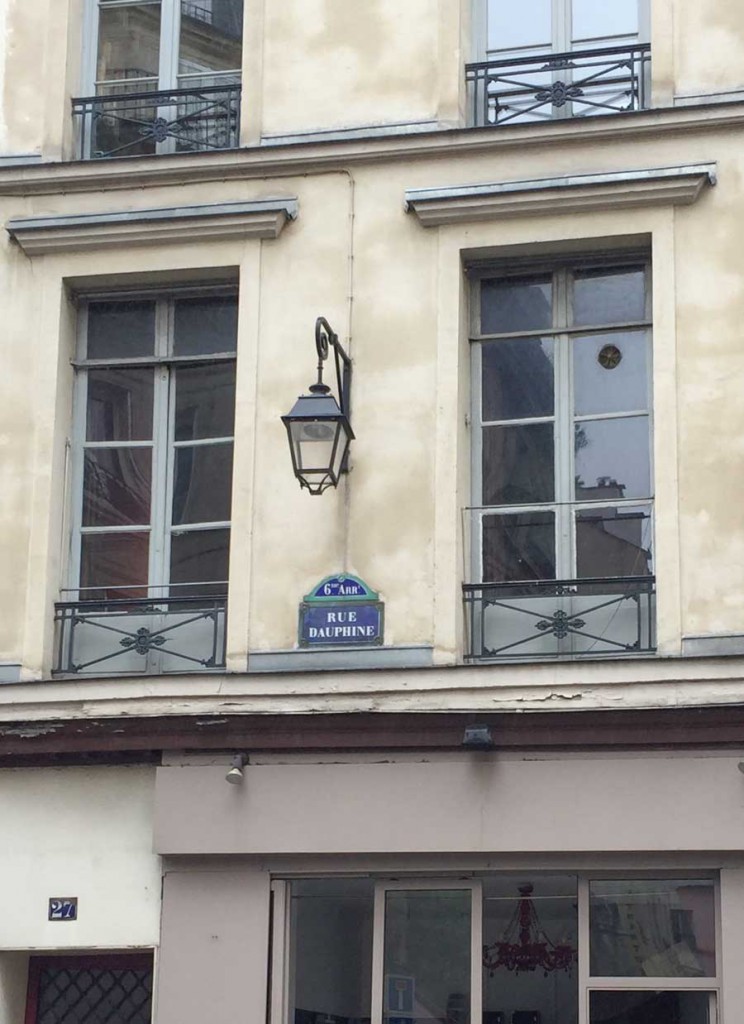 Different from the exterior of this building right outside my hotel on the same street (above). You'll notice that the store windows at the bottom of this photo (along with the oversized casings) are pink beige and they make the rest of the yellow beige stucco look dirty. And the windows are green which clearly was not the best choice here either.
However the Juliet balconies and classic lantern chandelier remind you that you're still in Paris, even if the owner of this building didn't use the most attractive colour scheme.
While I was having a Spritz in the cafe across from this building the other day, I struck up a conversation with a frenchman, who after we exchanged what we did for a living and I pointed out what was wrong, he saw it immediately.
That's the most amazing thing about neutral undertones, the minute you see them, you can't unsee them ever again.
I spend A LOT of time distinguishing pink beige in my workshops because it's such a tricky neutral undertone.
Related post: Why Pink Beige Should be Banished Forever
This was our breakfast room. The lighted mirror sconces were my favourite decor item in this hotel. Nothing wrong with this monochromatic pink beige colour scheme.
It's my last night in Paris and it's raining today. It was raining when I arrived last Monday too! We've had a lovely week of nice weather otherwise.
Hope you are having a lovely Labour Day weekend!