Too often I hear clients complain about their paint colour and blame the lighting as a result. They believe that since the colour looked fine on the paint chip, the lighting must be what's wrong. But this is rarely the case. Good News! The top 5 reasons your paint colour looks wrong is easier to fix than the lighting.
I've been specifying paint colours for 20 years. In my experience, the number one reason why a client becomes critical of a paint colour is when it doesn't relate to anything.
That's when they start to assume that light may in fact be the culprit.
Designers are notorious for blaming the light. I guess if you don't understand undertones, you have to blame it on SOMETHING.
If I had a dollar for every time a designer has confided: "Maria, the light turned the colour pink, or green, or purple (for example), and then after they show me the colour well, in actual fact, it is pink, or green or purple.
There are also countless articles on the web that support this theory.
'My Robin's egg blue looks like a cheap hotel room' screamed one article.
Well I don't need to read any further to inform you that the blue they chose was obviously too clean (for their taste). Yet the author went on to talk about all the different coloured light bulbs out there, in addition to all the many ways sunlight affects paint colour.
And by the way, there's nothing wrong with a bright 'Robins egg blue' if it relates to what's happening in the room.
For example, the blue in the first photo below looks lovely because the room is decorated. EVEN though the blue paint colour appears only in the drapery.
The same blue in the room on the right (below) it could be interpreted as a 'cheap hotel room' blue by some.
Does this have anything to do with the light?
Nope.
It simply looks like we've moved in and haven't painted the walls yet.
However, if you don't understand how to choose paint colours, you might look at the same room and be convinced that the light turned the lovely blue on your paint chip into a bright *screaming* blue that's WRONG.
I am not saying that lighting is NEVER a factor. Not at all.
But more often than not, there is a much higher possibility that one of the following things is happening. And thankfully, these reasons are much easier to control and correct.
5 Reasons Your Paint Colour Looks Wrong
These are the 5 most common reasons your paint colour is not working (and they have nothing to do with the lighting):
You chose the wrong undertone.
The colour doesn't relate to anything else in the room.
You chose a colour that was too clean (bright) or too dirty (muted, dull, or toned down).
The colour is simply too dark (and you might not even realize that's WHY it's bothering you).
The room is missing a look and a feel.
Okay let's deal with the first one because it's the most common problem. It's the wrong undertone.
1. YOU CHOSE THE WRONG UNDERTONE
Here's the first email I received from a reader:
We have built a brand new cottage, the colour I chose for the cabinets was BM Rocky Road. The kitchen manufacturer did not provide us with a sample of the cabinets prior to spraying them. I feel that the pantry, in the light, shows up with a pink undertone.

The kitchen guy wants us to see the cabinets in all the lighting throughout the season "Because it's going to make a difference" – grrrrr.

I would have seen this colour change with a sample but we were not given that opportunity. What do we do now?
Exterior (Rocky Road) | Cabinets (Grant Beige)
Unfortunately I don't have good news for this dilemma. The cabinets will never look right until they are repainted. And as you can see by the exterior above, and the comparison of the two paint chips in the photos, Rocky Road is in actual fact a quite obvious pink taupe.
I had the cabinets photoshopped so they are closer to Grant Beige which is a green beige. Much better with the slate flooring.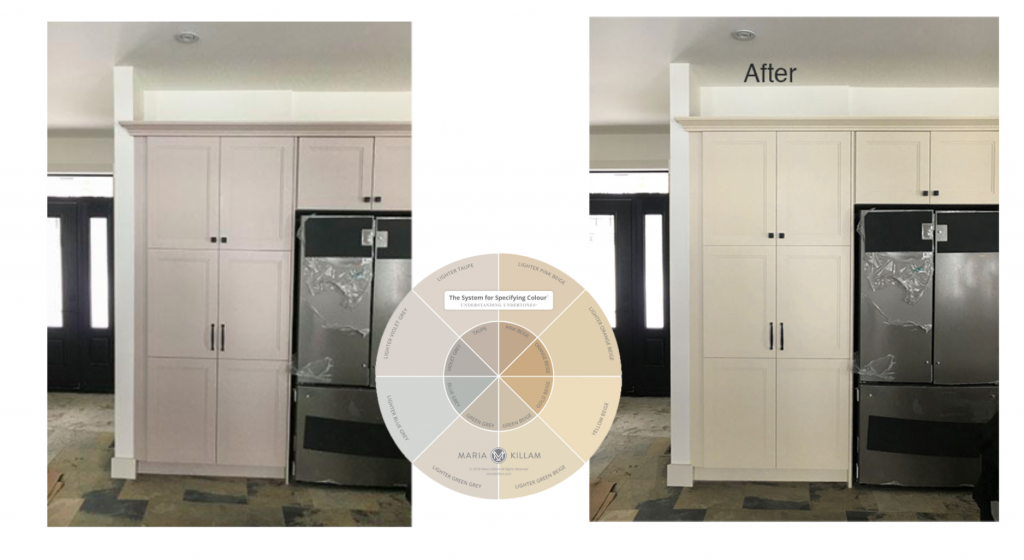 Never and I mean NEVER, approve a cabinet colour without getting a painted sample from your cabinet manufacturer. Even if you have to pay $100 for them to produce a sample, do it.
It's much cheaper than painting the entire kitchen AGAIN.
2. THE COLOUR DOESN'T RELATE
Okay so here is the next question:
My kitchen cabinets and walls are Ben Moore Ivory White, so they cannot change. I've got a cream and off white thing going on in the kitchen.

I purchased the artwork first, for color inspiration and then chose the sofa fabric based on the blue gray color in the painting. I had a very large swatch and moved it around for days before ordering the sofa.

The rug is just there as a placeholder and belongs in another room. Ignore the sage cabinets as they are going to be painted soon. And I know to take off the pillows that came with the sofa but it's what I have for the moment.

Did I make a huge mistake?
No, you didn't make a mistake. There's nothing wrong with your ivory walls, however you don't have any cream in your decorating at the moment.
Read more: This is the biggest paint colour mistake (and you keep making it)
You need to repeat the cream in your pillows, and your area rug and when you do that, it'll look right again.
If your sage green rug and cabinets were staying it would look a little more like you hadn't painted your walls yet and in this case I would consider painting the walls blue.
You can see that this room (above) looks great with blue walls but the walls could also be off-white given there's lots of white repeated in the decorating.
Okay reason number 3 you hate your paint colour:
3. YOU CHOSE A COLOUR THAT WAS TOO CLEAN (too bright) or TOO DIRTY (muted, dull or toned down)
If you colour is too clean or too dirty, this means it still doesn't relate to the furnishings or the hard finishes.
Here's the next question:
Here are some pictures of my clean/dirty master bathroom. When we moved into this house a few months ago, the whole house was painted beige, beige, beige with lots of pink beige tile.

We hired one of your True Color Experts for a paint consult to help us get started with new paint colors.

When we discussed this room, we were looking at neutrals to go with the tile and with her help selected Pale Oak for the walls.

However, after she left and we thought it over for a few days, we decided we'd rather have a color on the wall rather than a neutral. On our own, my husband and I narrowed our choices down to HC-139 Salisbury Green. In my mind, we were just going to ignore the pink-beige tile until we renovate (which for this room is probably 5+ years away).

I think HC-139 is a beautiful color, and from some views of the room I really like it. However, when I look at the tub wall and see the green right next to the pink-beige tile, I just cringe because of the clean/dirty issue.

I would LOVE your advice.
So first, I want to give a shout out to the True Colour Expert who chose Pale Oak. Claudia Josephine, with Claudia Josephine Design from Charlotte, NC. She was spot on.
Both Cedar Key and Pale Oak work are good options to consider to update a pink beige bathroom.
They are both in the pale taupe category and have just enough pink in them to read like a neutral grey once they are up, instead of more green if you chose a colour like BM Edgecomb Grey for example.
And this pale green doesn't bother me either. Also, I love the way you found a piece of art that picks up the pink beige as well as the green. I would just raise it up about 4 inches.
I would personally add some more greenery to this bathroom and keep it green until you renovate.
And, here it is in Pale Oak for those of you who are curious to see what it would look like:
Which one do you prefer?
Thanks for sending in this dilemma!
4. THE COLOUR IS SIMPLY TOO DARK
So first, dramatic colour is definitely on trend. But NOT as a main, all over, neutral. We might be painting our dining or powder rooms colours, navy blue or emerald green, but most people are still looking for light and fresh for the main rooms in the house.
Therefore, if you have recently repainted and the colour is still bothering you? This might be the reason.
5. THE ROOM IS MISSING A LOOK AND A FEEL
I know I sound like a broken record with this. But this AND painting a room WITHOUT having any kind of decorating plan are the two biggest reasons why you'll suddenly become your new paint colours biggest critic.
Paint simply cannot do all the heavy lifting all by itself.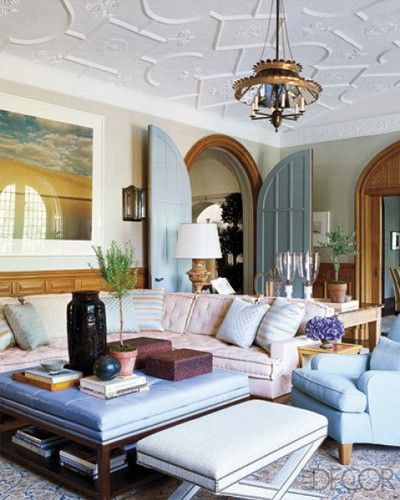 In this photo (above) the wall colour looks like a green beige, and notice how it's really not repeated in the decorating anywhere except the artwork.
But the room is so pretty that we barely notice that. This is what decorating can do. In most cases, if you've made a colour mistake you can't fix, focus on decorating. Every room looks better with a little bit of love and careful layering.
But with paint, it's often an easy fix. You can find comfort that in most cases, with a bit of knowledge, choosing the right colour really is something you can control and it's actually quite unlikely that the light is working against you. Getting the right undertone and intensity is by far the main thing and light is definitely your friend.
If you have a clean, dirty or lighting problem email me photos here. I like these posts, I think they are super helpful. Let me know if you'd like more of them.
Related posts:
Do's and Don'ts on Decorating an Empty Room
How Much Heavy Lifting can a Paint Colour Handle?