I love to spread my interior design talent around, so while visiting some of my family's homes in Finland I noticed very few lamps – and I made sure to fix that! Today I'm sharing 3 ways to add more light to your home, along with a few photos from my beautiful trip to Finland.
The river that runs beside the school my Mom attended as a child, when it froze over in the winter, it would save her a lot of time walking home.
I'm in the last week of my 2 1/2 week tour of Finland (where my parents are from) with my Mom.  My Dad passed away a few years ago.
One of the perks of having me as a house guest is that obviously I'm a decorator. And luckily for anyone who happens to be around me, I love to spread my happy atmosphere around. 😉
Mom (Hellen) and Anja
The first thing I noticed was a lack of lamps in Finland homes. So here are the three best ways to add more light into your home and ultimately create more atmosphere:
1. Limit your recessed lighting (or don't even bother)
When we arrived at my Mother's cousins home (above) in the small village she grew up in Kurrikka and I noticed that she didn't have a single lamp with a shade in her main living areas… and I had to say something.
She had lots of recessed lighting as this Finnish farmhouse is brand new, but not a single lamp.
And specifically not a single lamp with a shade. This is a very important distinction. As many of you know.
Read more: One more reason to skip recessed lighting altogether.
I've said this before, but there are many decorators who install them only in the kitchen because when you're cooking, you need to see what you're doing.
It's strawberry season here so this is what was waiting for us when we arrived around 5:00 pm (below). A wonderful strawberry cake made with potato starch which makes it super light and fluffy. She topped it with slices of vanilla ice cream, which gets even better when it melts into it (you can even enjoy it like this the next day).
Because Finland is so far in the North, the sun barely sets here in the summer time which makes the berries especially delicious because they get so much sunlight.
The peonies were straight from her garden, simply gorgeous!
My sister Elizabeth warned me that the Finns drink coffee all day and I'd basically be having coffee and something divine to eat approximately five times a day.  She was right.
So, if I'm recommending that you don't bother with recessed lighting, where should your additional kitchen light come from?
2. Install a lamp in your kitchen
Anja's and her husband recently built this farmhouse. I was quite charmed by her contemporary kitchen with black lowers, white uppers and pale Spruce tongue and groove walls.
When I saw her fabulous kitchen with the wall of windows and no uppers all along the back wall with the perfect spot on the left side for a lamp, I said, "OMG, you need a table lamp right there!"
She said, "What? In my Kitchen?" How big?
I immediately went to Pinterest and found this image (below).
Anytime there's space for a lamp in a kitchen, it's wonderful to have one. I have many posts where I've put them in, here, here and here.
Source: Missy Morrow Int. Design
This is her living room (below). Without a single table lamp. The situation was desperate.
Read more: 5 Lamps Everyone Should Have in Their Home
3. Buy Lamps with a shade (this detail is absolutely critical)
As I write this blog, I'm in the fourth house we're visiting on this trip and I still haven't seen a single lamp with a shade and then I realized something.
In Canada or the US, anyone can walk into a big box store (or even a hardware store) and literally stumble upon a boxed set of 3 lamps that look something like this:
Lamps, like coffee tables, dining rooms and bedrooms should be coordinated for a designer look, not matchy, however I would take three lamps like this, over no lamps any day.
We were in my cousins home for two nights before we drove here (in Jarvela) and his ceilings were also filled with puck lights and even a strung up contraption (that he had added) because his house was older.
The one day we went out to the shops, they were filled with little task lamps similar to this (below). It's called a task lamp for a reason. It's good for reading or working but it does not cast a soft, filtered light in a room.
Recessed lighting is best for locating your contact lenses
And now that I'm in my 4th house without a single lamp with a shade, I realized that they simply aren't easily available here in Finland.
Anyway, back to the house in question. That evening, when we sat in the living room, Mom's cousin Anja exclaimed that she just couldn't stand the recessed lighting, they hurt her eyes when her husband flicked them on so he could read.
And truly the new recessed lights are super bright. I have four in my master bathroom and I never put them on.
Here we were on the first night in Anja's living room looking at family photos (so we needed the lights on).
The only reason you need them, if you've lost your contacts (as I've said before, haha)
The next day Mom, Anja and I piled into the car and went shopping for lamps. I walked around with photos I had taken of her house so I could show her what went where. The selection was bleak.
The first furniture store we walked into, Anja confided that when they moved into their new house, she went shopping for a new area rug but saw the same one she had bought 20 years ago (in the same store), so she had it cleaned and installed it in her new home.
Schlepping from store to store felt like the days before the world of online shopping where that was the only way to source items for clients. It took way more time than it does today.
When we arrived at Pentik, I breathed a sigh of relief. Pentik is the West Elm of Finland.
And here's how the living room looked after (below).
We bought an ottoman to fill the space underneath the coffee table and give the person on the sofa a place to put their feet up. The grey round nesting tables also came from Pentik.
I even managed to install a table lamp beside the television.
During the evening, all four corners of your living room should be lit softly for the best effect.
Okay so here's the kitchen with all the recessed lights on (below)!! This was taken at 11:45 pm, the sun had just set but it wasn't totally dark yet! But wow the lights in the kitchen made you want to run and hide, haha.
And here's the kitchen with our lovely new light. Not too big at all and it's all you need at night when walking in and out of your kitchen.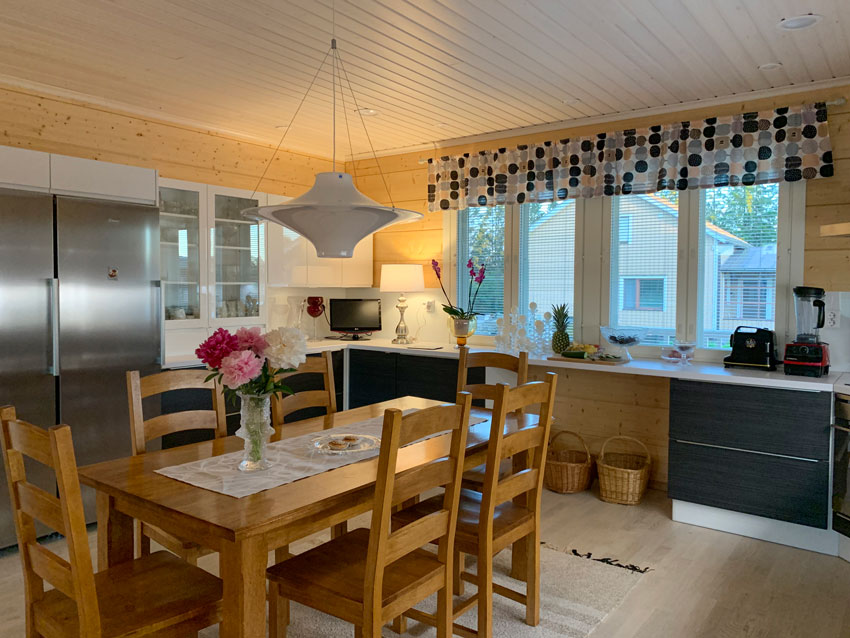 The best lamps come with a fabric shade
When I came out of the bedroom at just before midnight (we don't sleep much in Finland because it's so light outside) I found my Mom and her cousin, like two peas in a pod laughing, sharing and drinking mint tea. Anja was completely delighted with her new lamps and will be buying more for the other rooms in her house!
I really can't stress the mood altering affect of a lamp with a shade. My clients NEVER have enough lamps and it's the first thing on the list when I'm decorating any room.
Everyone thinks the lighting solution for a dark room is to fill the ceiling with recessed lighting but NO ONE likes to have them on when you're actually relaxing and enjoying your home.
Anja and Mom (Hellen)
Earlier I had found my Mom in the garden at 9:15 pm (below) picking yet another lettuce sandwich last night. That's me eating one with my green juice one morning (above).
I'm in love with the Iittala glass I'm holding, you can find them in many sizes here.
I'm so happy that I was able to have this experience of seeing my Mother in her element in her homeland! It's been so wonderful to explore the village (Kurikka) where she grew up, a place I had imagined in my head so many times. It's really special and magical to be here with her!
Last night I exclaimed, "Where is my Mother and what have you done with her?" English is still a second language for her in Canada so she doesn't get into great debates with anyone and I always thought that was just her personality until we arrived here where she speaks her mother tongue!
I noticed the same thing with me, since we are deep in Finland most people don't speak English and especially her friends. Although I understand Finnish, (Mom has spoken it to me all my life) I can't speak it enough to have a proper conversation. All kinds of things pop into my head to say but I can't find the words to say them. Therefore, my personality is rarely expressed. Who I am at home is, of course, very different.
Every kitchen I've seen here has the dining area in the middle instead of an island, a trend that's coming back to America as well. Have you noticed that?
Read more: Could a Scandinavian eat-in kitchen be for you?
It's been really interesting for me to see all the different and efficient ways a home is designed in another country. Anja specified the dishwasher to be installed above a drawer (above right) so you don't have to bend over while loading and unloading it! So smart!
Also, if you were following me on my Instagram stories, you might have seen the ironing board I photographed in the laundry room which folds into a drawer! So much more practical and way easier than wrangling it out from inside a closet.
One more thought about lamps…
Okay so back to lamps for second, it actually makes me sad when I see homes without them because they so transform the feeling in any space. If you're just not happy sitting in your living room, this is seriously one of the best ways to love your home again! And, if you don't know how to coordinate lighting, then buy the set of 3 I showed you above, it's still better than no lamps at all!
Or, if you'd like my help creating a decorating plan for your living room (including lamps) check out my Get me Started package here. I'd love to help you create a home that fills you with happiness when you walk in the door!
PS. Okay one more amazing photo of the scenery in Finland:
Photo taken in Kauhava where we are staying for one more night
Related posts:
The Enchanting World of Atmosphere
The One Thing you Need When Choosing Colour for a Room