Black and white bathrooms can be a timeless update. But the details matter. I'm sharing my sister's bathroom renovation and the design details that make it timeless.
My sister Elizabeth renovated her upstairs main bathroom just before the pandemic. I know 😬 and I'm only NOW getting around to showing it to you. Photographing and styling a room for pictures takes EFFORT.
However, my sweet nephew Markus and I recently decorated his bedroom so I had them both photographed on the same day. Stay tuned for that reveal coming soon.
She lives in a Colonial with a wrap around porch that was built in the 80s.
Before she moved in, the kitchen had been renovated in the Tuscan trend and if you've been following me for many years, you'll have seen all the updates I've helped her with. Here's a summary in case you missed it.
Photography by Macy Yap
Timeless Black & White Bathroom Design Details
Here's the before:
We added sconces instead, which is usually preferable to a bar light, although bar lighting has come a long way. Here's a few good ones if you're shopping for timeless vanity lighting.
In order to patch up the hole caused by the removal of the light, we would have had to drywall this entire area, so we covered it up with a picture of the family instead. #designhack
Read more: The Evolution of the Ugly Bar Light
Same vanity here | Similar here, here & here
You'll notice, I've done some advanced mixing of metals here by combining a chrome faucet and towel ring (also the shower fixtures), with a brass and black mirror, black sconces and brass knobs. If you find this too difficult, remember, you can stick to one metal, as long as it's not all black.
I love her vanity so much! We found it off-the-shelf (it came with the Carrara marble countertop) but the design is almost identical to the custom vanity in my primary bathroom. It looks so much prettier (another detail to think about) as a free standing vanity – more like a piece of furniture.
Read more: Is Brass Out? How to Mix Metals Like a Pro
Chrome faucet | Black Wall Sconces | Mirror from HomeSense Similar
There is nothing and I mean nothing that is staying with the styling I've done. So before you say that there are no men in this house when you see the towels stacked on the blue and white garden stool below the toilet (below), just know that they were there for about an hour, haha.
If this was a powder room, obviously the decor could be permanent but this is the main bathroom.
The daisies in my garden are just gorgeous this year. That's where this fresh bouquet (above) came from:
Shall we count the many different undertones in her old bathroom? Before you scroll under this photo – TEST YOUR EYE – how many undertones can you accurately identify?
Now, let's take another look at the after. Of course white subway tile made an appearance in the shower surround, as it should for the most timeless look.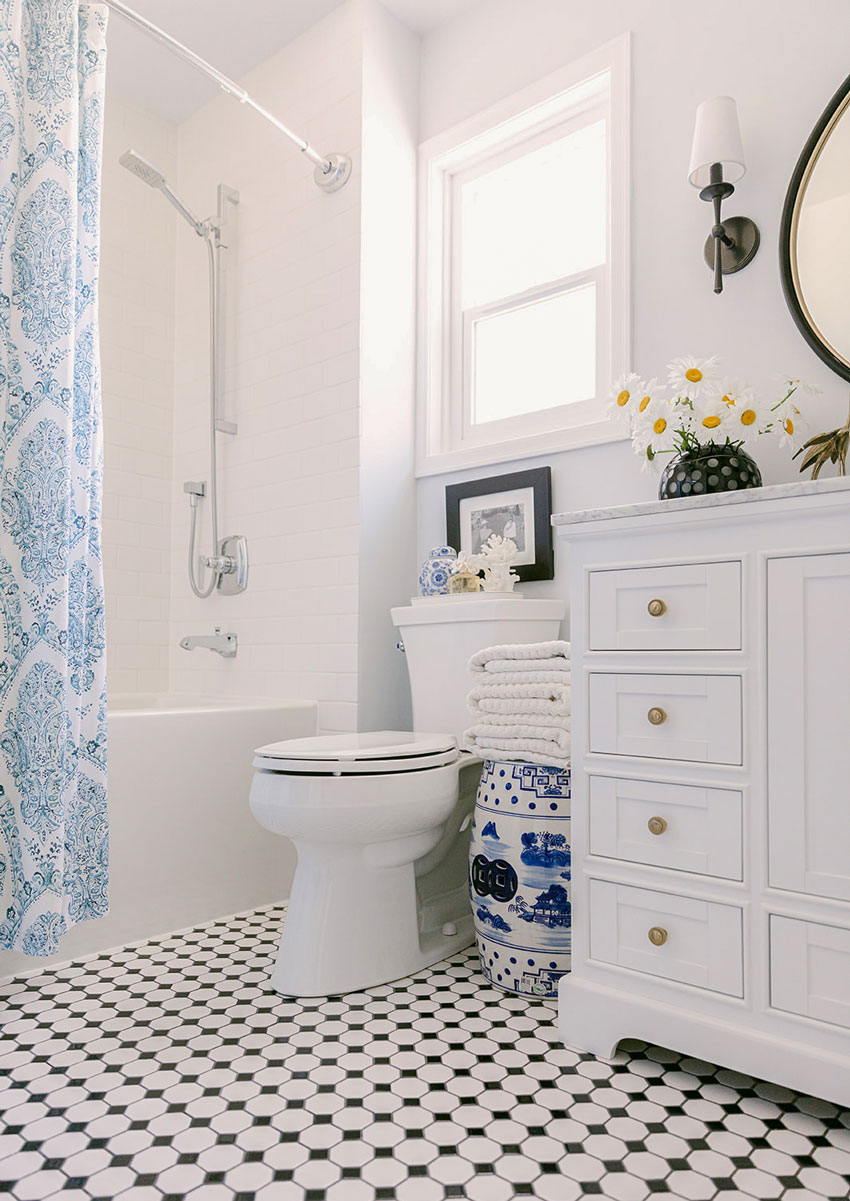 You can see I also specified chrome for the plumbing fixtures. My hottest tip for you as we are deep into the black and white trend is to avoid black plumbing period. Or Especially in a white bathroom because the contrast is too high. More about that here.
We also went with timeless black and white floor tile with black grout so we don't need to worry about dirty grout.
If black grout will not work for your bathroom, here's my second choice.
Read more: 5 Design Trends to Ditch right now and What to do Instead
Here's another look at the mish mash of undertones in the old bathroom, which is all too common in bathrooms (below). It's hard enough to get white right, why even bother with beige or grey tile truly.
This is the reason if all else fails and you don't know which tile to choose, choose white or cream. This way you can change up the decor and paint colours whenever you want, like I did in my main bathroom last year.
Read more: The Best White Bathrooms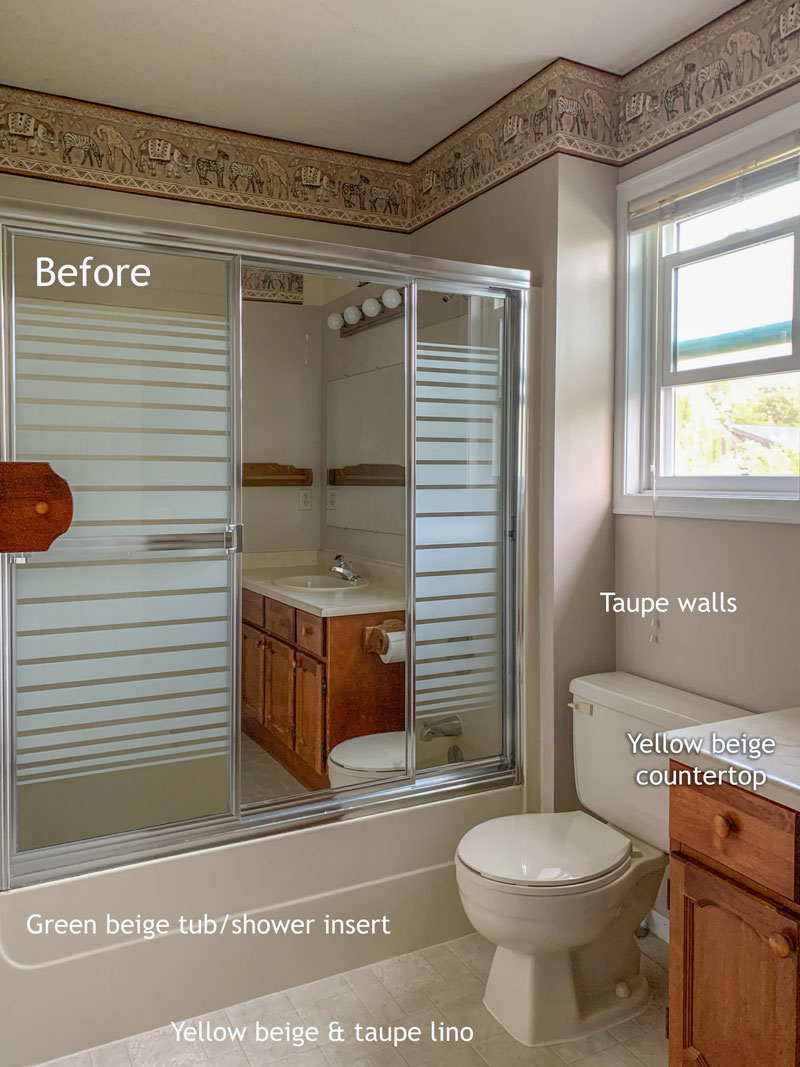 My Sister's love of blue continues in this bathroom. And yes, the towels are beside the toilet. Relax already 😉 I just wanted to repeat the blue and white with the garden stool here for the photo.
Shower curtain and garden stool from HomeSense. | Black and white tile here
You'll also notice we're mixing patterns here which is something I don't usually recommend. However Carrara marble is always good in a white bathroom and I continued the pattern mixing theme in the shower curtain and blue and white porcelain.
Read more: Does your Floor tile Have to Match your Countertop or Surround?
Here's what the towel bar wall looks like:
Let's see the before again shall we?
This black and white bathroom design is so good now and totally timeless. Remember, a beautiful bathroom or kitchen is all about the details.
Here's another HOT TIP. If you want sconces in your bathroom you need to have them chosen, along with the mirror BEFORE your renovation begins so you can get the placement exactly right.
Read more: How I saved $1500 in my Bathroom Renovation
Vanity | Similar here, here & here
The other detail I want you to note here, is that all the drawers have knobs, NOT pulls. I prefer this look because it is way cleaner. And, since they are small drawers, we don't need pulls here. Also this vanity is not farmhouse, because that's not the style of this home either.
Read more: Less is more for Kitchen & Bath Hardware
What's the paint colour?
Curious about the paint colour I went with in this bathroom? It's a pale blue white, with a slight purple undertone.
If you are a member in my Killam Colour Academy facebook page (You can join this private community when you purchase my Shop Online with Colour Confidence Course or Virtual Specify Colour with Confidence workshop) the exact paint colour is available for you there.
Get the look
Towel Ring | Wide Spread Faucet | Brass Cabinet Knob | Wall Sconce | Ginger Jar Decor | Brass Cranes | Round Mirror | Shower Curtain | Bathroom Vanity | Black & White Tile Floor | White Texture Towels | Ginger Jar Garden Stool
Learn how to specify colour like I do in two days!
Stay tuned for some BIG news coming in Monday's post! If you're following me on my Instagram stories, you'll already know what my big news is!
I have three Fall dates available for my virtual Specify Colour with Confidence workshops,
October 5 & 6, 2022
October 15 & 16, 2022 (Weekend dates)
November 10 & 11, 2022
Related posts:
My Sister Elizabeth's Fresh (but still Tuscan) Kitchen Makeover; Before & After
Tour of my Sister Elizabeth's Home Makeovers; Before & After
My Sister's Fresh New Backsplash; Before & After