I get asked a lot about the best grout colour for white tile. Find out what paint colour I recommended matching up to get a grout colour that will look best with your white tile for years to come.
How to make a conversation about grout colour interesting? Well, you add an adorable baby to the post, that's how 🙂
Yes I'm slowly showing you more of Kelly's renovation (she's our design assistant on maternity leave). Today we're getting a closer look at her master bedroom and ensuite!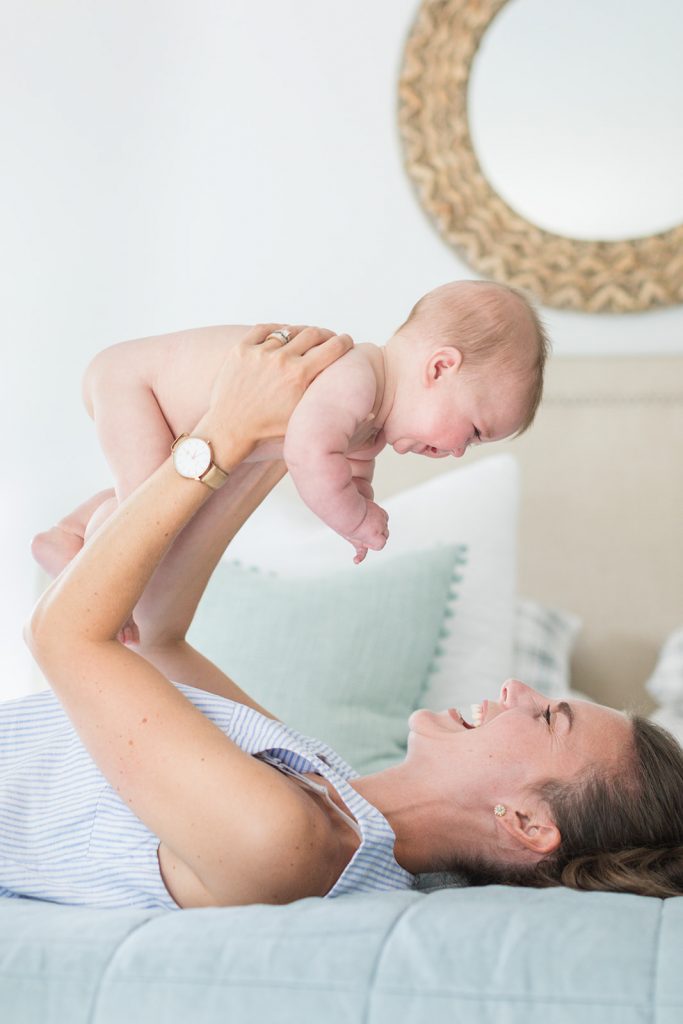 These are the two remaining spaces that are left to show you in Kelly's newly renovated home before the entire reveal. Her classic and timeless master bathroom and I'm including a few photos of her master bedroom.
Luke was just around 6 months old when these photos were taken, the perfect age for some nudie pics 🙂
Kelly's Master Bedroom
I posted the nursery a few weeks ago here. Here's the master bedroom:
Rug no longer available similar here and here | Mirror, similar here and here
I do love how her area rug picks up the blues and greens on the bed and the plaid sheets add a lovely pattern-mixing vibe!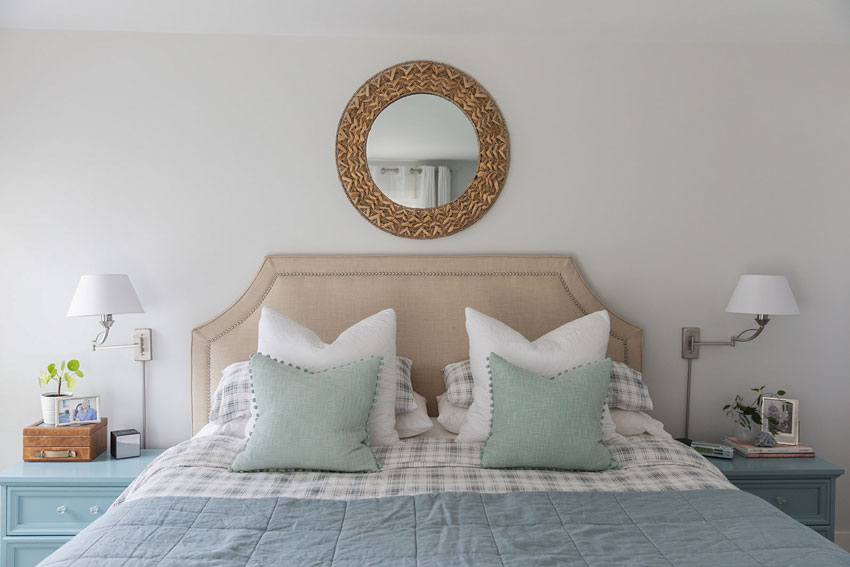 Swing arm Lamp | Similar here and here
Kelly's Ensuite
And it flows beautifully into the ensuite.
If you moved into a house with 2″ hex tile on the floor and subway tile on the wall, you would not feel compelled to renovate it anytime soon would you?
Remember how Kelly decorated with black in her other bathroom here?
And sconces on each side of the mirror is usually a better idea than a bar light since attractive bar lights are few and far between.
Sconce light fixture here and here
As you can see by the before photo, Kelly and Mike changed the footprint of this bathroom.
Mirror, similar here
I really like cross-handle faucets, somehow they feel more original and vintage.
Millenium faucet | Margaux faucet | Cassidy faucet (above) | Heritage faucet
Best Grout Colour for White Tile
And now to grout colours which I get asked about a lot, so here's a hot tip:
For white tile floors, I often specify grout that matches the colour of natural stone (below). This is because I have been in hundreds of bathrooms over the years that were filled with white tile and yes, you guessed it, dirty white grout.
And because the ONLY fixed colour in those dated, white bathrooms WAS in fact the dirty grout, I often chose a green beige or a green grey paint colour to make it look less bad.
Here is one of my large colour samples from my Core Collection. It's the one you'd pull out if you need to match the colour of stone.
Photos by Macy Yap Photography
And yes, it's true that you can remove grout and replace it again, but in many cases, that is not going to happen. So we ended up solving the problem with a coordinating paint colour instead.
So I'm thinking, if you start with an overall grey (slightly dirty looking) colour grout to begin with, then it looks way better for a lot longer.
Unless you use epoxy grout. That stays white a lot longer.
Here's one more pic of Luke!
Over to you my lovelies! What's your take on Epoxy grout? Have you replaced the dingy grout in your bathrooms or backsplash?
If you'd like help coordinating your bathroom finishes and colours, check out my Create a Classic Bathroom package here.
Related posts:
The Rule of More (When shopping for bathroom fixtures)
Transform your Bathroom with a Shower Curtain