You can freshen up a Tuscan kitchen without a complete renovation. Here's a look at my sister's fresh (but still Tuscan) kitchen makeover. It's full of pretty blue accents.
My sister Elizabeth and her family have lived in their current house for almost 10 years.
The first update in the kitchen happened in 2012. We replaced the Travertine backsplash with cream subway tile (below).
That made a big difference!
Then, two years ago (at the same time I was having quartz delivered to my house during my bathroom renovations), I talked my sister into replacing the tuscan laminate on her island with cream quartz.
Since this is where she preps food every day, she loved the idea!
Before
This is her kitchen before.
Since we replaced the island countertop, we have slowly replaced the lighting, barstools, hardware and painted this kitchen blue.
The cabinets have a mocha glaze on them which turned them pink beige and blue is a great colour for freshening up anything pink beige.
We added panels to make it look more like furniture
Then this past summer, we also added panels to the island along with baseboards to get rid of the corner cutout and make it look more like a piece of furniture. We also painted it a deep purple blue! In this case, we couldn't paint it cream because her original kitchen had a mocha glaze and that would have been impossible to copy. Also, we wanted to move forward with the colours and repeating the glaze on the island wouldn't have achieved that.
If you have an old kitchen and a complete renovation is not in the budget, updating the island makes a huge difference!
If you are considering painting your island a different colour though, read this post first.
An even more upgraded look would have been adding door panels to this island, but we were on a budget!
Why not just paint them white?
Right about now, you might be thinking, 'Why not just paint the cabinets white if you've come this far'? But along with painting the cabinets white, the cream/gold/brown tuscan laminate would also need to be replaced (which was not in the budget and won't be for a few years) so we chose to ignore it and decorate instead. A trick I often like to implement.
Desperate times call for desperate measures.
However, look around your home (or your clients home) and ask yourself where decorating and styling would make a bigger impact than simply replacing everything.
Often it's hard to have both because even just replacing the lighting, hardware, new lighting, furniture, accessories, adds up quickly!
Dome Light (comes in a few different colours and combos) Island BM CC-950 | Walls SW Evening Shadow 7662
We bought the pendant lights first and that's where the island colour and custom blue valance came from.
Counterstools here, similar here and here | Island quartz Caesarstone Buttermilk
Notice that we're basically ignoring the cream, glazed cabinets except for repeating it twice on the island and the counter stools! Everything else, is blue and white.
Blue and white table lamp | Cookbook stand
All the casings and trim in this house had originally been stark white (which always looked wrong until now) so with this makeover, it now looked planned with all the blue and white decor we added to this kitchen.
Here's another view of the kitchen before. With the door to the homeschooling room (back then storage room) firmly shut. The blue accent wall was too much with all the new hits of blue we added to the kitchen with the new makeover so it was painted out.
Before
After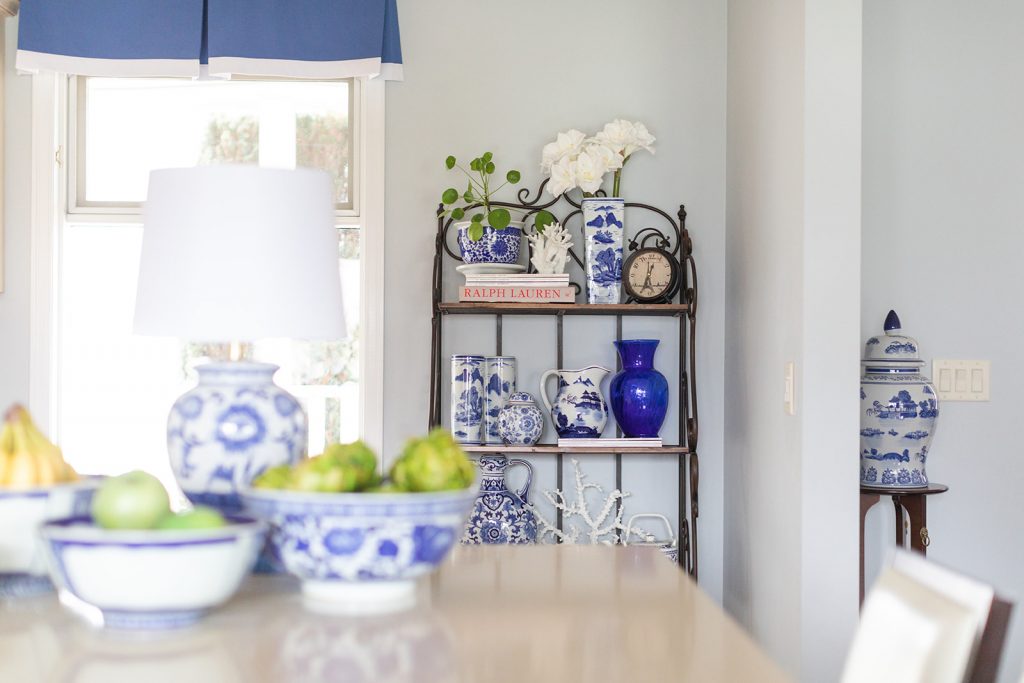 Bakers Rack | Blue and White Pots |Tall Urn Short Urn | Vase | Teapots
Elizabeth always has an abundance of fruit in her kitchen (except for the faux artichokes for this photo shoot :). She is the @juicygreengirl after all!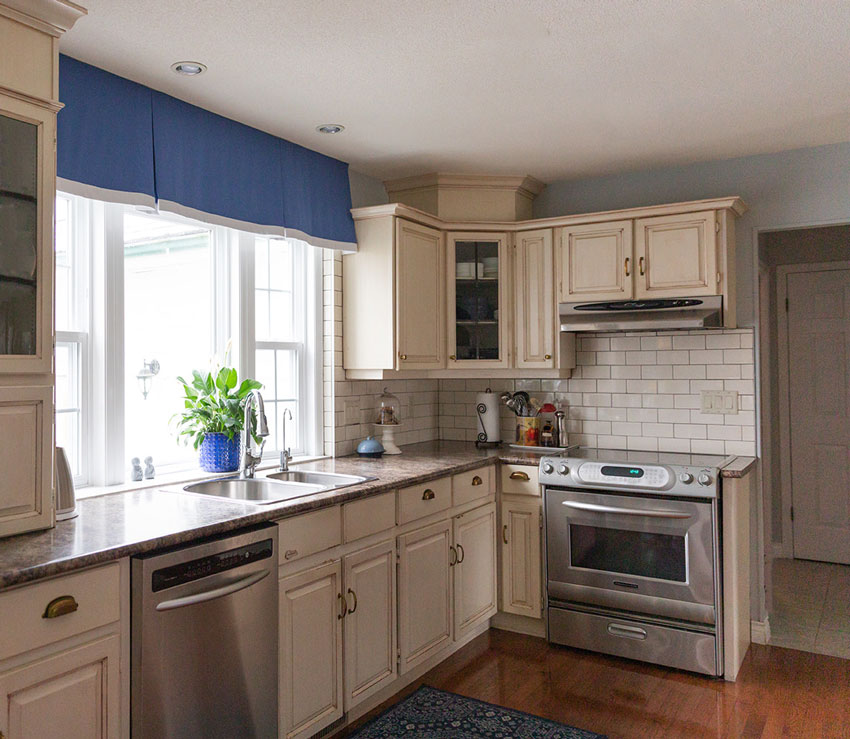 This is what the breakfast area used to look like (below). This house does not have a dining room so the latest update needed comfortable chairs and a dining table that could be expanded for dinner parties!
Before
Here's what it looks like now (below).
Extendable dining table from Wayfair (They call it grey but it's really a medium brown shade)
Since this kitchen already had lots of blue in it and because this room visually flows into Elizabeth's Library room, we had the custom dining chairs covered in faux leather to repeat the teal blue from this room.
Notice that the stained wood legs do not match the dining table but they relate to her existing cherry floors. This looks more collected than a matching set.
Candlestick light Restoration Hardware – similar here | Tulip Vase
Here you can see through to the newly decorated homeschooling room too (below)!
Photos by Macy Yap Photography
Here's the before again:
And the after:
After
Mixing old with new is not easy, but you can live with it if you do it right!
If you'd like help with a kitchen refresh, see my Create a Classic Kitchen eDesign package here.
If you'd like your home to fill you with happiness when you walk in the door contact me.
Related posts:
My sister Elizabeth's New Coastal Living Room; Before & After
Elizabeth's Library Room Transformation; Before & After
Tour of my Sister Elizabeth's Home Makeovers; Before & After