Sarah Richardson's 'off-the-grid' home has recently been featured on the HGTV website. It's so lovely to scroll through each image and not be inundated with ads coming at you from all sides during the viewing.
This post is for anyone who is working on a new build or renovation. If you installed a kitchen or bathroom recently, just skip this one because it's kinda like undertones. Once you see it, you cannot un see the mistake you've just made. And unfortunately, there's not much you can do once you've drilled holes into your cabinets.
I've mentioned this before here. However I was so fascinated to notice that she simply chose knobs for every single room in the house.
I'm not saying this is something EVERYONE should do. I specify both knobs and pulls in my kitchen and bath consultations (example below).  It's simply another option that works well and certainly for the person who is overwhelmed at all the choices. Simple is always better if that's you.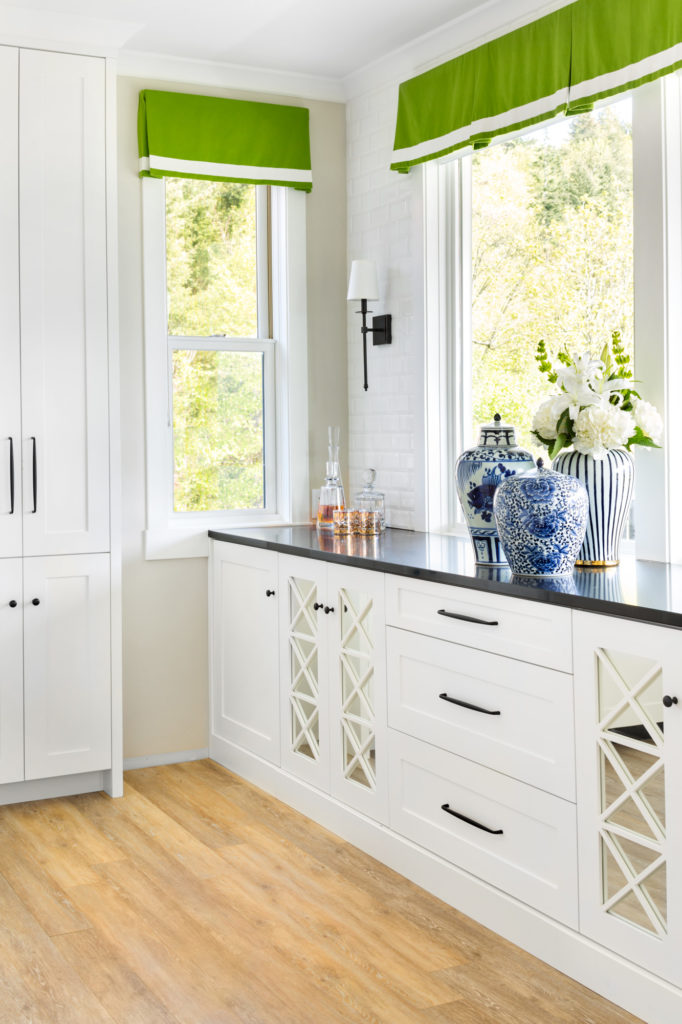 Interior Design by Maria Killam |  See this house here
First, check out the surface mount lighting. There is no recessed lighting in this kitchen as many designers view this type of light as 'swiss cheese for the ceiling'. I like that she chose white ones so they don't stick out visually.
Now that there is such a good range of surface mount lighting available, I think we'll be seeing this a lot more.
She used knobs for all doors and drawers. Not a pull in sight. I like it. These look like 2″, I would choose even smaller ones. But it depends on the look you're going for, they do relate nicely to all the brass lighting in this kitchen.
If you look at kitchens that are not designed by professionals, you'll notice that they are usually–without exception–full of standard 4″ pulls.
However, too many pulls can make a kitchen look pedestrian really fast. Sort of like 'a big box store just installed my kitchen'.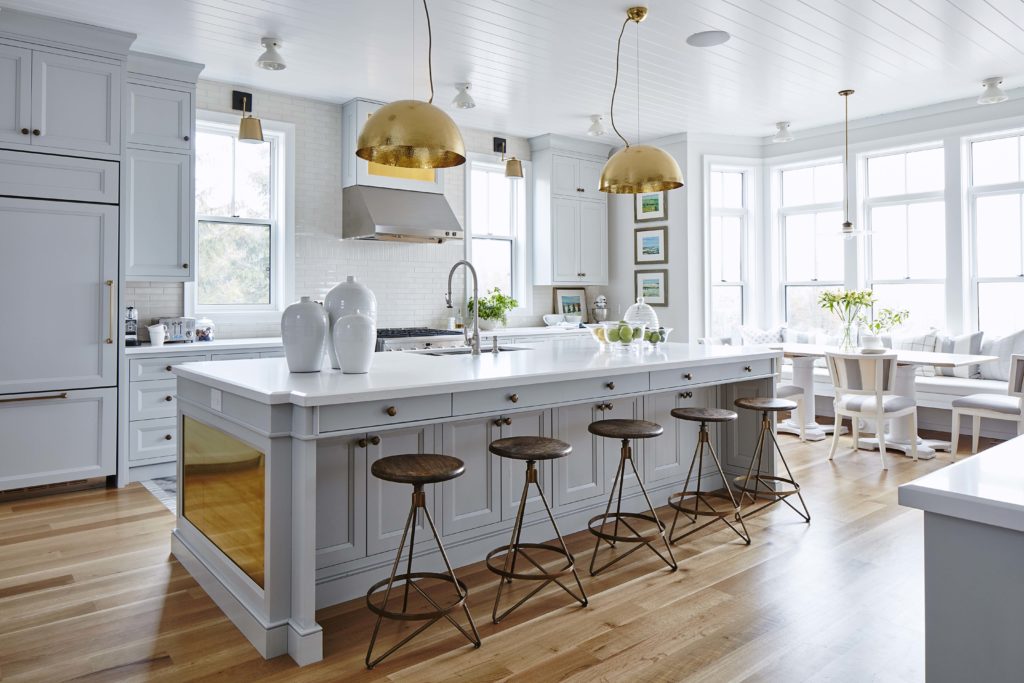 Also, notice the combination of white, brass and chrome. The brass is repeated in the hardware and lighting and panels in the island and above the hood. The chrome or stainless faucet relates to the stainless hood fan.
If you repeat it once, it generally looks more intentional, although this rule can be broken.
However, if you are designing your kitchen without a designer, DO NOT try and break the rules. Rules are for the novice. Here's the other person who can happily ignore this advice. Your friends ask you for advice because they like your style.
Related post: Rules are for Amateurs; Exceptions are for the Professional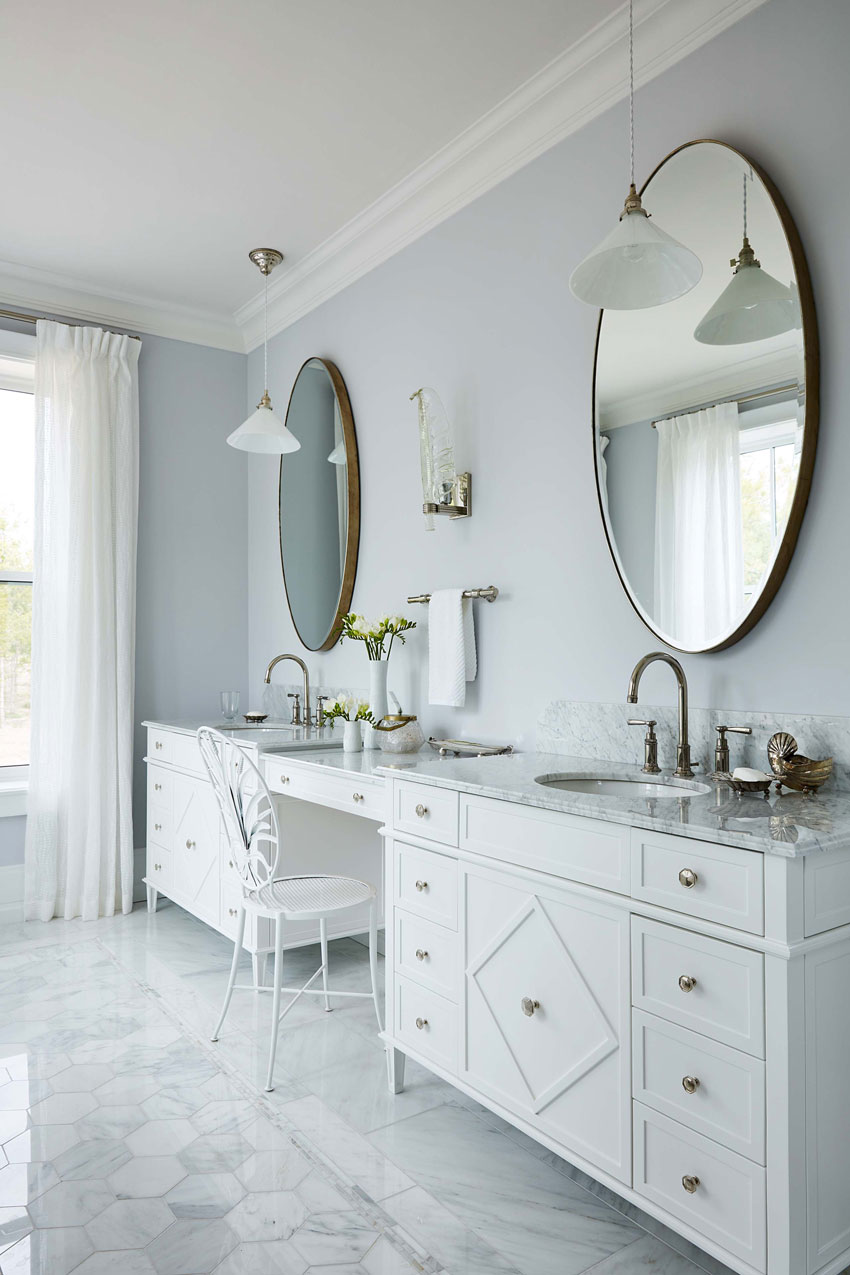 Choosing one knob is even easier than trying to measure and keep count of how many knobs vs. pulls you might need.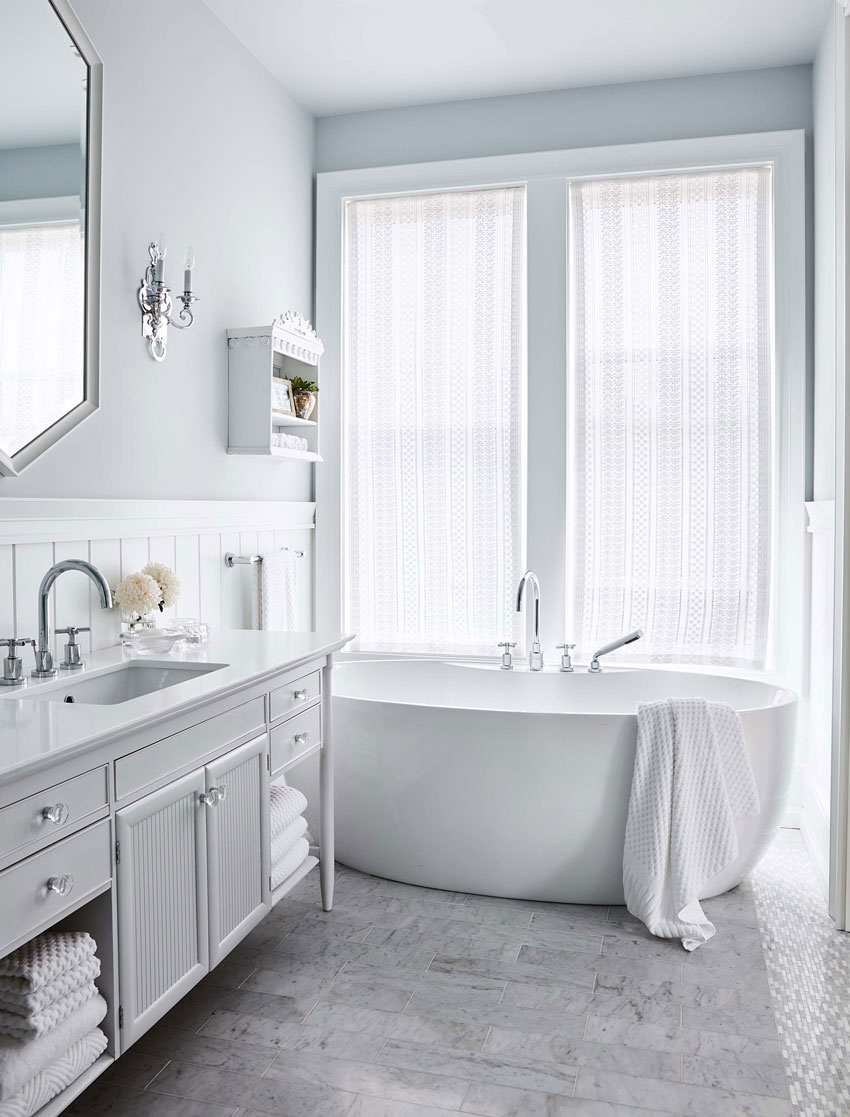 Here they are in glass. Again, I prefer a smaller profile (above).
Notice that when you basically install white fixed finishes, you can change up the colours, like these fun kelly green drapes (above).
Related post: The Best White Bathrooms
And the combined home office and laundry room has the same knobs. Here they are all brass. Love the turquoise cabinets. Colour is timeless after all.
Yesterday I visited the Christopher Kennedy Compound in Palm Springs (because it's Modernism Week) and noticed these HUGE knobs in the master bathroom designed by Michael Berman:
However, do not try this at home. Unless Michael or some other talented designer happens to also be YOUR designer. This is a very custom look. You can't just take huge knobs like this and slap them on ANY kitchen or bathroom.
Bottom line. If you are overwhelmed and need a simple choice? All knobs look less cluttered and busy then ALL pulls.
Over to you my lovelies! What do you think of the knobs vs. pulls idea?
If you'd like help choosing hardware for your kitchen or bath, I can help with our hard finish eDesign solution.
And, if you need help coordinating/choosing your kitchen or bathroom finishes and colours check out our Create a Classic Kitchen or Bath packages here.
Related posts:
When to Break the Rules Around Choosing White or Cream
4 Images that Break the Undertone Rules I Work so Hard to Teach