Should your floor tile coordinate with your countertop or tile surround? Avoid making THIS mistake and find out what works (and what doesn't) when selecting tile for your next project.
Does your floor tile have to match your countertop or surround?
One of my long-time readers posted a comment recently, and it still haunts me.
Brace yourself today my lovelies, because my post today is a RANT.
Here's what happened to my reader:
"I recently stopped at a big box store to pick up some info about kitchen countertops.

There was an older couple standing at the design table with a "kitchen designer" looking at samples for their kitchen. They had a cabinet sample that was probably from the white range but appeared to be a dingy beige which most likely had pink undertones, a very busy multi-colored brown granite, a too busy backsplash, as well as two samples of 12×24 floor tile, one somewhat mottled and busy as Maria hates (I do too), and one plain and somewhat striated.

They were trying to decide on the floor tile and the wife remarked that she liked the striated one best but she felt it didn't match in color. She was right.

The "kitchen designer" said:

"The other pieces match; the floor tile doesn't have to match."

If I had any creds or maybe if I were you, Maria, I would have whacked him. The husband asked about going to the tile warehouse to see if they could find anything similar in pattern and in a more satisfactory color. To which the "kitchen designer" said,

"Well, you could, but why bother when you have the perfect tile right here."

I couldn't stay where I was so I stepped away out of sight and thought maybe if they walked off without making the final decision, I could speak to her. But when I walked back through a short time later, the couple were sitting in the guy's office and it appeared as though he was writing up their order.

If so, I don't know what they decided, but whatever, she is going to have a kitchen she hates forever because she didn't follow these principles, trust her instinct, or have someone to guide her."
"WELL YOU COULD BUT WHY BOTHER WHEN YOU HAVE THE PERFECT TILE RIGHT HERE?"
NOOOOOOOOOOO.
This advice makes me so ANGRY. The fact that someone can make money at their job by giving people such bad advice is just WRONG, WRONG, WRONG.
Oh, and don't miss this post: How to be Smart in a World of Dumb Designers
Yes, your floor tile must coordinate with the countertop
Your floor tile ABSOLUTELY MUST coordinate with the countertop and while we're at it, everything else in the room as well.
When I started searching to see if there was any good advice out there specifically about this business of coordinating floor tile, the best I found was this statement in a blog post:
"Don't be afraid to break the rules a little bit."
Rule #1 for Selecting Tile – Stick to One Pattern
This is absolutely NOT the time to break the rules.
The reason why most bathrooms and kitchens are a HOT MESS, is because the homeowner or designer most certainly did BREAK THE RULES.
No one needs to read a blog post for that kind of useless advice.
If you don't believe me, just go online and start shopping for a new house. Tell me how many bathrooms and kitchens you absolutely love? Feel free to post a link in the comments, I would love to see that rare unicorn.
The rule for hard finishes in any room is you get one pattern and THAT'S IT. After that, all other surfaces must be as close to SOLID as you can possibly find (I know sometimes it's not easy to do this).
If you follow this rule, you will be happy with your kitchen or bathroom and not just want to MOVE OUT immediately, by the time all is said and done. Trust me.
image via Made by Girl
It's hard to find a tile floor that doesn't have a LOT of pattern. And the problem with a completely solid tile in white or cream is it starts looking too modern for most kitchens. This one works (above) with the patterned granite countertop.
I am not a big fan of granite because I think I would get tired of it really fast but if I had a granite countertop in this colour, I would install the same gorgeous chandelier. It's like they were made to be in the same room together. I love the way it so beautifully relates to the granite.
Do you have granite in your kitchen? Then, you'll want to read my ultimate guide: How to work with Granite Countertops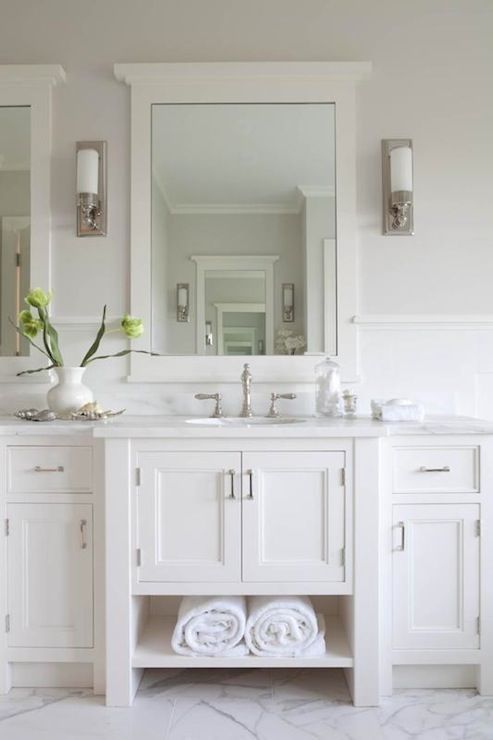 via Decor Pad
Marble-look tile floor with a solid countertop and surround. Perfect.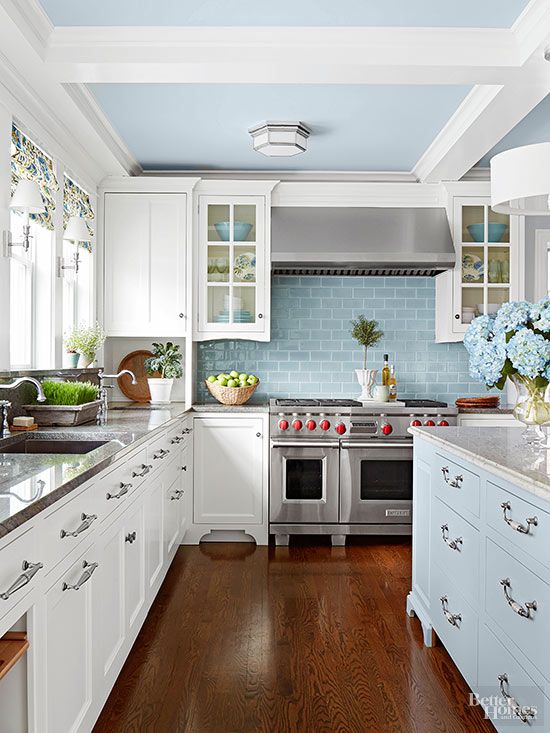 via BHG
Here we have a patterned grey countertop and the rest is solid with hits of blue. Couldn't be prettier.
Rule #2 for Selecting Tile – How to work with more than one pattern
Refer to my advice above and stick to ONE PATTERN.
However, if you ended up selecting two PATTERNS for the same room, DO NOT install them until you find an INSPIRATION picture that you madly love with the exact same patterns.
Sometimes it works. It's rare, and the undertones need to be identical, but it can be done. For the best results, I recommend that you stick to Rule #1 but if you find yourself here, make sure that you have found an inspiration photo on the web that you can live with.
There's really nothing out there now that you can't find within seconds. Take some extra time and do that. Then if you don't love it, go back to Rule #1.
via Decor Pad
Notice that both the floor tile and the surround tile in this shower are basically identical. Which is why it works (just like the first image in this post). Before you go ahead and install marble that looks like this, make sure you are okay with the overall business of the pattern.
Some people find this kind of surround too busy (above).
I'm not even going to talk about the many ways this bathroom is just WRONG. A picture is worth a thousand words.
Via Pinterest
Love the way this very small scale pattern on the shower floor relates to the black windows. This combination works well. If you want to decorate with black in your bathroom, I've got some light reading for you here. 😉
Notice I have not posted any photos using Encaustic Tile. The more photos I see of badly installed kitchens and bathrooms using this tile (especially in the wrong scale because the patterns are generally too large) the more I dislike it. So I'm not posting any photos because it's not a tile I would specify or use in my own home. Keep in mind, you will most likely get bored of this look within 10 minutes of installing it.
Stick to wallpaper in a similar pattern if you are in love with Encaustic Tile, because wallpaper is much easier to change out later.
If you MUST use it, DO NOT break the rule of one pattern and the rest SOLID. Don't even do a marble countertop with it. Go with a solid quartz countertop, period. The end.
The same goes for skinny horizontal backsplash tile. You won't see it here either. That tile is even worse because I have NEVER seen an installation that I like. I mentioned it once in 2011 when I really started noticing this tile fad here and that was the last time I talked about it.
Rant over and out.
Seriously, I really do want to save you from one unnecessary renovation after another. So if you've already done it, disregard this advice. It's for the person who is about to buy their tiles and is waffling on their decision.
Stick to these rules and you will love your bathroom and kitchen for a very long time.
And one last thing. Before you start posting comments like, Maria I don't want the same kitchen as everyone else, trust me, your neighbour is NOT installing a subway tile backsplash or a subway tile surround in their bathroom. They don't know that is the most timeless way to love your hard finishes.
In fact, they are probably at the tile store, as we speak, overwhelmed by all the trendy tile and automatically assuming that the accent tile strip in their shower or kitchen is a very important decision they have to make.
But you know better. Because you are here.
PS. If you need help making sure your bathroom or kitchen fills you with happiness when you walk in the door, check out our eDesign services here.
Related posts: