I often get asked how to combine metal finishes in lighting and hardware. The look of matching all your finishes is long gone (even when working with brass). Here are a few guidelines to help you mix metals like a pro.
Thank you to the Washington Post for including my bathroom in a recent article about timeless colours!
How to mix metals
It's a question we receive in my eDesign department all the time, "how do I combine finishes for my lighting and hardware?"
It's official. You can buy almost anything for the home in black now.
From hardware to lighting to faucets, black is everywhere and here to stay – that is, for at least 6-7 more years while this trend runs its course.
And it's quickly replacing gold, but gold is one finish I hope becomes a classic. It warms up so many really neutral interiors.
Is brass out?
When it does stop trending, like it did in the 80s, I am moving it into the timeless category for hardware and lighting. It's definitely required to warm up all bathrooms that will be installed next with too much black. I remember, when not so long ago, I couldn't talk anyone into brass lighting or hardware. WOW, how things have changed! More on that below…
In all honesty, this post on how to mix metals long overdue.
Because gone are the days when it was a simple case of matching all your metal finishes. In fact, if you simply choose the builder grade brushed nickel everything, the look is sure to be disappointingly dull.
Okay, so before we go any further, notice how I mixed metals in my master ensuite (above). I installed chrome faucets, repeated them again in the towel rod and knobs (which were a combination of glass and chrome). And for the gold/brass, it is repeated in the lighting, mirror and accessories.
Let's start with brushed nickel, which is a preference that is more often being checked off lately in our kitchen and new build eDesign packages:
Is brushed nickel in style?
Let's talk about brushed nickel. There is nothing technically wrong with brushed nickel. There may even be an uptick in interest in the more meek and modest of the silver finishes lately. The problem is that it has been the generic builder grade go-to for way too long. Yes, it's versatile, but it has to be used on some pretty new and sexy looking fixtures and shapes to look current, fresh and interesting.
No one is rushing to install brushed nickel fixtures like this:
Brushed nickel looks good in this bathroom below layered with brass, but the faucets could just as well have been shinier polished nickel.
What do you think? Is brushed nickel going to overcome its generic reputation and begin trending again?
This bathroom (above) is a very good example of successfully mixing metals for a very fresh look.
The key to mixing metals
The main thing you need to understand about mixing metals is to repeat each metal finish at least once. In this bathroom above, the mirrors, lights and knobs are brass, and the shower fixtures (not shown) and faucets are brushed nickel. Each finish is repeated, which is the not-so-mysterious reason that they work.
All the metal elements also all have similar modern styling. Making sure the STYLE of the fixtures and hardware make sense together allows for layering in a few different finishes and the overall design still look like they belong together.
Always choose a silver finish for faucets
When choosing metal finishes for bathrooms and kitchens, I recommend that you start with the faucets. I prefer to stick with classic chrome or polished nickel for faucets in kitchens, especially to relate to stainless steel appliances.
Choose the same chrome or polished nickel for bathroom vanity faucets as well to relate to chrome or polished nickel shower/bath hardware. Stainless or brushed nickel are ok too, just a bit dull in my opinion.
Plumbing is more expensive to change out typically, so it makes sense to stick with a timeless silver finish. You can then layer in one or two more metal finishes in decorative lighting, cabinet hardware and mirrors. These decorative elements are easiest to switch out when trends in metal finishes change.
I much prefer the soft and timeless look of chrome faucets to coordinate with stainless steel in kitchens. The kitchen above is by Jean Stoffer Design
Should I choose a black faucet?
I don't see the matte black faucet trend as having legs, meaning it's not going to be around for a long while.
In my estimation, black faucets are more of a fad because they are high contrast and jarring, making them not that easy to live with. Fads that pass quickly are the ones that demand so much our attention right away, that we get sick of them much faster. My hope is that black faucets are a flash in the pan.
Black faucet via Home Bunch
Here's the trick to decorating with black. It's so powerful, in a bathroom or a kitchen, that you only need to repeat it ONCE.
What about brass?
And speaking of trends in metal finishes. Brass and gold have been going strong for some time now, and many of you may be fretting about the trend's longevity.
Is brass going out??
Well, I don't think so and I sincerely hope not. And this is why:
Mixing metal finishes add so much interest and warmth. And in spaces like bathrooms, where opportunities for creating interest are somewhat limited, it's important to consider your metal finish combinations with care.
In this bathroom above, for example, all silver metal finishes would have been a bit flat. But black finishes would be too harsh for the delicate look of the wallpaper. Brass metal finishes add the perfect touch of warmth.
And with olive and muted forest greens trending along with cognac, mustard and terracotta, the warmth of brass is the perfect metal accent at the moment. It's lovely how it picks up the gold veining in the marble in the kitchen below.
And while we are seeing many creative trends for kitchens including scads of cabinets in natural white oak and painted rich colours, the white kitchen (and white bathroom) is still fundamentally timeless, and brass is a lovely way to warm up an all-white room.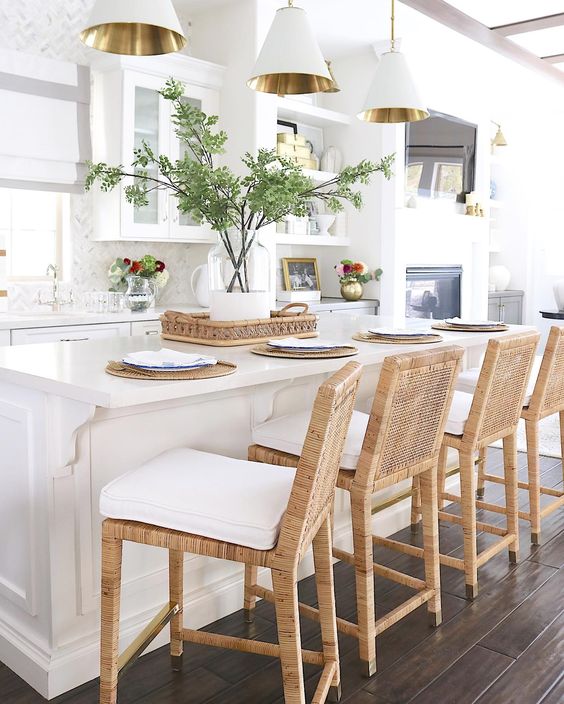 Brass, wood and rattan warm up a classic white kitchen – Serena and Lily
Is bronze dated?
Bronze metal finishes have always been around. Bronze hardware and lighting brings in a just the right note of rustic charm. It reads almost black, but softer. As long as people are drawn to hint of nostalgia in their interiors, bronze will stick around. The trick is to make sure you choose bronze fixtures that are current in shape and style. I prefer to use bronze for hardware and lighting, and definitely not in faucets.
Bronze hardware and lighting – Rejuvenation
The silver finish has been used on the faucet here to tie in with the stainless sink. The lighting and updated rustic hardware in bronze deliver contrast and a touch of rustic styling to this all-white kitchen (above).
A tip about bronze
Bronze in light fixtures is often fairly interchangeable with black. So if you fall in love with a fixture in black or bronze and your hardware is the other, order it anyway (as long as it can be returned) and it may relate together just fine.
Remember this post from years ago when black wasn't available? Just Blink Twice and It'll be Black
Recap: How to mix metals like a pro
Yes, there are absolutely a million ways to mix metals. BUT, if you don't designate materials and finishes all day long giving you the experience to break all the rules like a pro, here are the best guidelines to follow:
REPEAT each metal finish at least once for an intentional look
Go TIMELESS and VERSATILE on expensive plumbing like faucets and shower fixtures. This means choose chrome, polished nickel or their duller counterparts, stainless or brushed nickel. Often this is a good way to repeat stainless appliances in kitchens.
Don't mix POLISHED nickel and BRUSHED nickel in the same room, they are too close and could look like a mistake.
It's good to be aware that there are not a lot of good lighting options available in chrome. Therefore, YOU CAN either mix polished nickel with your light fixtures and chrome faucets (like I did in this bathroom). Or, if you are anticipating you want a silver finish, install polished nickel faucets to begin with. Keep in mind, they are more expensive, which is why you see a lot of chrome faucets.
Keep to SIMILAR STYLES in all your hardware, fixtures and lighting (i.e. modern, contemporary, transitional, traditional). This way, the variety in finishes will look connected. For example, it will not look good if your tub faucet doesn't match your sink faucet. This is where you need to match not mix.
In this bathroom I chose chrome faucets and hardware with polished nickel sconces and towel rings (above)
Hope this helps, I know you've been asking for this post for a while!
Over to you my lovelies! How do you feel about brass? Do you like it as much as I do?
If you'd like help creating a classic, bathroom, kitchen, renovation or new build check out my eDesign packages here.
Related posts:
How to Update a Brown Kitchen by Adding Brass
Less is More for Kitchen and Bath Hardware