Jan Romanuk and I were business partners years ago. If you are building or renovating a home (anywhere on the North Shore in Vancouver) and need a designer to choose everything or a project manager, she is the one.
There's very little that Jan doesn't know about the world of renovations in every aspect. She knows exactly where to source every little thing that your house might need.
Jan Romanuk measuring the sconce placement with the template of the round mirror going in my master bedroom.
Jan stayed with me this week to manage all the details of the start of my bathroom renovation and I'm so grateful that she did. Since I spend my days either decorating or specifying colour, renovating is not what I do and I am not an expert in the minutia of what happens next inside a renovation.
The demolition happened Monday and the electrician arrived Tuesday. This means you have to have all your lighting chosen. If you don't, your electrician will likely measure 64″ off the floor (for wall sconces) and call it a day.
Meanwhile, there are no standard measurements for wall sconces, it totally depends on where the backplate is, on any given light fixture.
This is the reason why most bathroom sconces are not installed correctly. If you were sitting here with me, after one tiny search on Pinterest, I could immediately show you bathroom after bathroom with lighting installed incorrectly.
Anyway, back to my point. This is our main bathroom that is currently completely demolished, hooray! It had a pink beige shower and tub insert that has ALWAYS been covered by a white, window pane, terry shower curtain.
I styled this bathroom because it was the one guests mostly used.
In our main bathroom, we are switching out the old pink-beige tub (below) for a walk-in shower.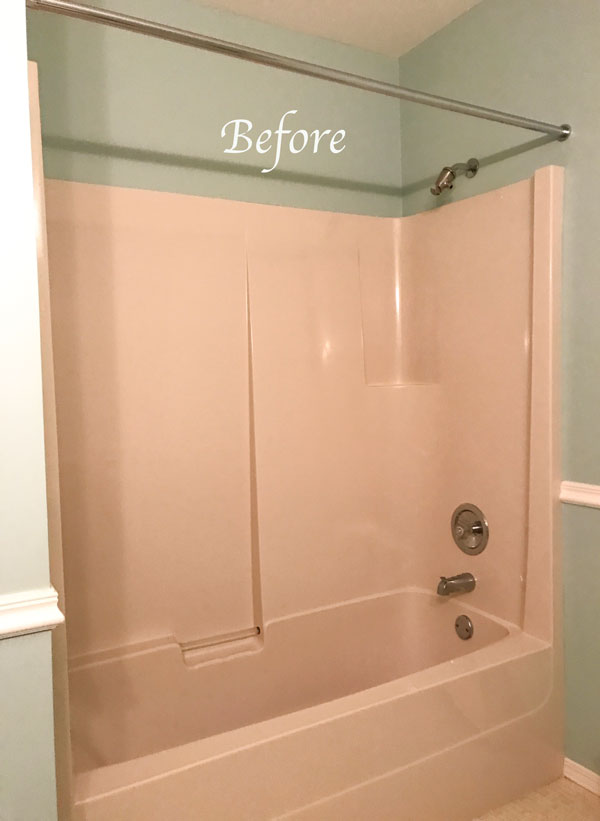 Since my bathrooms will already be over-renovated, Jan suggested that instead of installing a custom-made tiled shower base, that we install a fibreglass shower base, like this one (below).
This would save us approximately $1500 because this shower base installed will be around $1200 and a custom, tiled, shower base is approximately $2500.
Terreeia loved this idea, it's not as slippery as tile and it feels warmer. Tile in the shower when you first step in, is COLD. And Jan says it's expensive to heat the tile in the shower which is why most people don't do it. It's also less maintenance, you don't have grout lines to worry about.
Mine is a low-profile concealed base and it's only 2″ high (above). Fleorco is one of the best acrylic bases. It has a non-slip surface, and feels solid underfoot.
The acrylic bases that most people remember were only designed for corner showers, and felt spongy to step on, this larger, bathtub size is relatively new.
Fluerco (This post is NOT SPONSORED by Fleurco)
Here's a bathroom that Jan recently finished for a client with a slightly higher profile (below). In this renovation, Jan worked with the EXISTING shower base which would have been purchased by the builder in bulk.
In this bathroom, Jan was able to leave the existing flat white, 8″ x 10″ tile because it saved approximately $1500 in labour. The client wanted a modern, Carrara tile look instead. So Jan installed this surround DIRECTLY on top of the old surround.
Interior Design by Jan Romanuk, Photographed and Styled by Maria Killam
This base (above) is a Maxx shower base which would have been approximately half the price of the one I ordered.
Jan says, that the difference in quality is significant, mostly because you'll have no discolouration over time. And I like that mine is a lower profile as well.
So great tip right? This is a great way to save money on your shower base and use that money for the unexpected costs that are bound to come up in every renovation. For example, new exhaust fans that I just had to buy for almost $500 (for 3 bathrooms) PLUS I'll need new ductwork which adds another $500 to the total bill.
Over to you my lovelies. Please post YOUR best money saving ideas for renovations! Thanks in advance, your comments make this post twice as great!
Related posts:
Best Fix for Ugly Tile in Bathrooms
SaveSave