My sister Elizabeth inherited her kitchen with glazed creamy cabinets, chocolate brown walls (that's what they were before we painted the walls CA100 Beechwood or BM HC-45 Shaker Beige or PPG 414-4 Dusty Trail) and a very busy and blotchy laminate countertop.
The first thing we changed was the colour soon after they moved in.
She wanted to go lighter than the pink beige we were forced to select because the problem with glazed cabinets is that you end up with beige instead of cream, her cabinets had been glazed with a mocha colour which ended up turning them slightly pink beige.
And notice how much gold/yellow there is in the countertop and even in the dark tumbled marble backsplash? Any of the colours with yellow in it looked terrible with her cabinets. Going lighter didn't work because then it started looking like we were trying to match the cabinets but failed. The glazed/beige cabinets needed more contrast.
If you're paying attention, the wall colour still doesn't match her cabinets perfectly because to do that we would have had to go with an even pinker beige and she didn't want that.
Elizabeth added changing out the tile to her wish list and in July on her Birthday, her husband Bill arranged to have a new backsplash installed. And she was very happy.
When the tile installer dropped in to provide a quote and Elizabeth handed him the cream subway tile we had chosen he took one look and said:
"Do you know that the tumbled marble you have already is VERY expensive? And do you know that subway tile is the cheapest tile you can buy?"
Elizabeth was unfazed. Yes, she said.
before
And just a little side note, if you have undergone any renovation, you have probably listened to everyone give their opinion. And you are probably quick to ask any of the trades who do this all day long 'What do YOU think?"
And if you heard an answer like that and you were not convinced on your own from talking to me (or your designer), or reading this blog, you might think "OMG, maybe I'm making a mistake? Maybe this is a bad choice?"
Don't do that!! Stick to your plan. Who cares if subway tile is cheap? You can't have every surface in your kitchen scream 'Look at me, look at me!'
If you've just installed stone countertops, you know how expensive that is already! It's nice to save money somewhere. It's cheap because it's the simple solution which in this case is the best solution!
after
After
The lumpy corners beside her kitchen windows bugged her the most. "Every day, I look at them and am annoyed." she told me.
So we made sure the installer took them up to the top instead of leaving them halfway. The existing rounded corners was the biggest reason they were bad, because then the gap created by the corner had to be filled.
I tested two grout colours, the first one was a cream that matched the tile exactly. It was terrible! It made the tile look way too white in comparison to the glazed cabinets. Don't forget, there aren't a million white options with subway tile. It's basically basically white, off-white and cream.
The contrast of the brown grout made the tile look much more like it related to the cabinets.
Then I set about styling her kitchen. I brought in a tray for the miscellaneous items that sit beside the stove.
That made a big difference. Then I added a container for kitchen tools. If you have a big kitchen, use the stuff you already cook with every day to make it pretty.
This corner hadn't even been tiled to begin with and as it was at the other end of the kitchen. . .
This is what it looked like in real life. Just keepin it real. Thanks Elizabeth for letting me show it!
I knew what was missing was styling. Ever notice once a room is decorated how it seems to stay that way? Suddenly you care because it looks good and it becomes so much easier to keep it pretty.
I brought in a piece of art, propped it up in the corner (since she does not use it as a computer station yet (her children are too small) added a small lamp, which I told her to keep on all day long, Elizabeth's kitchen primarily faces North.
Then we needed a way to hide cords for the phone, etc.
So I brought out a stack of cookbooks she had sitting in a cabinet, found a cookbook holder to display a couple, and look–no unsightly cords!
And here's another little space in her kitchen.
That now looks so much better as well.
So if you have inherited a busy countertop that you don't like, changing out the backsplash is a great way to freshen and create a cleaner look!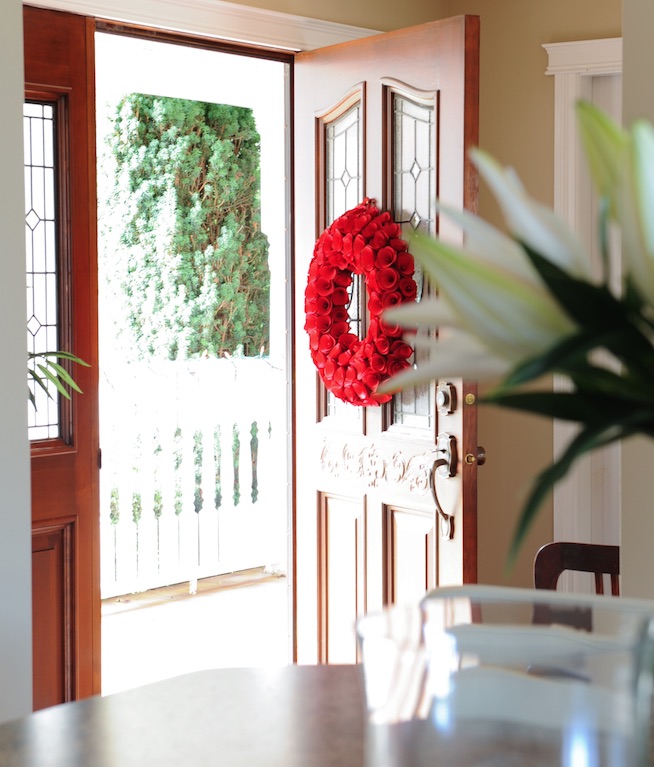 Is your backsplash due for an update?
Related posts:
Should you Add a Glaze to your Painted Cabinets? Yay or Nay?
Which Backsplash Tile goes with Granite?
The Best Backsplash Tile for your Kitchen
If you would like to learn to how choose the right colours for your home or for your clients, become a True Colour Expert.