Changing your front door colour is a relatively easy project that offers a dramatic impact on your home's curb appeal. Here are the 10 best front door colours for your house.
Front doors should be an accent colour. In other words, they should be a strong, dramatic, bold shade. Colour is always the timeless choice. Usually, your front door colour should not be repeated anywhere else on your house although I have seen some exceptions to that rule.
Beauti-Tone Paint, which is sold exclusively at Home Hardware, sent me some of their most classic front door colours. So if it's time to paint your front door this season, here are my favorite front door colours to choose from.
And, if you're wondering about my favorite front door colours from Benjamin Moore and Sherwin-Williams, keep reading to find out how to get my front door paint colour list delivered to you FOR FREE.
Ten Best Front Door Colours for Your House
Remember, whichever front door colour you choose from the options below, it will look best if you repeat the colour in your porch furnishings and decor.
Say, if your outdoor furniture is paintable, consider painting them to match your new front door for a big impact. Otherwise, you can look for new cushions that repeat the door colour and add a new welcome mat and/or potted plants that also pick up the colour of your front door.
Here's an example:
>> Click here to find out how to create gorgeous curb appeal with your front door colour.
1. Beauti-Tone: Wet Sands 3H2-7
With this Midas Touch, your home will look like a million bucks and your neighbors will be wondering why they didn't think of it. This front door colour pops against stone and brick and is complemented by lots of greenery and bold flowers. It also works with darker colour schemes.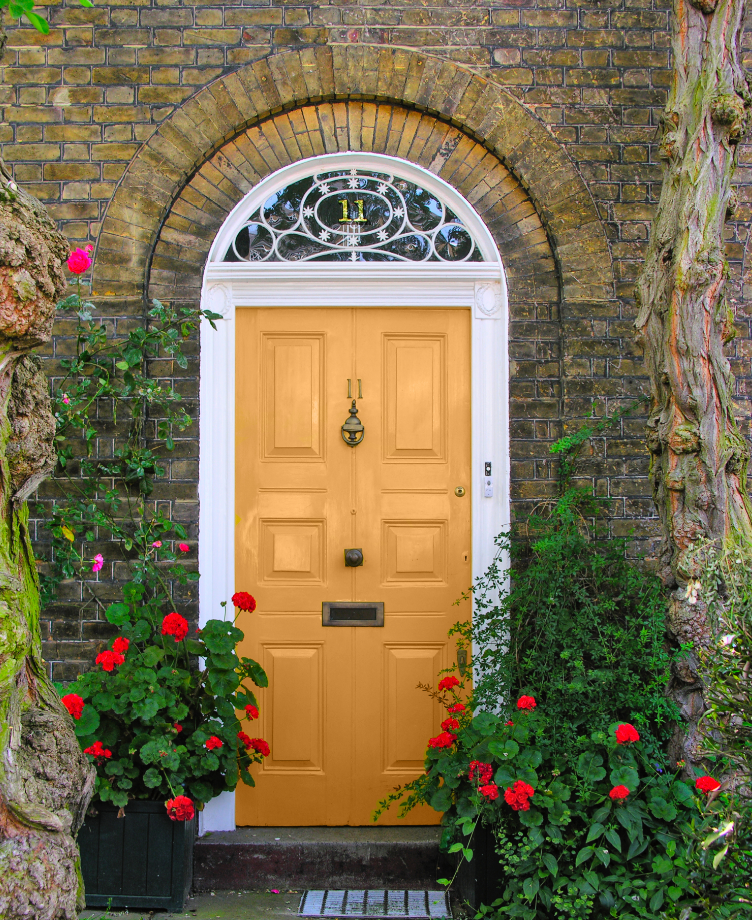 2. Beauti-Tone: Green Conifer Hills 5141EC
The secret to this classic dark green is that it is infused with black and relates with the landscape. Rich, deep, sublime.
3. Beauti-Tone: Earthenware 3E1-8
For brighter interest at your entry, you could also use this warm orange red. It's a friendly, earthy colour that beckons you in and helps you feel grounded.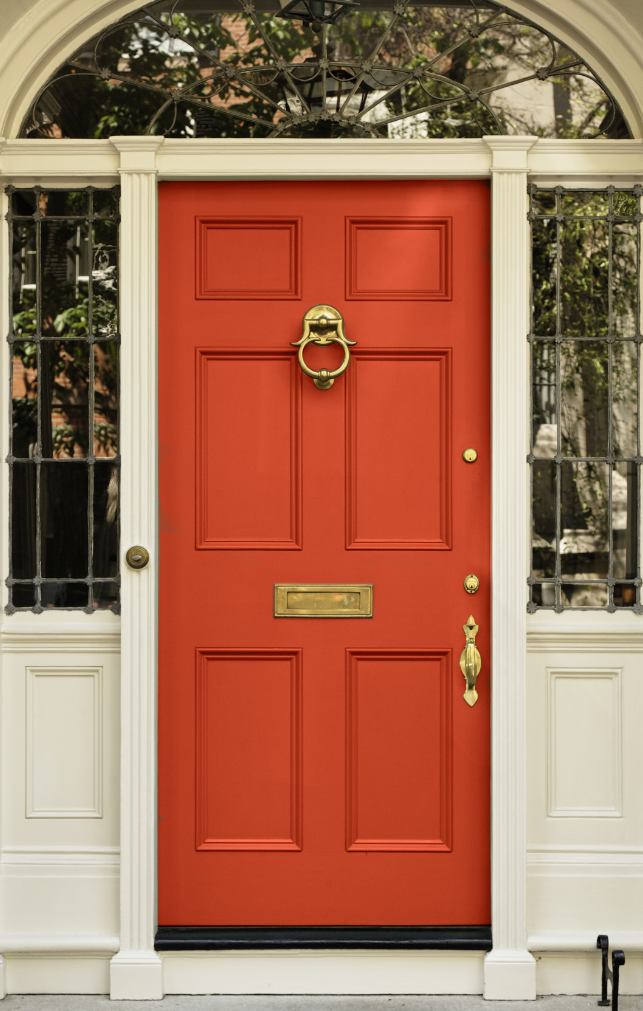 4. Beauti-Tone: Direct Line 436
I'm a big fan of purple or eggplant front doors, especially this shade that it is downright majestic. Purple is a good complement to all kinds of greens in your landscaping and purple flowering plants are easy to find to incorporate with your door. A more muted shade of this colour looks great on classic brick houses, too.
5. Beauti-tone: French Navy Blue SC007
Like a uniform or a great business suit, this colour commands respect. A dark blue door colour says "sophisticated success." It offers nice contrast on green-grey neutral exteriors.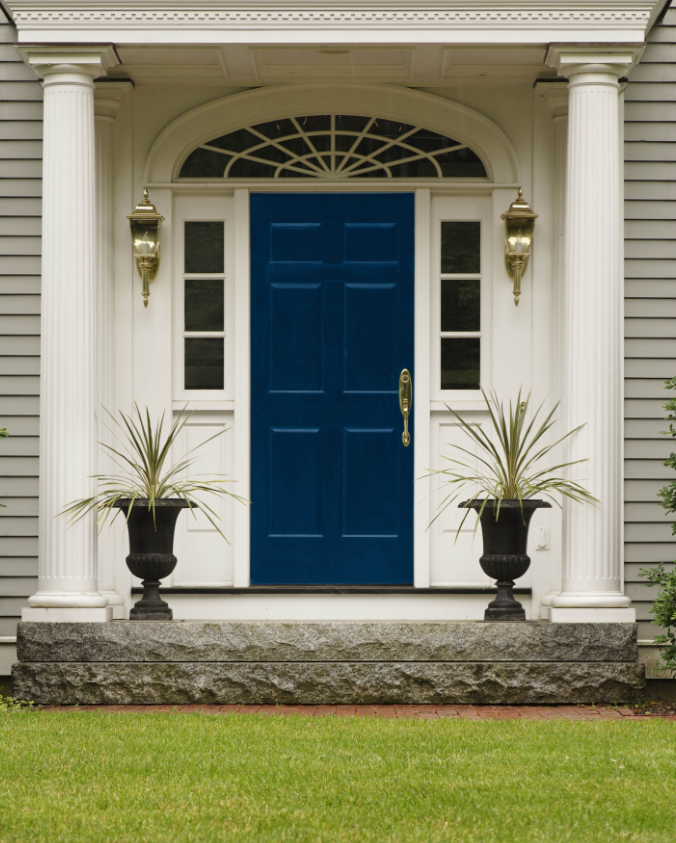 6. Beauti-Tone: Gitano FD038
There's nothing seventies about this brown. A new contemporary espresso shade is the perfect blend between black and brown. It is even versatile enough to look great on a warm, creamy exterior for a softer contrast than black.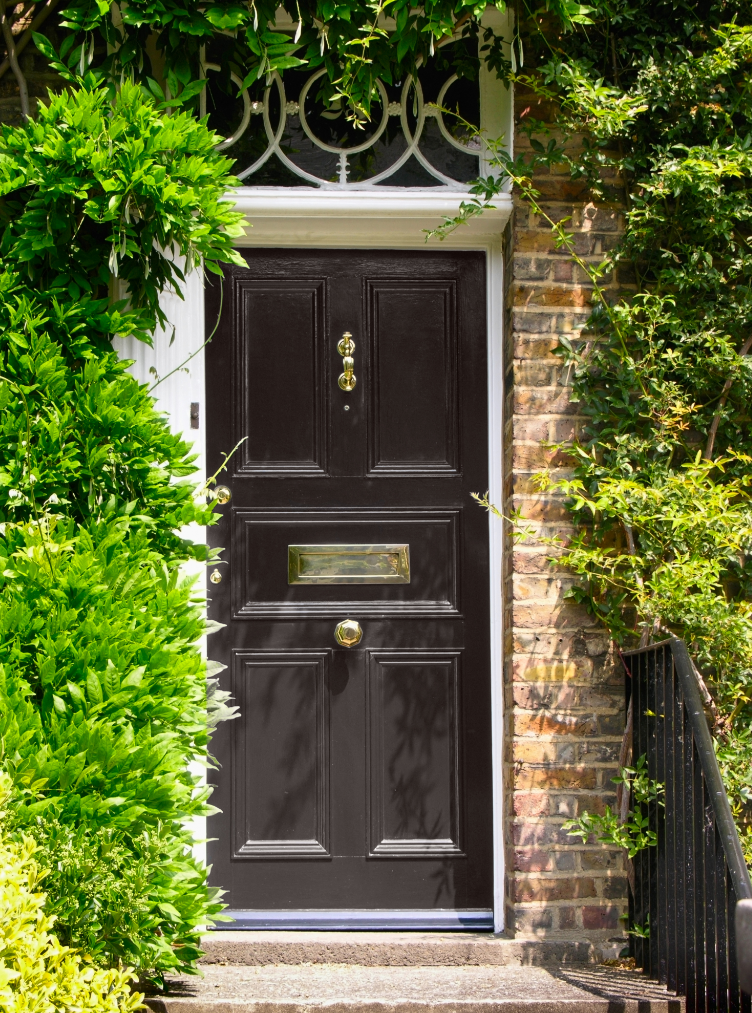 7. Beauti-Tone: Loving it 3C2-8
Red has long been a classic front door colour. Like finding that perfect shade of lipstick, this is the red that commands attention in all the right ways. Red can look a little predictable, but the way to keep it fresh is to combine it with lots of white.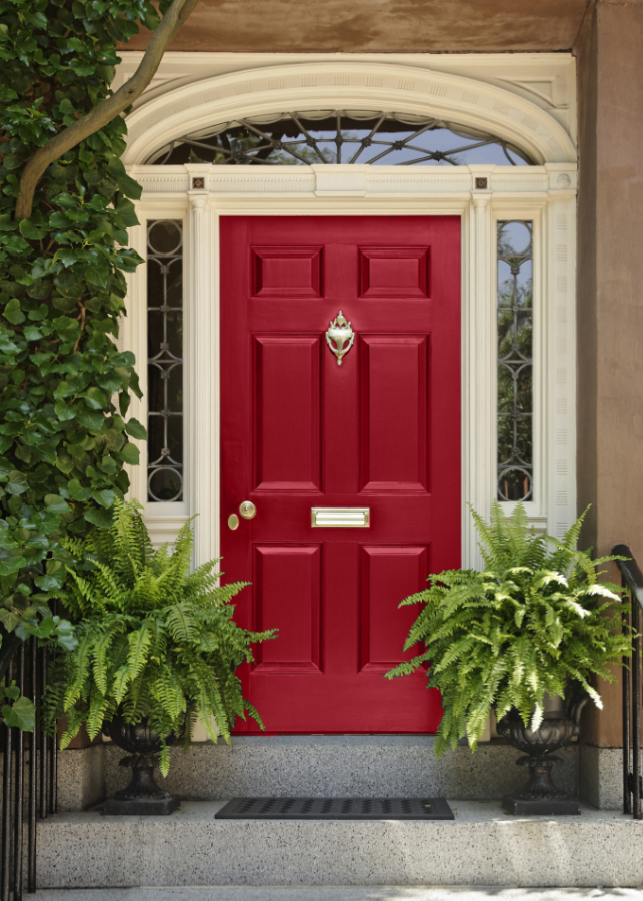 8. Beauti-Tone: Grey Eyeshadow SC047
Harmony resides here. Not too warm, not too cold, this charcoal grey is in perfect balance for a very refined look.
9. Beauti-Tone: Hidden Mountains 5135EC
This shade of aubergine is like a fashion statement for your home — a true haute hue. If you want a dark purple option that leans more towards eggplant, this is your colour.
10. Beauti-Tone: Quinte HD016
Doesn't this colour remind you of a deep, rich and full-bodied burgundy? If you are looking for a deep red that leans more toward burgundy, for a strong and moody presence at your entry door, this is it.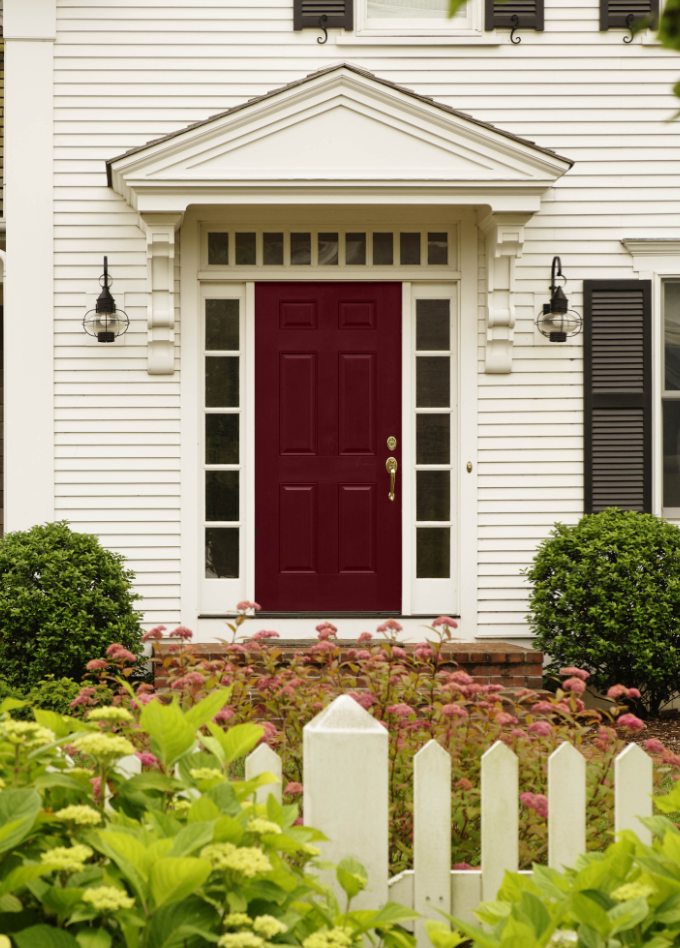 Which is your favorite front door colour?
There is something magical about a front door when it's painted a stunning colour, don't you agree?
And what's the most photographed area of any exterior? That's right: the front door. So, if there is one thing about every house that makes a statement about your personality, it is the colour and style of your front door.
When done right, front doors are welcoming, and add a hit of colour and style. Still need more help? I can help you get it just right with my Front Door eDesign Package… or our most popular exterior bundle which gives you options for your home's body, trim and front door colour.
Get my FREE guide for choosing your front door colour.
I'll send you a list of these stunning door colours in Sherwin-Williams and Benjamin Moore immediately when you sign up below.
---
Related posts:
The Most Overlooked Colour for Exteriors
How to Test Exterior Colour: 3 Steps to Get it Right
How to Pick Exterior Colour without A Designer
To Choose the perfect white for your House, download my White is Complicated, a Decorators Guide to Choosing the Right White here.
Do you love Colour? Download my eBook, How to Choose Paint Colours: It's All in the Undertones.
If you would like your home to fill you with happiness every time you walk in, contact me.
To make sure the undertones in your home are right, get some large samples!
If you would like to learn to how choose the right colours for your home or for your clients, become a True Colour Expert.