Updating your front door is an easy way to energize the outside of your home. Here are some front door colour ideas to help you create gorgeous curb appeal. 
We just arrived in Atlanta for my second Specify Colour with Confidence workshop this Spring (it starts tomorrow).
After we left Toronto, we flew to Little Rock for a meeting and yesterday before our flight back, we drove around and I snapped a photo of this blue grey house with crisp white trim and a fabulous red front door because I love the way the homeowner planted matching Azaleas out front.
Get a similar look with Sherwin-Williams 6587 Valentine
Nothing brings grey to life faster than a striking colour like red! And red is trending again.
A new front door colour is the perfect home update for spring.
Spring is the perfect time to update your front entrance. To bring some new energy and curb appeal to your home after a long winter.
It's a relatively easy but impactful project. But I suspect that people generally spend a lot more time spinning in circles deciding on the right colour for their front door than they do actually painting it.
My front door posts are always among the most popular. People clearly shop for front door colours online, so I thought I would give you some new inspiration since it's the right time of year.
You really do need to take the surroundings and the colour of your house into consideration to find the perfect colour. You can push the clean and dirty rule a little bit with a front door colour, but if you go too clean on a taupe, or beige, brick or stone house, it won't look harmonious.
Front door colour ideas if you have an earthy exterior colour palette.
In general, it's a good idea if you have an earthier exterior, to look for a much more muted or "dirty" version of the colour you like to test for your front door. Trending deep forest greens often work well for brick and stone houses (below).
For a similar look try Sherwin-Williams 2847 Roycroft Bottle Green Via Apartment Therapy
Green front doors connect readily to the landscape, so they tend to settle in and look right at home. And different greens play well together.
If you have an earthy house, often all greens and some white or cream looks best for plantings. But you can also use some richer golden yellows, rusty oranges, plummy purples and deep burgundy reds in your planters and landscape.
Muted eggplant is another good front door colour to try with any brick, stone or earth-toned house. There are lots of pretty purple and violet flowers you can plant to coordinate.
This Old House | Farrow & Ball's Brindjal
And if you like blue, you may be able to go with a more subtle slate blue with an earthier house like this below.
For a similar look try Sherwin-Williams 8148 Azurite. Image from Home Stratosphere.
Where should I start when trying to choose a front door colour?
Fresh exterior schemes can be accented with almost any colour you love. If you have a lighter colour on your exterior, with white or cream trim, you have a lot of options for your front door colour. Too many maybe — meaning it can be hard to narrow it down.
One place to look for inspiration to spruce up your front entrance is to your interior colour palette. What do you see when you first step inside the door?
But what if decorating your interior is the next project? And right now, your front entrance is really what needs love?
Ok, if you're not sure where to begin, you can arrive at just the right colour by picking out some decor for your front porch FIRST. A pillow for a chair or bench, or a colourful outdoor rug is a great starting point for choosing a front door colour.
Often, all it takes is repeating the front door colour with vibrant flowers in your landscape and/or planters to create gorgeous curb appeal with a fun new front door colour.
I had fun putting together some inspiration boards, complete with sourcing links below to help inspire you to refresh your front entrance for spring.
Orange Front Door Colour Ideas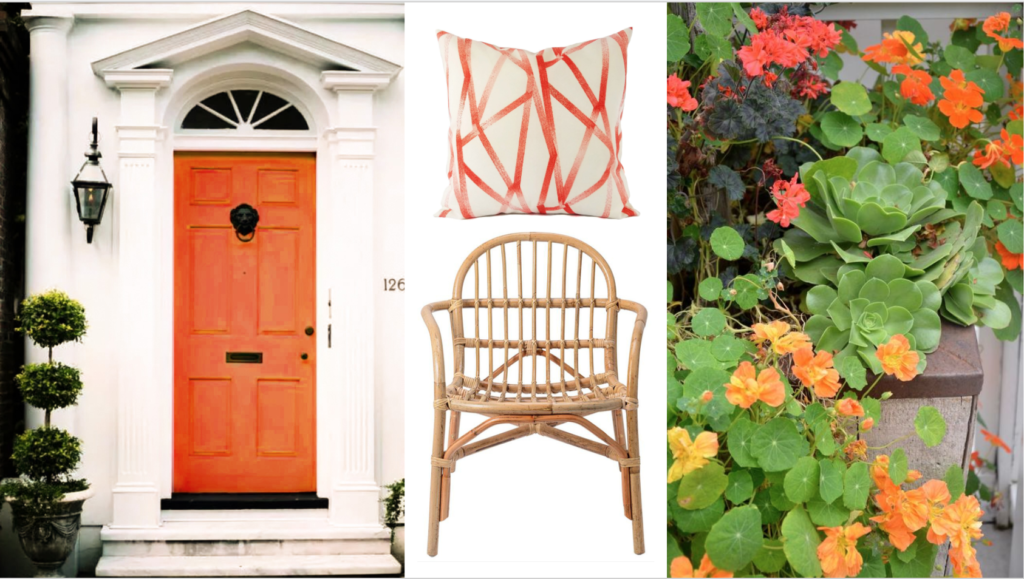 Sherwin-Williams 6883 Raucous Orange
SHOP: Pillow | Chair (Similar, Similar, Similar)
Here's a vibrant orange outdoor accent pillow I found on Etsy. Rattan furniture of any kind is on trend right now, especially outdoors. It's both classic and casual. This chair is from Lulu and Georgia, you can shop similar ones here, here and here.
A combination of vining nasturtiums and succulents would look great with this hot orange to complete a brand new look for your entrance.
>> Click here for my recommendations on the most classic outdoor wall sconce lighting
Cerulean Blue Front Door Colour Ideas
Benjamin Moore Chicago Blues 804
SHOP: Pillow (Similar, Similar) | Chair (Similar, Similar)
True blue flowers are hard to find, but there are some. Some varieties of delphiniums and hydrangeas are quite blue. But you don't have to match them perfectly. Any flowers in the blue range will read as a nice repeat of this pretty blue.
This pillow is also from Etsy, you can find similar ones here. And, this classic weathered wicker chair is sold out at Birch Lane, but you can find similar ones here and here.
This kind of clear blue happens to look lovely with fresh green foliage anyway. A large fern in a classic black planter is one of my favourite simple solutions for a front entrance planting.
Deep Green Front Door Colour Ideas
Benjamin Moore Dragonfly AF 510
SHOP: Pillow (Similar, Similar) | Chair
This door colour is a beautiful twist on forest green with a bit more teal to it. BM Dragonfly is in my updated VIP Collection of colour boards.
Deep greens look amazing with almost any flower colour. Dragonfly picks up some of the pretty blue greens of blue hostas and looks great with warmer greens too.
I really like this colour with a bit of black and lots of white. The outdoor chair from Williams Sonoma Home looks very upscale.  I also found this pillow on Etsy, here are similar ones.
Rosy Pink Front Door Colour Ideas
Sherwin-Williams 6570 Haute Pink
SHOP: Pillow (Similar) | Swing Chair
Pink front doors are trending like never before. It's so great how the world has opened up to this fresh and romantic colour. I would not be able to resist pairing it with old fashioned pink roses. Maybe climbing ones.
And how fun would it be to have a swinging chair on your porch? Well, you can snag this one here. Find this pillow on Etsy.
Rich Violet Front Door Colour Ideas
Sherwin-Williams 6839 Kimono Violet
SHOP: Rug | Chair | Purple Pillows
Purple is one of my favourite colours for a front door. It's a decadent jewel tone that always looks rich and luxurious. This purple is pretty clean, but as I said earlier, there are lots of muted, dirtier versions of purple leaning a bit more towards brown and grey that will work beautifully with earthier palettes.
This door colour was pulled from this colourful outdoor rug that you can find here. The modern outdoor rocker is perfect for the porch from Williams Sonoma Home here.  And one of my favourite purple flowers is heliotrope, they smell amazing.
Are you planning to paint your front door soon?
If you need more help and would like me to layout some beautiful front door colour options for YOUR house, just use my convenient Front Door Colour eDesign Consultation.
Jo Chrobak, an interior designer and architect, came all the way from the UK to my Toronto course! She had been following me for years and finally this was the right time!
Photography by Ella White 
This is the note she sent me after the course:
Having professional architectural and interior design training means that everyone expects you to just be good with colour.  Yes we have an 'eye for design', but that doesn't mean we get it right 100% of the time.  

Thanks to this unique and totally original way of looking at colour that Maria teaches, I can now say that I can get it right every single time and I can confidently back up my argument with facts rather than fluff.  

Thank you for helping me see colour in such a unique way.
Related posts:
10 Best Front Door Colours for Your House
The Best Way to Choose a Front Door Colour from Palm Springs