Everyone wants to know what the most timeless colour is. Here's what a true colour expert thinks. Hint: it's not the current, trendy neutral.

I get asked this so often and I have stated this many times on the blog but I think it needs it's very own post. (updated December 2019)
What is the most timeless colour?
The answer is colour. And, this is good news because colour is happy!
When I was a new decorator my first 'decorated' apartment was beige-on-beige. And now that I've been in this business for 20 years, I can honestly say this is not a phenomenon exclusive to me. Most decorators use neutrals in the beginning of their career too.
And back then, I also declared that the reason I preferred a room decorated in beige and cream was because I worked with colour all day and preferred to live in a calm and neutral environment (which I have also heard designers say over and over).
But the real reason (and of course I didn't realize it at the time) was that I had no idea how to decorate using colour.
Neutrals were 'safe' and something I could attempt on my own.
When we think about decorating with neutrals, it seems like it wouldn't be that hard to just make every choice some variation of grey or beige or white and you'll end up with something lovely.
However, colour will always be more timeless than the current, trendy neutral.
You'll learn this when you renovate or build your first house and then watch with dismay as the trendy choices you thought were so 'timeless', date so quickly. Just like my very first official furniture purchase as a newlywed many years ago.
It's the same reason most bathrooms currently look like some variation of this one because we're inside the grey trend:
There's nothing wrong with either of these bathrooms. In both cases, the tile doesn't appear to clash with the countertop, which is nice. Potentially, you could still paint the vanity any strong, bright colour and paint the walls a colour.
However, whenever a space has TOO MUCH of the current, trendy neutral in it, people stop saying things like, "OMG I love the colour of the vanity? WHAT IS IT, I MUST HAVE IT!"
To my point, this wood stained kitchen with the blue-green island makes us pause.
It's a good balance between the warmth of all the wood, and you can see that the colour also relates to the nearby stone fireplace.
The countertops are white, which is perfect because you won't be bored of them in 10 minutes.
Hard Finishes Should Be White or Cream
That is why I often say that the hard finishes in kitchens and bathrooms should be primarily white or cream. This way you can change the paint and decor whenever the wind moves you.
For those of you asking for a wood stained kitchen, there it is (picture above).
Choose a Colour for Your Sofa
It's also why you should choose your favourite colour for your sofa (instead of brown, charcoal or black).
It's why my yellow sofa (picture below) shows no signs of being dated even though it's 8 years old.
I installed it the year that Pantone declared 'Mimosa' to be the 'colour of the year'. However, that was not accurate. Yellow was no where to be found back then, or in the years to come. It's been on the periphery of colour trends until this year.
When I suddenly found 3 pairs of shoes in yellow this year, I knew yellow was finally here. And I predicted that it would be in my 2018 trends report here.
However, if my sofa was brown or charcoal, not only would we instantly be able to give an approximate date as to when it was purchased, we'd probably be bored of it already.
I installed a navy blue sectional in one of my clients living rooms 15 years ago. She recently called me in to help her re-decorate because the sofa was faded from the sun and being moved to their media room.
When I asked her what colour she wanted for the new one, guess what she said?
"Navy. All blues are my favourite. And once you introduce a new accent colour with pillows and accessories, it'll feel different."
And, she's exactly right.
We always tire of the current, trendy neutral more quickly.
I see MANY HOTELS in my travels around the country while leading my workshops, and what saddens me the most is seeing the prolific commitment to the current trendy neutral in all of them.
If they are not already entirely brown, they are all being re-decorated into varying tones of greys and charcoals.
The hotel we are currently holding my Specify Colour with Confidence event in Boca Raton, FL is mostly brown. The guest rooms are brown, the lobby is primarily brown, and the meeting room has brown carpet AND brown drapery.
However, we took a drive to West Palm Beach this past weekend and had lunch in the Circle Restaurant at the Breakers Hotel. Here are some photos of the colourful tour.
I've love to get your thoughts. Tell me at the comments which photo or room looks like it was most recently renovated?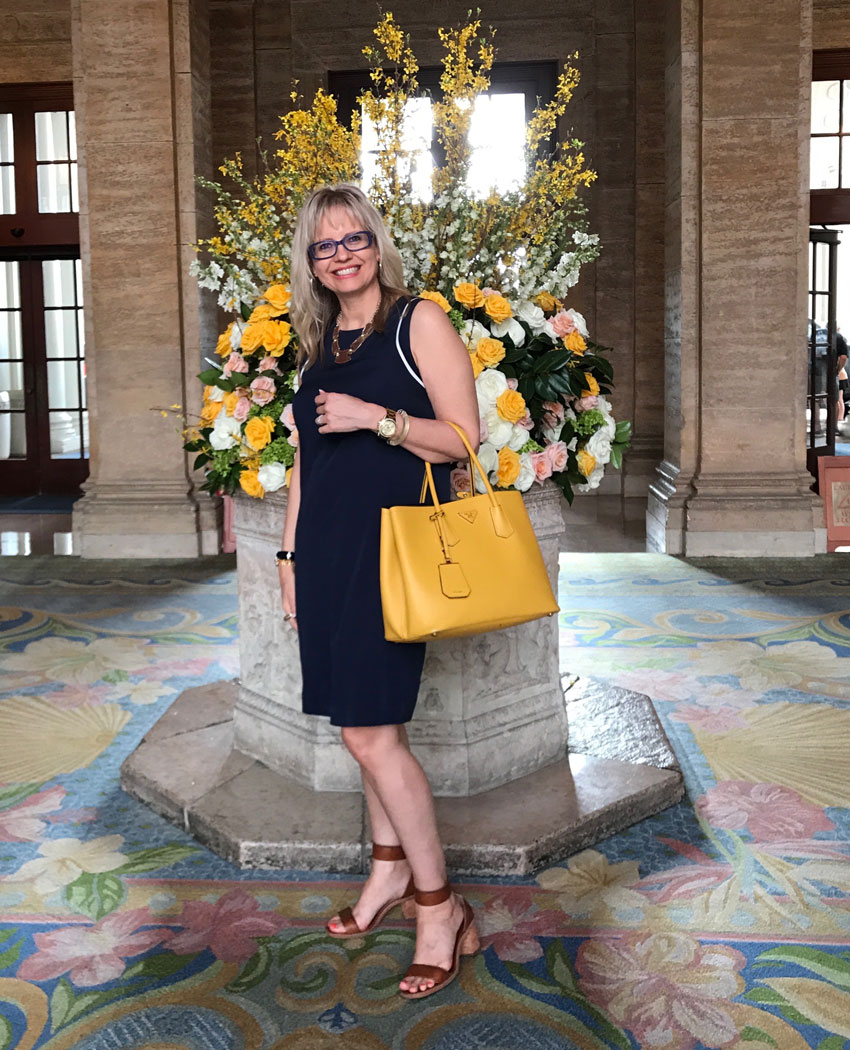 Here I am in the lobby where every single person stopped to snap a photo in front of the flowers!
Is this Haint blue? Must be, we are in the South!
It's so rare to see such a fabulous floral arrangement in the hotel lobby these days. But, it's so smart because literally everyone paused to take a photo for their social media account.
After brunch it rained a bit while we walked around the hotel. I caught a lovely shot of the pretty courtyard with bright orange umbrellas.
A hotel that is decorated with colour only needs to renovate when the furnishings get tired, and not simply because the colours are dated.
Colour is Happy.
And as it turns out, Colour is the most timeless too!
Okay which image looks like it had the most recent update? Post your guess in the comments below!
Related posts:
Grey is OUT (maybe)! The Colour Trend is IN!
Danger: How you Know You've Fallen for a Trend
How to Decorate with Black (And how NOT to Decorate with it)
SaveSave
SaveSaveSaveSave
SaveSave