Trying to update your kitchen with stained wood cabinets can be challenging. But, I've got a few simple tips to help you choose the best backsplash colour.
Well, you all know that my favourite kitchen is white.
However, I got lots of questions from readers who need help choosing a backsplash for wood cabinetry – because if you don't have any white or cream in your kitchen countertop or floor, white or cream subway tile is not the answer. So, here's what you should do…
How to choose the best backsplash colour for stained wood cabinets
If painting your stained wood kitchen cabinets is not an option (see my designer secret for updating old kitchen cabinets) then I've got three steps to help you choose the best backsplash colour for your kitchen.
1. Choose your wall colour first.
When I'm helping a client choose finishes for their house, I look at every hard finish that isn't just plain white like tile or countertops and make sure that the potential wall colour that relates to the hard finishes actually works with the scheme of the entire house.
These countertops (below) are a solid pinky/taupe shade so blue is a great choice for the backsplash because more of the countertop colour (pink beige/taupe) on the backsplash or walls would not have looked the best with the ginger coloured cabinets. That leaves blue as the best choice for the wall colour since taupe is out.
So choose a wall colour that looks the best with the cabinets first!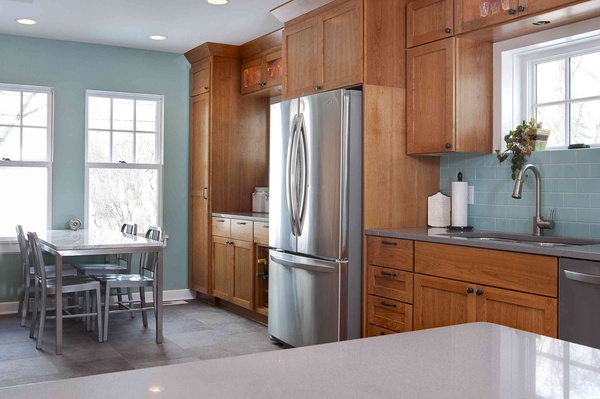 I wrote a post ages ago talking about wood flooring and how it's pretty much like a pair of jeans when it comes to wall colours. But, this is not true when it goes vertical like on wood cabinets and wood trim and doors.
Below, you can see the ceiling/wall colour inspired the colour of the green glass backsplash tiles.
Remember in last months newsletter 'Two Ways to Decorate around Carpet you Hate? Those same guidelines apply here. You can have two unrelated colours in the same room together but three looks like you don't know what you're doing.
2. If you have granite countertops pick a backsplash colour from the granite.
Here you can see that the backsplash and wall colour was chosen from colours in the granite.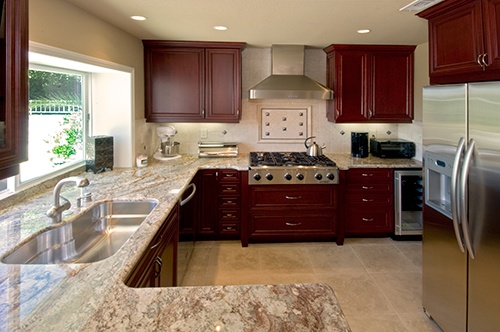 Naturally I chose an image with a SOLID tile backsplash because in my opinion it's pretty much impossible to find another pattern in tile that will not result in a clash of patterns and undertones with your granite countertop.
Source: LiLu Interiors
3. Repeat your stone countertop on the backsplash.
Here the carrara has been continued onto the backsplash, so this butterscotch or orange beige colour on the walls works.
If you have a really busy granite countertop, I would not install it on the backsplash as well. It's just too much pattern and a busy look that you will tire of quickly.
Technically the creamy cabinets in the kitchen above are a bit too creamy to relate to the countertops but they are far enough away from the stone, that it's fine. One of my clients told me that many readers on the garden forums are posting that carrara is so blue/white it glows and that will happen if you don't choose the correct shade of white to go with it.
Backsplash Colour Advice
Bottom line, if you have not already:
Chosen a white or cream countertop for your wood stained kitchen
Chosen a granite countertop with white or cream in it so you can choose the same colour for your backsplash
Then white or cream is pretty much

out

as a backsplash tile colour choice
For example, if your countertops are black, it will look odd to have a white backsplash unless your walls are also white. But beware, white walls in a kitchen with no white walls in any of the other rooms could look like you haven't painted the kitchen yet.
Read more: Will a white kitchen work with my existing granite countertops?
Which brings me back to where we started… 1. Choose your wall colour first, or if you already have a painted kitchen, find a backsplash that relates to your walls.
It's also the reason why my dream kitchen is white on white. Because then you won't be married to the same colour palette for the rest of your life.
I'm curious, what colour is your backsplash?
Related posts:
5 Steps to a Kitchen you will Love!
Which Backsplash Tile goes with Granite?
How Important is the Colour of Wood Floors vs. Wall Colour?
Would you like to look at an image and know which category of undertones it belongs? Download my eBook, How to Choose Paint Colours: It's All in the Undertones
If you would like your home to fill you with happiness every time you walk in, contact me.
To make sure the undertones in your home are right, get some large painted colour samples!
If you would like to learn to how choose the right colours for your home or for your clients, become a True Colour Expert.