Since I wrote my 'Beige is Back' post from High Point Market last month, I have been receiving emails from readers wondering if it's a huge mistake to paint their house greige since it seems like it belongs with the grey trend which is about 8 years in, so that means something new (black) is right around the corner).
I received a really good question from a reader about this very topic in Australia:
I bought your (Renovate with Confidence) webinar and found it useful even though I live in Australia and so don't have access to any of the paints you specify (but I knew this would be the case before I purchased the webinar). It has been great for developing a frame work for making decisions.

Before this training, I was in a perpetual loop of indecision. How could I choose anything for our whole-house renovation until I'd chosen my kitchen cabinets and how could I choose them until I understood which countertop I needed!

Now I know what to do!

However, I'm wondering if there was any chance Maria would provide an update to the last 10 minutes of the third video?

When the webinar was produced, we were in the middle of the grey/fresh trend. However, as Maria has mentioned in a post recently, grey is on its way out, and beige is back!

If we were to choose a cream kitchen (as I'd really like to do), what would be her go to colours for the rest of the decorating?

At the end of the video, Maria provides her 4 go-to greige colours that would go with a fresh, white kitchen. Is there any chance of here doing the same thing and providing 4 go-to colours for a warm, cream kitchen? Given that your readers tend to want to be ahead of the trends rather than at the end of them, I can see this being of value to many other webinar consumer, not just me.

Many thanks for considering this request. And many thanks for setting me free from my indecisive loop!
This was my response:
Thanks so much for your email! I'm glad you got a lot out of the training!

The answer to your question is really custom to each person. While greige is pale and versatile enough to get along well with a broad range of decor, deeper neutrals like beige or gray have more prominent undertones that need to relate to your furnishings perfectly to look good. And since when you are building new, you most likely don't have a decorating plan yet, pale and versatile is the way to go. So, greige is STILL the answer.

But the context for 'beige is in' and 'grey is out' is this:

Choosing CHARCOAL for EVERYTHING, for example, cabinets, sofas, floring, and tile IS OUT, OUT OUT. And as far as I'm concerned, ALWAYS HAS BEEN A MISTAKE, because it's been the TRENDY neutral of the past decade.

Beige is slowly coming back in because it warms up grey and balances all the stronger, more dramatic emerald colours that are coming back.

I was browsing the West Elm site just this week and interested to note that in many of their standard fabric colours, FOREST GREEN, was one of the options. If you've lived through forest green in the 80s (like me), this colour probably wouldn't be your first choice.
However, the training about Greige in my Renovate (and new build) with Confidence training is still totally current.

GREIGE is not OUT, it's anything that would make your house scream "Decorated in the GREY TREND" that is OUT.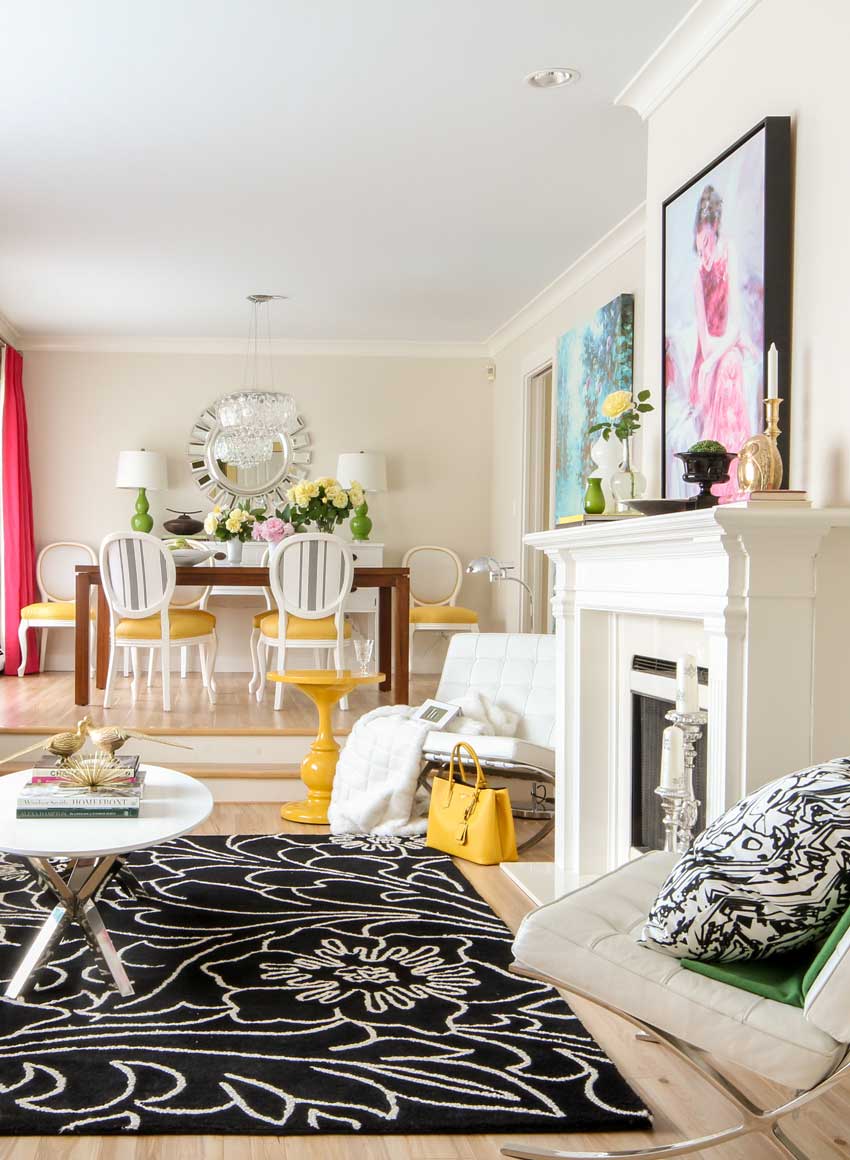 Maria's living room

My living room has zero grey in my actual furnishings, but the walls are greige. Just because beige is coming back, doesn't mean I'm going to run out and paint my walls a yellow beige, pink beige, or green beige (for example).

If you are decorating with CREAM, that means your walls need to be darker that's true, but  greige is still more of a flexible choice than a 'beige'. If I give you 4 go-to beige's (either, pink beige, yellow beige, green beige or orange beige) you will have to have chosen furniture first before you choose which 'darker beige' coordinates with it all.

My best advice without seeing anything would be to choose an off-white for cabinets and trim and then if you want to introduce a 'beige' in your home over a 'greige' I would consider a colour like BM Feather Down or Natural Wicker, if you just want your walls to be cream without looking yellow.
There are a lot of designers who call any shade of warm grey, greige, like this mid-tone grey:
If your entire house is painted a medium or dark shade of grey like this image (above), then that would technically position your house inside the grey trend.
Just like a house that is painted in deeper, pink beige or gold beige tones right now would place your home in the Tuscan brown trend (below).
But a house painted in 'greige', which really is a category of "white" will still look current and classic. Like this pretty room painted BM Classic Gray OC 23 below.
So before y'all get cranky about where your house is inside ANY colour trend, listen up.
If you are NOT HAPPY with your house right now, it usually has way more to do with the fact that your home is missing a look and a feel.  If you run out and paint your house a trendy new colour, that will not automatically fill your home with the atmosphere you're craving (especially if you blindly paint it trendy art gallery white).
A home that has a look and a feel is achieved through a coordinated combination of colours, well placed art, end tables, lighting and accessories. You'll still need all those things AFTER you paint your house a new and fabulous colour. And likely it will be hard to choose a new and trendy colour without changing up a few of those things.
You'll notice this room (below) is technically painted a 'trendy blue grey' however, we would all happily hang out here for a weekend because it has a look and a feel (and of course, perfect medium brown, classic and timeless chevron floors).
In fact, I would say this room is a "classic" use of gray because it looks timeless and not like everything was bought at the same time during the gray trend. Because gray will always be a classic choice if it is the right colour to pull together your room. Ditto for beige, or any other neutral.
This interior by Suzanne Kasler is mostly beige on beige. Gold beige in fact. With cream mouldings. But the lavender walls keep it fresh along with the leopard carpeting.
So back to the question that seems to be on everyone's mind lately. . . will painting my house greige instantly date my house?
Well if you paint it a mid-tone grey (which many designers call GREIGE) YES, technically that is dated.
However, in my system, greige is PALE and looks pretty white to most people.
Well first, now that the idea of painting your house 'art gallery white' has suddenly hit mainstream America, that will become the new 'default' neutral for a lot of homes and I'm telling you right now, art gallery white will only be a good idea for a handful of homes decorated in–you guessed it–lots of white.
Greige is basically white, but it's really just a smarter more versatile white because it has some complexity to it. It's simply a more versatile backdrop because it's still pale.
If you go back to the first photo on this post, you'll notice that my walls are painted an ivory greige (Rice Paper by Cloverdale Paint). When it was published on the cover of Style at Home a few years ago, they called my walls WHITE.
In most people's homes, painting your house BM Cotton Balls (for example) is way too stark for all your furniture.
We recently had an eDesign client who had painted her house Cotton Balls because it was recommended by her decorator.
She sent photos and said "The only place I like it is my entry, everywhere else, it looks so wrong".
Why did she ONLY like it in her entry?
Because she didn't have any furniture or hard finishes in her entry that would make her plain white walls look wrong.
Everywhere else, it was simply the wrong colour compared to her furniture in the great room, and the kitchen.
Even in this room, painted art gallery white by Joanna Gaines (who was probably part responsible for bringing white to the masses) a better "white" could have been chosen.
The slipcovered sofa is a green grey, which means the walls would in fact have looked better painted a greige, like BM Pale Oak OR better yet, a cream to relate to the cream slipcovered chair.
The reason why this white still works–even though it could have been more perfect–is because the furniture is pale, fresh and super current. And we are busy being distracted by the styling and the pretty mirror above the sofa table that acts as the focal point for the room.
Show me a room that is painted white with no white repeated in the room, and I'll show you what colour it could have been painted to make it even more perfect.
So to recap, let me say this again, the answer to 'Which new NEUTRAL is the most CLASSIC AND TIMELESS' is this:
The colour that relates to your existing finishes and furnishings.
You will never get a random, click-bait list of 'go-to' colours in this blog because there's no such thing.
White is not 'the answer' if you can't pull it off in the house you live in.
And if you want "white", it's very likely that greige or cream might be better options for your house and furniture.
But don't paint your house greige if it is in fact still entrenched in the Tuscan Trend, it could look like apartment beige if you do that because it will look too cool and stark.
In my system, greige is a category of WHITE. For walls it is most often the lightest I would recommend unless you have a lot of white furniture and upholstery (which most people don't).
So please be careful about considering paint colours through the lens of trend cycles, it's much more important that the wall colour does what you need it to do for your room, and that means it needs to relate well to your stuff.
Focus on creating a look and a feel because that's way more important than whether your house is on trend or not. If you're stuck and need a colour palette in your living room, our Get me Started package is what you need.
And if you're renovating or building a new house this summer, my Renovate (and new build) with Confidence–Focus on Finishes, will help you choose finishes through the eyes of a decorator. Like my reader said at the beginning of this post, she's now on track and set to make the correct decisions instead of her previous floundering. Get it here.
Check out this wonderful blog post by Marisa Zerby from from State College, PA who attended my Long Island course last month:
I wanted to thank you again for the three days you spent training us in NY this past week. As I'm just branching out in the design world, I feel more confident than ever when it comes to specifying color. I've taken my boards on two consultations already and found myself laughing (on the inside) at how easy it was to decide on a color and explain WHY it was correct! I can't imagine being without them again!
I also wanted to pass along a post that I published on my blog this week sharing my experience attending your class. You and Terreeia make a wonderful team and the whole experience overall was so stream-lined and organized. I'd recommend it over and over again to anyone that was willing to see the color of the world in a whole new light!
SaveSave
SaveSave
SaveSave
SaveSave
SaveSave
SaveSave
SaveSave
SaveSave
SaveSave
SaveSave
SaveSave
SaveSave